EICMA Notebook: 10 of the best new bikes, products and kit spotted in Milan
What's new in the off-road motorcycle, parts and clothing world? The annual EICMA motorcycle show in Milan is a great place to find out. Enduro21 spots the top 10 best new bikes and products at the 2022 edition.
EICMA, the giant annual motorcycle show takes a lot of digesting (and a lot of walking!). But it is worth our annual visit because, unlike other shows, there's a high percentage of dirt bikes and off-road held within these giant halls on the outskirts of Milan.
Two things are certain from this year's EICMA: China and electric bikes aren't just here, they are standing shoulder to shoulder with the best of the rest.
Enduro bikes, everywhere
It was refereshing to see the world of enduro so very present in this vast display of all thing motorcycle. Sure, the street bike market is vast compared to off-road but many of the stands were proudly showing off enduro bikes and we lost count of how many of Verona's GASGAS' we saw.
Best of the bikes? Well the Bimota BX450 Enduro caused of a double take. We've written about that here: First look: Bimota BX450 – new, limited edition enduro model image gallery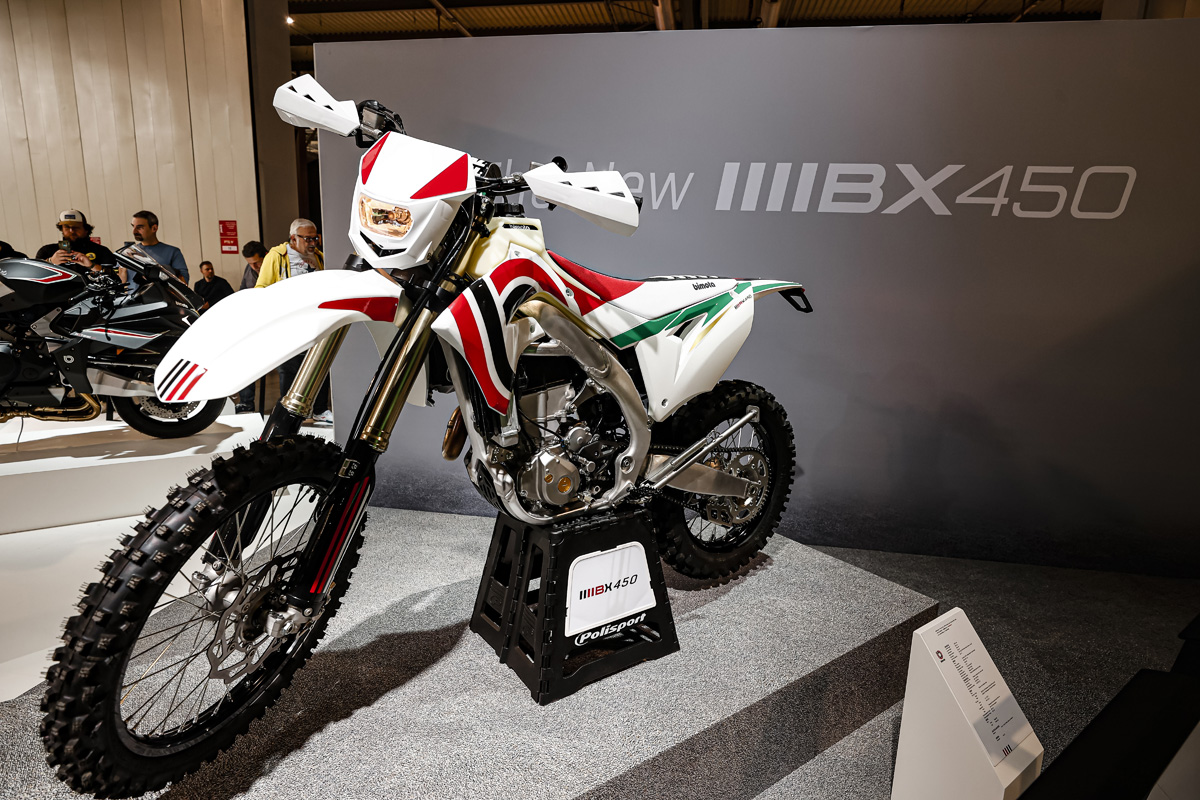 Saucy two-strokes
This saucy GASGAS EC 300 two-stroke build is by Italian company MotorMix parked up on the Parts Europe stand. It was a build to showcase the products they sell, both Parts Europe and MotorMix, but the bike is littered with inspiration for upgrades over a standard enduro model.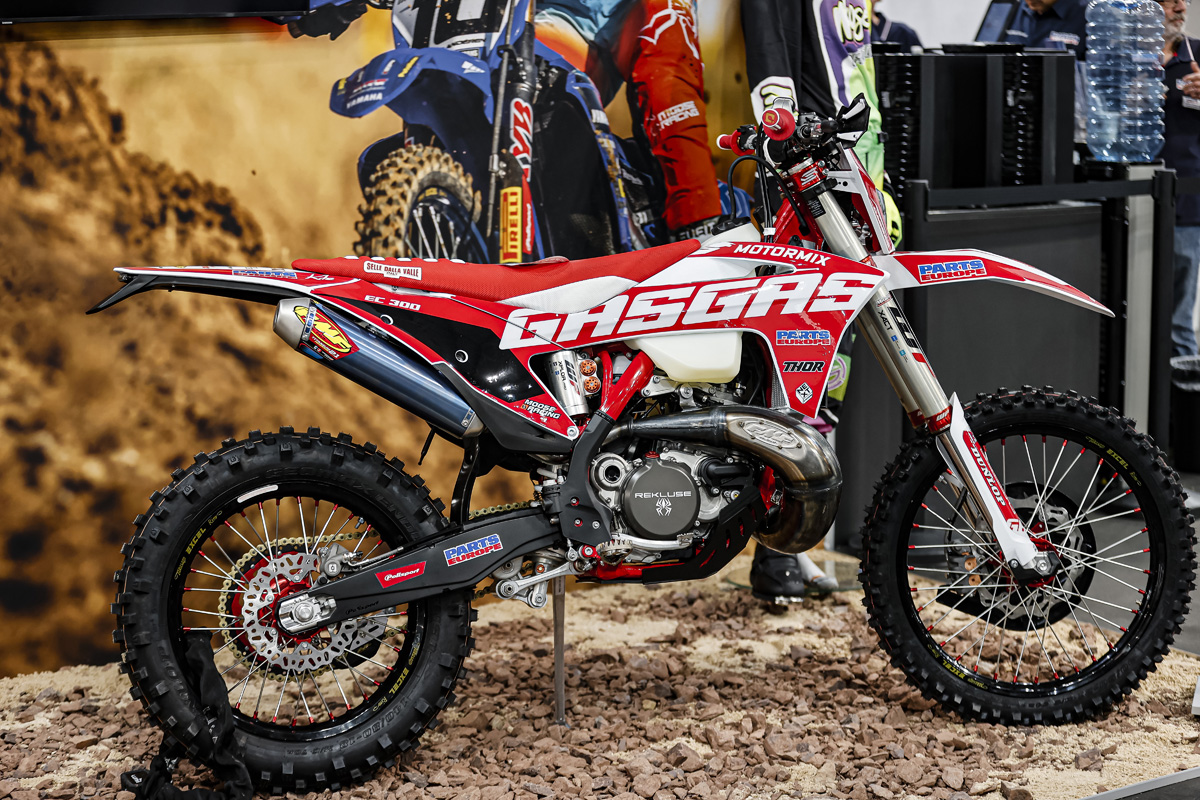 Scar triple clamps and foot pegs, FMF pipe and silencer, Polisport frame protectors, WP Xplor Pro suspension and more.
More information: www.motormixsrl.it
Half naked models
As well as the female human models littering the EICMA show, parts manufactures use bikes as models to show off their wares like the GASGAS above. Acerbis' stand had this half naked model sporting many of their goods and while it probably got fewer eyes looking at it than the women models, it did keep halting show-goers in their tracks.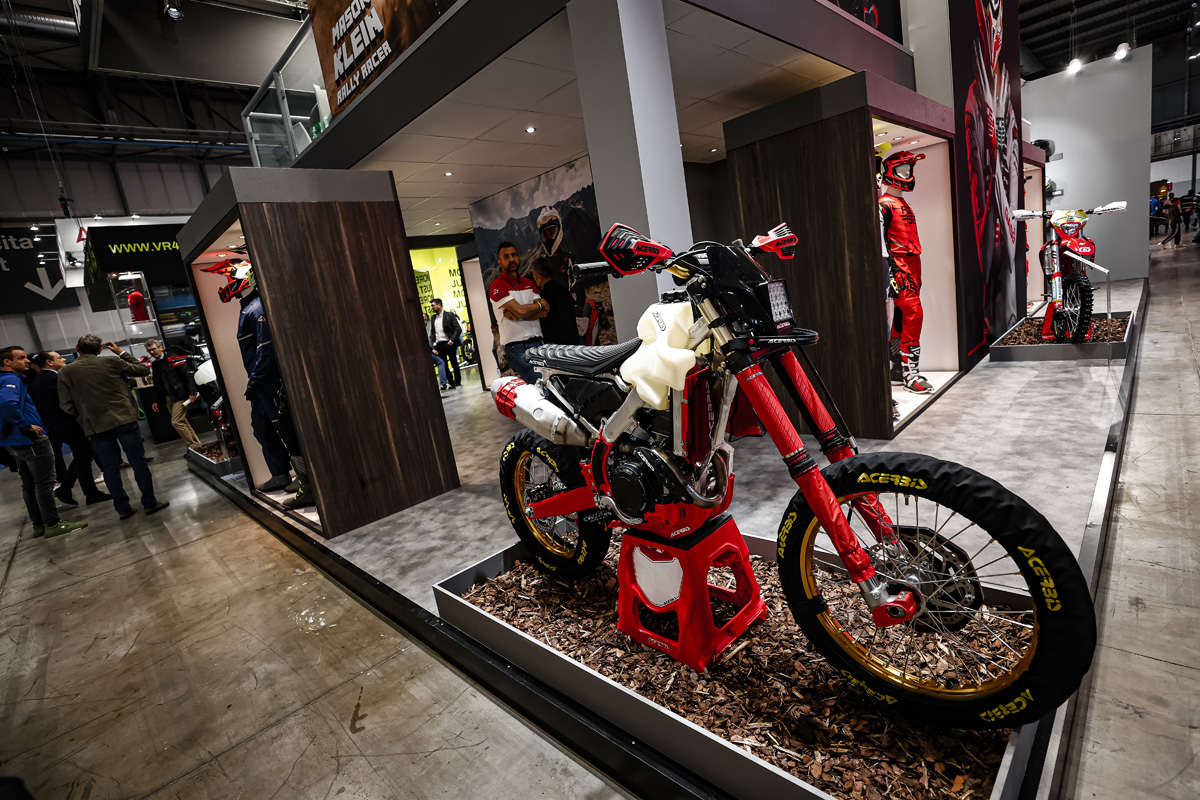 It's the kind of bike that makes you stop and stand there for a while, looking and thinking about what you can see, what a part might be protecting or doing and applying it mentally to your bike back home.
Do I need a bigger tank? Is my seat as grippy as that? Are my forks that protected for the mudfest I'm going to be riding in next weekend? How cool would some more night riding be with that headlight blazing?
You can't see it in our image but the handlebar pad with a built-in pocket for keys and a small digital clock/meter is pretty cool.
More information: www.acerbis.com
Polisport fork clamp protectors
If you're ever invested in a nice set of anodised triple clamps for your bike and promptly got roosted or dropped your bike against a rock and scratched them, you'll know exactly why Polisports' new lower clamp protectors are a good idea.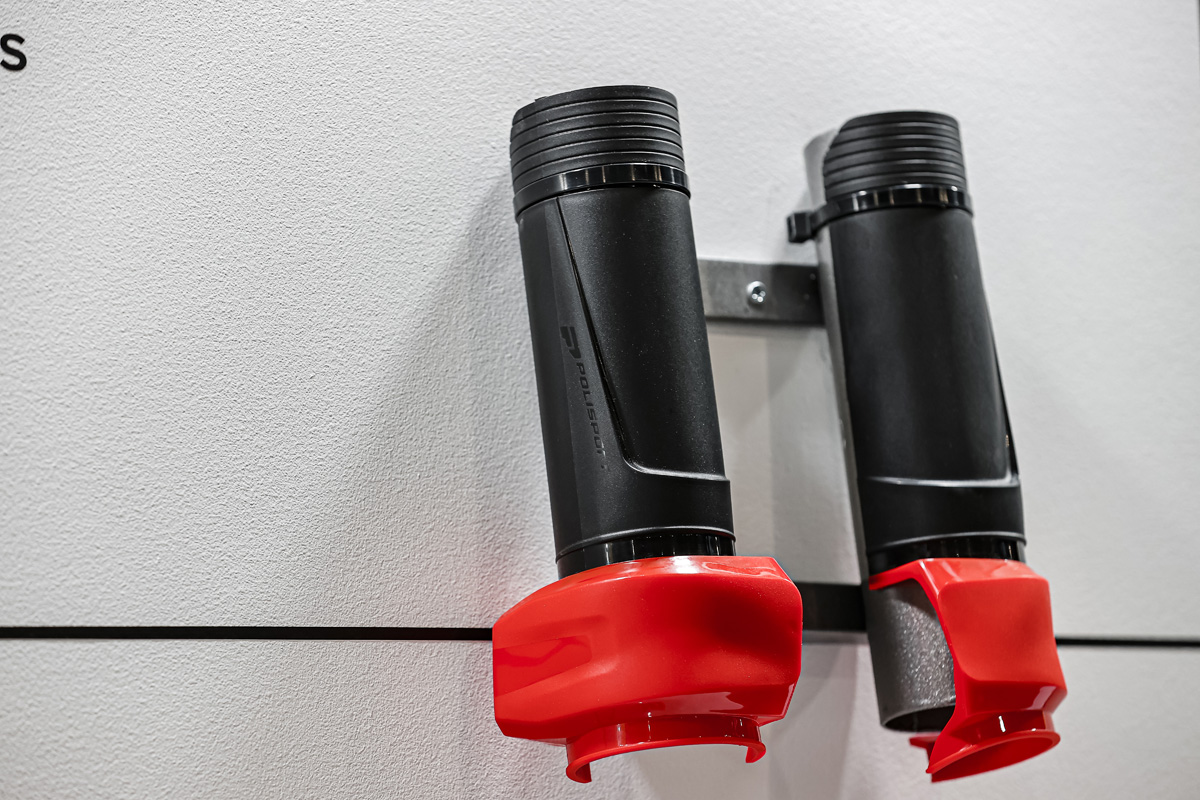 There's nothing overly complicated about them, the opposite in fact as they are a tool-free instal and need just a couple of cable ties.
Made with a high impact, lightweight plastic Polisport say they are a universal fit to protect the lower clamp and upper fork leg from rocks and roost
More information: www.polisport.com
Sidi boots giving us options
Apart from the blue and pink Billy Bolt replica boots which seemed to catch everyone's eye on the SIDI stand, what made us stop and look more closely was the sheer range of options they offer for customising and replacing parts.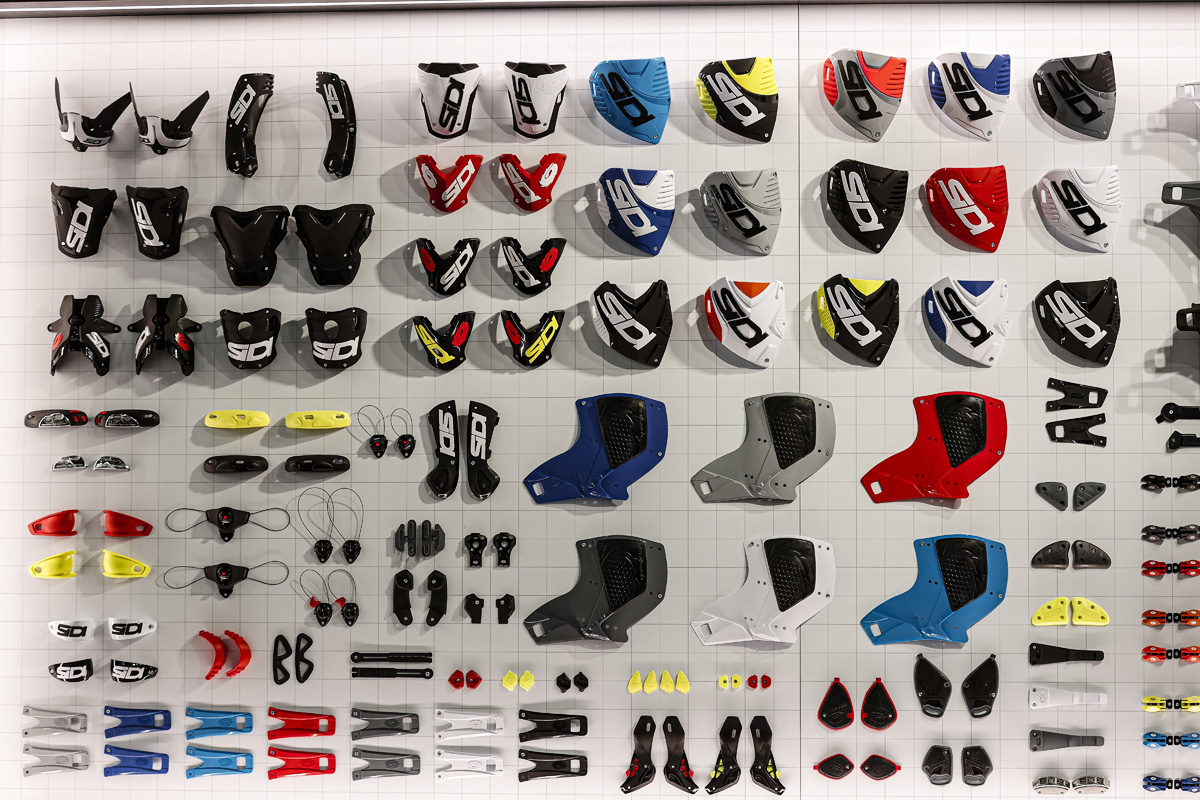 Different shin and side panels, new sole types with more or less grip, new toe protection…we couldn't help wishing all manufacturers a) gave you chance to replace the parts rather than needing to buy new boots and b) more would let us customise our footwear at the point of purchase.
More information: www.sidi.com
Talon's disc guard hanger
We caught up with British company Talon and as well as explaining how well received the new adjustable triple clamps are and how proud they are to be one of the very, very few engineering companies to actually make parts for HRC (Tim Gasjer's factory Honda has Talon clamps), they also talked us through the new front disc protector and hanger.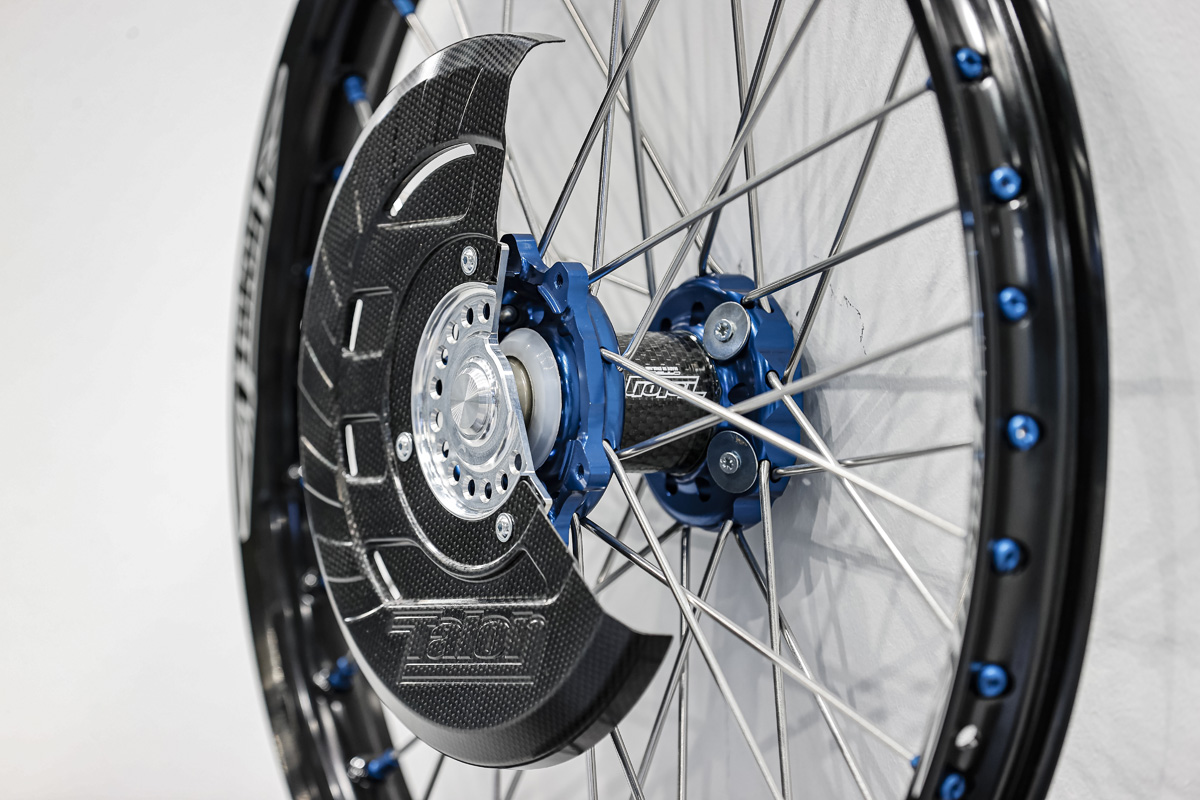 Machined from solid, it replaces the disc side axle spacer and can be used with their own disc guard (pictured) or has the bolt holes in the same position as the Acerbis guard which is widely used and found on the EnduroGP bikes of Josep Garcia and Andrea Verona.
Talon are seemingly going places at the moment with new products.
More information: www.talon-eng.co.uk
New Swedish mousses
Swedish mousse puncture-free insert specialists, Airmousse were also located on the Parts Europe stand and had plenty to say about all things off-road when we stopped by. Their range of mousses is always in development with something new, longer lasting or of a different compound continually in the pipeline.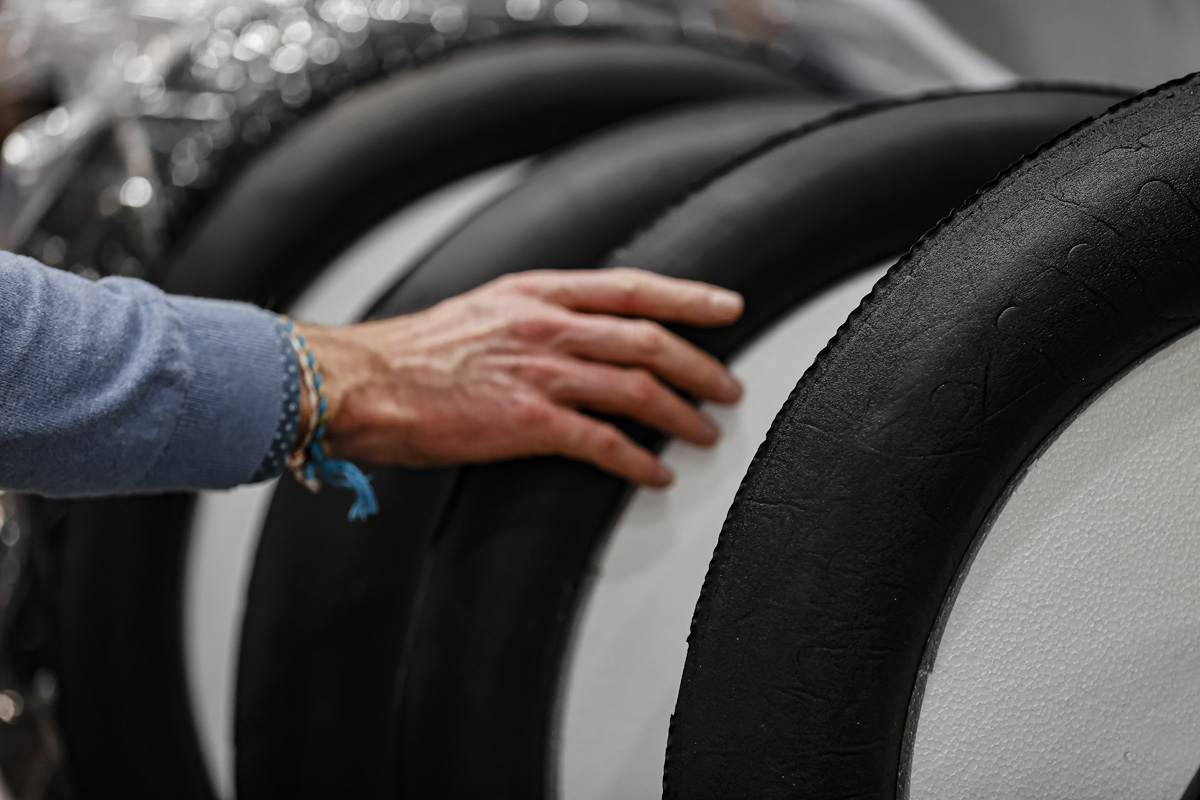 Enduro21 has a set of extreme, soft compound Airmousses for a couple of years and they are still perfectly serviceable. Unlike other types, they haven't shrunk or perished in anyway so far and have benefitted from the air-tight bag they came with.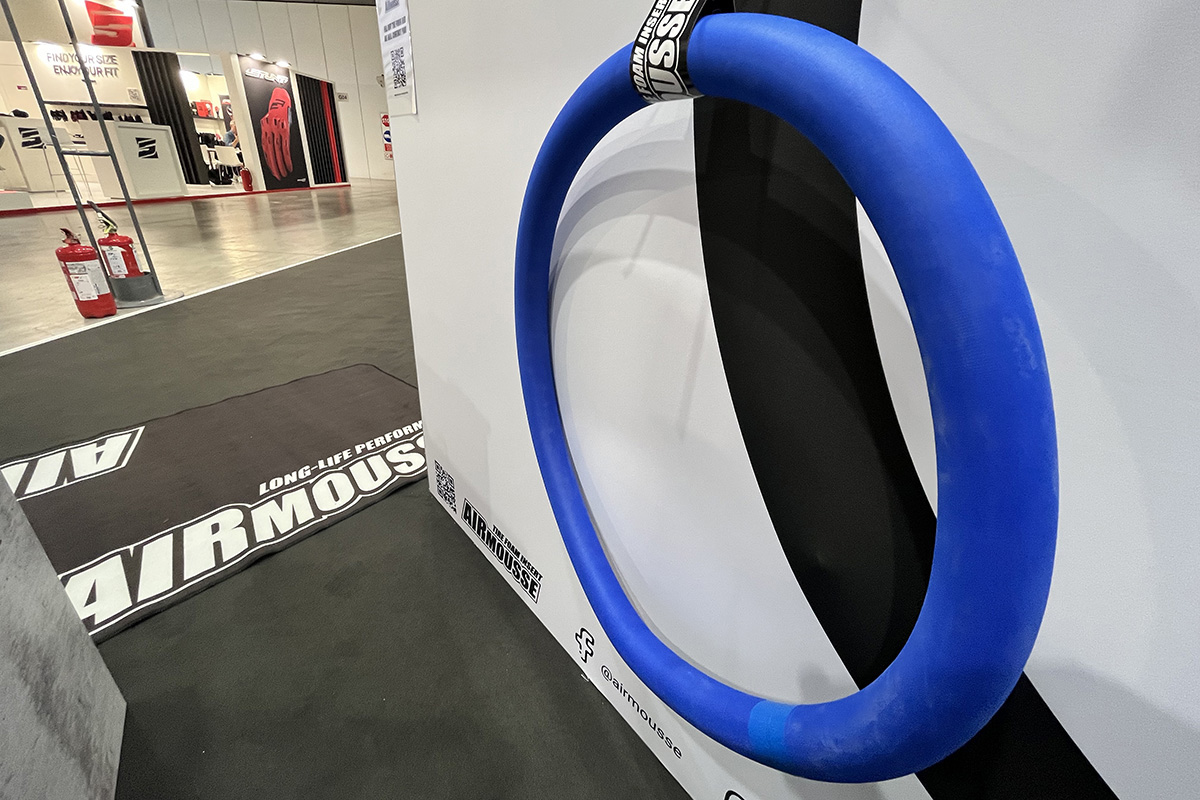 Their freshest product of all is for MTB. A mousse which is too good they tell us because it lasts too long!
More information: www.airmousse.com
CAKE Bukk
Swedish electric motorcycle manufacturer CAKE unveiled the Bukk, a new off-road platform they say which looks very much destined for the new e-bike world cup series.
The name Bukk means Thunder Cloud in the ancient language from the Swedish island of Gotland, CAKE's testing ground and inspiration for the naming of all of its products (plus a certain famous enduro race).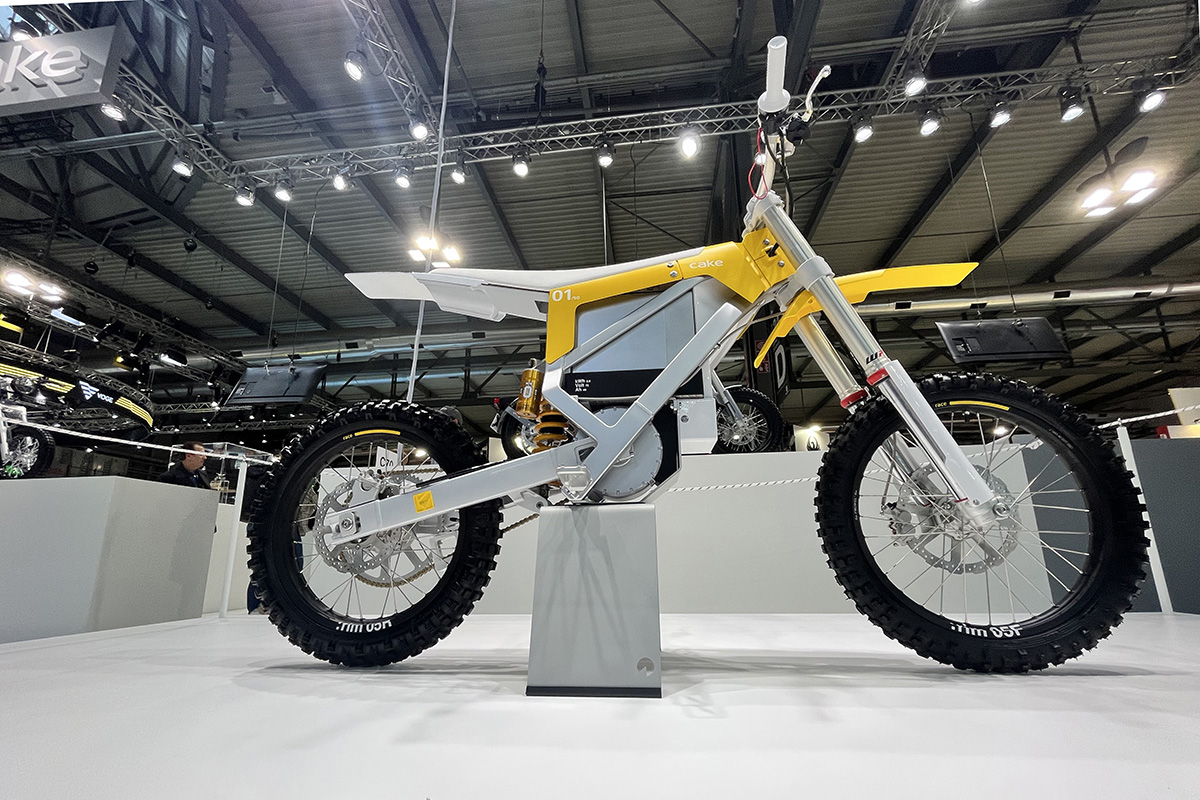 The BUKK will have an initial limited edition run of 50 units and is designed for trail and track use they say fitting into a new category of medium heavy bikes (cat A2) within the CAKE range.
Engineered and manufactured from scratch, including new and unique tooling, the frame, its geometry, suspension and components are new and "made with the lightest and most carefully considered alloys".
The Bukk weighs 85kg, has a 72V battery and 16kW motor delivering a claimed 420Nm of electric torque. Claimed top speed is over 100Kmh, there are three ride modes and it has WP front forks and Ohlins rear shock.
The 50 limited editions are finished in CAKE's Race Yellow colours and are available to order at €14,970.
More information: www.ridecake.com
China: incoming
The numbers of Chinese manufacturers has definitely grown in recent years at the bike shows but they are now definitely a rival presence to any manufacturer. One of the biggest stands at the show was CF Moto, recently announced as partnering with Pierer Mobility (the KTM Group parent company) for distribution and parts supply in Europe. While the Austrian's weren't here once again in any official capacity, the Chinese are muscling in.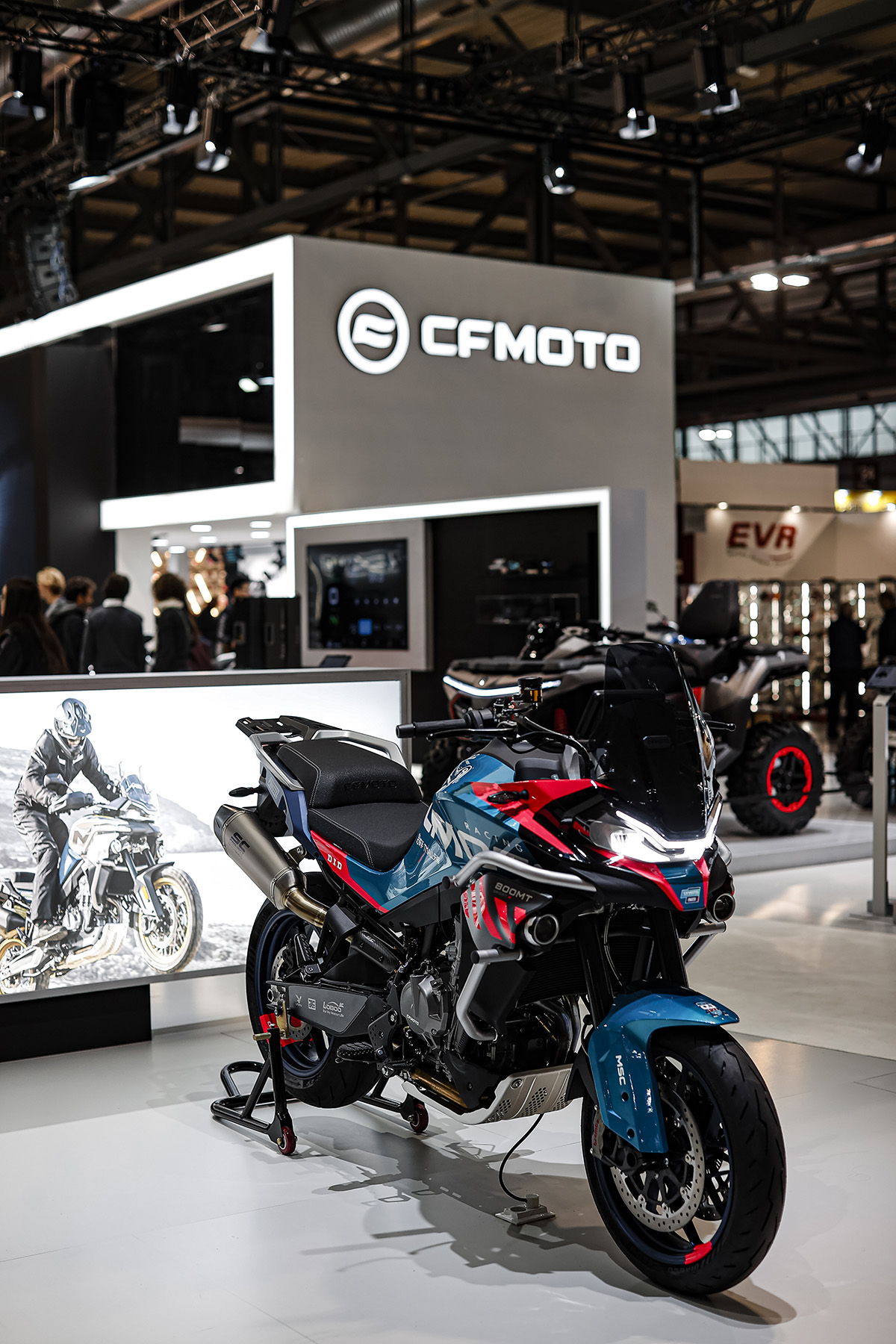 Getting turned on
The number of electric bikes littering the show halls has also grown this year with new manufacturers growing in number and existing companies taking up greater floor space than previous years. Swedish company CAKE for example as we mentioned above.
Meanwhile existing motorcycle manufacturers are still slow to arrive with electric powered motorcycles and outwardly seem more focused on e-MTBs rather than electric dirt bikes.
Maybe there's plenty going on behind the scenes with major Japanese and European manufacturers are still not showing their hand but it feels inevitable.
Rieju were arguably the biggest noise at this year's EICMA with their eMR model – read more about that here: First look: eMR electric enduro and 500cc twin Adventure models from Rieju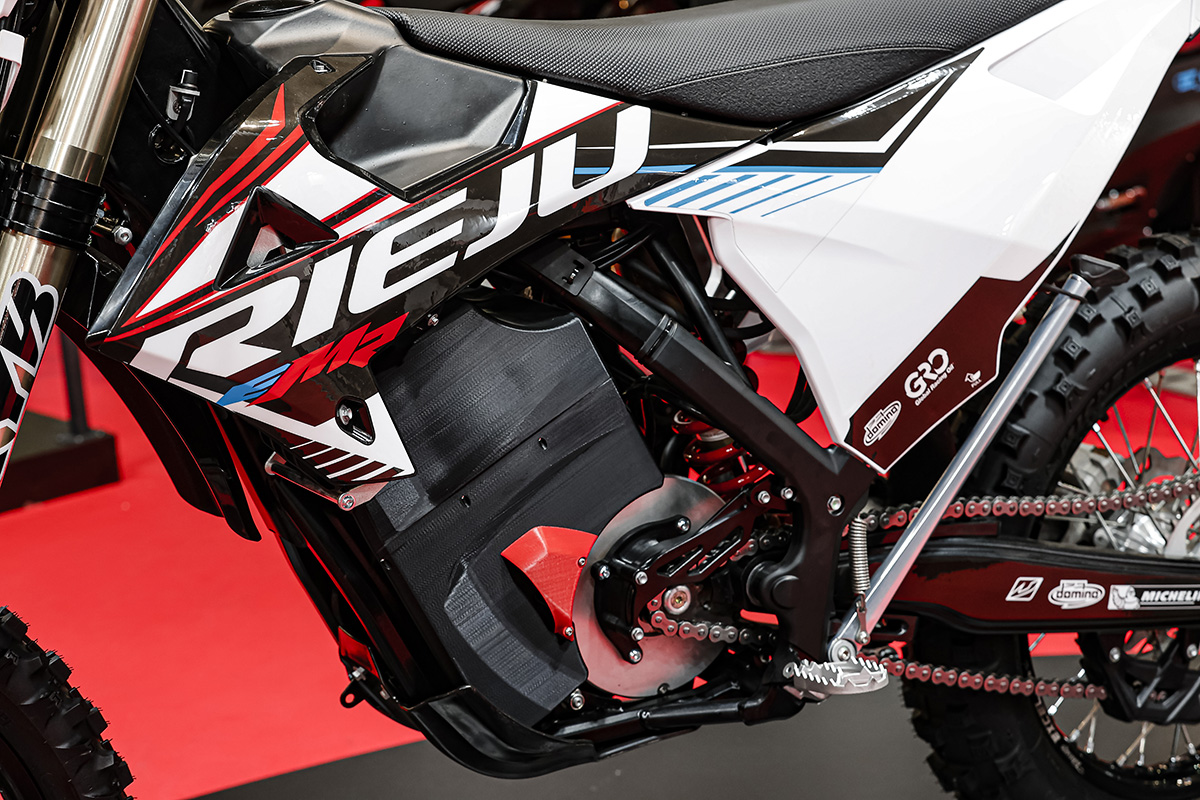 Photo Credit: Enduro21 | Andrea Belluschi