Top 5: New Off-Road Products, July 2020
The top five Off-Road and Enduro products hitting the Enduro21 door mat (and inbox) this month, July 2020.
Our pick of the best products from across the off-road market this month includes shiney new blue boots, blinding headlights and some solid but lightweight protection for the vulnerable areas of your bike when the going gets tough.
GAERNE SG12 Solid Blue Edition boots
The SG12 off-road and motocross boot from Gaerne are not 'new', in fact anything but however – we've had an original set as part of the ever-rolling kit bag for half a decade now. The new Solid Blue Edition Gaerne's are literally going to kick those old ones out the door.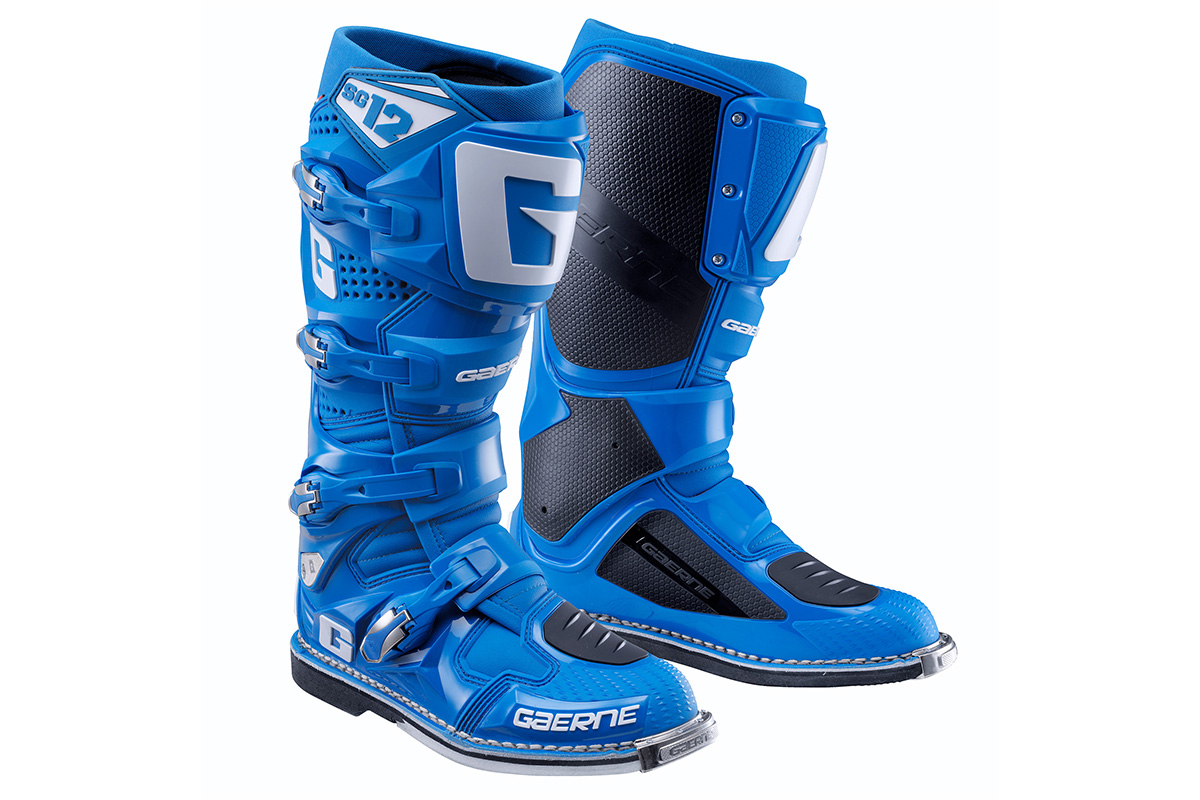 The list of features on the SG21 is as impressive as the new, blue colours: a dual stage pivot system attached to the "Razorback" rigid component that creates strong lateral support while a glide-plate keeps the upper boot firm and upright. A second pivot is fixed on a glide that allows the riders foot to move and feel natural on the peg gear shifting or braking. It locks-out and absorbs shock in the case of over-jump or compression.
Other features include the grip guard to hold the bike and provide heat resistance, thermoplastic shin plate, option to open and accommodate a bigger leg or knee-brace, four adjustable alloy buckles, breathable fabric stretchy gaiter, Gaerne's "Memory Cell Foam" brings interior comfort, a protective heel cup and toe box and cap, an all-new foot-bed moulded to support the foot. There's a lot going on.
Gaerne have a range of SG12 models including the Enduro version which is only available in black but which has a different, grippier sole.
Sizes:
EU 41 42 43 44 45 46 47 48
US 7 8 9 10 11 12 13
Cost: $549.95/€549.90/£495.00
Contact: GAERNE.com
Baja Designs LED headlight kits
These caught our eyes, we reckon 4900 lumins blasting out the front of a bike would catch anyone's eyes to be honest. We spotted them as a new part on Beta USA's site to fit 2020 onwards models but it turns out Baja Designs have a range of headlight options for racing, off-road, dual-sport and adventure.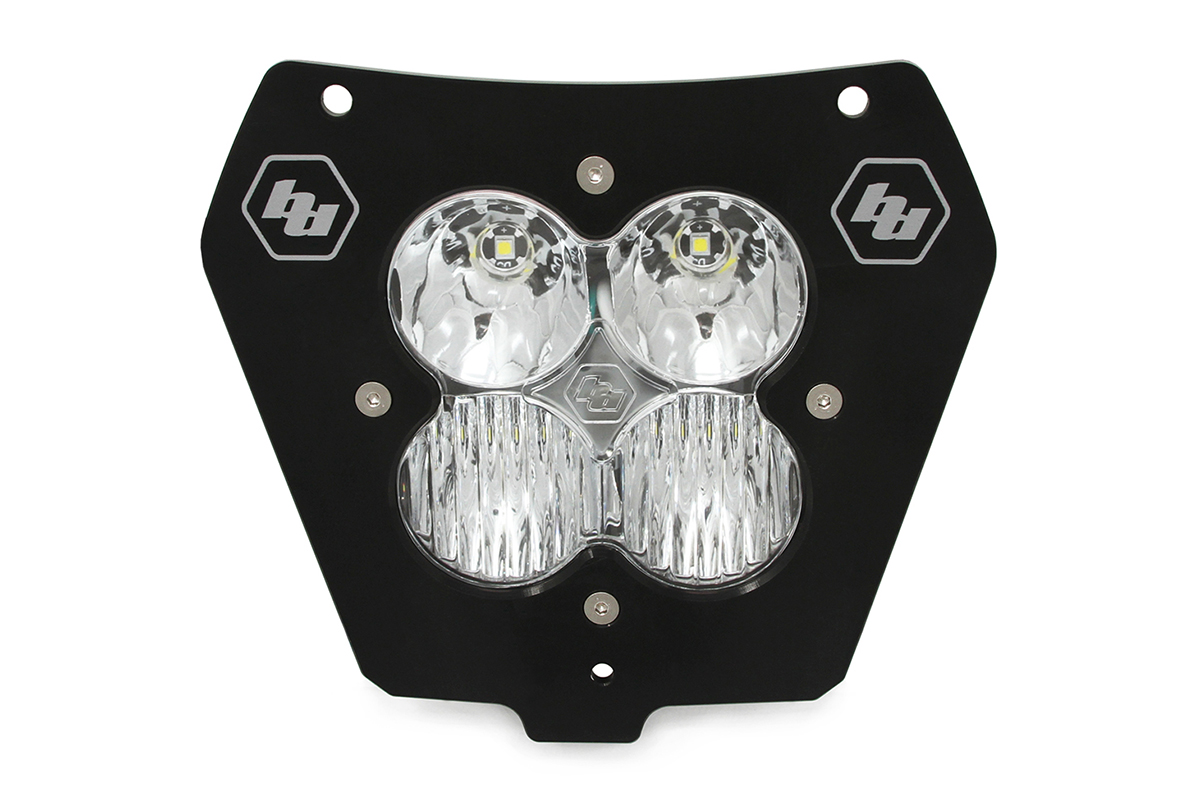 The Squadron Pro headlight kit pictured "is in a league of its own, producing 4,900 lumens and 40 watts giving you the perfect mix of power and performance." It is one of a range of options designed to plug directly into existing connectors without the need to upgrade stators.
Options include with or without number board mounting and they also differ in the power output and draw from the bike. The Sport for example produces 3,150 lumens and draws 26 watts while the more powerful Pro version puts out 4900 lumins at 40 watts.
All are waterproof, come with a limited lifetime guarantee and fit a large range of bikes.
Cost: from $200 depending on type
Contact: BajaDesigns.com
KLIM Mojave 2020 off-road clothing
KLIM say they are aiming to strike the right balance between "high-quality mesh materials for maximum airflow, with extraordinarily abrasion-resistant Cordura fabrics in the highest-wear areas" with the Mojave range.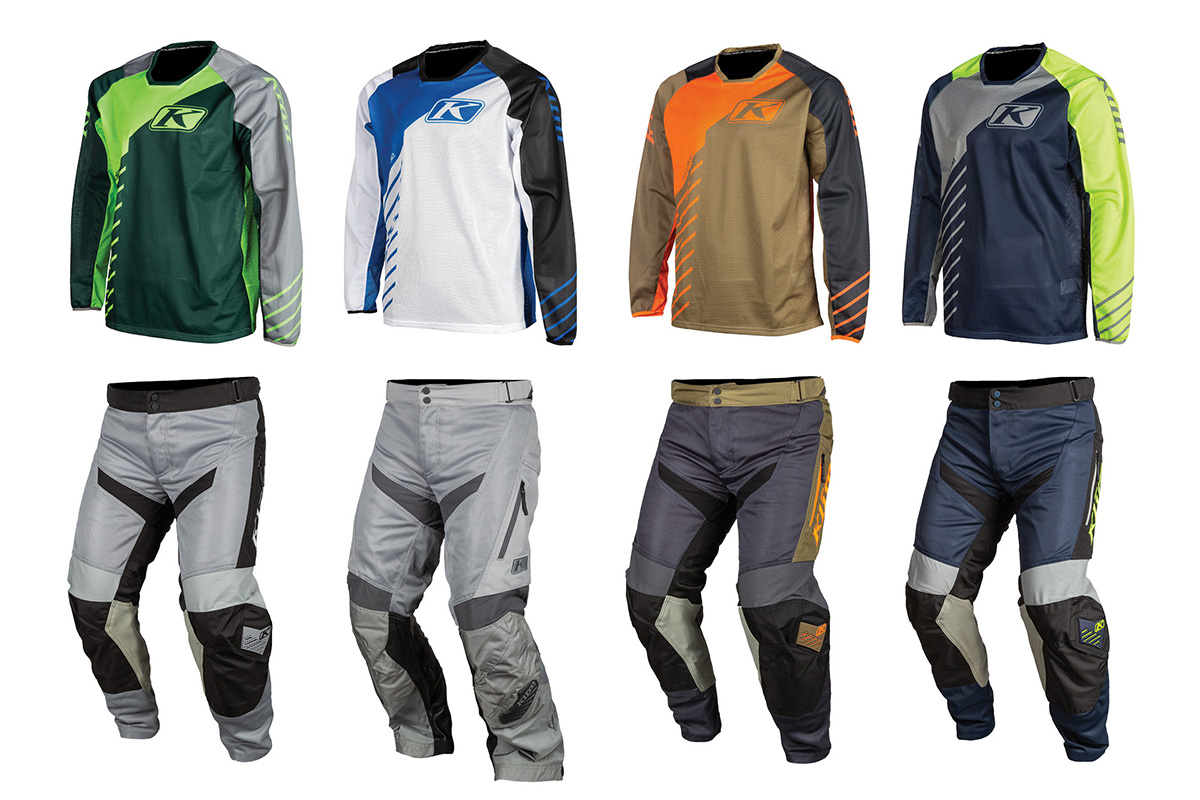 The Mojave range includes pants (two versions for over and under the boots), jerseys and gloves which are all designed to let your body breath while you ride. Suitable for a range of riding applications from MX to enduro, trail and even adventure riding KLIM says.
The pants feature 840D Cordura on the buttock area, outside of the thigh and around the knees with heat-resistant leather protection the inside of the knees.
The shoulder and outward-facing areas of the sleeves on the jerseys are made from durable stretch nylon while the rest is a mesh material.
Cost: Pants from $101.99/€156, Jersey from $59/€70, Gloves from $20/€31
Sizes: S to XXL
Contact: KLIM.com
Bullet Proof Designs Linkage Guard
Any suspension linkage is going to take a beating when you start getting out on trails or races which include rocks and logs – poking out the bottom and behind the sump guard it is a vulnerable area of your bike when things get more extreme. guard.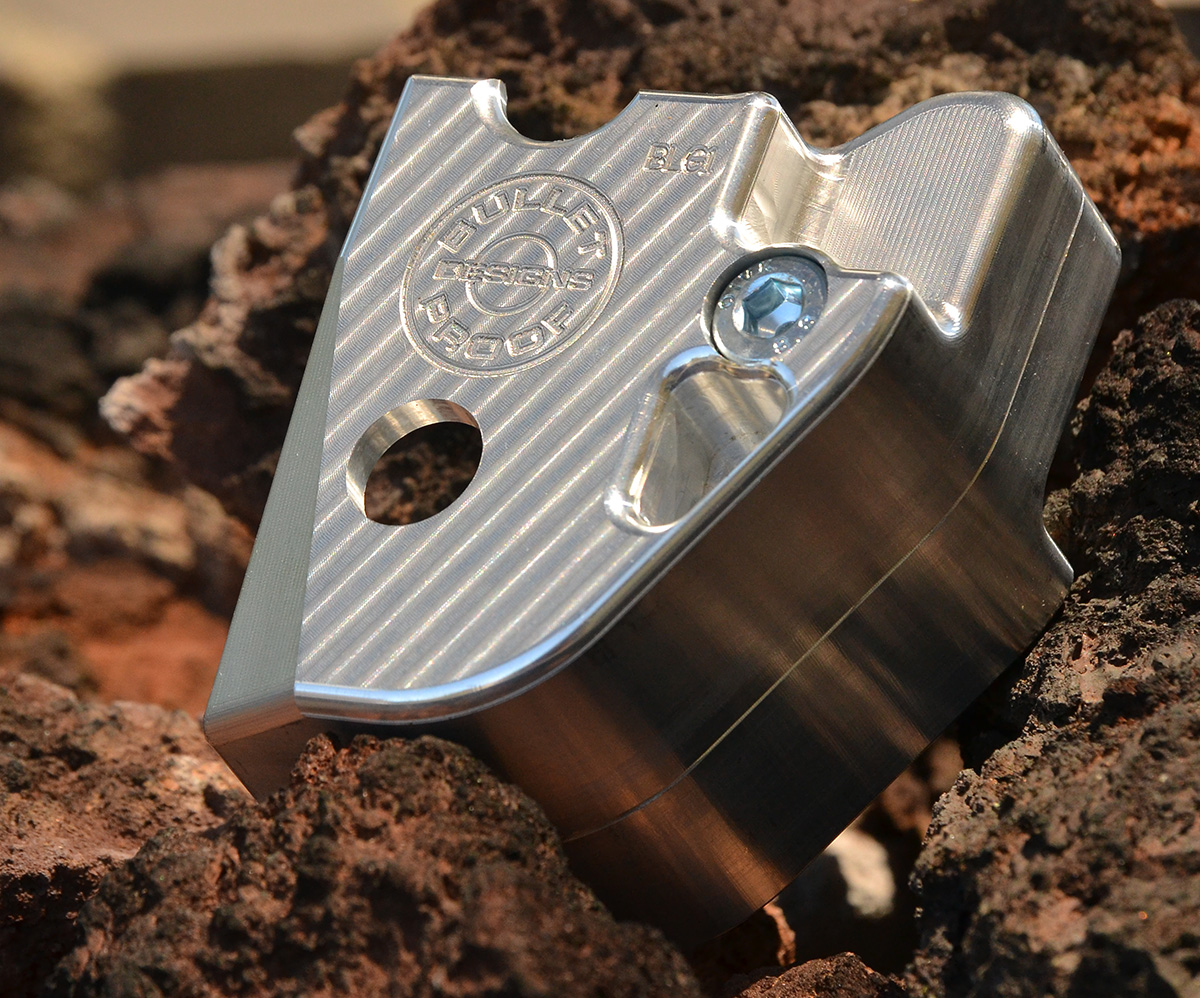 What we like about the Bullet Proof Designs Linkage Guard is the simple but effective design which makes installation simple using two bolts to mount on the bottom of the shock clevis. Machined from 6061 aluminum makes it lightweight but strong enough to take the hits BPD claim.
The linkage guard comes with a lifetime warranty and is available for KTM, Husqvarna, GasGas, Beta, and Yamaha models.
Cost: $90.00/£81.52
Contact: BulletProofDesigns.com
Polisport Armadillo two-stroke pipe guard
The Armadillo is Polisport's new generation pipe guard abrasion and impact protection for two-stroke header pipes or expansion chambers. The silicone main part (shaped like an armadillo, hence the name) both reduces vibration noise and is resistant to high temperatures.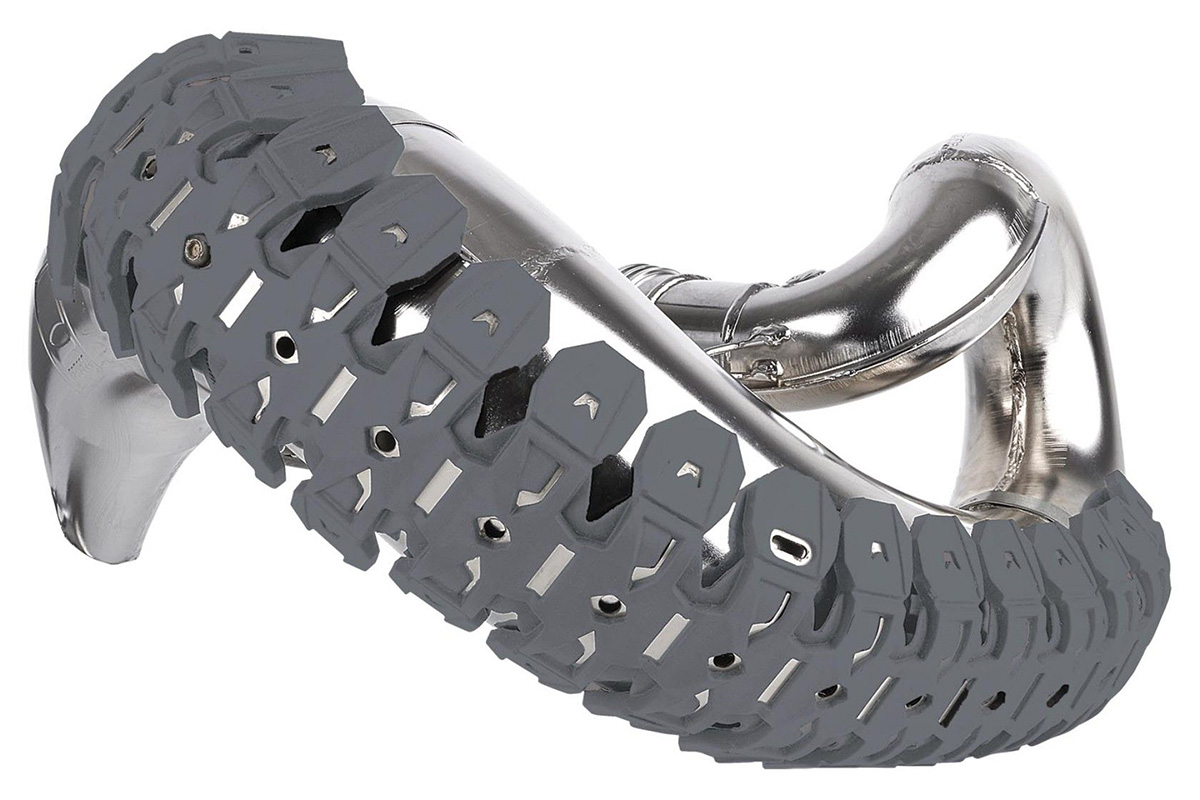 The main protection part is flexible and adaptable to fit different pipe shapes from different manufacturers.
Polisport say the three bracket mounting system makes it easy to install and disassemble when you want to clean the pipe – it comes with all the hardware – and is available in a range of brand-specific colours.
Cost: $70/£58.50
Contact: Polisport.com