2022 EnduroGP results: Josep Garcia turns it around on day 2 in Spain  
Results from all classes on day two of the 2022 Spanish EnduroGP, round one of the Enduro World Championship where home-hero Josep Garcia has taken the victory ahead of Andrea Verona and Brad Freeman.
EnduroGP of Spain, day two in a nutshell:
Day two at the Spanish GP was a day of changing fortunes for some of the elite riders with some ups and downs in the results shuffling the deck by comparison to day one.
It was also a tough day on the 75-kilometre course. Tackled three times each day, the three tests were battered heavily and grew increasingly technical and physically hard on bikes and bodies.
Chief among those playing their cards right on day two and mastering the terrain was home crowd favourite Josep Garcia who ironed out the day one mistakes to kickstart his season with a win.
"After day one I knew I had the speed so I was pushing from the first test until the last one. I felt really good on the bike…I don't have much more to say because today was perfect." Explained the KTM rider.
Andrea Verona couldn't quite repeat the day one winning performance. Finishing second overall today, the GASGAS Factory Racing rider was 18 seconds adrift of the resurgent Garcia but a whopping one-minute clear of his nearest rival in E1 class, Thomas Oldrati. The result means Verona leaves Spain as the championship points leader.
"It was a really good opening weekend for me." Explained Verona. "It was not an easy GP because day one was really slippery and today was really, really bumpy and there are many lines in the tests. Josep was really fast today but I was always just a few seconds behind in each test so I am really happy to come away with my first day win, two E1 class wins and the overall championship lead."
After having a day which he described as "possibly the worst of his professional riding career", yesterday, Brad Freeman was back on the podium today just four seconds adrift of Verona.
"The weekend was a little bit difficult, that's for sure!" Says Brad. "I feel like I'm not really in a position to do anymore at the moment. Today I gave everything I had and just came up short for second. I can't really be disappointed because I gave it everything and that is all I can do. With my collarbone and covid I fell like I'm fighting it and struggling. Yesterday was terrible but I rode today like I felt like I wanted to but just couldn't keep it going all day. We'll try again in Portugal."
After finishing second scratch and E2 class winner on day one, Steve Holcombe all but swapped places with his Beta Racing teammate and dropped to sixth in class and 14th overall. "I made a few mistakes in the first Extreme test, crashed in the first Cross test and only had an ok Enduro test. Then in the next Extreme I hit a bump in a really awkward way and hurt my shoulder and wrist. From that point on I was trying to maintain position and just get to the finish line."
Zach Pichon again dominated the Junior classes with an overall time which would have put him top 10 scratch in EGP. The Sherco rider topped a repeat podium on day one ahead of RedMoto Honda's Roni Kytonen and Jed Etchells on the Fantic.
"I was a bit surprised to win both days here." Said the Frenchman. "On both days I had to fight my way back to take the win. On day one a problem with my rear brake, today it was a crash. The tests were really difficult towards the end but I am really happy to win both days."
The Women's class again saw a class act form Jane Daniels. The Fantic UK-backed rider finished 1:13.52 clear of Rieju's Mireia Badia who was in turn well-clear of the fight for third which today went to Portuguese rider Rita Vieira who put a Yamaha on the box.
"The first GP has gone really well with no dramas." Explained Daniels. "The tests were good but really chewed out today which was difficult. Yesterday I was bit slack in the Cross test but pulled it back in the others. But today I won all six tests so I can't complain really!"
Kevin Cristino turned the tables or rather his Fantic made it to the finishline and the Italian was able to complete the day on top pf the Youth timesheets. Harry Edmondson put in another solid ride to finish 47 seconds behind with Sami Puhakainen third.
Open class scratch honours went to perennial victor Goncalo Reis but the Portuguese was pushed all the way by young British rider Harry Houghton. Respectively the pair won the Open 4T and 2T classes.
GP of Spain day 2 results – EnduroGP: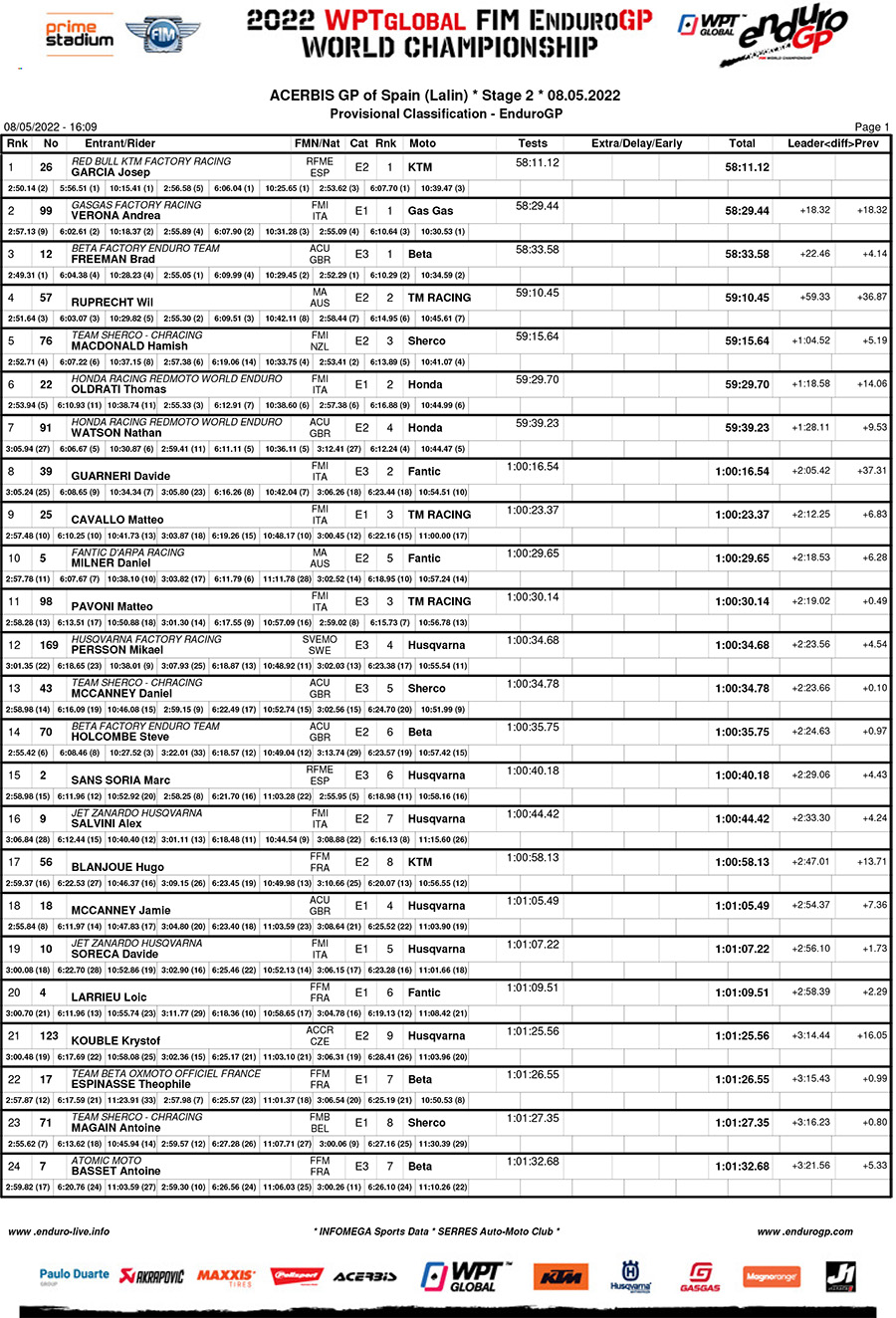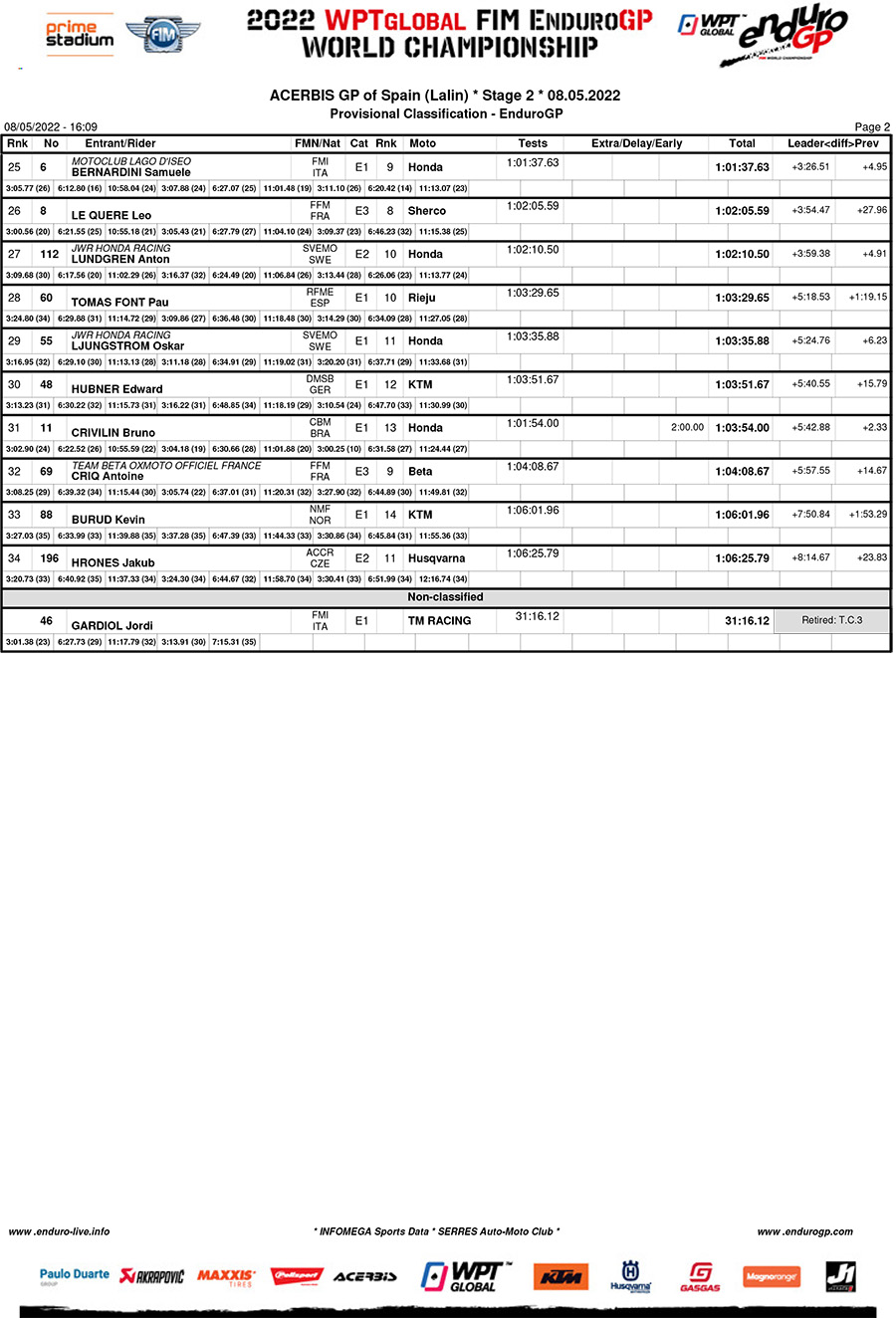 GP of Spain day 2 results – E1: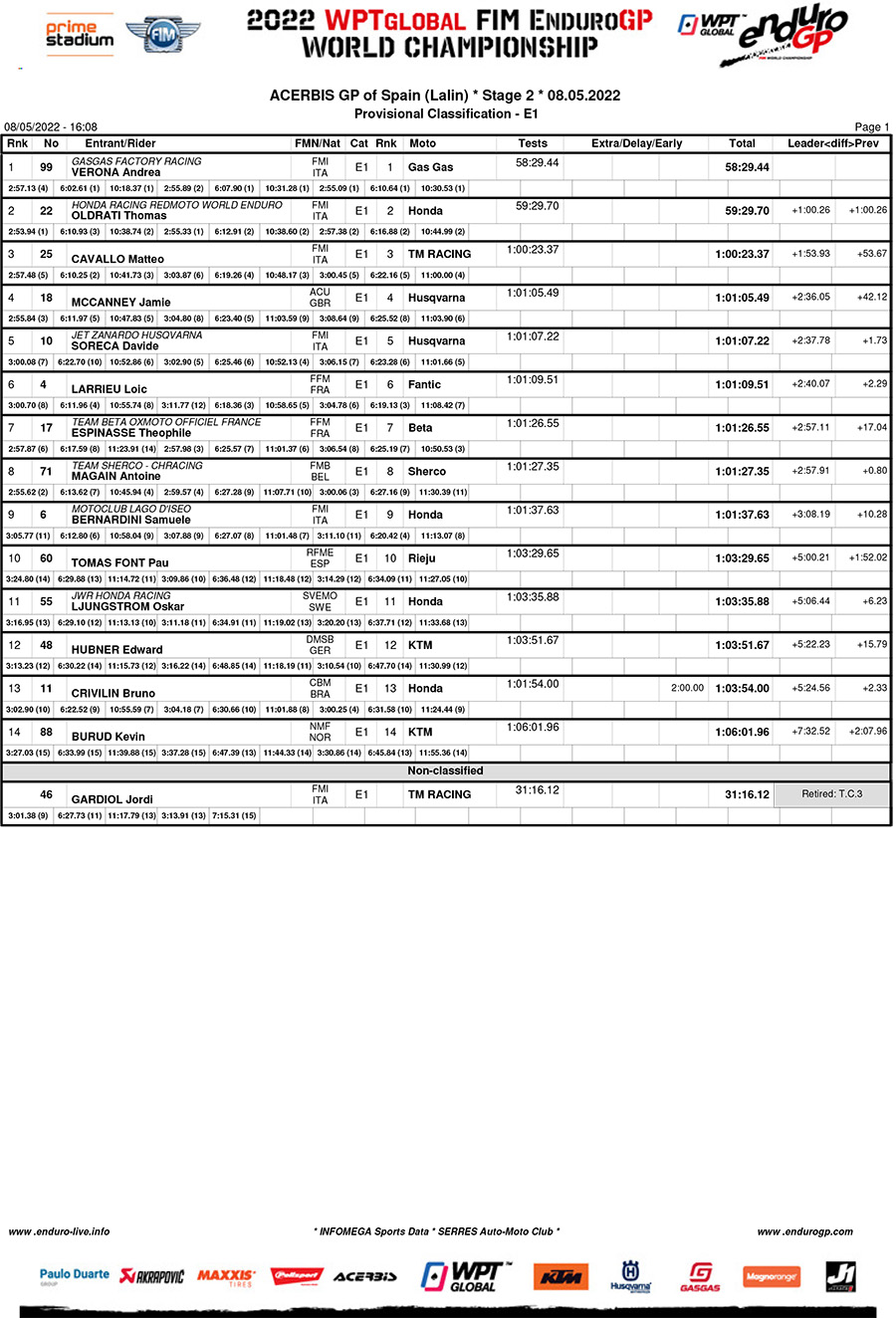 GP of Spain day 2 results – E2: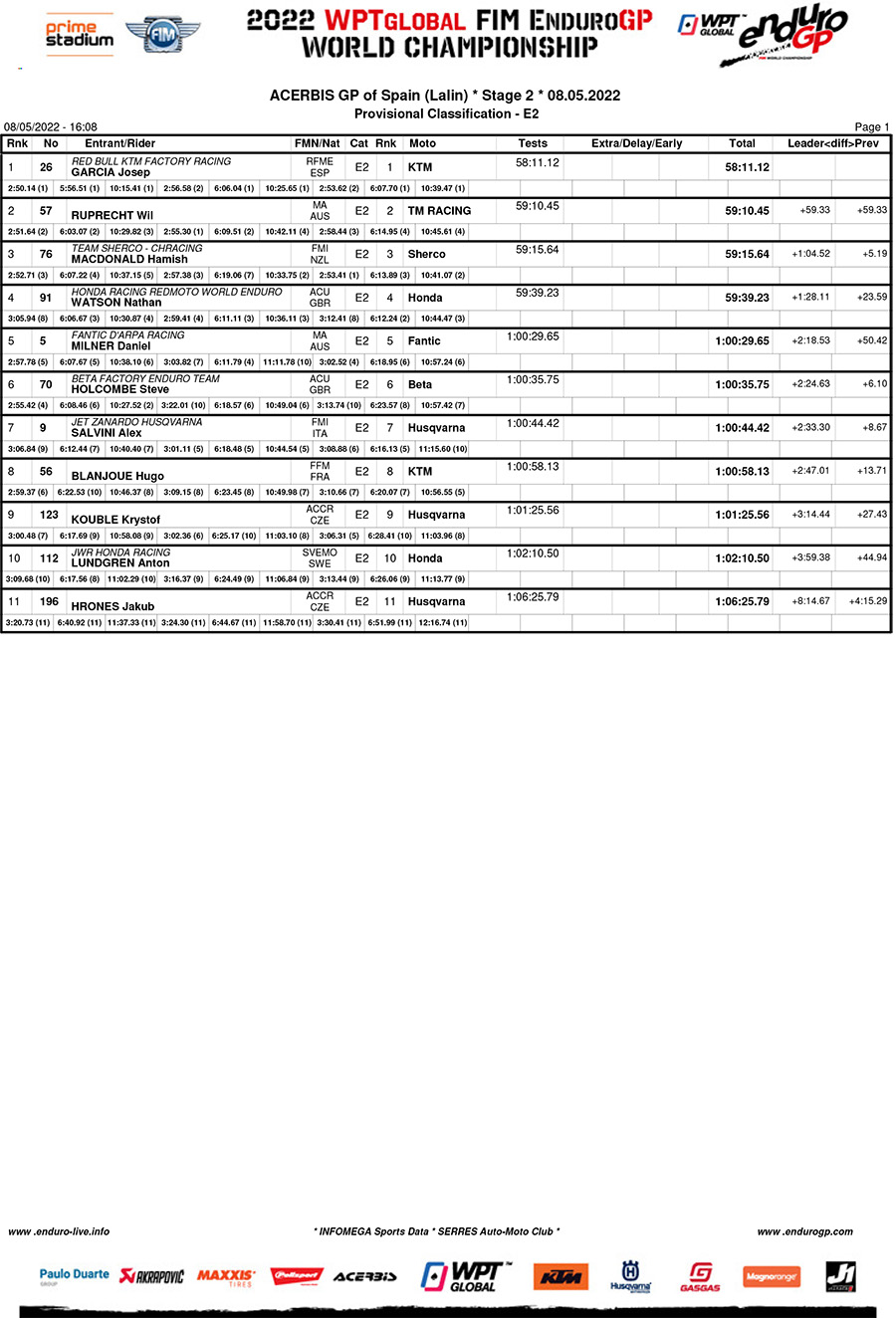 GP of Spain day 2 results – E3: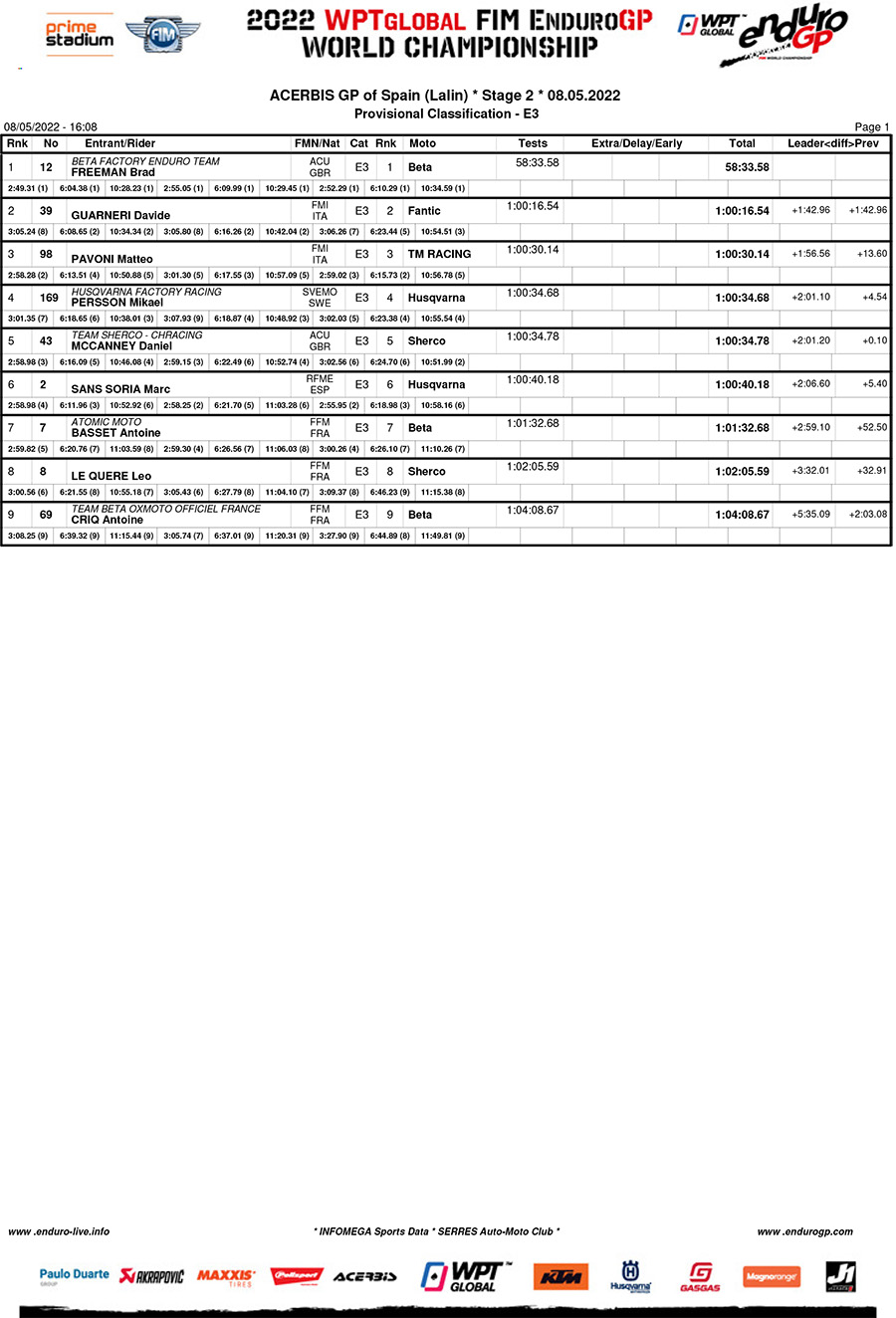 GP of Spain day 2 results – Junior: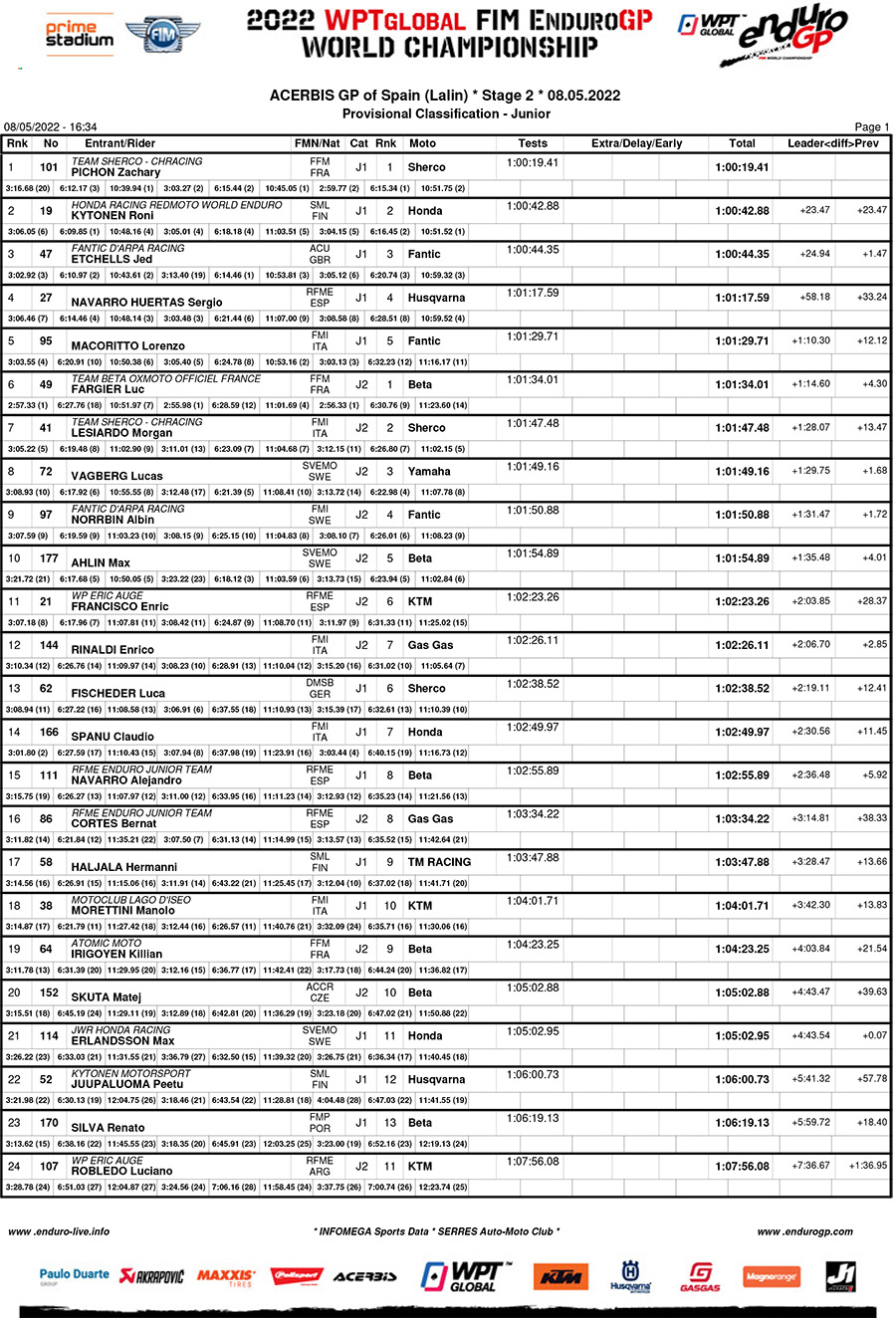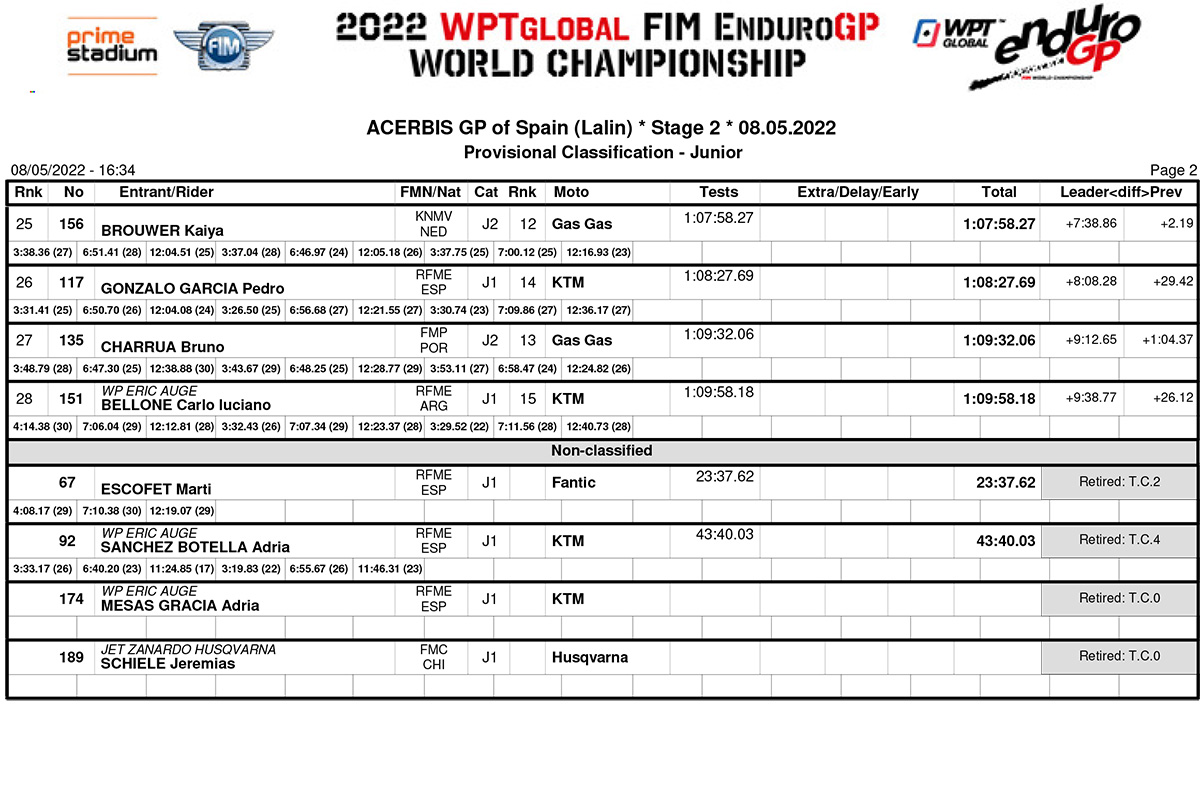 GP of Spain day 2 results – Women: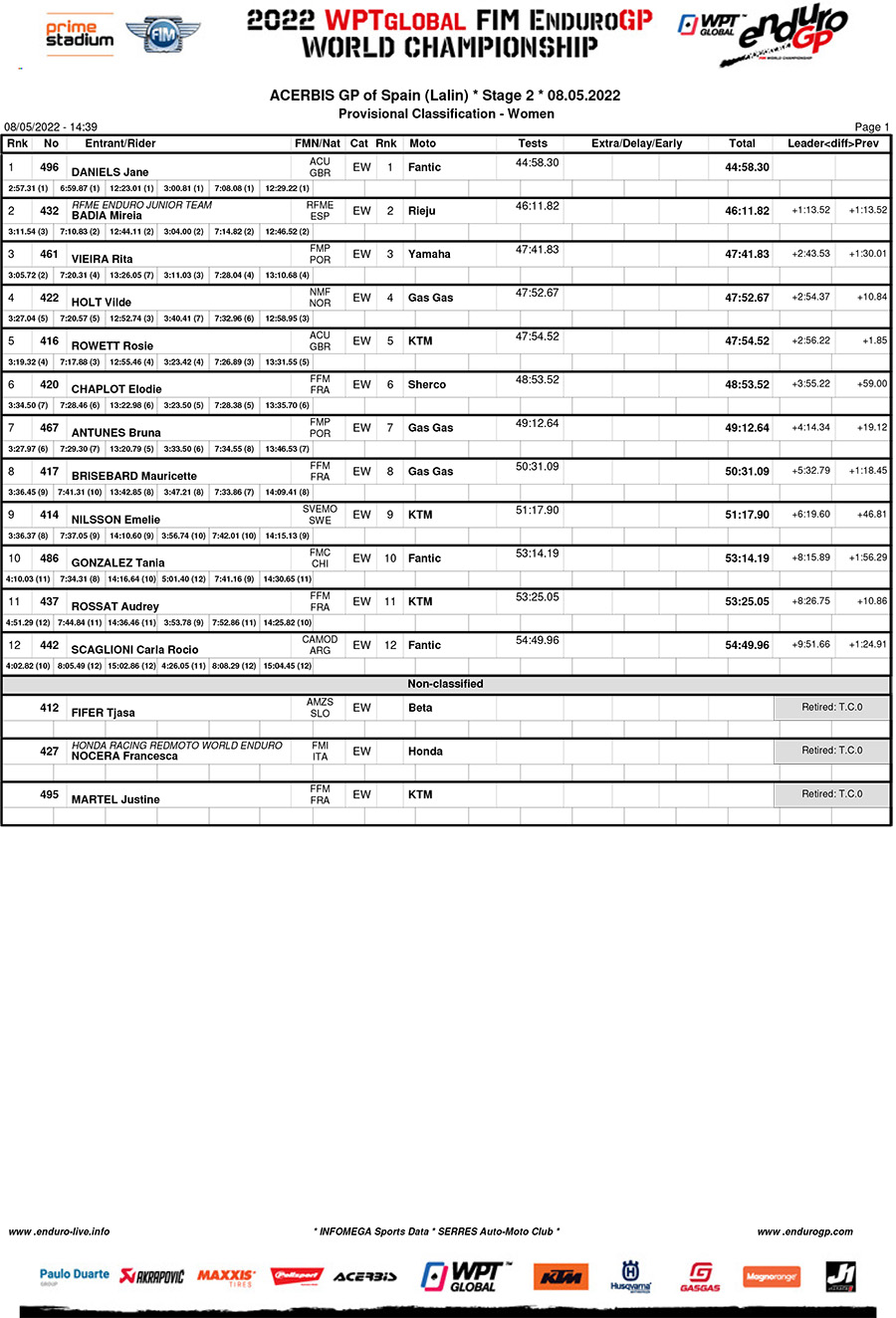 GP of Spain day 2 results – Youth: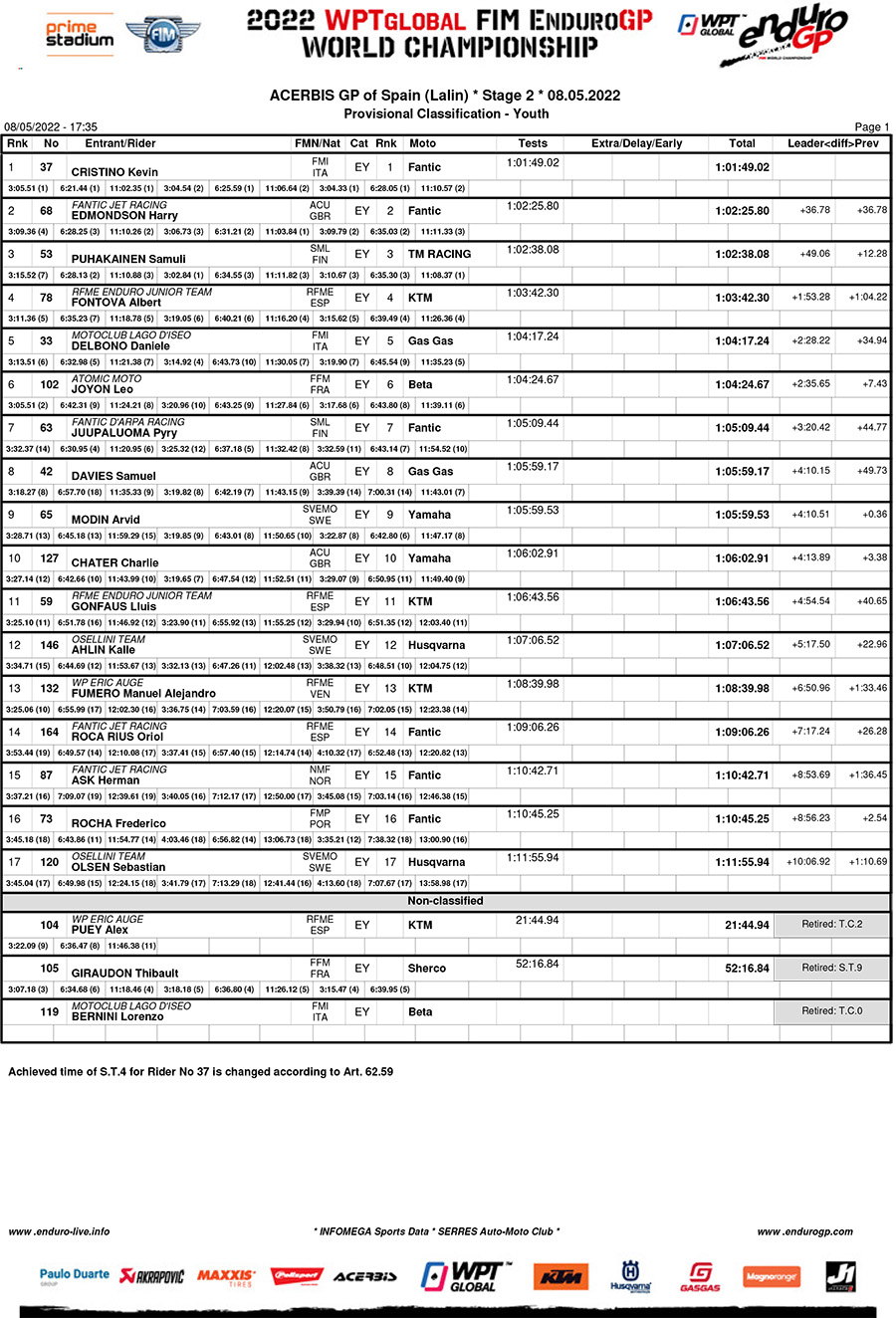 GP of Spain day 2 results – Open (scratch):
Photo Credit: Future7Media | Andrea Belluschi