2022 EnduroGP results: Ruprecht doubles up on day 2 in Portugal
2022 EnduroGP World Championship results from day two at the 2022 Portuguese GP where TM Boano Racing's Wil Ruprecht has claimed his first, double win beating Josep Garcia and Andrea Verona.
2022 EnduroGP of Portugal, day two in a nutshell:
While others arrived at the party on day two in Portugal, the same three amigos topped the time sheets throughout the day and remain the riders to beat this season. Wil Ruprecht, Josep Garcia and Andrea Verona are setting the pace and are forging ahead in the championship already.
In a repeated podium from day one, Ruprecht beat Garcia by six seconds with Verona much closer today, 18 seconds off in third.
But it was Ruprecht's day again from the first test though and in particular his fast enduro test times sealed his first ever double day victory in the world championship.
"I'm very happy with the 1-1 result", said Ruprecht, "I've never done that before. The course deteriorated so every lap you're looking for some new lines and what you can do to optimise your times. I felt like I rode mature and minimised mistakes and the reward for that was the win both days so I couldn't be happier."
"I worked today to try and find something extra in the tests, especially the enduro test." Explained Garcia following his 2-2 scorecard. "But I had one crash and did not feel so good. But sometimes it is like this and I am happy that we are there with good speed and this championship is long so I have to stay focused like this and be positive."
First in E1 and again third scratch, Verona says he is happy but knows he had to work to improve in the tests, "I am quite happy but I was not so good in some tests on day one. I know why and improved over the weekend in the enduro test and closed the gap to the first two. The tests were difficult and also sketchy in some parts, so it was important not to crash."
The new names entering the party and finishing inside the top 10 today, new this season at least, were Theo Espinasse, Alex Salvini and Mikael Persson. All stood on the day two podium in E1, E2 and E3 respectively with Persson narrowly missing out on the E3 class win to Davide Guarneri who capitalised on Brad Freeman riding injured.
Behind another solid day for Thomas Oldrati in fourth, Espinasse's P5 scratch made him best placed Beta rider and we seriously can't remember the last time a non-factory Beta boy wasn't up there. Why's that? Because Freeman was in real pain with his left hand after a crash, finished 23rd overall and joins his teammate Steve Holcombe (at home this weekend) on the injured list.
A long list of DNFs this tough weekend on the rocks in Portugal includes Hamish Macdonald, Lorenzo Macoritto, Sergio Navarro and Enric Francisco.
After so many years of seeing Italian rider dominate the Juniors it is refreshing to see French riders taking first and second places again today. The overall win was again convincingly in Zach Pichon's hands with a margin of 51 seconds over Luc Fargier who took a 2-2 scorecard for the weekend with Jed Etchells copy booking a 3-3 result.
Sami Puhakainen has also been fast all weekend in Portugal and delivered the Youth 125 victory on day two. The young Finnish rider saw off Harry Edmondson by over 40 seconds which is nothing to be sniffed at in these tough tests and in this class. Kevin Cristino was third.
Women's class act Jane Daniels delivered yet another winning performance on day two. She clocked the lion's share of test wins again to seal a 44 seconds victory margin over Mireia Badia. Like so many of the class winners, it was the enduro test where Jane was so convincing.
Rosie Rowett and Rita Vieira traded places for the final podium spot again today with home favourite Vieira edging it again for her third podium of the season.
Harry Houghton also repeated his domination of the Open classes and takes the unofficial scratch result by almost a minute plus the 2T class honours. Reis Goncalo was P2 scratch and fastest in 4T class with Jorge Rodriguez third.
GP of Portugal day 2 results – EnduroGP: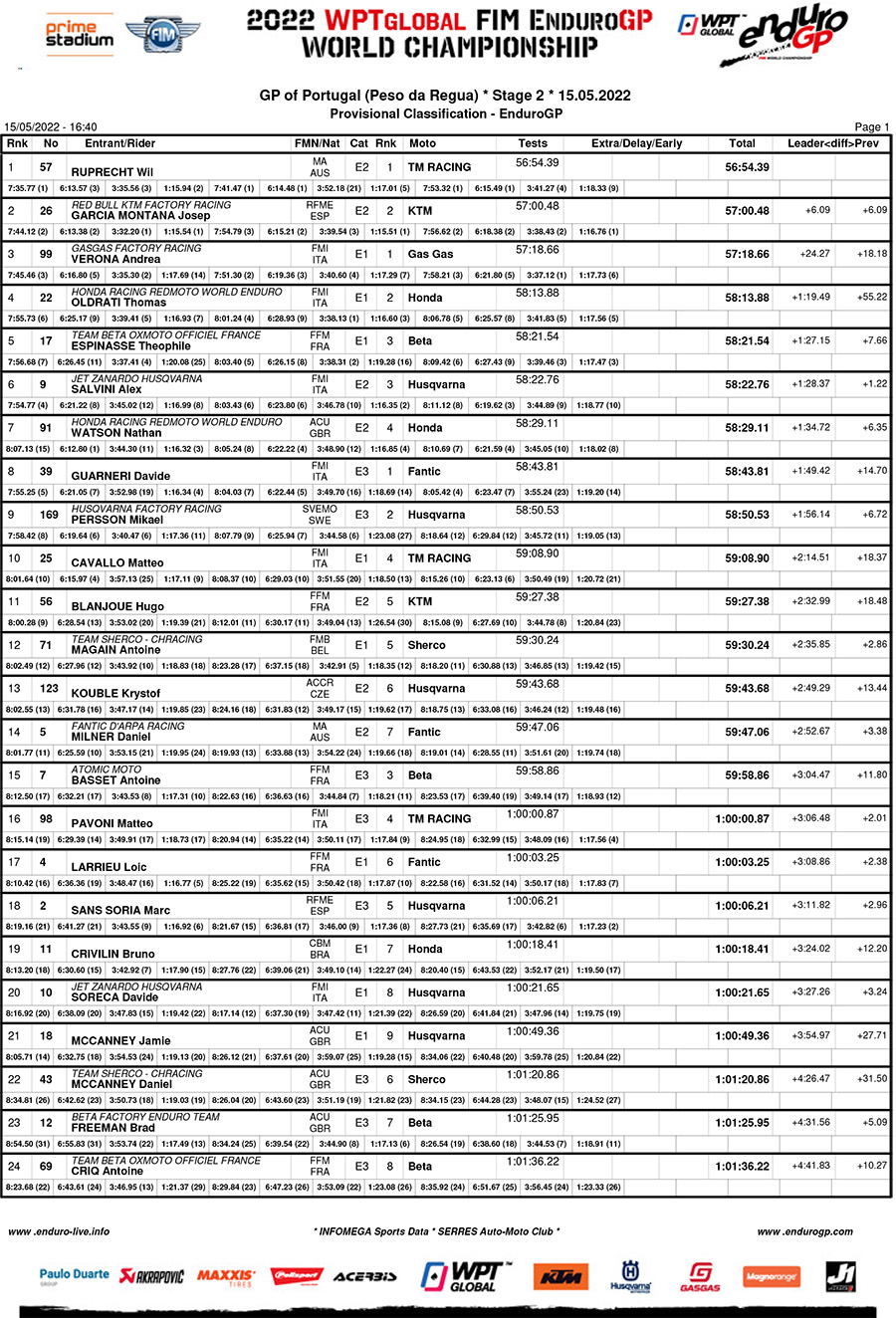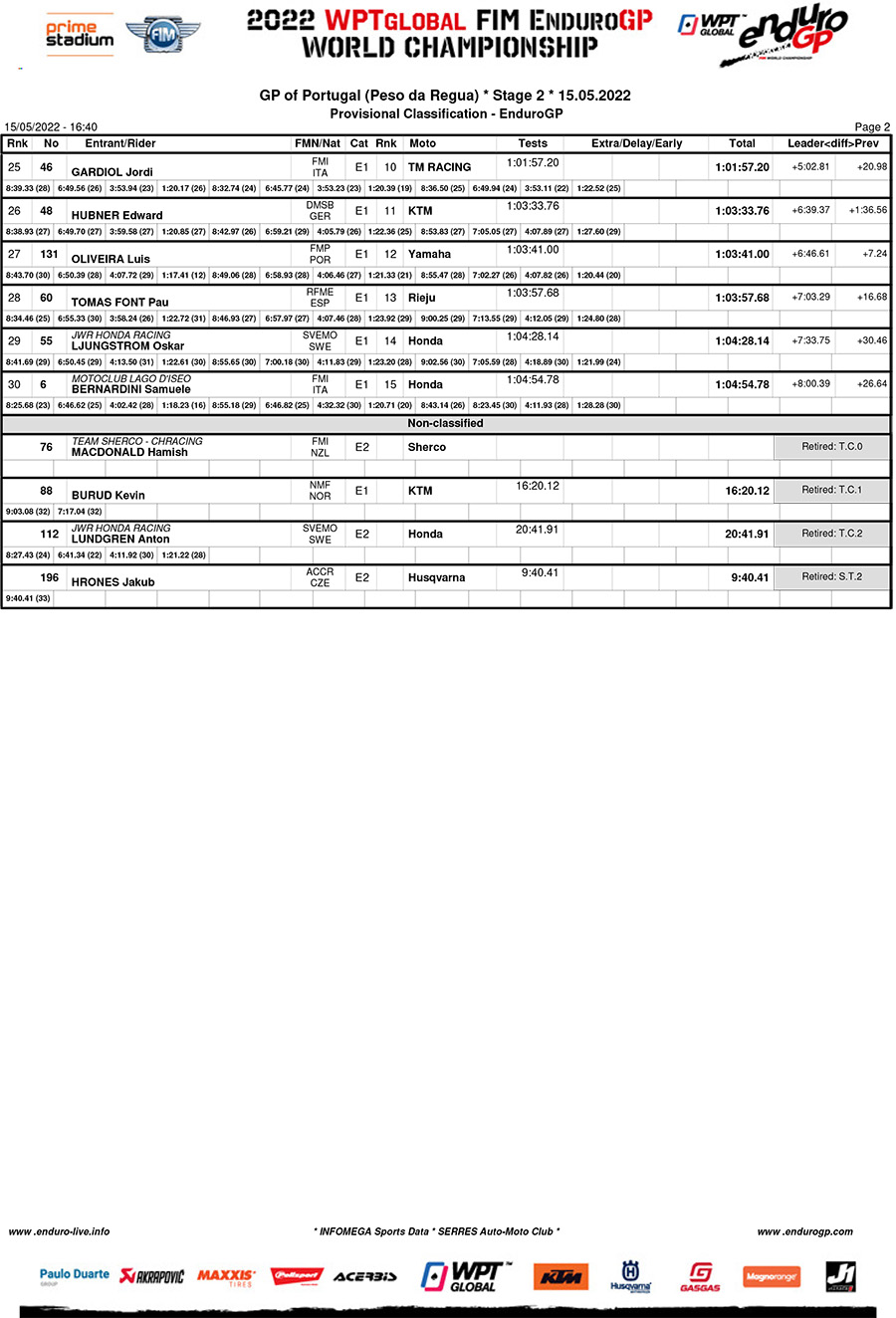 GP of Portugal day 2 results – E1: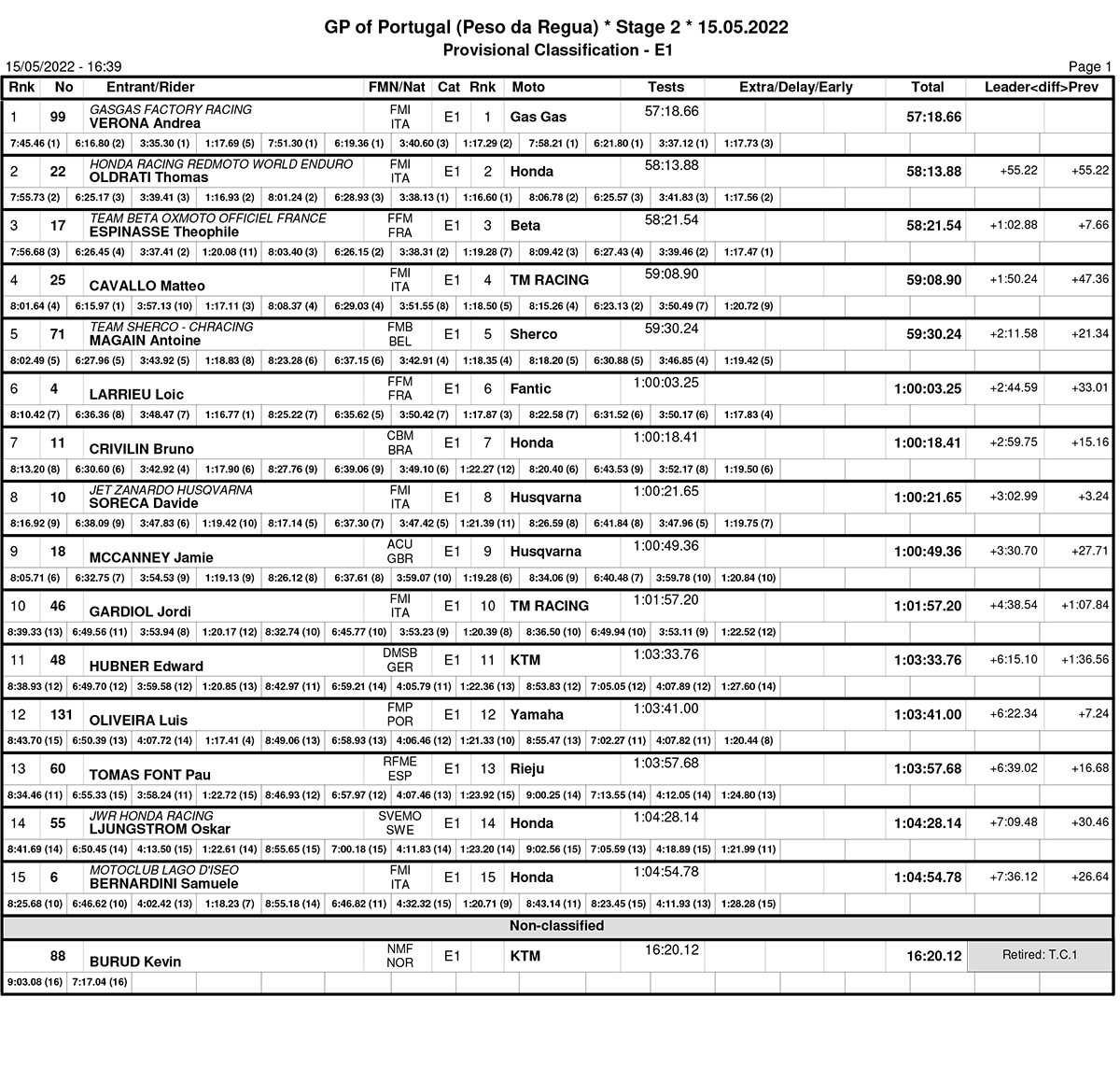 GP of Portugal day 2 results – E2: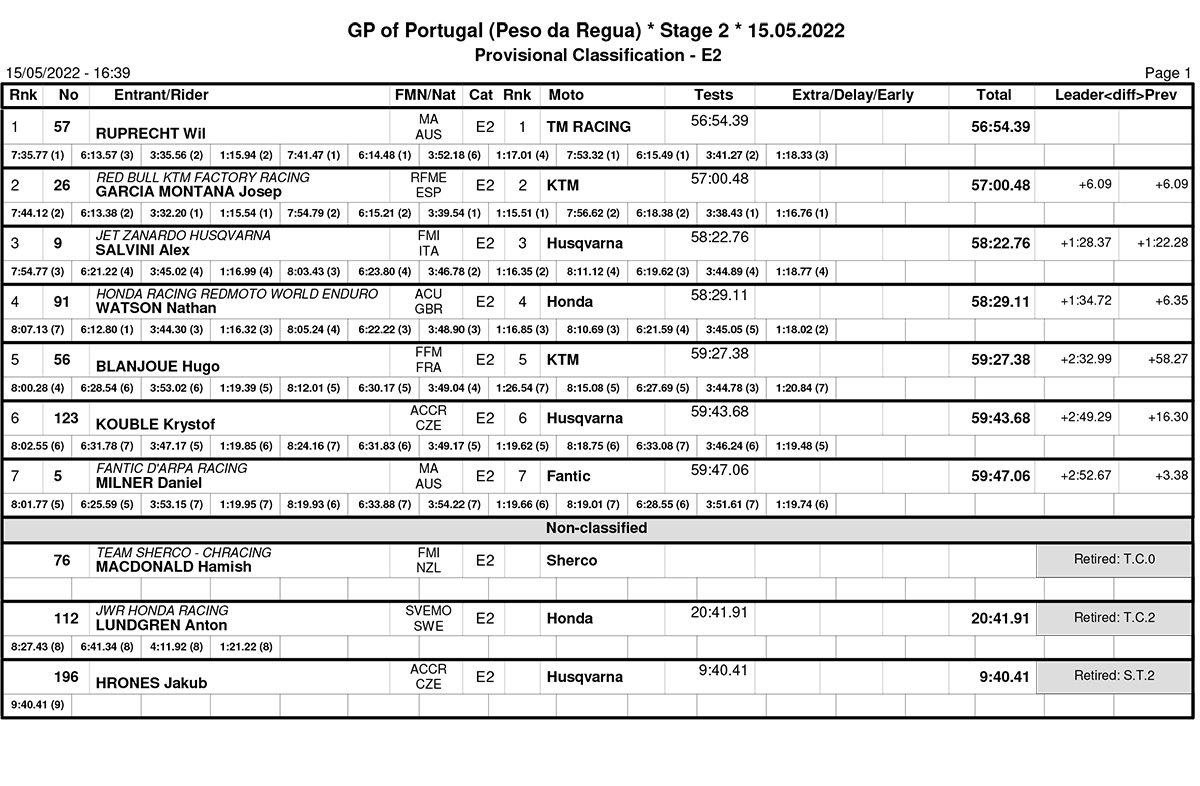 GP of Portugal day 2 results – E3:
GP of Portugal day 2 results – Junior: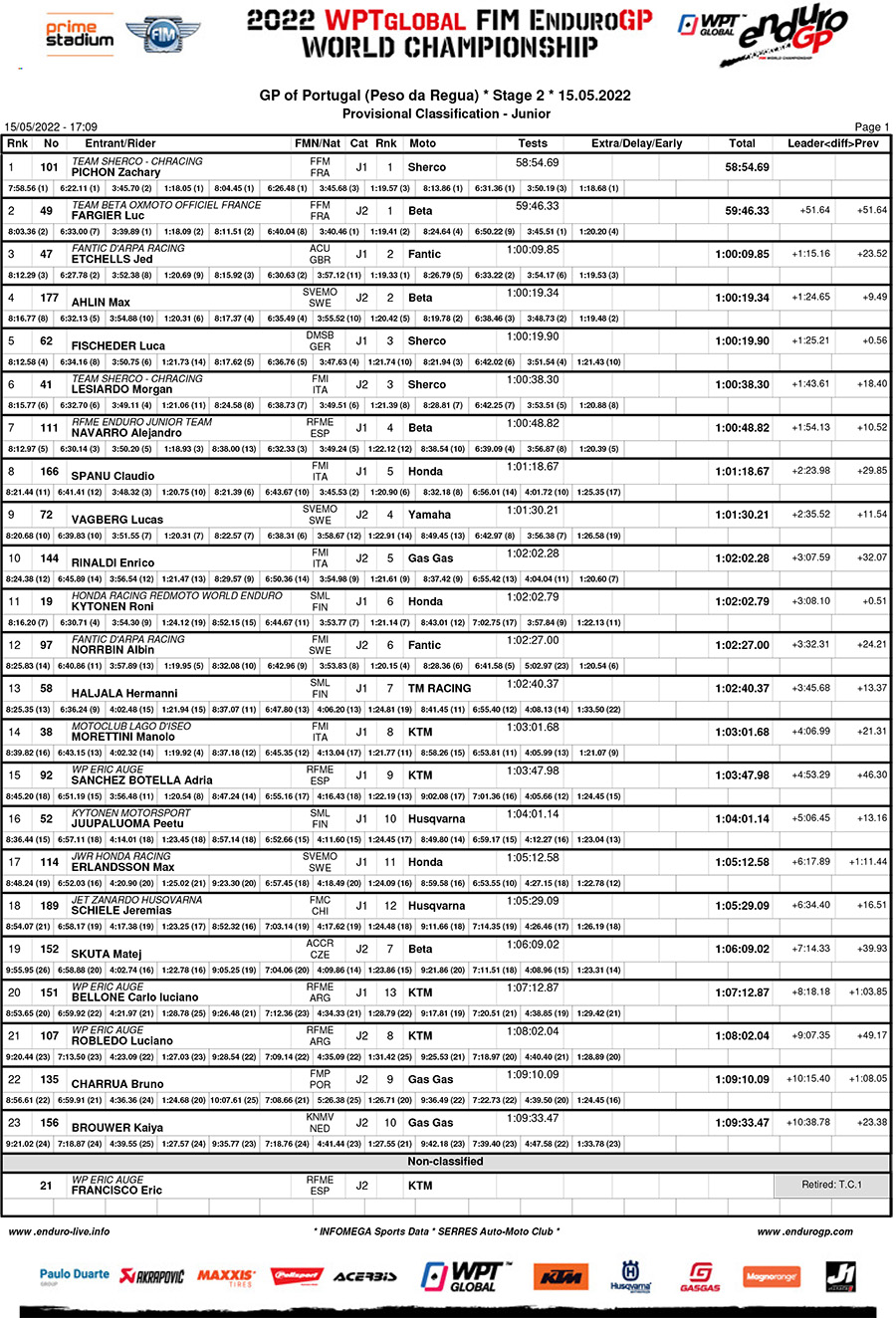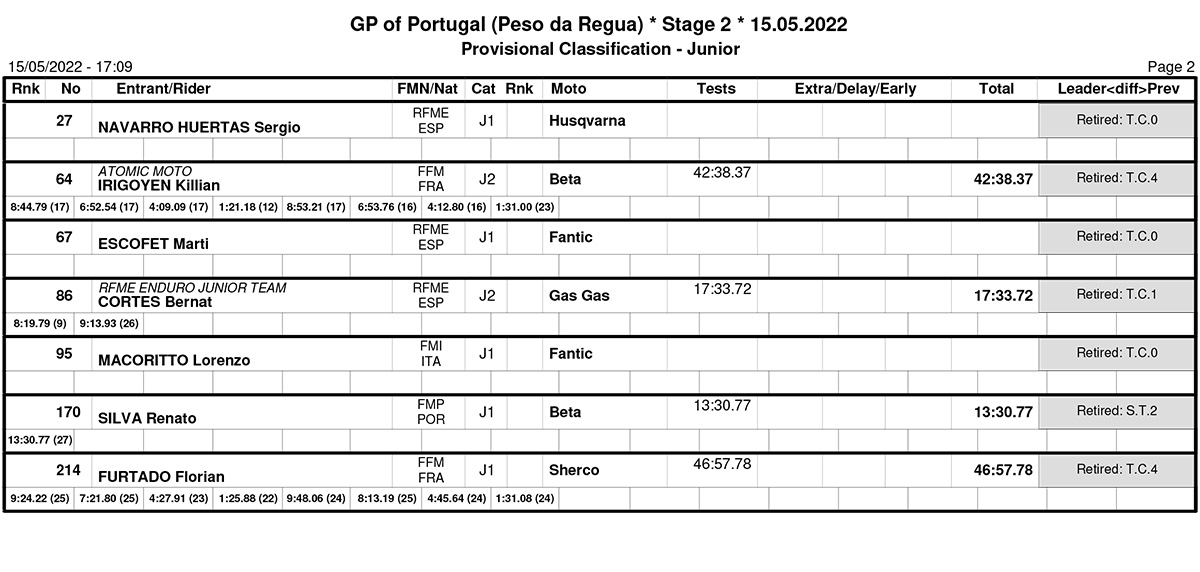 GP of Portugal day 2 results – Women: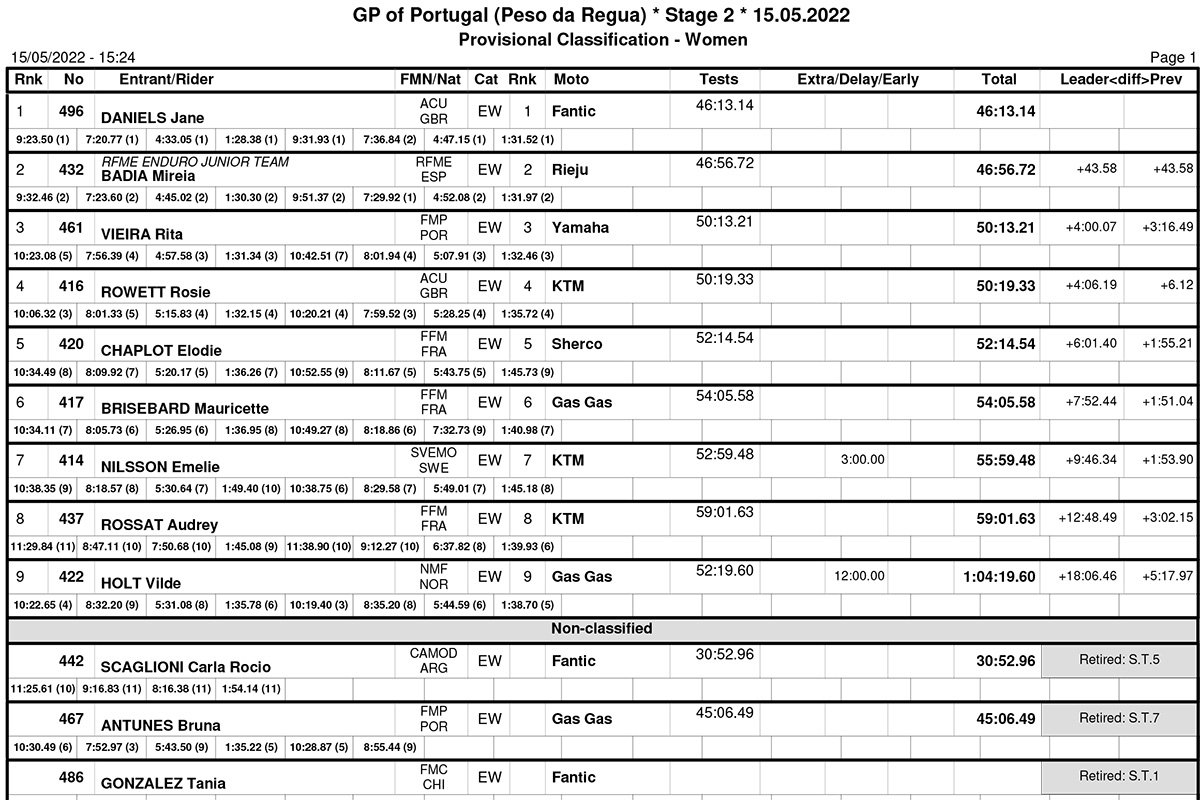 GP of Portugal day 2 results – Youth: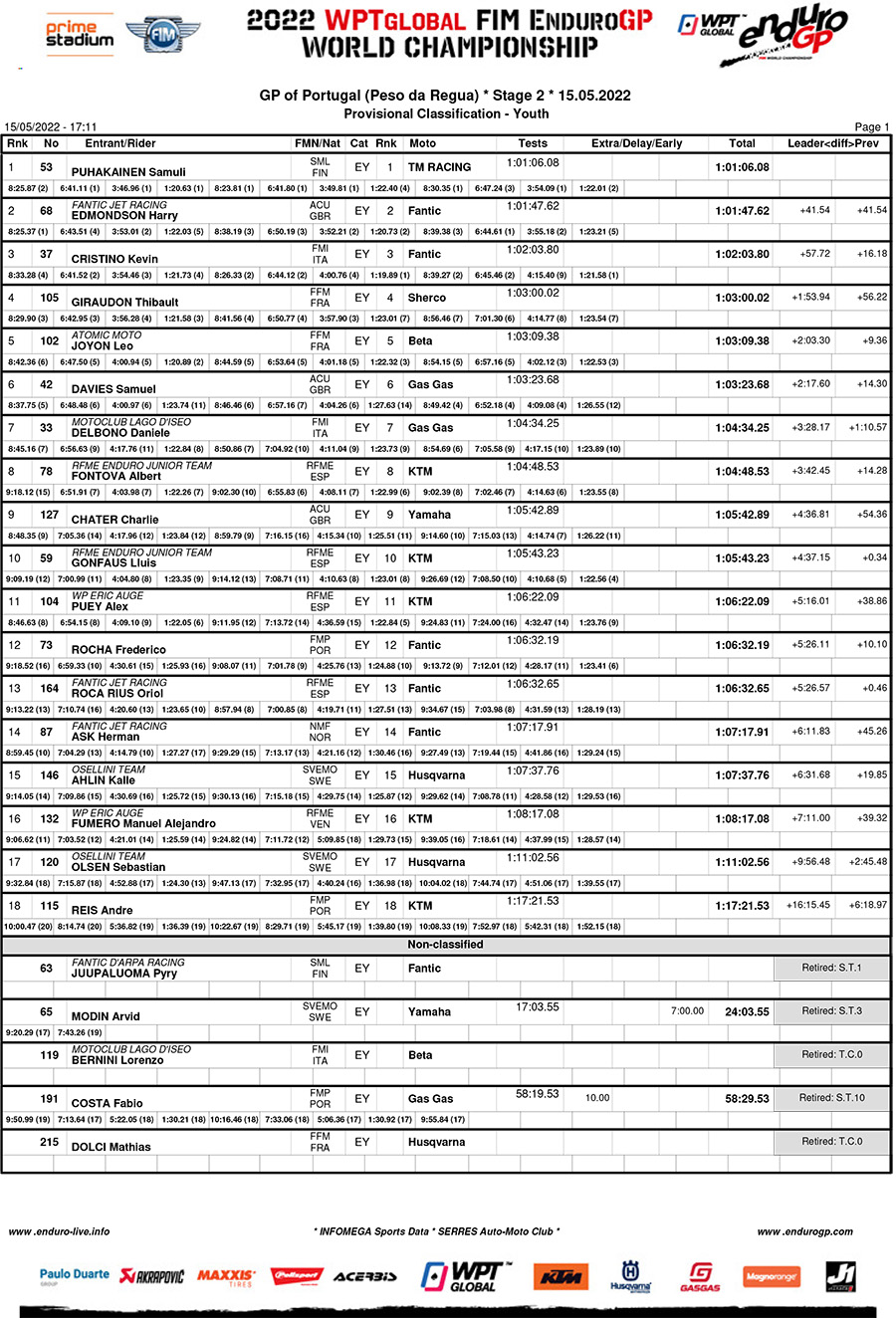 GP of Portugal day 2 results – Open (scratch):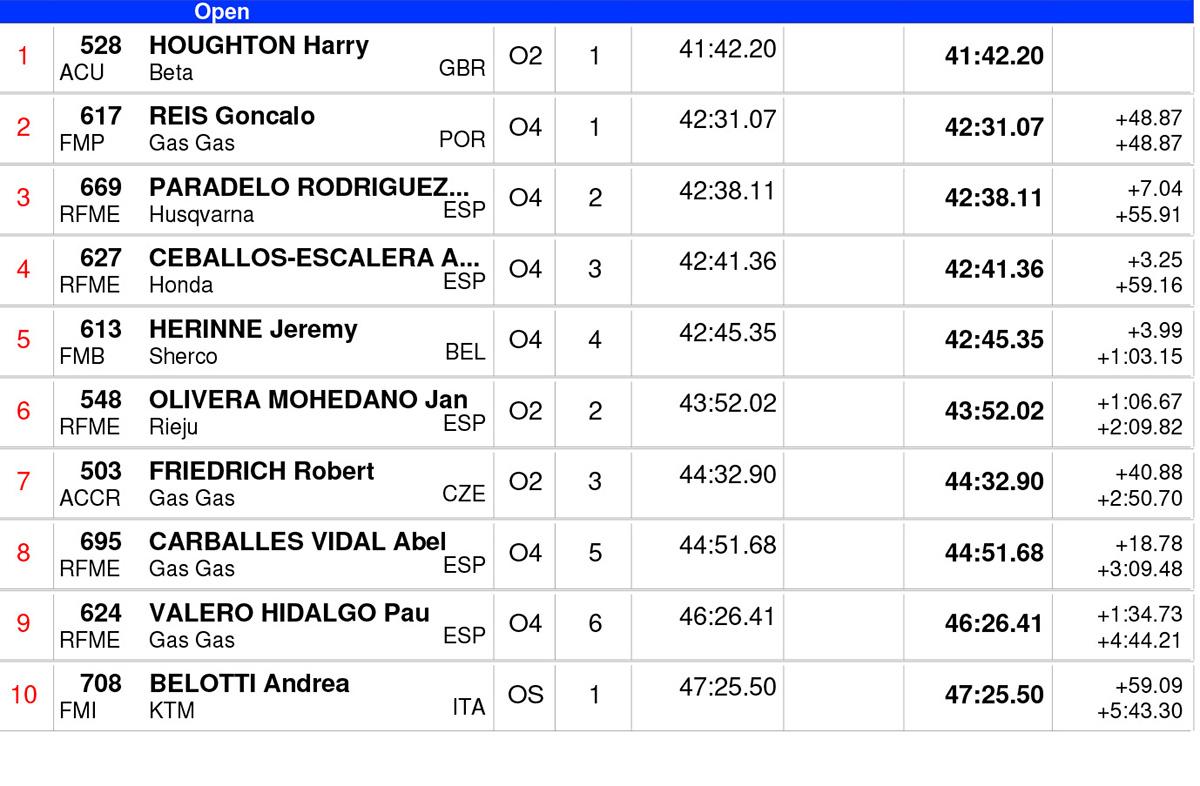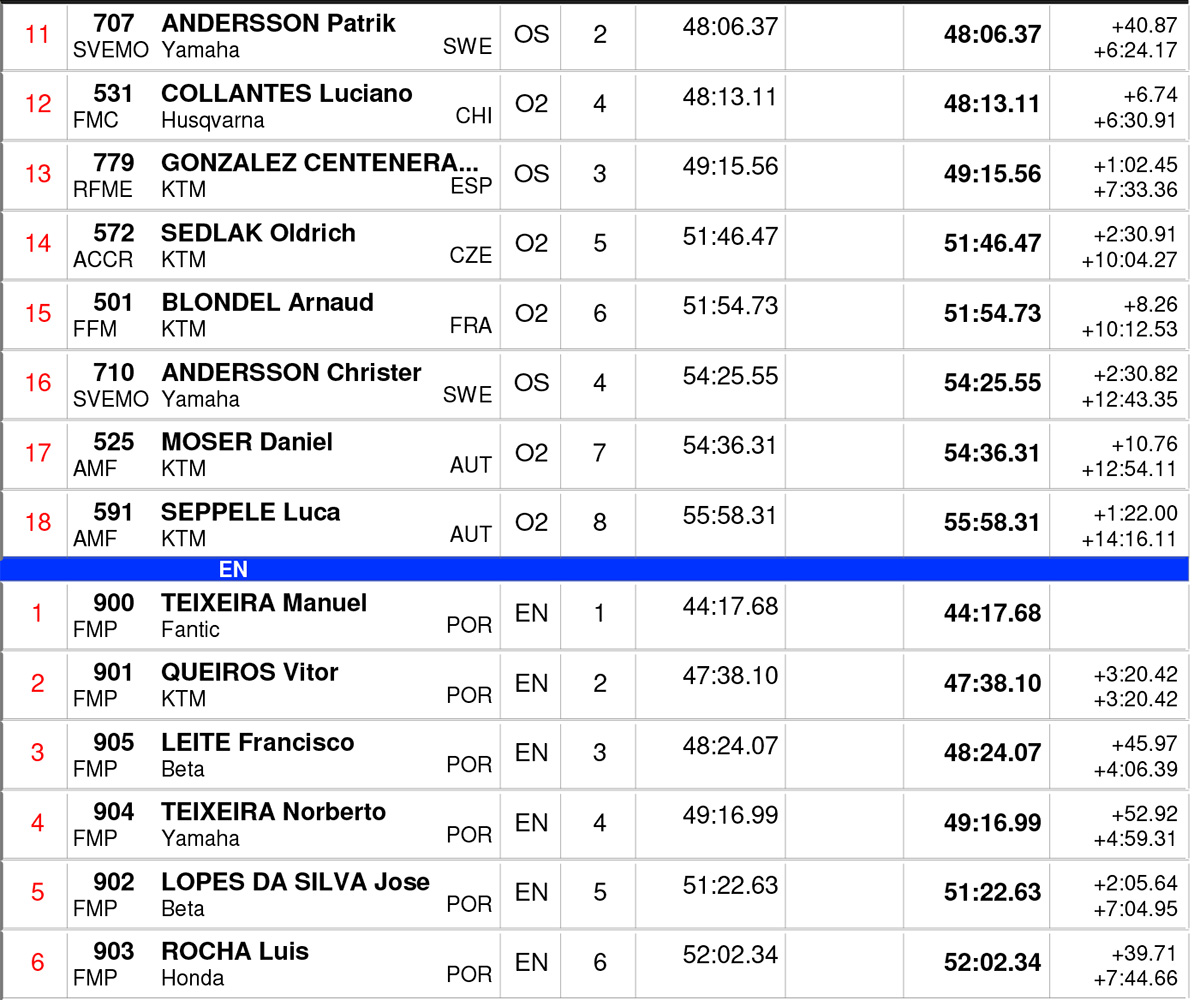 Photo Credit: Future7Media | Andrea Belluschi + Nicki Martinez