2022 EnduroGP results: Wil Ruprecht steals day one win in Portugal
2022 EnduroGP World Championship results from day one, round two in Portugal where Wil Ruprecht nailed the victory ahead of Josep Garcia – Hamish Macdonald throws the win away with final lap crash.
2022 EnduroGP of Portugal, day one in a nutshell:
The form book rang true today on day one of the 2022 Portuguese EnduroGP in Peso da Regua where Sherco Factory Racing's Hamish Macdonald delivered on pre-season promise, for most of the day.
In a two-way battle with his antipodean counterpart Wil Ruprecht, Macdonald stretched a lead through consistency until the very last lap where he threw the win away with a crash on the rocks in the enduro test, costing hiumslef a whopping 1:47. Hamish would lick his wounds to finish and eventual seventh.
TM Boano Racing's Wil Ruprecht was as dogged as ever though and claimed the win not so much via Hamish's mistake but by keeping mistake-free and fast to the very last timing beam, "It's not the ideal way to win, and it is a shame to see a good man go down like that, Hamish was setting the pace here today." Said Wil. "But I'm quite happy with my riding today. I need to iron out a few mistakes, it's just a few seconds here and there but it makes life harder at the final test if you only have a few seconds to play with. But we'll come out swinging tomorrow."
Josep Garcia was the third member of the 'fast three' boiling pot today. Although he never quite bettered Hamish and Wil to grab the scratch lead, second place by just three seconds should see the Spaniard take the championship lead tonight: "It was a good day in the end but to lose by a few seconds, it hurts. I lost a lot of time in the enduro tests on the first laps but in the last lap I was pushing a lot and came close. In the end I will do my best tomorrow and we will see."
It's not like nobody else was trying by the way. By the time Brad Freeman won his only test of the day, test nine on lap three, the top eight were posting times within 1.2 seconds of each other.
Despite the huge disappointment (and knee injury) for Macdonald, it was a hell of a performance from the top three riders. In a top 10 which included eight different manufacturers, the times quickly escalated to minutes not seconds.
Other test winners on the day included championship leader Andrea Verona. The tricky, rocky tests should have suited Italians but the GASGAS rider was 40 seconds off the pace, although he was top E1 rider.
As the day wore on Thomas Oldrati banged in the fast times on the CRF250 RedMoto Honda to grab fourth overall away from E3 winner brad Freeman (who crashed and hurt himself on lap three) with Nathan Watson in sixth.
It seems like no-one yet has the answer to Zach Pichon in the Juniors this season. He looks a class act and comfortably won day one here in Portugal by more than a minute – his 1:10.58 would have put him seventh scratch.
Luc Fargier made it a French one-two on the Junior podium with British rider Jed Etchells keeping the flags red, white and blue at least in third.
Speaking of British flags flying on the podiums, Jane Daniels was again totally dominant in taking the Women's class win – today by almost two minutes. Pre-season title contender Mireia Badia would be hoping to be closer to her rival but so far has had to settle for second place in all three days racing.
But for a couple of duff tests on lap one, Portuguese rider Rita Vieira could have finished higher than third having taken two test wins away from Daniels. Rosie Rowett was fourth with Elodie Chaplot fifth.
Sami Puhakainen pushed Kevin Cristino early doors in what was initially a close day's racing for the Youth 125 class. Cristino it was though who took the win, 30 seconds ahead of Harry Edmondson in second and Thibault Giraudon third – Puhakainen meanwhile was yet another rider to have a disaster on the last lap.
Serial scratch winner in the Open class and Portuguese favourite Reis Goncalo had to settle for second today as Harry Houghton climbed a step higher and took his first outright win in the amateur class. The British rider put his Beta almost half a minute in front to claim the overall plus two-stroke class win. Goncalo took second and the 4T win with Alejandro-Ceballos-Escalera third.
GP of Portugal day 1 results – EnduroGP: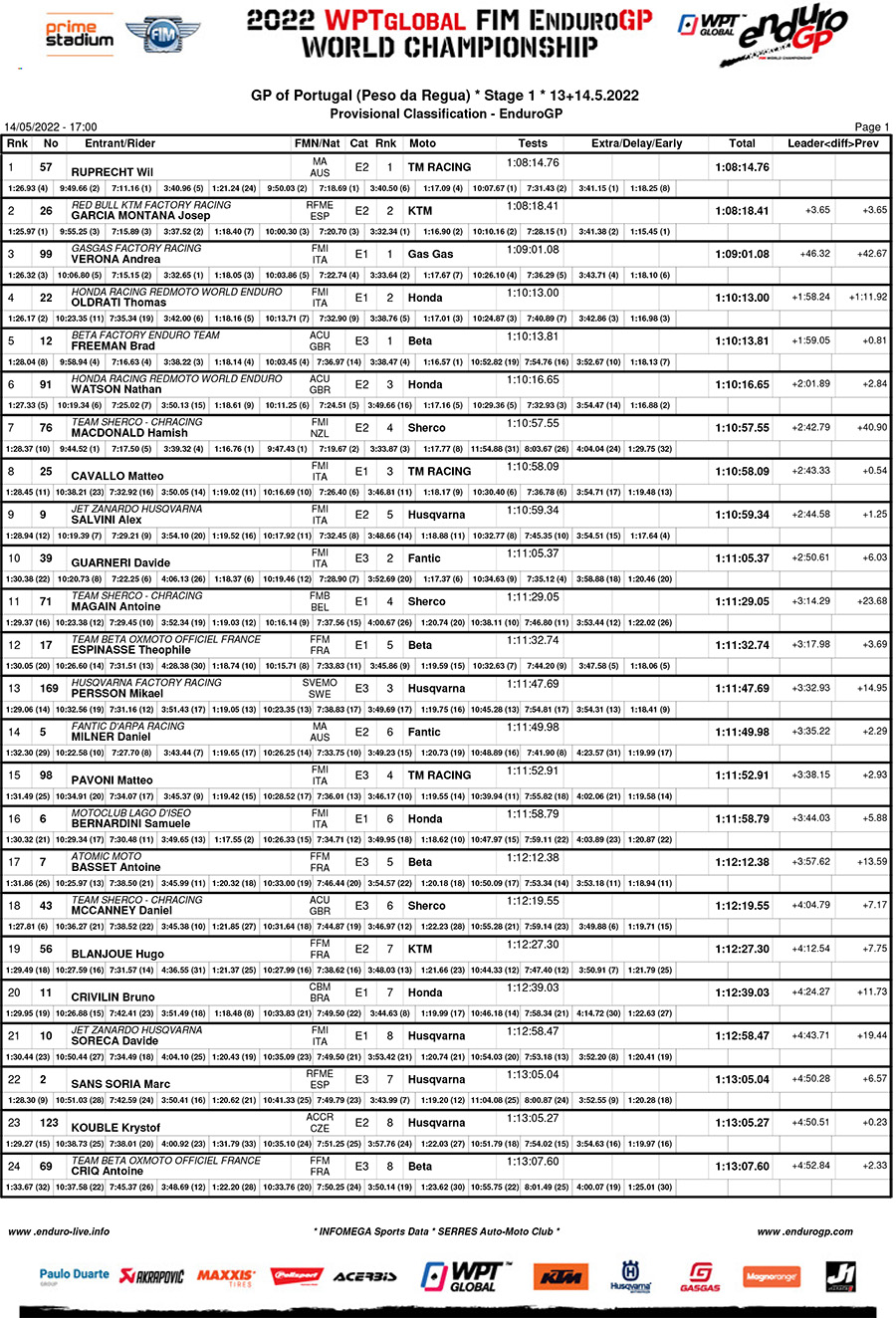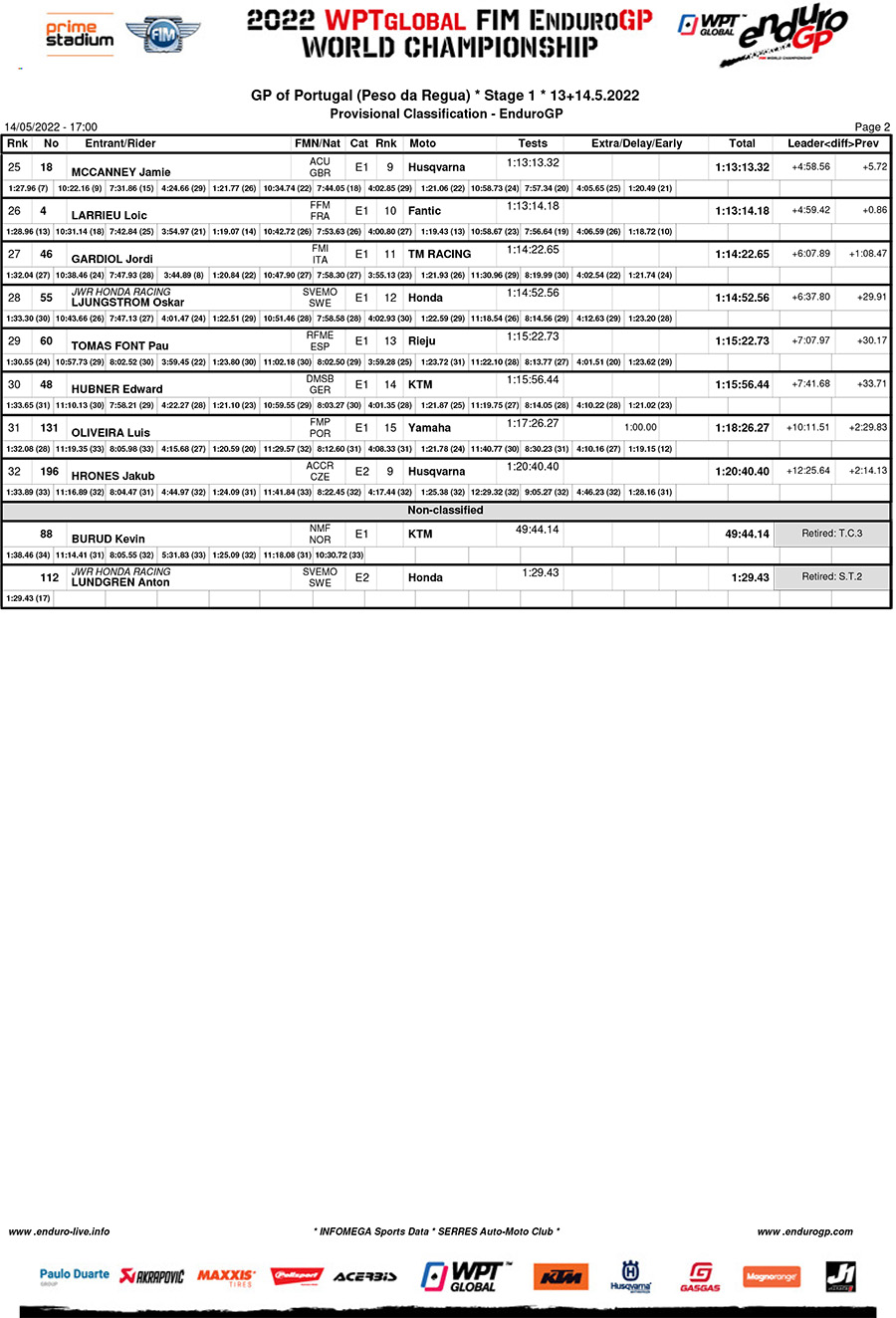 GP of Portugal day 1 results – E1: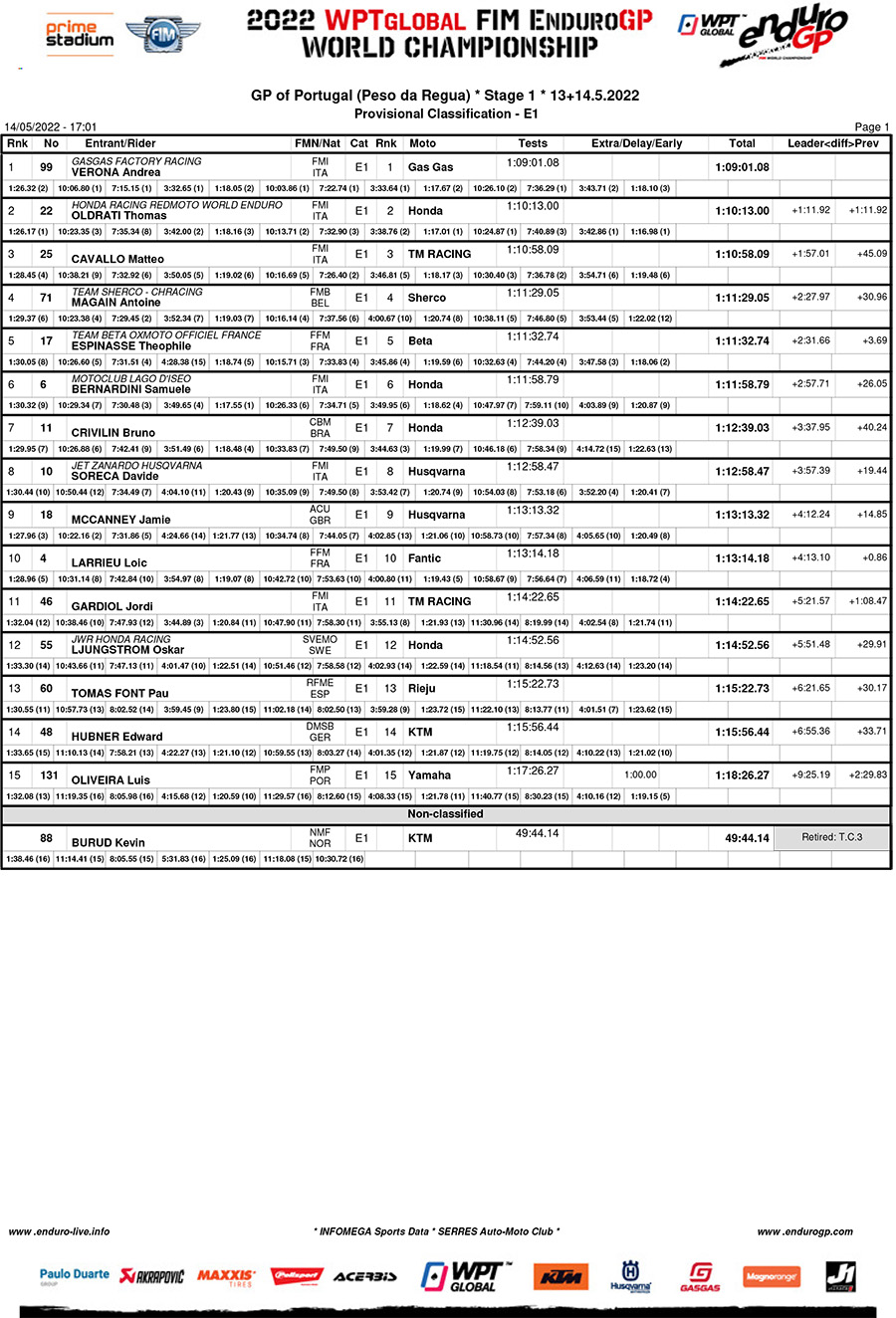 GP of Portugal day 1 results – E2: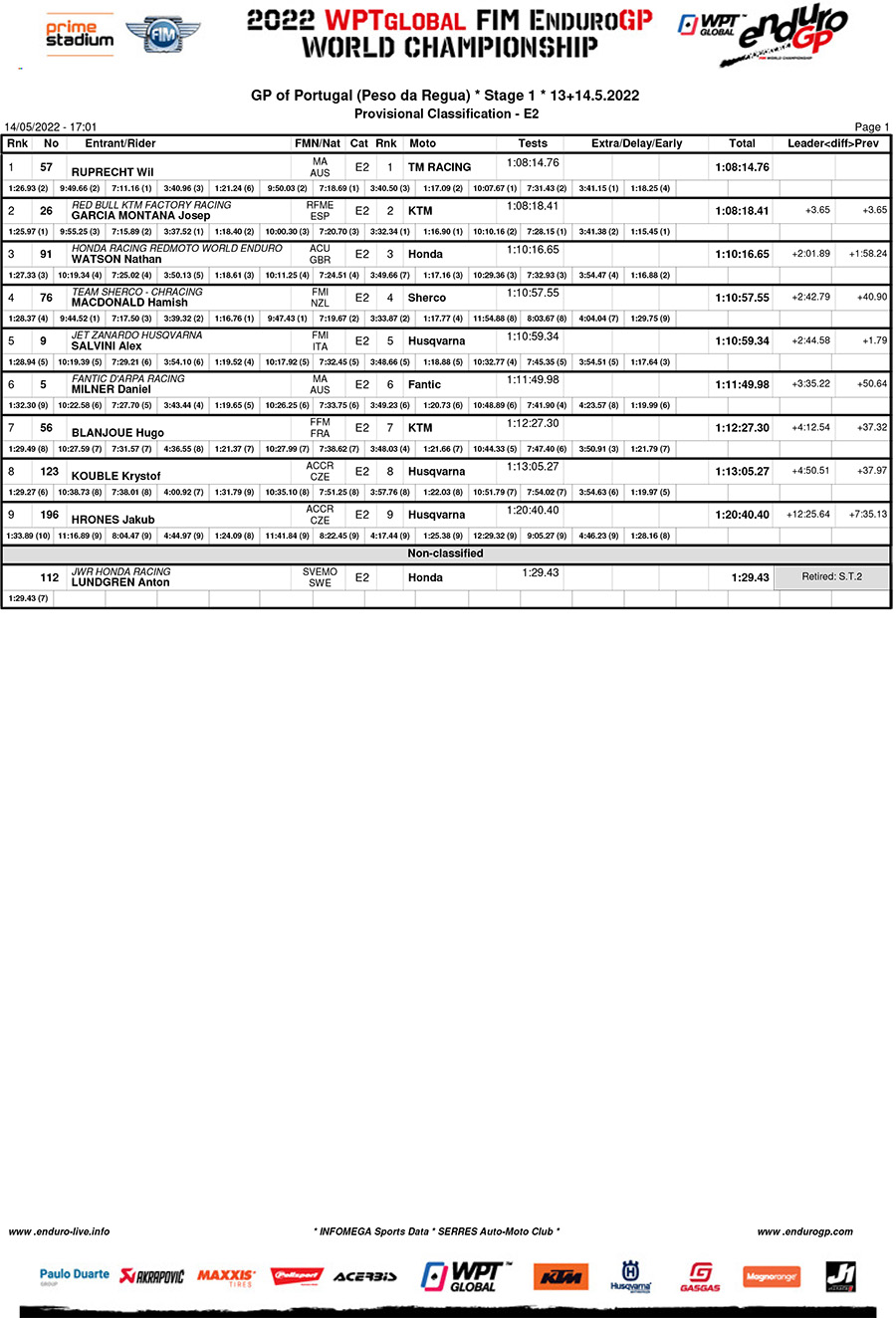 GP of Portugal day 1 results – E3: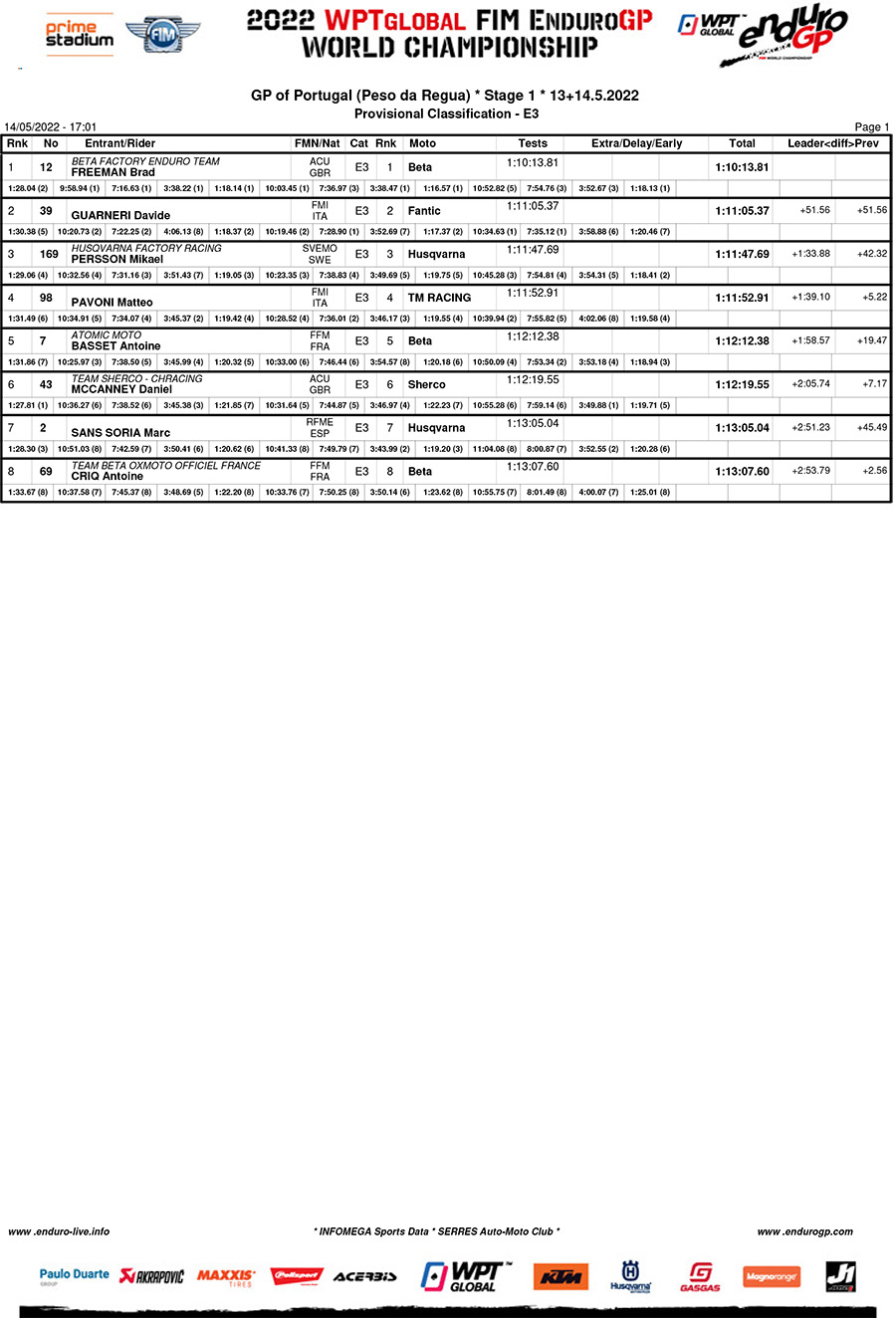 GP of Portugal day 1 results – Junior: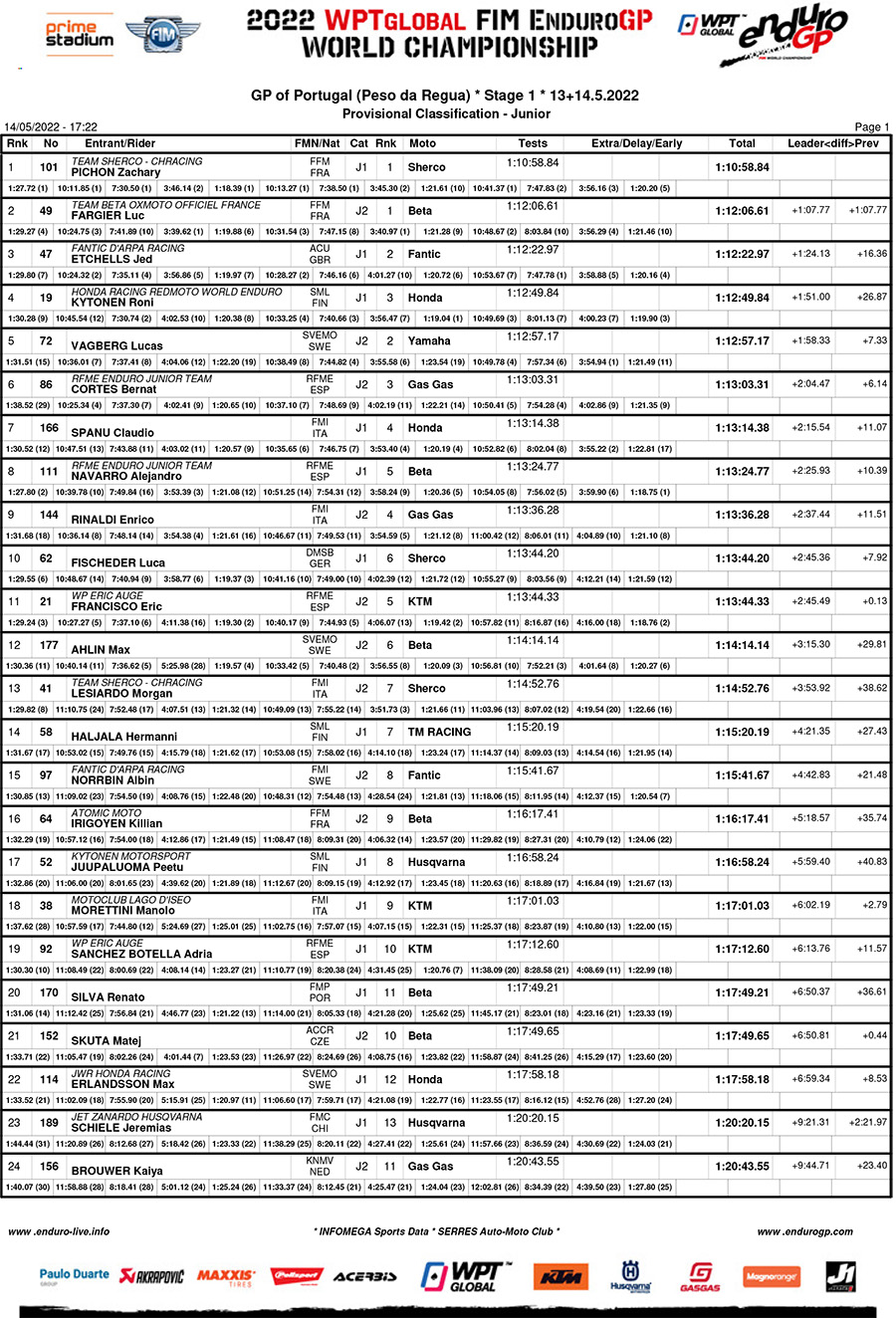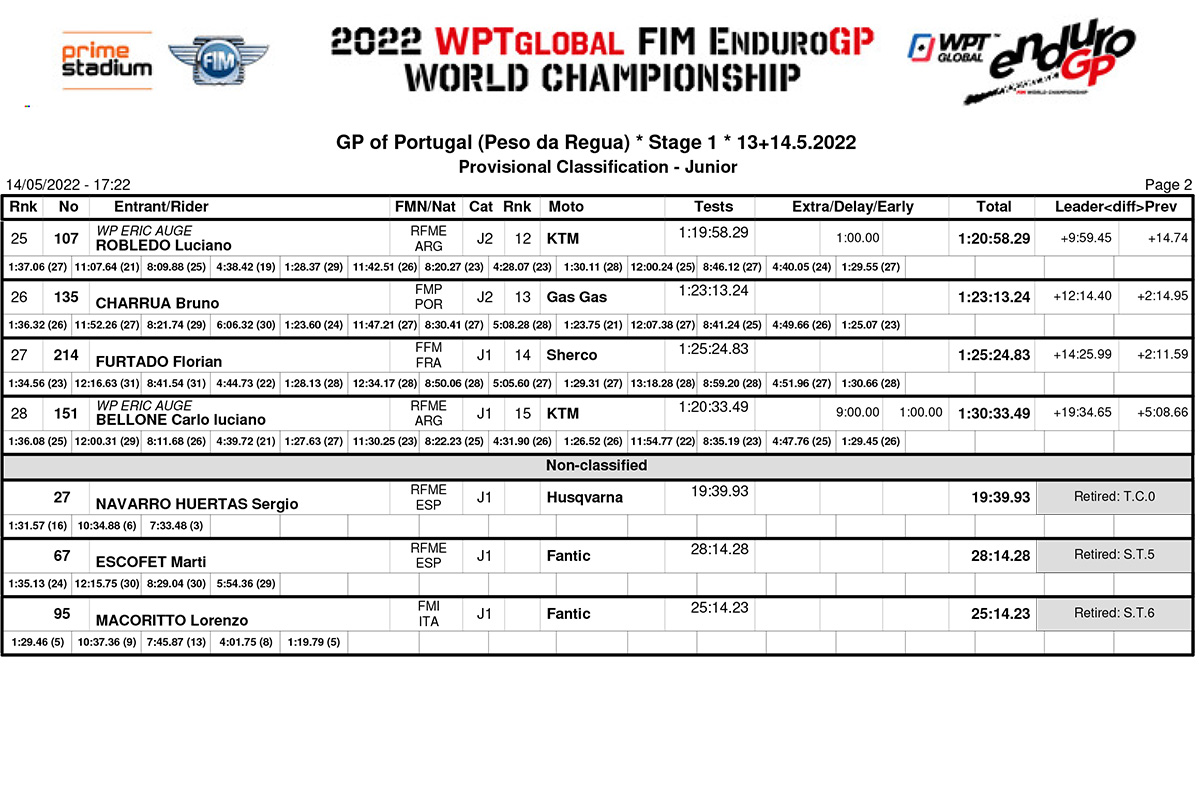 GP of Portugal day 1 results – Women:
GP of Portugal day 1 results – Youth: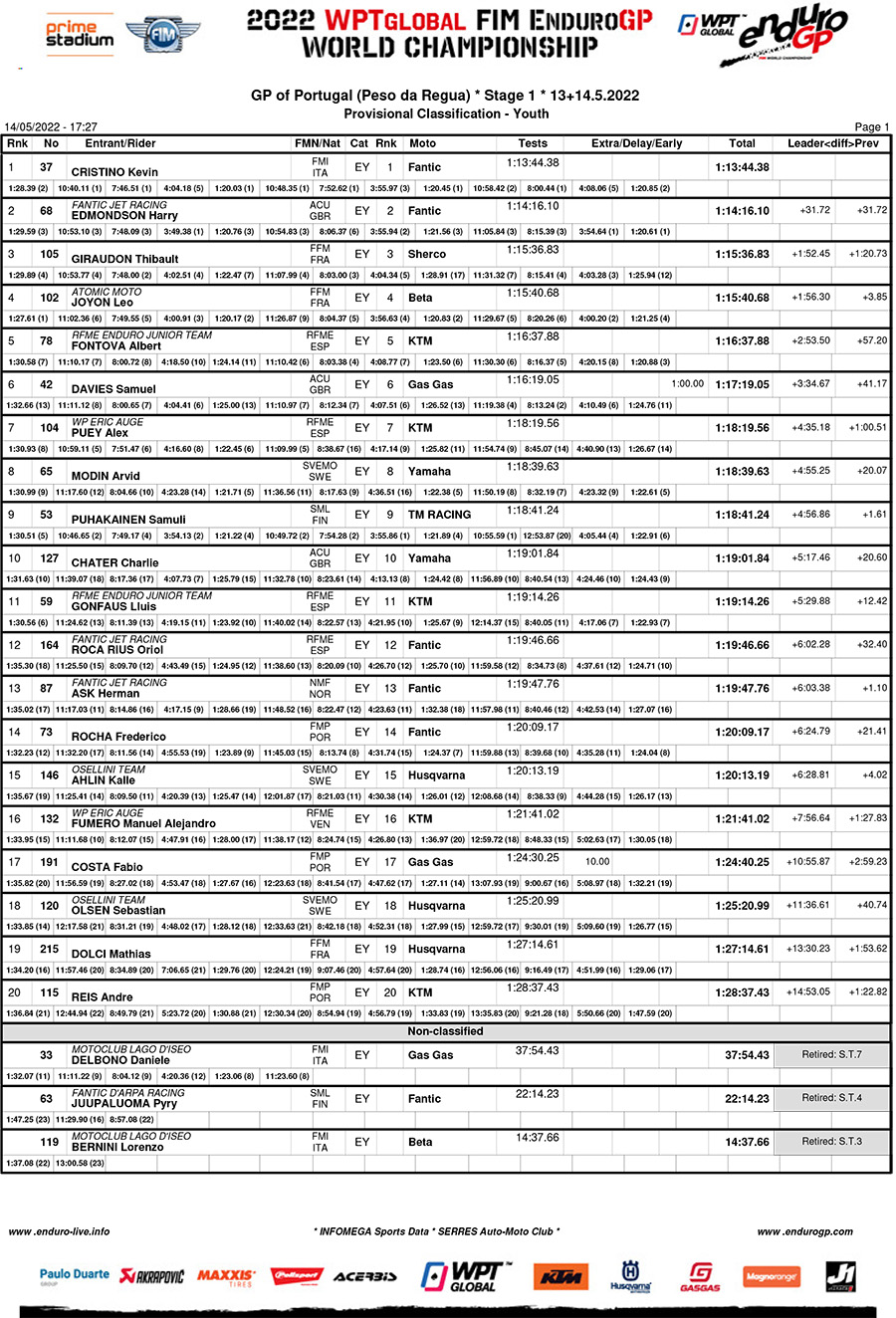 GP of Portugal day 1 results – Open (scratch):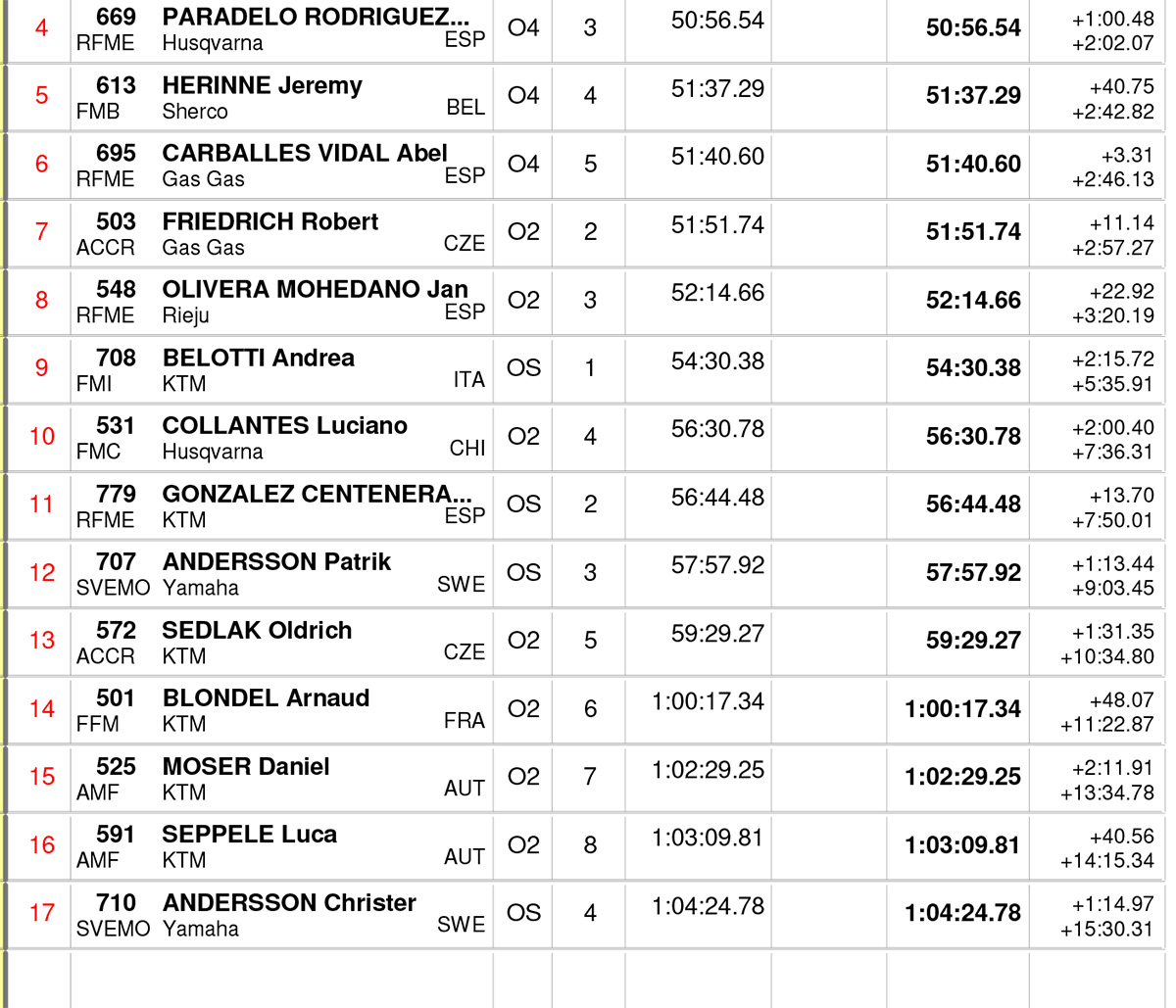 Photo Credit: Future7Media | Andrea Belluschi + Nicki Martinez