Enduro21 notebook: Say what? Riders explain their EnduroGP of Portugal
How was your weekend? Enduro21 catches up with the winning riders from across the major classes who tells us how their EnduroGP World Championship round two in Portugal panned out.
Round two in the books and with a month until the next GP weekend in Italy, riders have a lot of time to think, recap, in some cases heal-up and make a new plan.
It was a typically tough and rocky weekend in Portugal with some very technical riding and also some fast, rocky tests which put some riders out of their comfort zones and caused some injuries.
Direct from the Portuguese paddock, Enduro21 caught up with the top three and the winners across the classes to find out how their weekend really was.
Wil Ruprecht EnduroGP scratch winner, E2 class winner and new championship points leader
Did a more mature approach pay off for TM Racing's Wil Ruprecht in Portugal? He certainly thought so as he withstood pressure constantly from Josep Garcia for seven or more hours each day. It is no easy task to sit on top of the timesheets and keep it there with the best in the world breathing down your neck and a thousand rocks ready to catch you out.
Rocks are what caught out the leader for much of the day one, Hamish Macdonald, "It was a shame to see a good man go down, he was setting the pace on day one for sure." Ruprecht said of Hamish, but they were all dancing that fine line between being superfast and not making mistakes.
"I'm very happy with the 1-1 result", said Ruprecht, "that's something I've never done before.
"We had a dry, and rocky race here and the course deteriorated so every lap you're looking for some new lines and what you can do to optimise your times. I felt like I rode mature and minimised mistakes and the reward for that was the win both days so I couldn't be happier.
"Hamish was on the money there on Saturday so it was a shame for him. It was nothing I couldn't match but he just wasn't making mistakes like I was.
"We start with fresh tracks and they break away and you have to adapt and develop as the weekend progresses and I felt like I did that well this weekend.
"I was happy to be able to fight right to the last test and take the win by a couple of seconds. That's testament to how competitive this championship is.
"Today, Sunday, I led from wire-to-wire which feels good. I put in a few really good enduro tests and that is where I was making my money. I was still making a few mistakes here and there but it was the nature of the track, everyone was having those. I stayed strong to the end again despite Josep putting under the pressure all day. 1-1, what else could you ask for."
Josep Garcia 2-2 in EnduroGP class and E2 class, second in the championship by one point
By contrast to Ruprecht, it was had not to see a little disappointment in Josep's eyes. Clearly he gave it his all but across the two days, the Spanish rider never quite got the better of first Hamish Macdonald and the eventual winner, Ruprecht.
Normally, when Josep is on the ball and not crashing he's the rider to beat but by a gnat's whisker, not this weekend.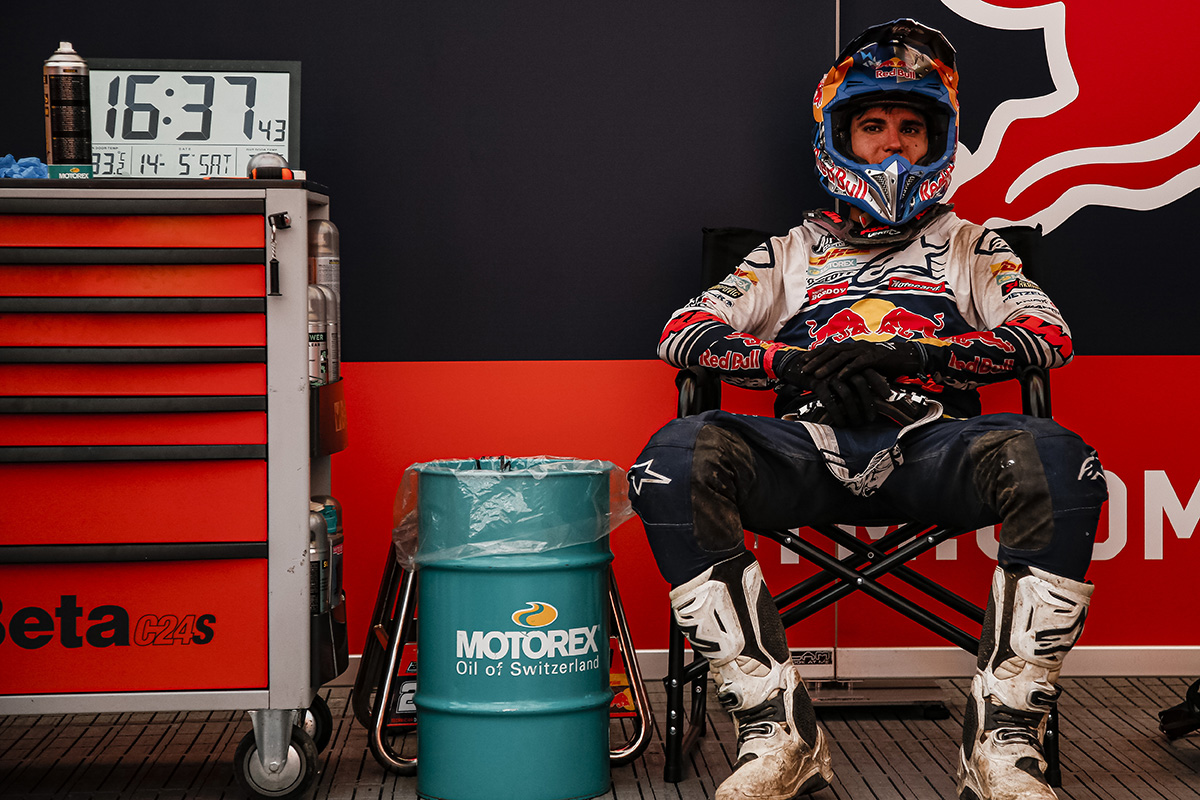 "Overall the weekend was not so bad. I finished second overall and in E2 class. I felt good on the Friday night but struggled a lot in the enduro tests. I tried to fight in the other tests but did not have a good feeling and some days it is like this and in the end we are just a couple of seconds off the win.
"On day two, I worked today to try and find something extra in the tests, especially the enduro test, but I had one crash and did not feel so good in that test all weekend.
"Sometimes it is like this and I am happy that we are there with good speed and this championship is long so I have to stay focused and be positive."
Andrea Verona double E1 class winner, shares second place in the scratch points with Garcia
Maintaining his 100% winning record in class seemed like the easy part for Andrea Verona. Maintaining his scratch leader's gold plate and matching the two riders above him on the sheets was the hard task in Portugal.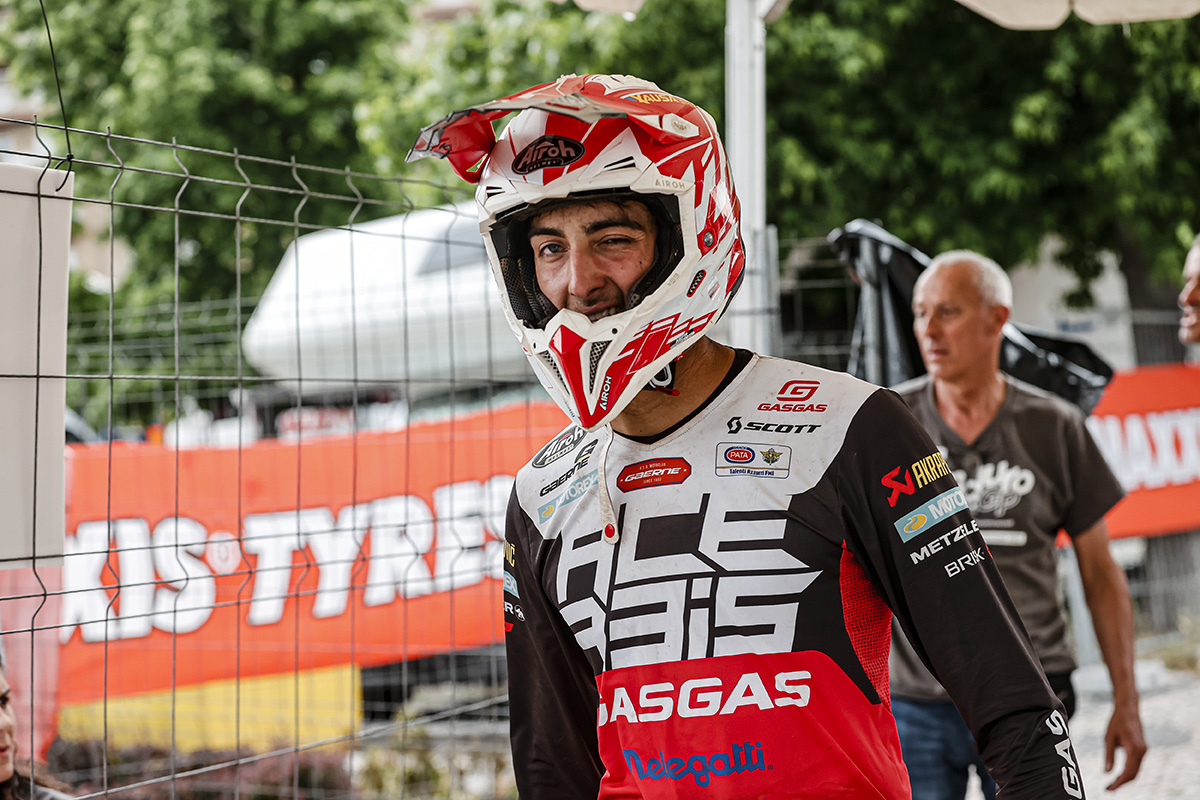 "Overall the GP of Portugal has been a good one for me. I am quite happy with third overall both days and first in E1.
"I am quite happy about the weekend because my riding was not so good in some tests on day one but I understand why and improved over the weekend. So I'm pleased about my riding.
"The tests this weekend were difficult, with a lot of deep bumps and stones, and also sketchy in some parts, so it was important not to crash.
"I rode more or less the same both days but improved my speed in the enduro test and that closed the gap from the front two on day one compared to day two where I was closer. I improved over the weekend and I have to be happy with that."
Check the results from day one in Portugal here, or day two here.
Brad Freeman 1-7 in E3, fifth and 23rd overall with a suspected broken hand
After a late pre-season broken collarbone, the EnduroGP World Champion has had a difficult start to 2022. A day one win in class and P5 scratch sounds not bad but Brad injured his hand badly in a crash. The suspected broken hand seriously hampered day two where he scraped valuable points to finish seventh in class and 23rd scratch.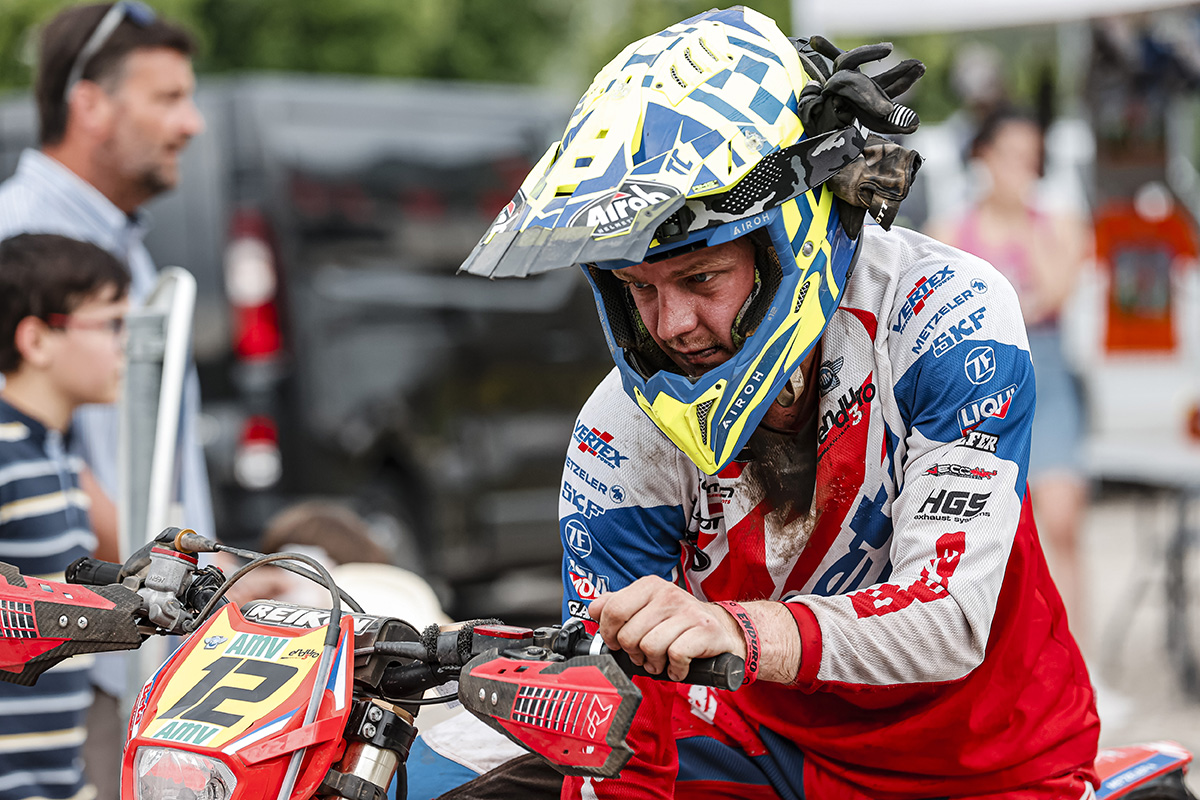 "It was a really hard day today. In the first transfer on the way to the first test I was contemplating pulling out there. I was struggling, the guys were coming past me and I was thinking this is going to be a hard, hard day.
"But I said to myself I need to do one test, then we got through the second test, the third test and it gradually got a bit better with pain killers starting to kick in.
"Towards the ned I started to feel a lot better but by then it was too late. In the first lap I'd already lost like two minutes and the day was done at that point.
"But, you know, I got seventh in class so a few points here could make all the difference for the championship and that was the goal really. I knew I wasn't going to be anywhere near in GP class or the win in my own class but as long as I got a few points in E3, they might be the most valuable points in the championship. Hopefully they were worth it!"
Davide Guarneri 2-1 in E3 and new class points leader
Davide Guarneri took a 2-1 scorecard for the weekend and leaves Portugal as the surprise E3 points leader, in no short measure thanks to Freeman's hand injury and day two result.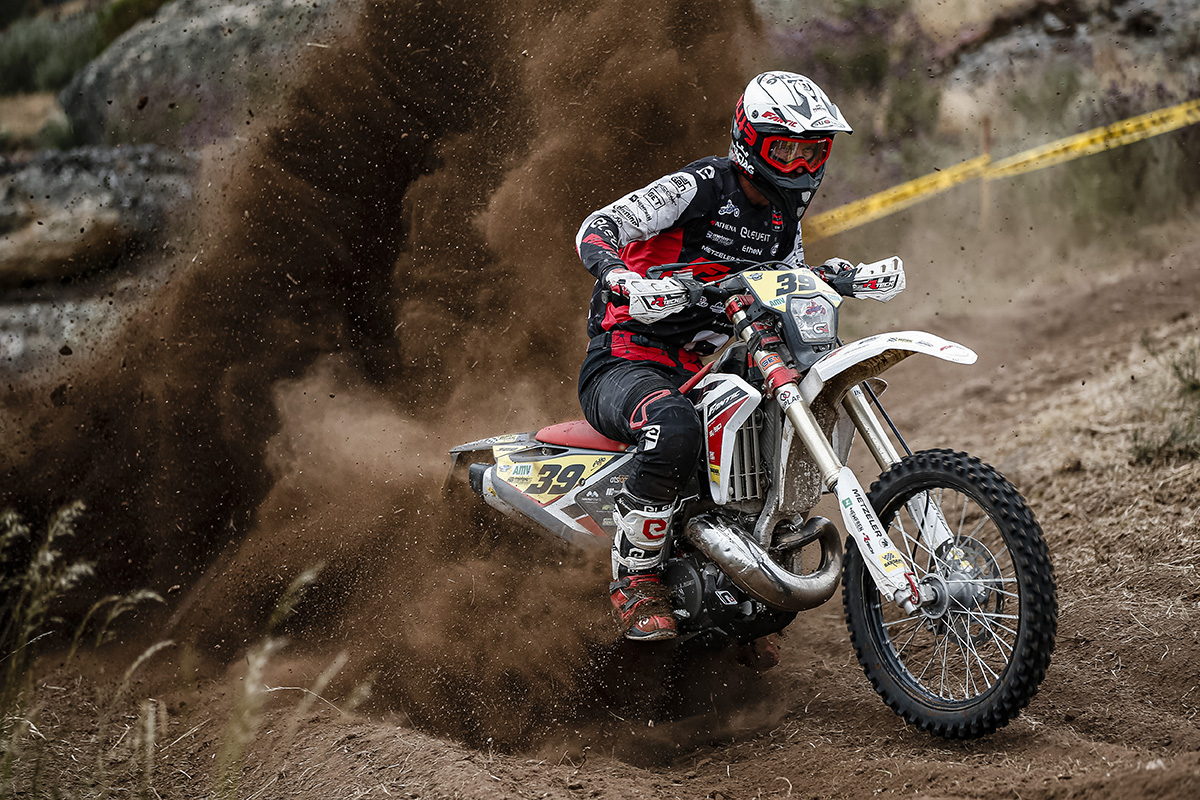 "In the end the result was surprisingly good. Surprising because for sure Brad is the top guy and hard to beat. But yesterday he made a mistake and injured his hand – I hope he gets well soon.
"It is good for my team because the bike is completely new, a prototype and we have a good bike which is running well. It is good for me that we are in the top 10 scratch always and fighting with the top guys.
"Day one was a better day for me really, the tests were smoother and suited my style more but I made a big mistake in one extreme test and lost around 30 seconds. I came back to second place and 10th overall.
"Day two the tests were really ruined and I tried to fight fromt eh beginning but today Persson was fast also and we fought until the end with him. The important thing was not to make a mistake and I did that and now go home with the red plate."
How tough were the tests? Take a look in this video: How tough are the tests in the Enduro World Championship?
Zach Pichon 1-1 in Juniors and class points leader
Zach Pichon is another rider to take a 100% winning record for the season away from the EnduroGP of Portugal. Pichon might be the Sherco new boy but he is the runaway Junior class points leader.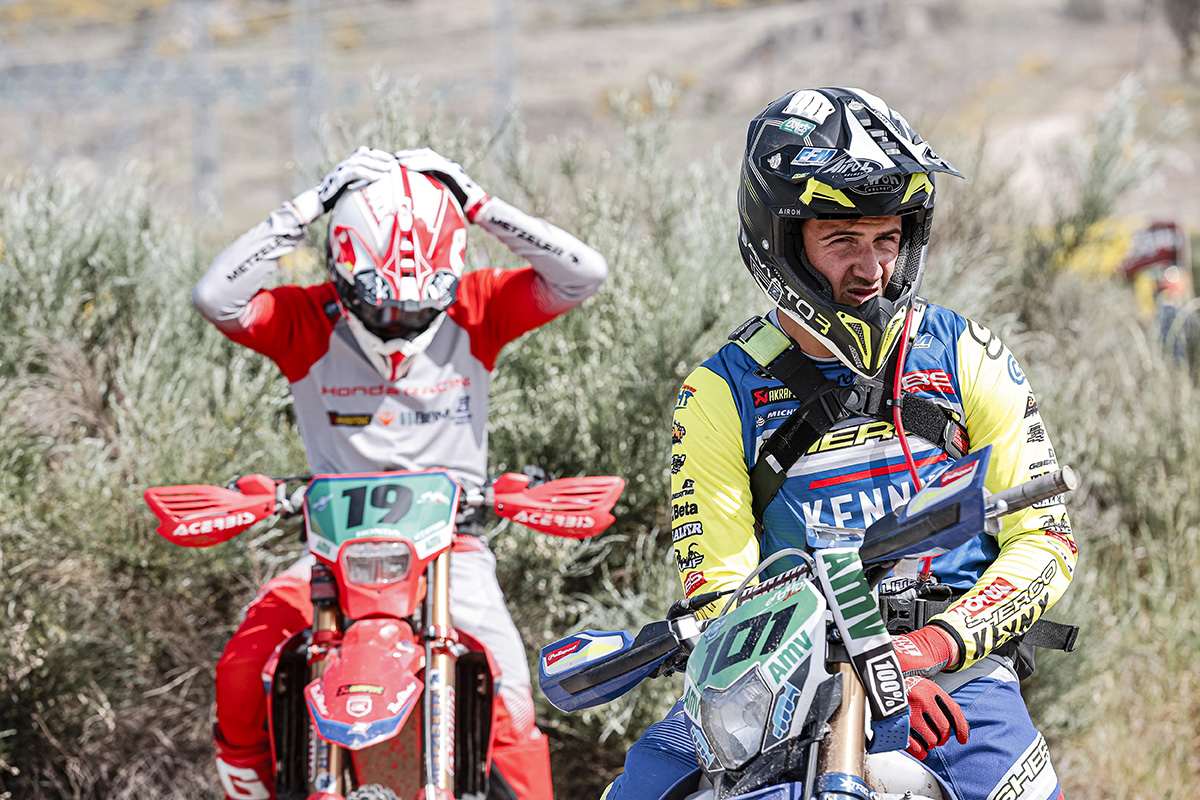 "Overall the weekend was really good for me again and I was happy to take two wins with big gaps back to the second placed rider. Unlike last week, I did not make any big mistakes early in the days so I was able to ride smooth and comfortable all day long without having to push hard to gain time back.
"I could see from day one I was really fast compared to my opponents in the enduro test so I was able to make a gap each lap and that means in the last few tests I could cruise a little bit. I struggled a little in the extreme test all weekend, I thought I could be a little faster but overall I have enough in hand and it is a perfect results."
Sami Puhakainnen, winner in Youth 125 class on day two (and potential winner on day one until he had a "shit moment")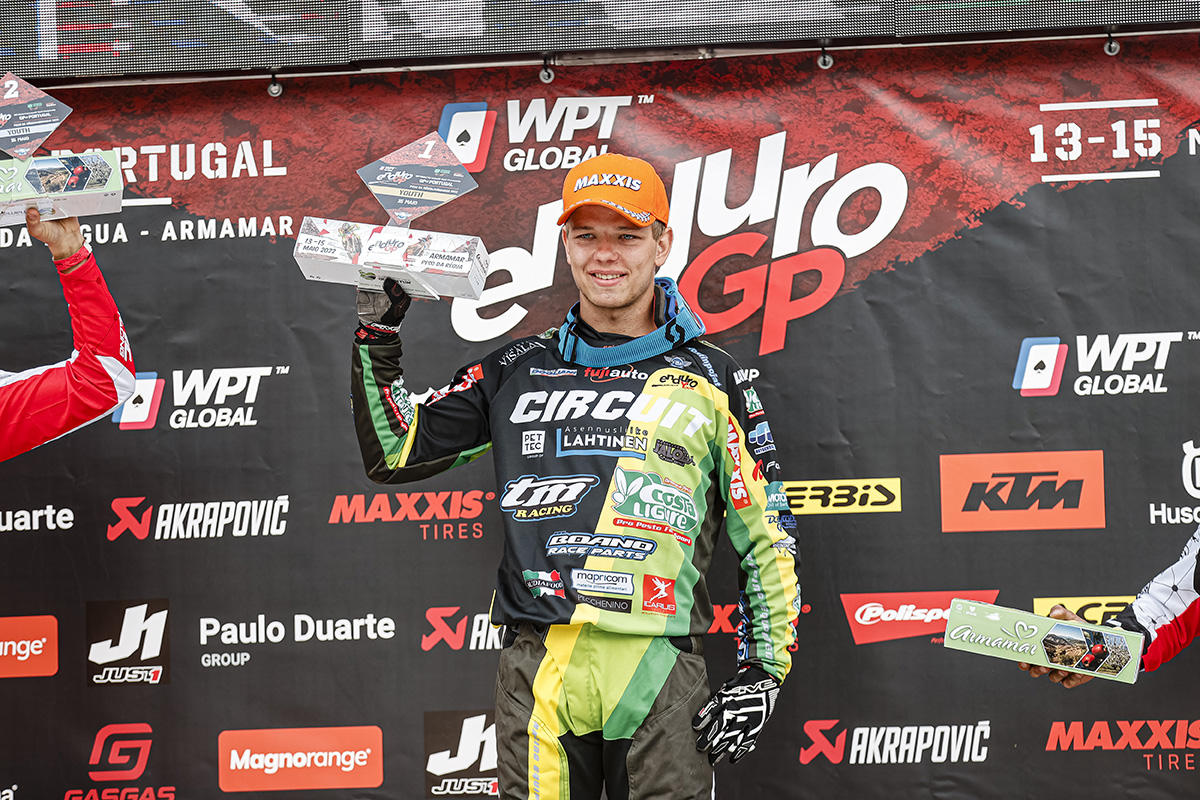 "Yeah, my weekend was quite good. Today, day two was better and I made no mistakes but on day one I made one shit mistake. It was one of those things, I hit my chain guard on a rock when I landed and it broke. That cost me a lot of time when I was so close to winning. But overall my weekend was really good and I was riding well."
Jane Daniels 1-1 for the second weekend in a row, Women's class points leader
A 100% winning record in the Women's class this season, the points leader and convincingly faster than her rivals, Jane Daniels has made a storming start to her 2022 campaign.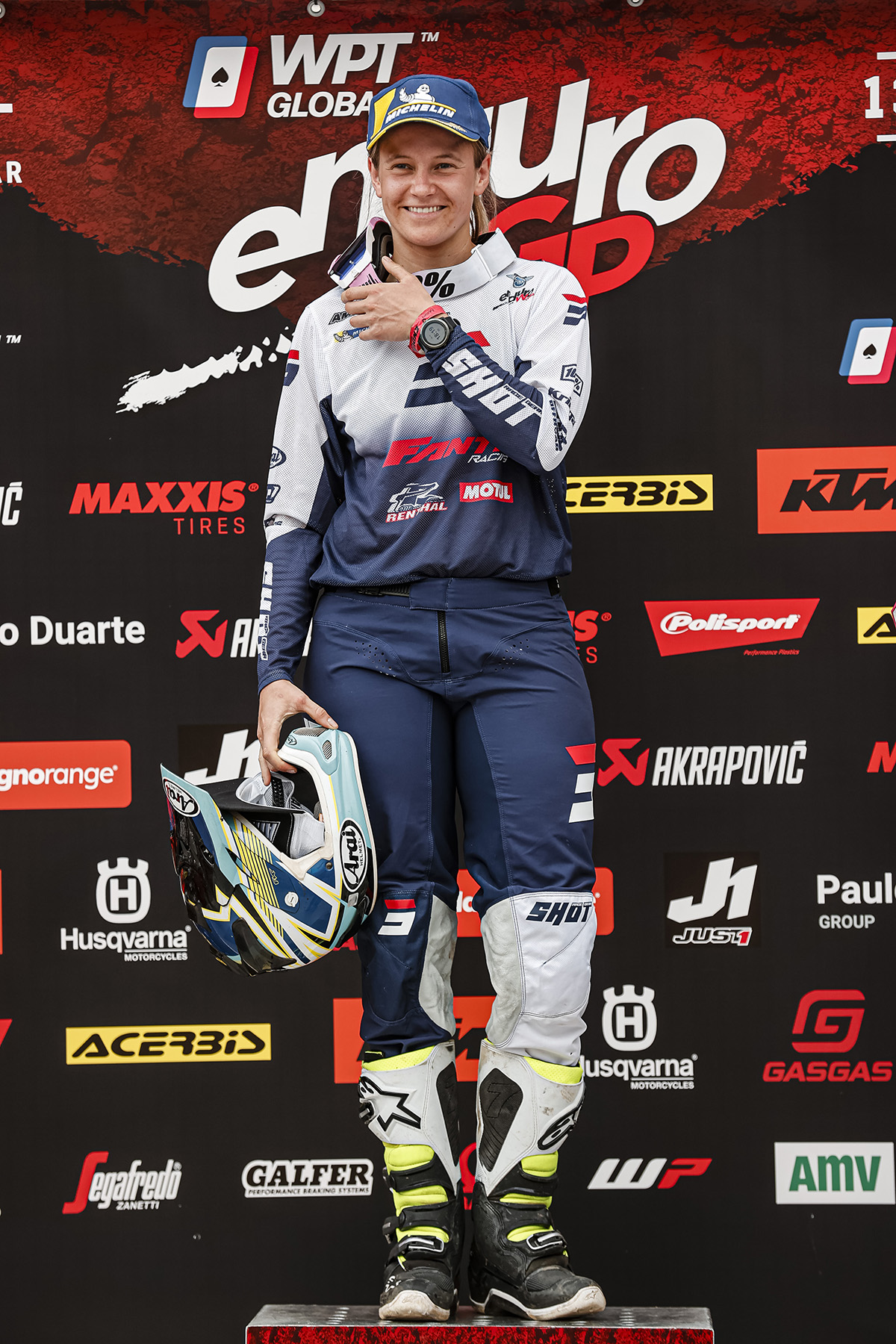 "It was a very, very good weekend for me here in Portugal. I made a small mistake in the Super Test on Friday but that is only one short test and not so important.
"I tried to ride my own race and make sure I was picking the smoothest lines all day in the tests and that helped me take quite a few test wins and build some big gaps to second place in the overall.
"The trick was to keep edging away through the day, although Mireia had me in the cross test one time, I had enough in the bag to still win comfortably. Overall, I can't complain…"
Photo Credit: Future7Media | Andrea Belluschi + Nicki Martinez