2022 EnduroGP title showdown in Zschopau – ready for it?
The 2022 FIM EnduroGP World Championship heads for its decisive final round this weekend in Zschopau, Germany with world titles up for grabs across the senior, junior, youth and women's classes – who will be crowned world champion?
If you haven't been keeping up, or have had your head in a bucket of sand, this season of the WPT Global EnduroGP World Championship has been a corker. From the start, way back in May, the racing at each GP has been blisteringly competitive and dramatic in its outcomes.
In hindsight, when GASGAS Factory Racing's Andrea Verona won that opening day in Spain on May 7, it was a telling marker for what was to come as he eyes-up his first the overall world title this weekend.
The final GP in Zschopau is always a challenging one which is widely regarded as 'proper' enduro, and will this season will see the conclusion to the 2022 FIM Women's, Enduro 2 class, Enduro 3, Junior 1, Junior 2 and Youth classes all need to be settled. There is a lot still to play for.
28-point margin – maiden EnduroGP title for Verona?
Verona already claimed the 2022 E1 championship crown and it is his consistency which sees the Italian on the verge of the biggest prize in enduro. The bare facts are he earned it by only once falling outside the top three scratch this season, the result of which is a healthy 28-point lead heading into the final round.
The secret to success is the same pattern for Brad Freeman's championship success last year for example, the knack of being there or thereabouts in every test, at every GP.
But will he take it easy this weekend?
"As we know anything can happen," explains the Italian, "for me it's important to stay focused on my racing. I know in myself if I ease off at all I am more likely to make mistakes, so this weekend I'm planning to give it everything and hopefully we can finish the season in a good way." That'll be a no then!
In a championship which seemingly gets faster with every season, Verona has notably been able to keep on it while his rivals have skittled themselves with crashes and bike problems.
An important factor this weekend also is that Andrea already has five world championship titles. He knows exactly what it feels like to arrive at the threshold of a major championship crown, deal with the nerves and nail it down.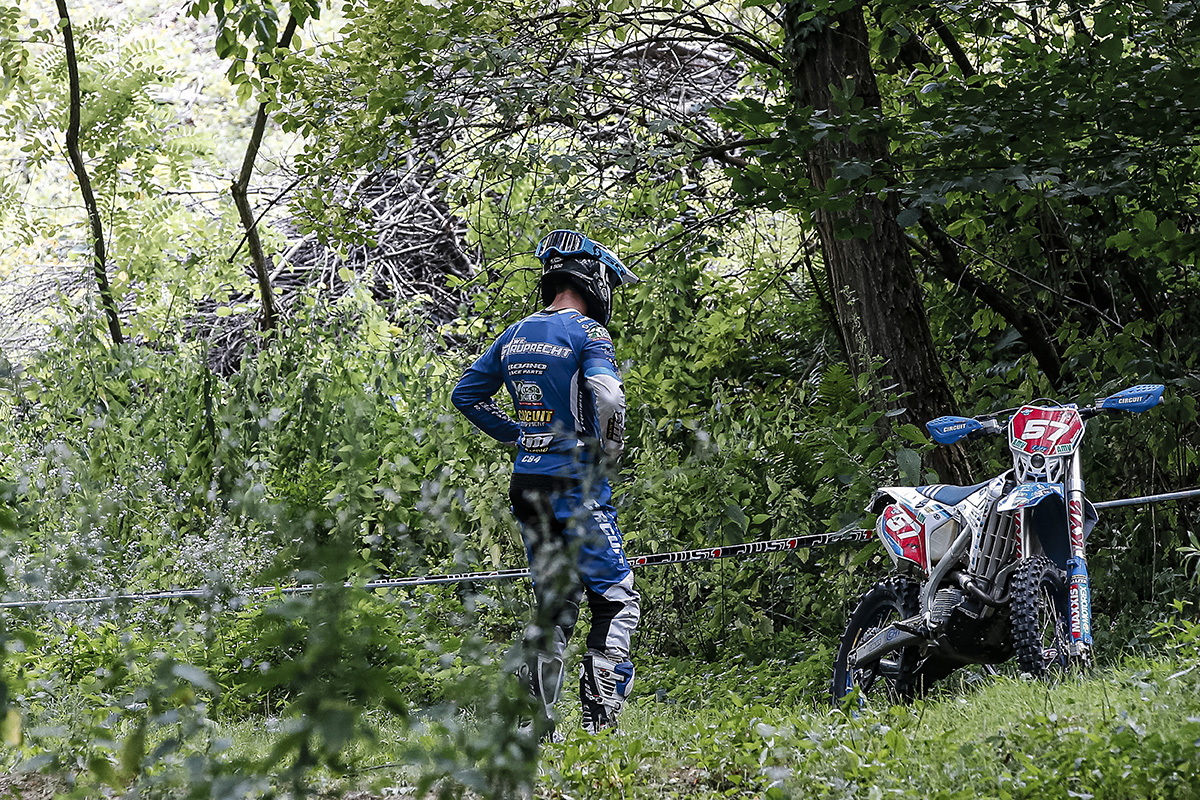 Who can win?
If Verona's nearest rival Wil Ruprecht – who looks set to leave TM for Sherco after this weekend – wins on day one, the GASGAS rider needs only finish fourth or better to wrap things up.
On the form which recently saw Verona win the hotly contested Italian Enduro Championship (beating many of his GP rivals), that is easily possible. But, and this is a big but, the class of '22 is more or less back to full strength this weekend and that means a long list of riders keen to show their mettle at this final curtain call.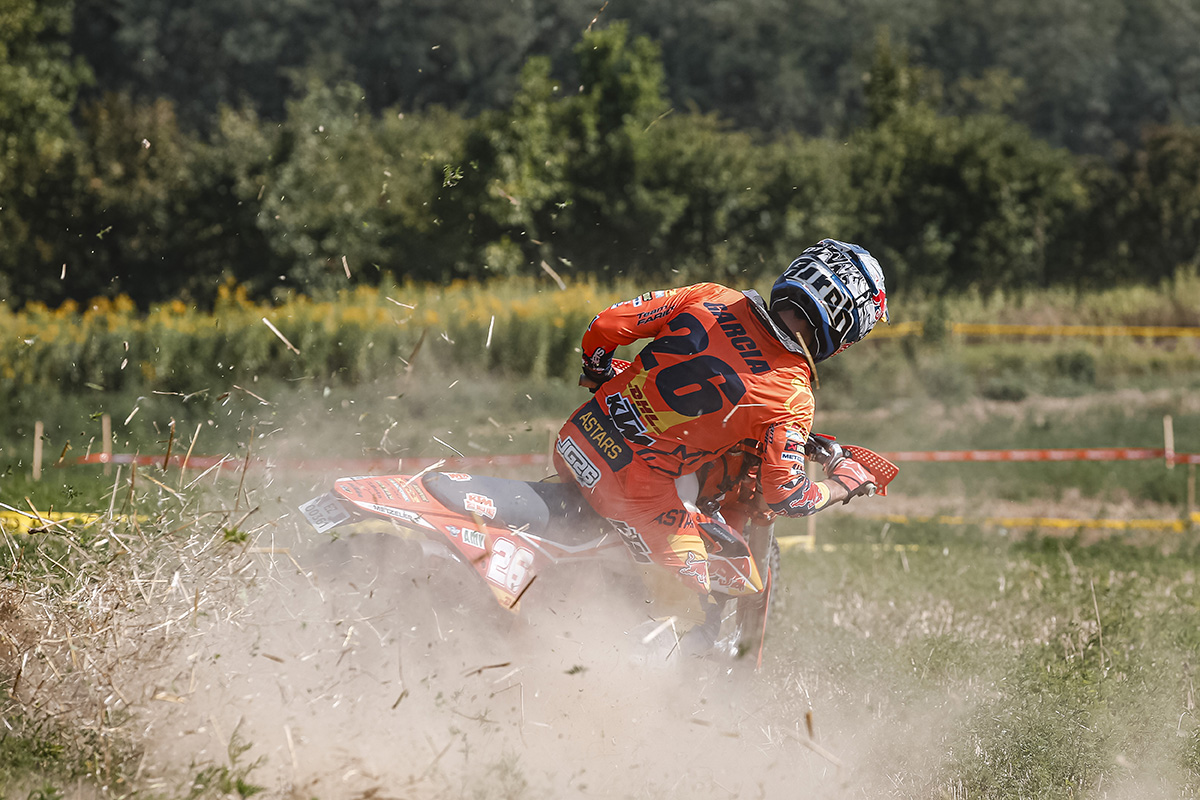 After a troubled season for some of the big hitters (read crashes, injuries and mechanicals), and before riders head into the long winter break, move teams or look for a new job, some determined minds are currently walking the tests in Saxony.
For that reason it will not be easy for Ruprecht to win the day one scratch. With five wins to his credit this season, there is no question he can do it, but the Australian is not alone in wantign to win.
Red Bull KTM Factory Racing's Josep Garcia (the only other rider with a mathematical chance of denying Verona the title), ISDE winners in Honda RedMoto's Nathan Watson and Beta Factory Racing's Steve Holcombe plus reigning EGP champ Bradley Freeman all start the final GP in Zschopau with the belief they can top the timesheets. The British riders traditionally revel the tough conditions in Germany too...
Podiums across the classes to settle
While Verona has already clinched the Enduro1 world title, the remainder of the championship podium remains undecided. Thomas Oldrati holds down second, with TM Racing's Matteo Cavallo 24 points behind in third.
E2 is a good one to watch also in respect of the overall series results and the middle class. Ruprecht holds a decent 12-point lead over Watson, with Garcia a further nine points behind in third. These three have a lot to shoot for in Germany.
The E3 championship sees Husqvarna Factory Racing's Mikael Persson just three points in front of defending champion Freeman. Brad can be ruthless when it comes to crunch time but Persson has been growing in confidence all year and also raced the ISDE while Brad was laid up and getting healthy again in the summer break.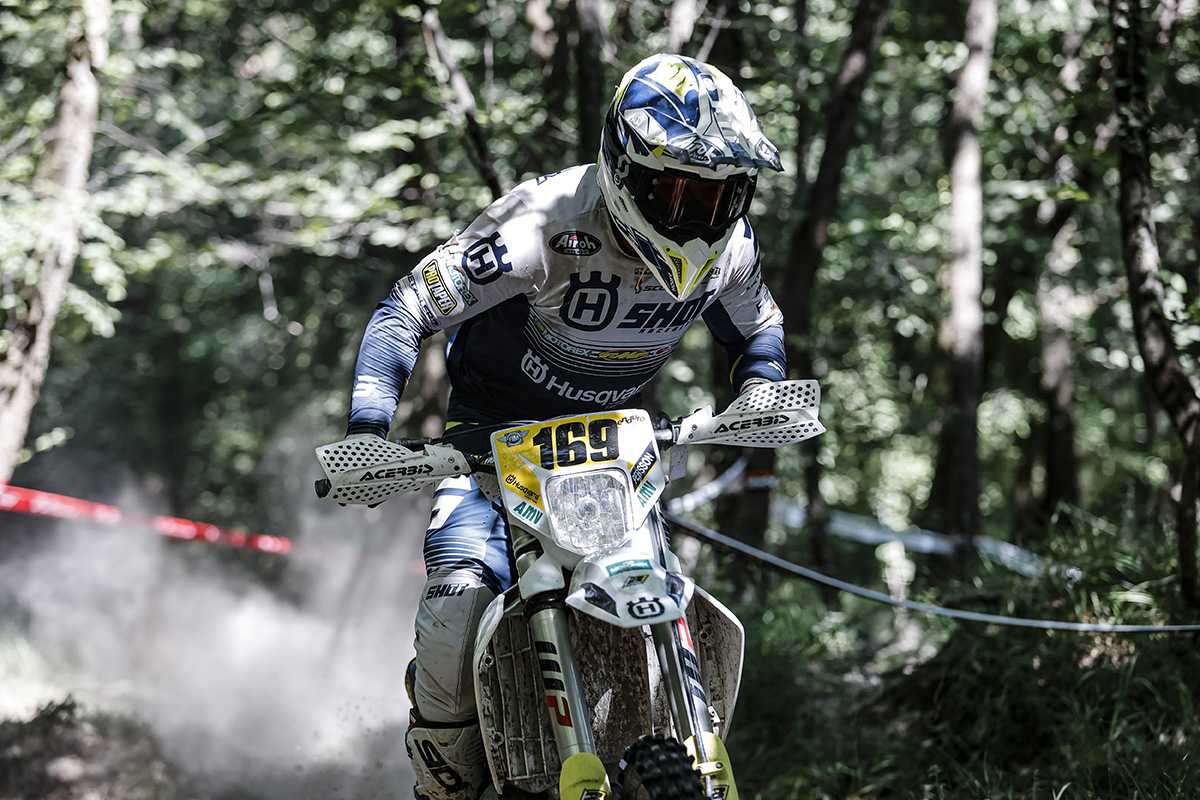 Daniels closes in on Enduro Women's crown
In the Magnorange FIM Women EnduroGP Championship, Jane Daniels is on the verge of adding the world crown to her ISDE top honour. Daniels has taken her Fantic to victory in all three rounds so far in 2022 and is odds-on for a clean sweep.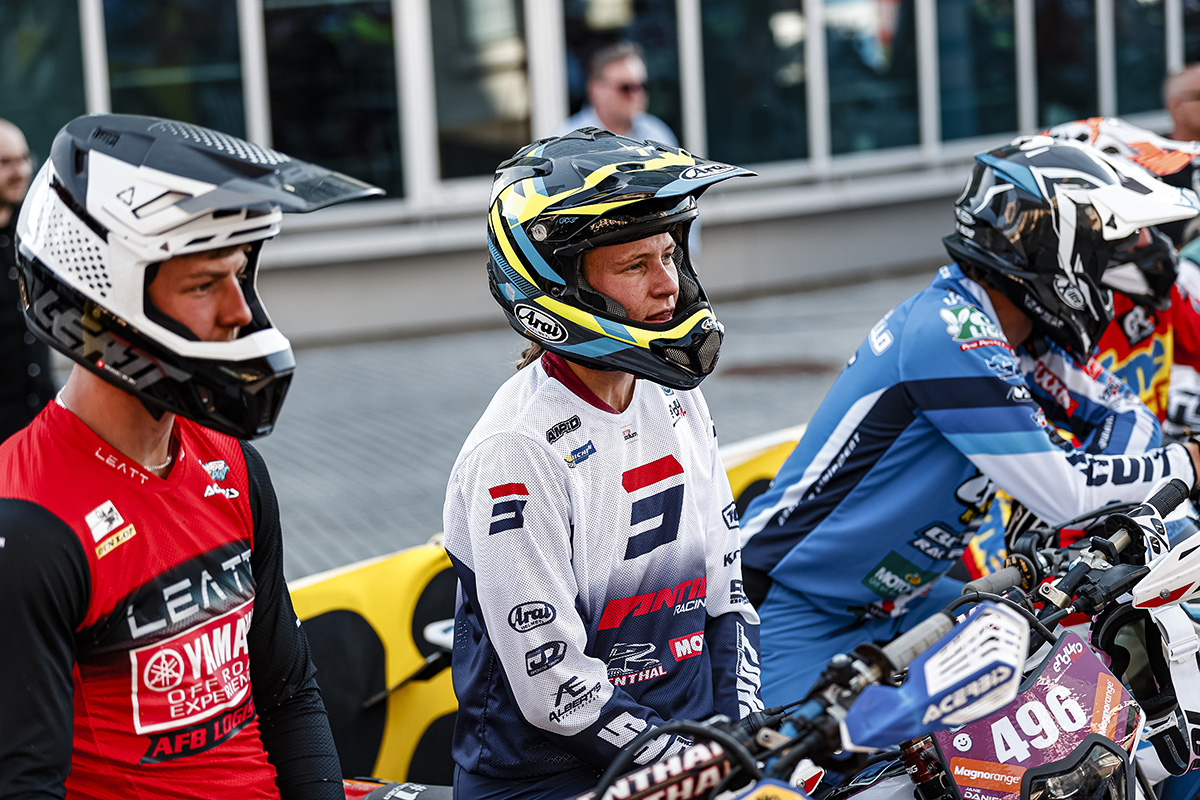 Mireia Badia has finished as runner-up on her Rieju at each GP and needs to pull something monumental out the bag this weekend if she is to topple Daniels even for a day win.
The battle for third is the most interesting one between Britain's ISDE winner Rosie Rowett and Portugal's Rita Vieira who are tied on points.
Edmondson aiming to keep it in the family
The Enduro Youth 125 class sees Harry Edmondson on the verge of continuing a very long family tradition from his father Paul to his brother Jack.
The Fantic rider holds a sizeable 19 points lead over his Italian teammate Kevin Cristino who needs to win on Saturday to keep any hopes alive. The final step of the podium looks set to be fought out between Samuli Puhakainen (TM Racing) and Giraudon Thibault (Sherco).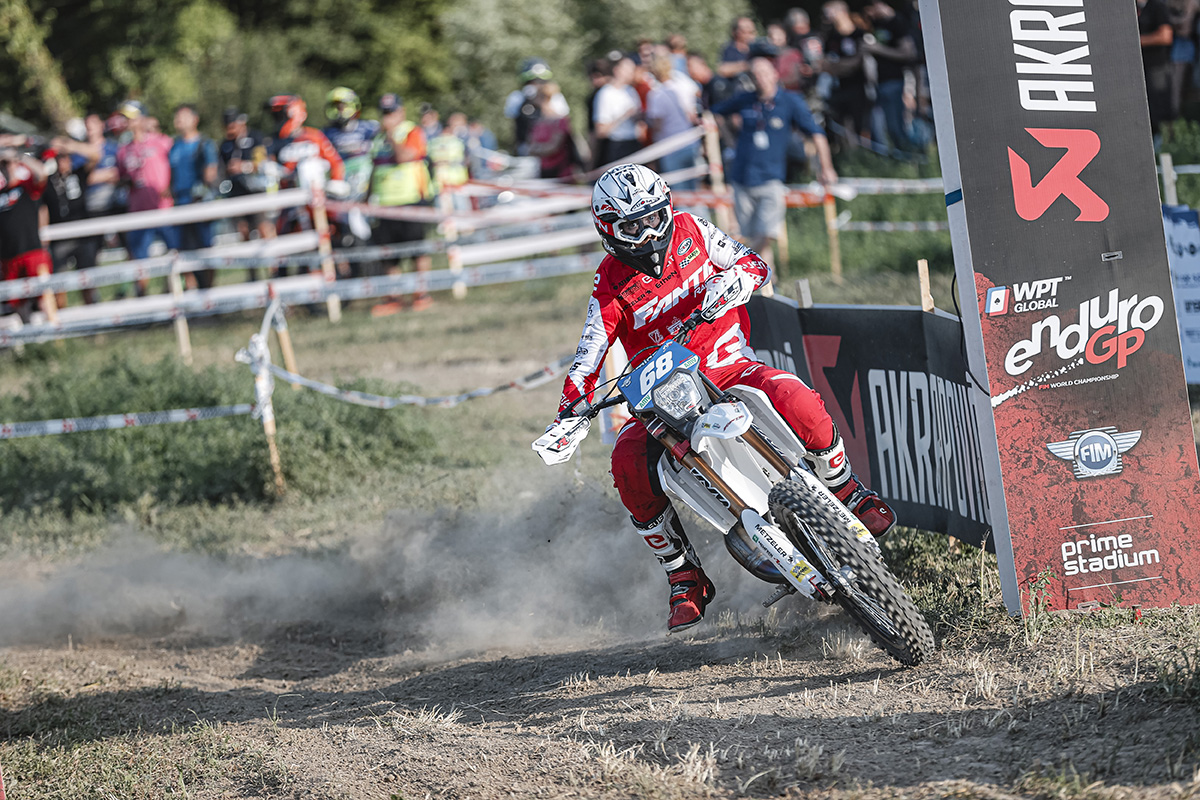 And finally…
The Enduro Junior categories are much more settled with Zach Pichon already crowned overall champion, though not quite the J1 title – although Pichon did tell Enduro21 previously he might be stepping up to the seniors this weekend in preparation for next season, he is entered in the J1 category.
Fellow Frenchman Luc Fargier is all-but champion in J2 with a 31-point lead over Max Ahlin.
2022 GP of Germany entry list: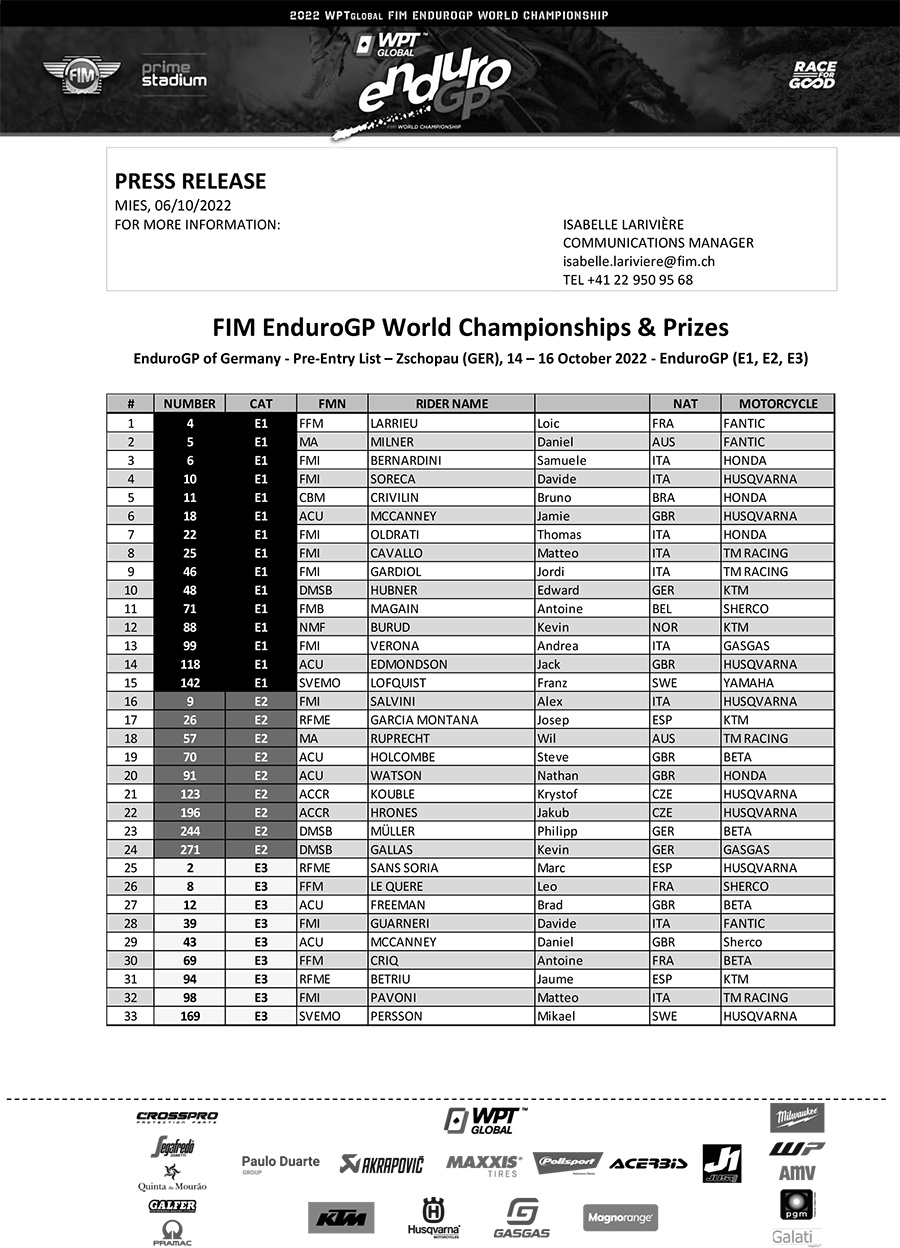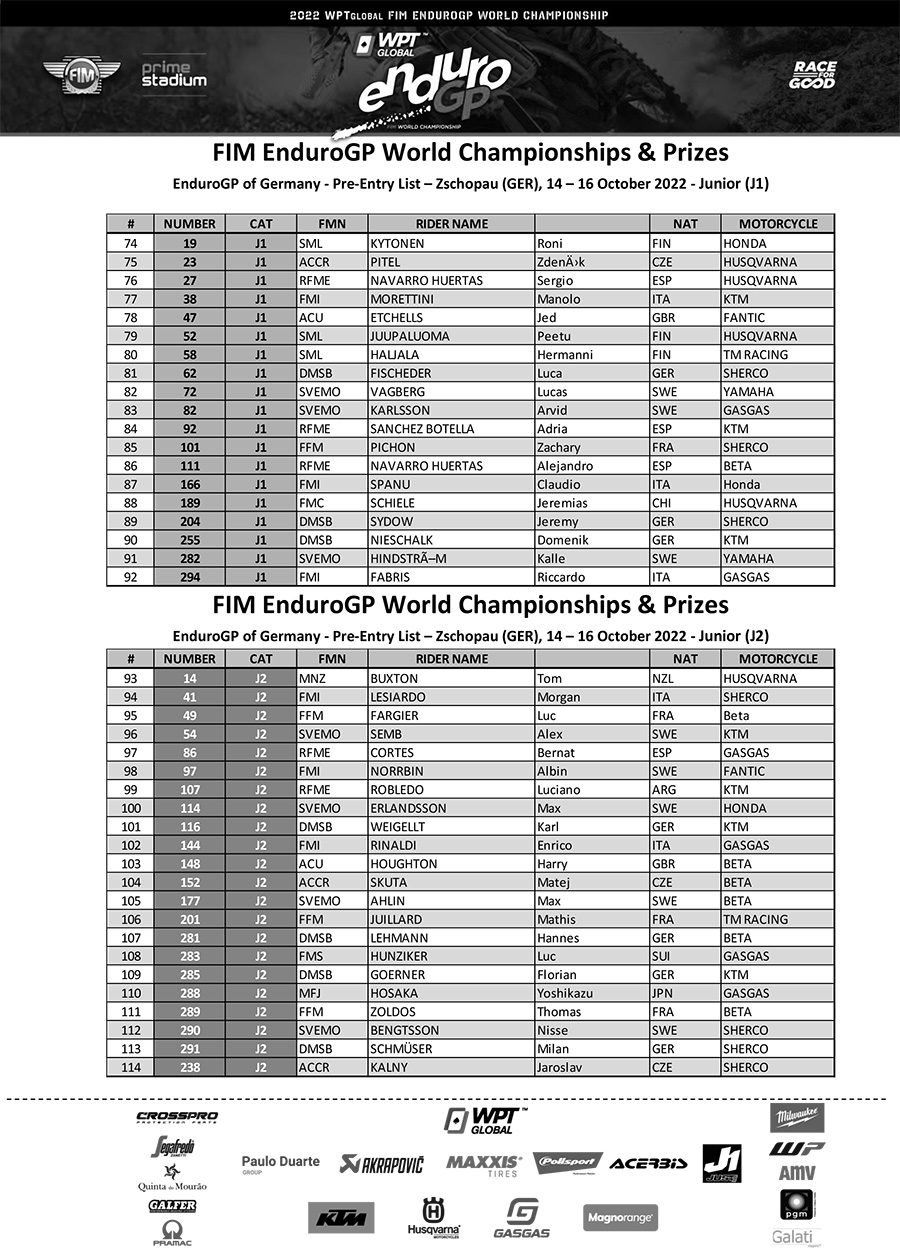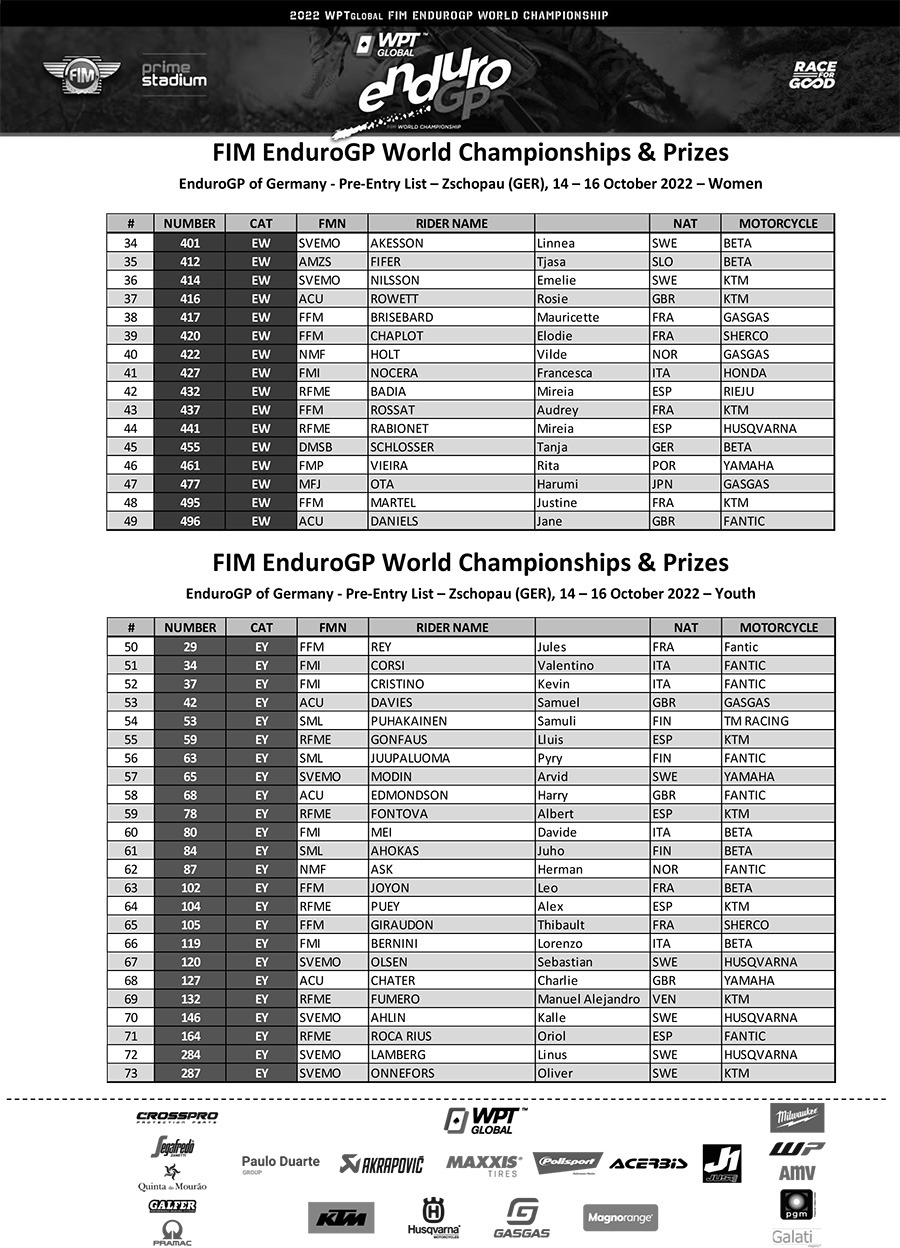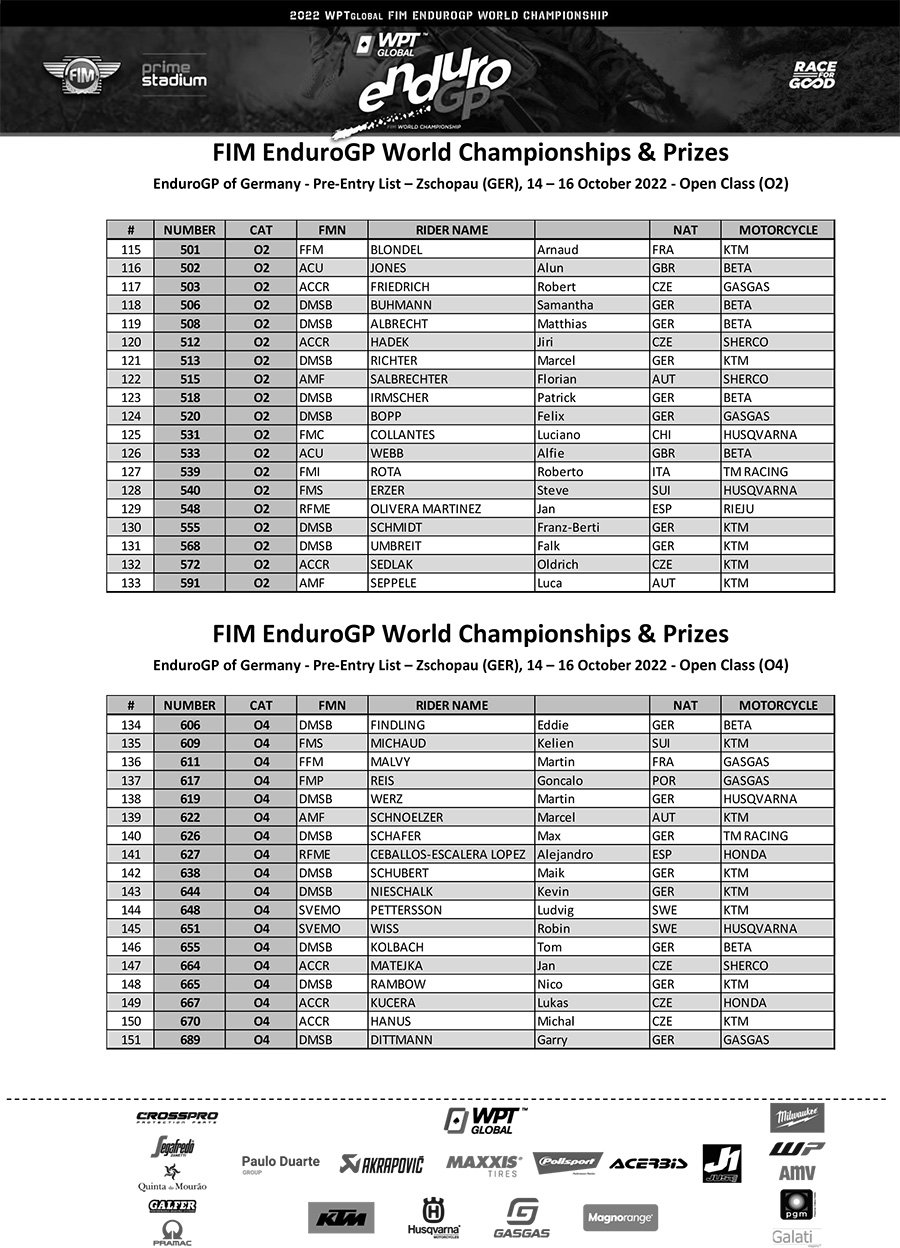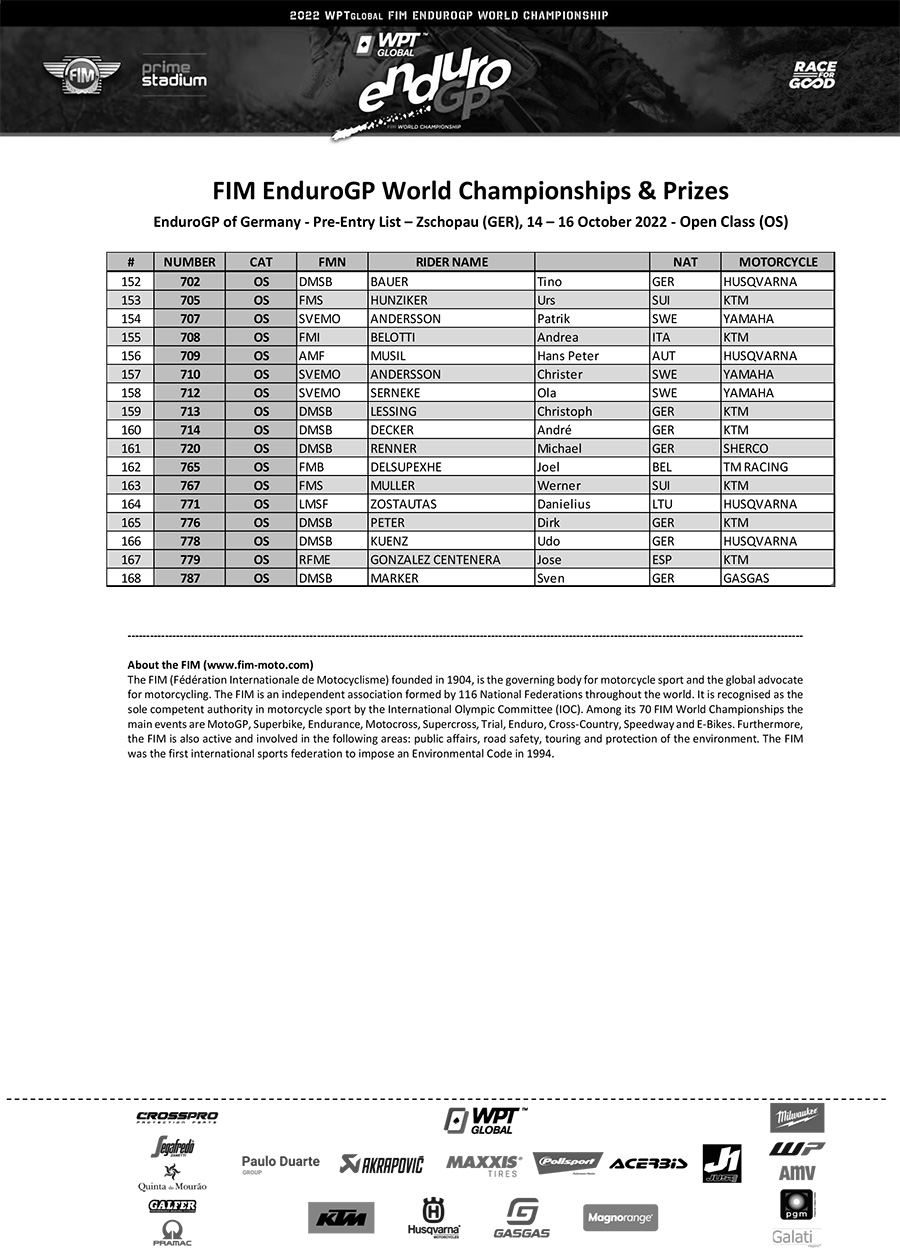 The seventh and final round of the WPTGlobal FIM EnduroGP World Championship gets underway this Friday, October 14 in Zschopau with the Akrapovic Super Test.
Stay tuned to Enduro21, we'll be there bringing you the news, results and insight from across the three days.
Photo Credit: Future7Media | Andrea Verona + Nicki Martinez