EnduroGP Results: day 2 in Sweden Steve Holcombe wins as Garcia crashes out
2023 EnduroGP World Championship results from the GP of Sweden in Skovde where Josep Garcia set a blistering pace only to crash out and Steve Holcombe claimed his first overall win of the season.
2023 EnduroGP of Sweden Day 2 in a nutshell:
Apart from a mistake in the first test, Josep Garcia was on a mission this morning. Appreciably faster in the first of the two enduro tests, the Red Bull KTM rider went onto establish a lead by the end of lap one.
The lead was growing until disaster struck one test later when the Spaniard pile-drived the ground on one of the whooped-out sections in the trees, injuring his elbow and shoulder we understand and putting him out the race. Is that his EnduroGP title challenge over for the season?
Josep wasn't alone in going out this weekend. Get well soon all who bit the dirt on this tough course.
That let Brad Freeman and Steve Holcombe off the hook and it was Brad who fired ahead, banging two solid test wins in while Garcia was sitting with the medics.
But Steve Holcombe was again solid and as the tests were getting beaten up, riders made mistakes, it was fascinating how Holcombe mastered switching up lines, looking for the smoothest and fastest options.
It paid off with a fast final visit to the enduro test where Freeman dropped 19 seconds and with a crucial time in the final extreme where the pressure was on, Holcombe took his first win of the season, his first win since 2020.
It's been a while Steve: "Things didn't start so well, the track was absolutely destroyed today. I think we all had our issues with crashes and mistakes. Honestly, I'm pretty happy to get through the day without any big moments and I wish Josep a speedy recovery, it was very unfortunate. But yeah, I'm pretty pumped with my win."
Second overall for the third racing day in a row, Brad Freeman retains the championship lead and takes the E3 win. "I was just doing my own thing, doing alright this morning and we were all watching Josep pull away. I made a few changes to the bike and things staretd to get a bit better and I pulled a bit of time back then he crashed out and the test after that I almost killed myself, lost 20 seconds to Steve and that was that. It was a shot day, loads of mistakes and I really wasn't with it at all. After the crash I had I shouldn't be walking."
It was a much better performance for the season from Nathan Watson who claims his first overall podium of the season, better reigning EnduroGP champ Andrea Verona fourth by 3.74s, "I'm really happy to get it done. There was a lot of stress going into the last test, I had about half a second over Verona and he is normally fast in the extreme tests. But I gave it my all. I had a harder day today actually, I crashed twice and had a problem with my clutch so did two tests without a clutch. I'm happy to finally show my speed."
Theo Espinasse ticked off a very good weekend in Sweden and completes the top five and stands on top of the E1 podium, it's been a while for this Beta rider too.
Without the 30 seconds handicap he had to overcome on day one (eventually closing in on P2 remarkably), Sweden's star this weekend has been Albin Norrbin in the Juniors. The 300 two-stroke Fantic looked like a rocket in his hands and he sailed away with the day two win and a result which would have put him top five overall.
A minute winning margin is rare in this class but that was the gap back to the second of three Swedes on the podium Axel Semb. Championship red plate holder Jed Etchells battled hard with day one winner Max Ahlin but Max claimed that third spot for a full blue and yellow podium.
Three French riders led by Leo Joyon hunted the Youth class win away from runaway leader Kevin Cristino. It was really close right to the death with Cristino taking another win but by just 0.53s from Joyon. Thibault Giraudon was third but a distant 1:39 adrift.
By the end of lap one Jane Daniels already had almost a minute advantage over her rivals in the Women's class. The gap stayed the same through lap two and the Fantic factory rider maintained her 100% record for the season.
The fight for the podium places was intense though with Francesca Nocera joining the fight with Rosie Rowett and Jessica Gardiner. Italian Nocera it was who took test wins on her way to second place overall 22 seconds clear of Jessica Gardiner.
Alejandro Ceballos-Escalera Lopez turned it around in the Open class with a 4T class win and the scratch victory by nearly a minute from Enzo Marchal and Marcel Schnoelzer third 1:40 behind.
2023 EnduroGP of Sweden Day 1 results scratch results: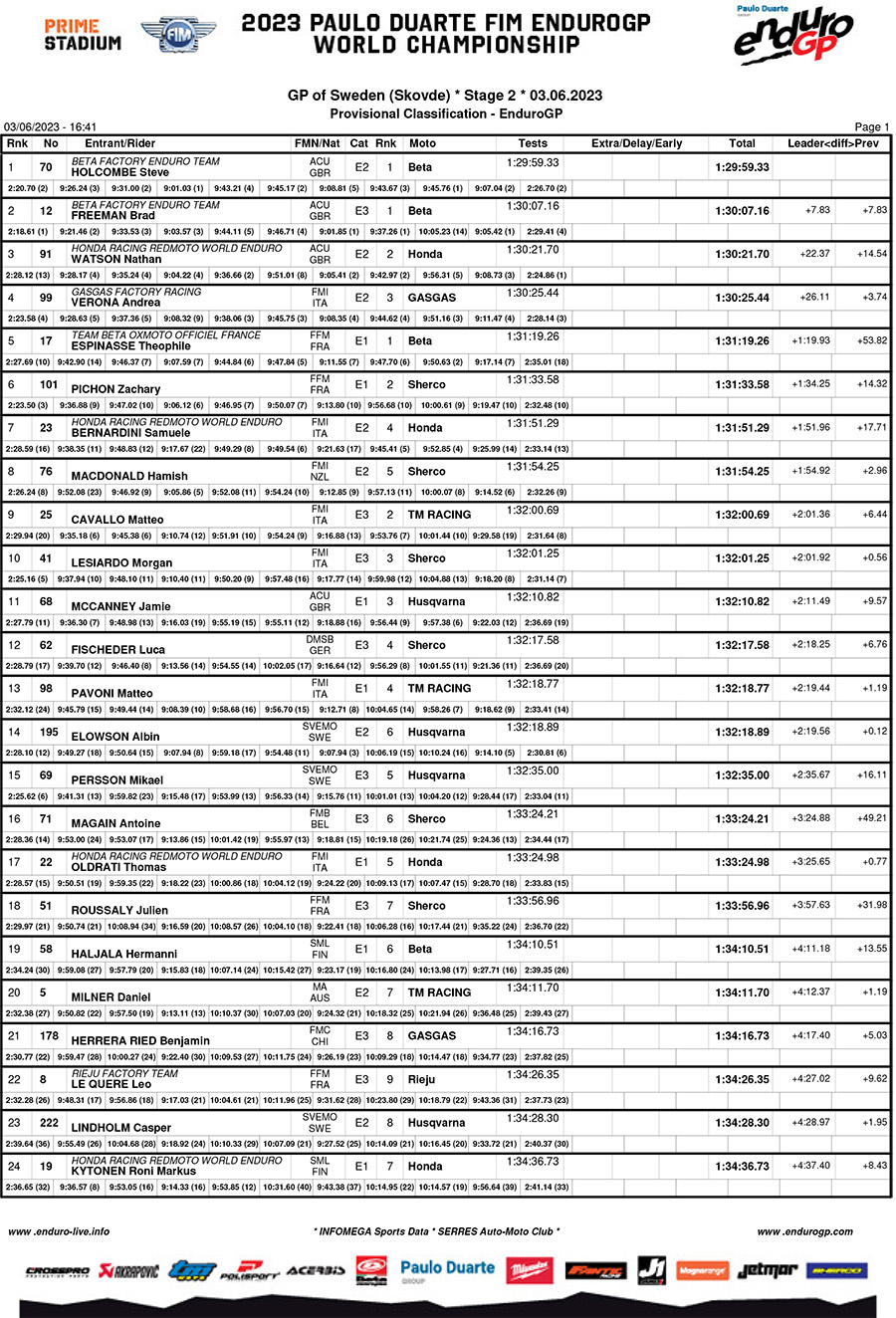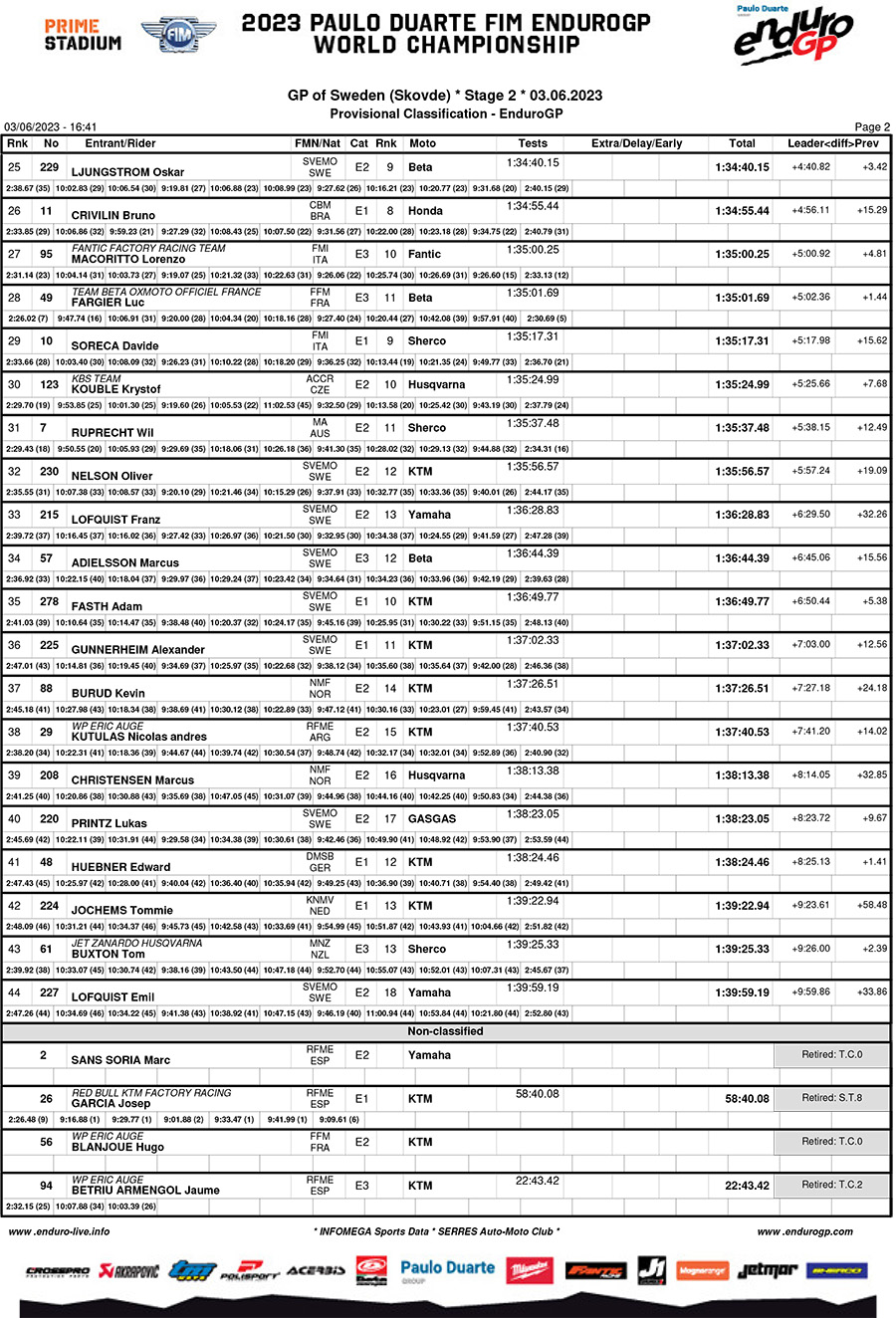 E1 class results: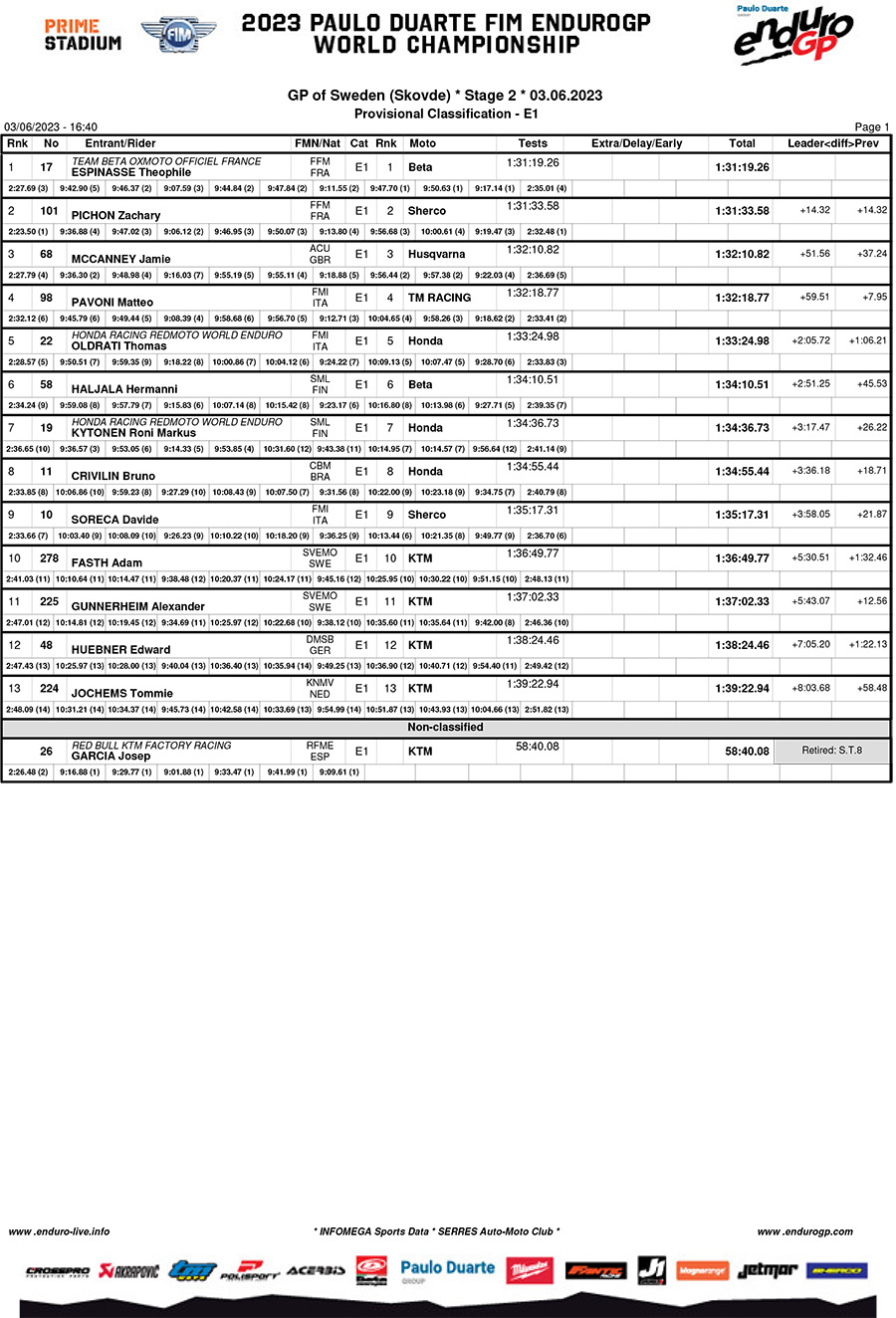 E2 class results: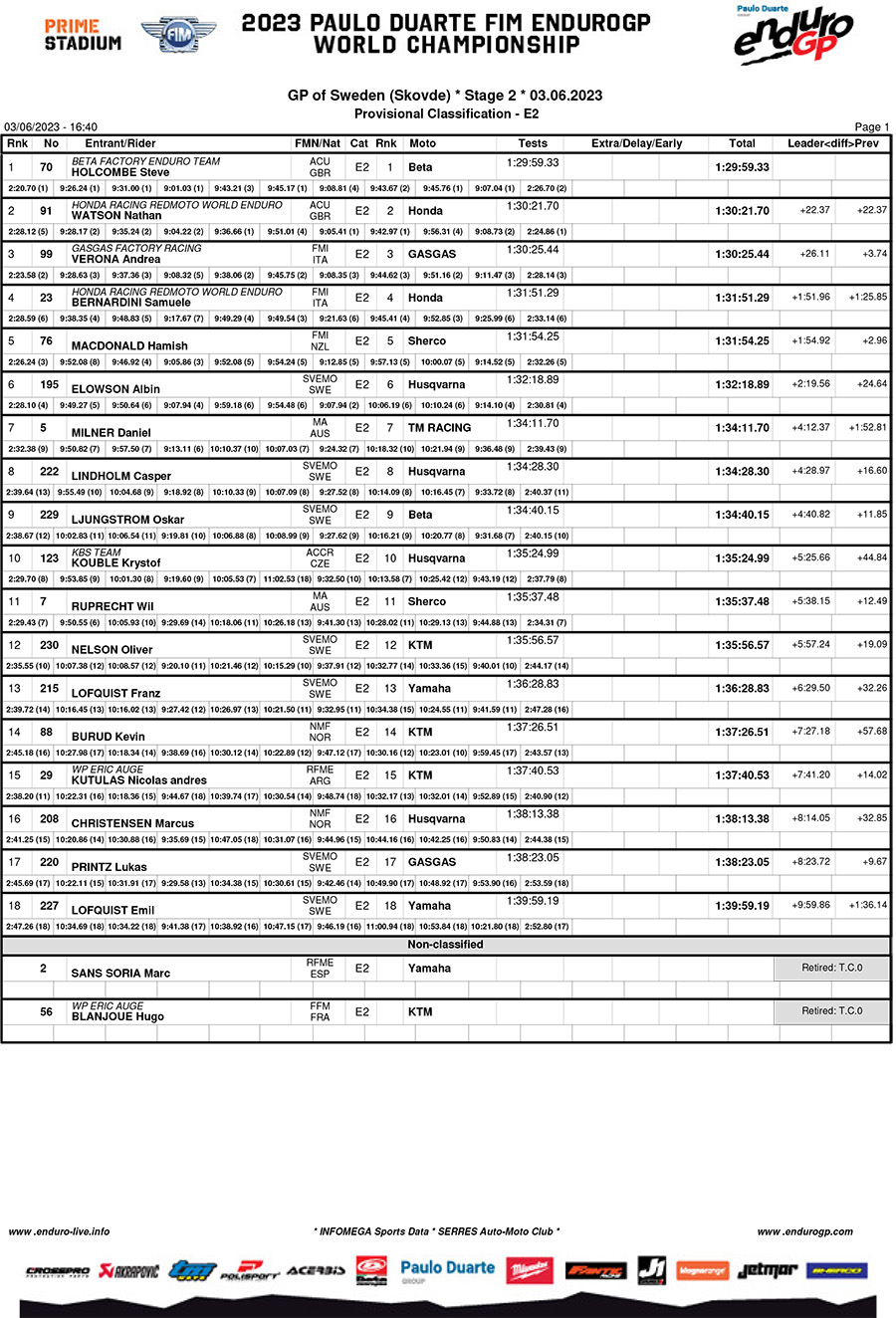 E3 class results: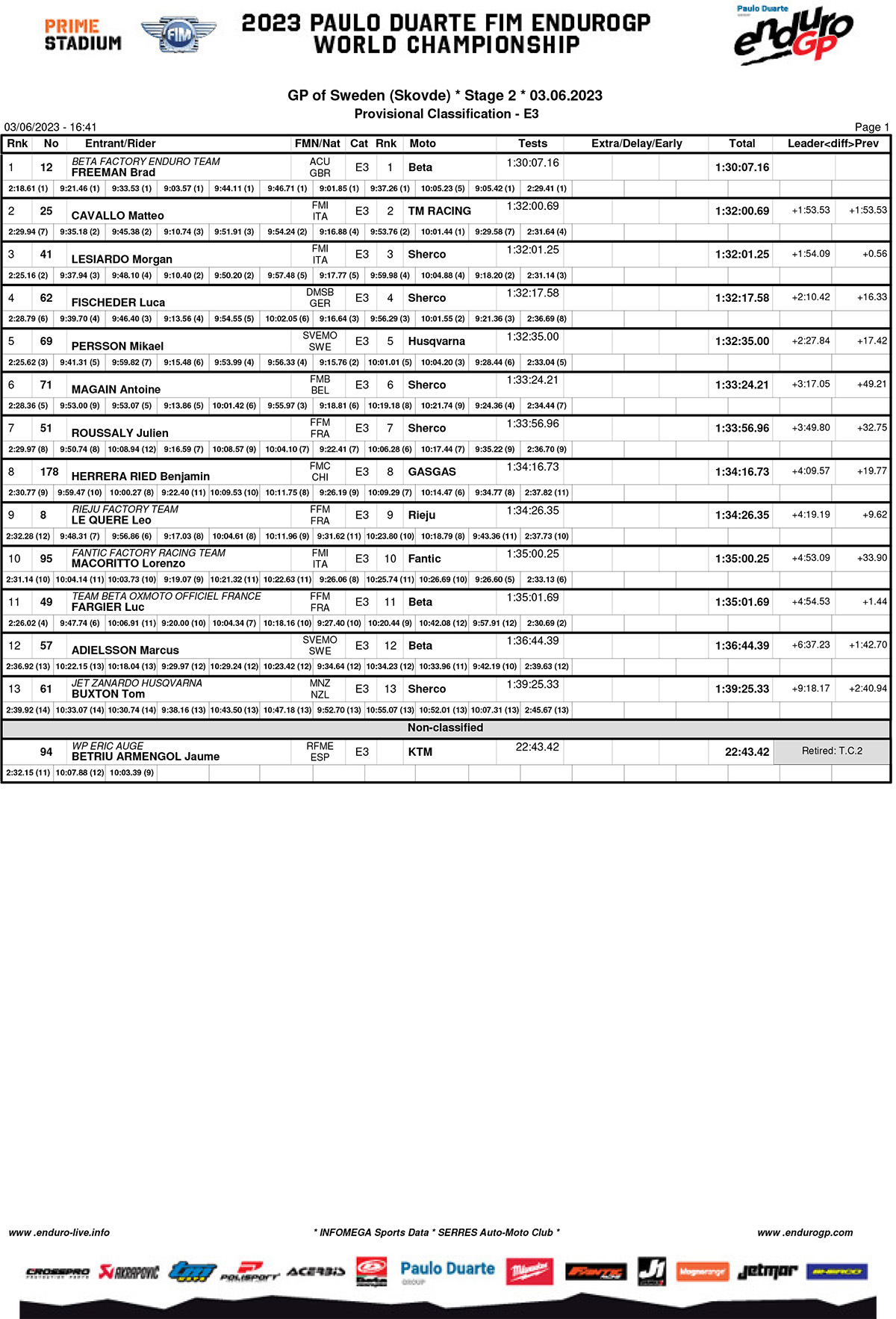 Junior results: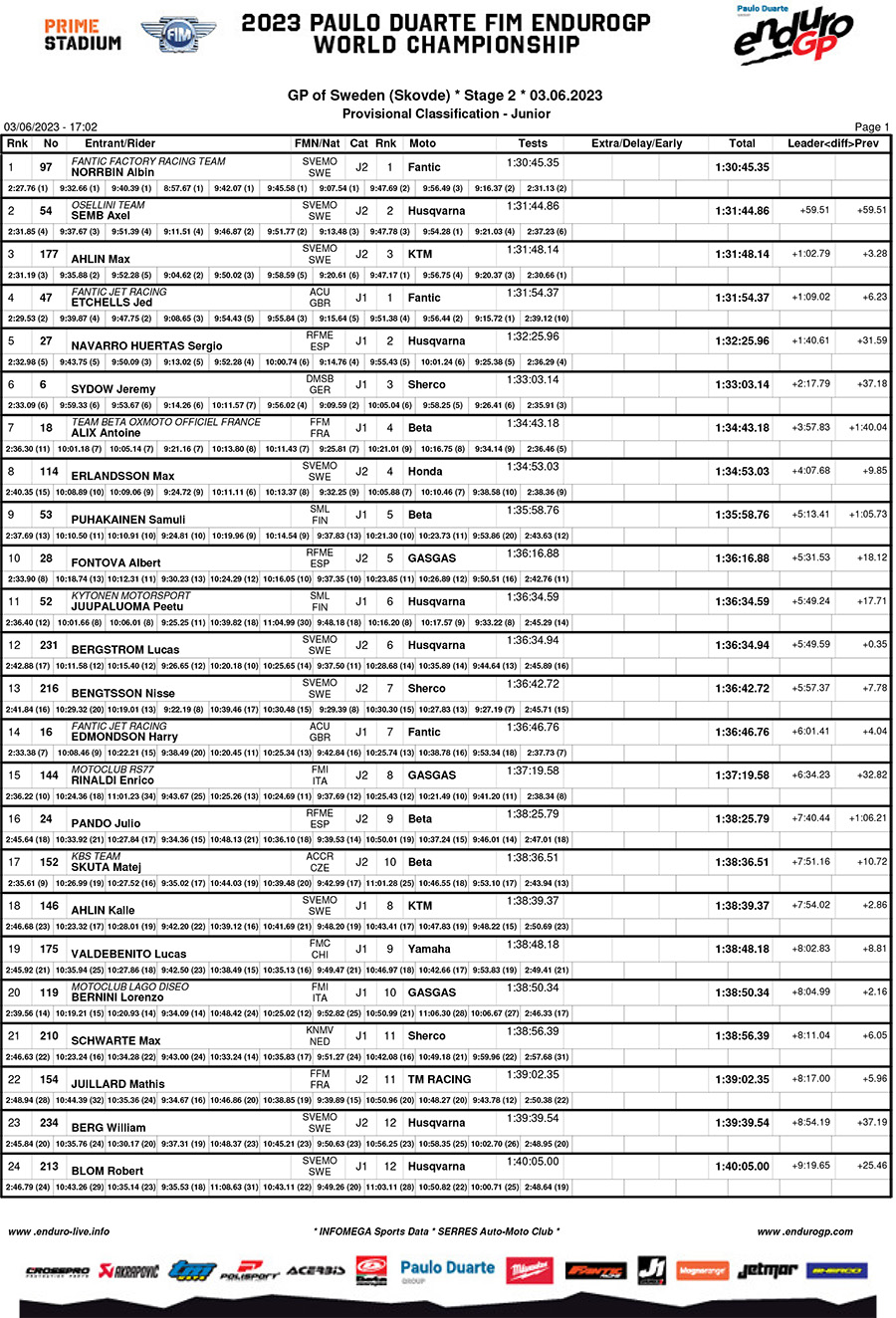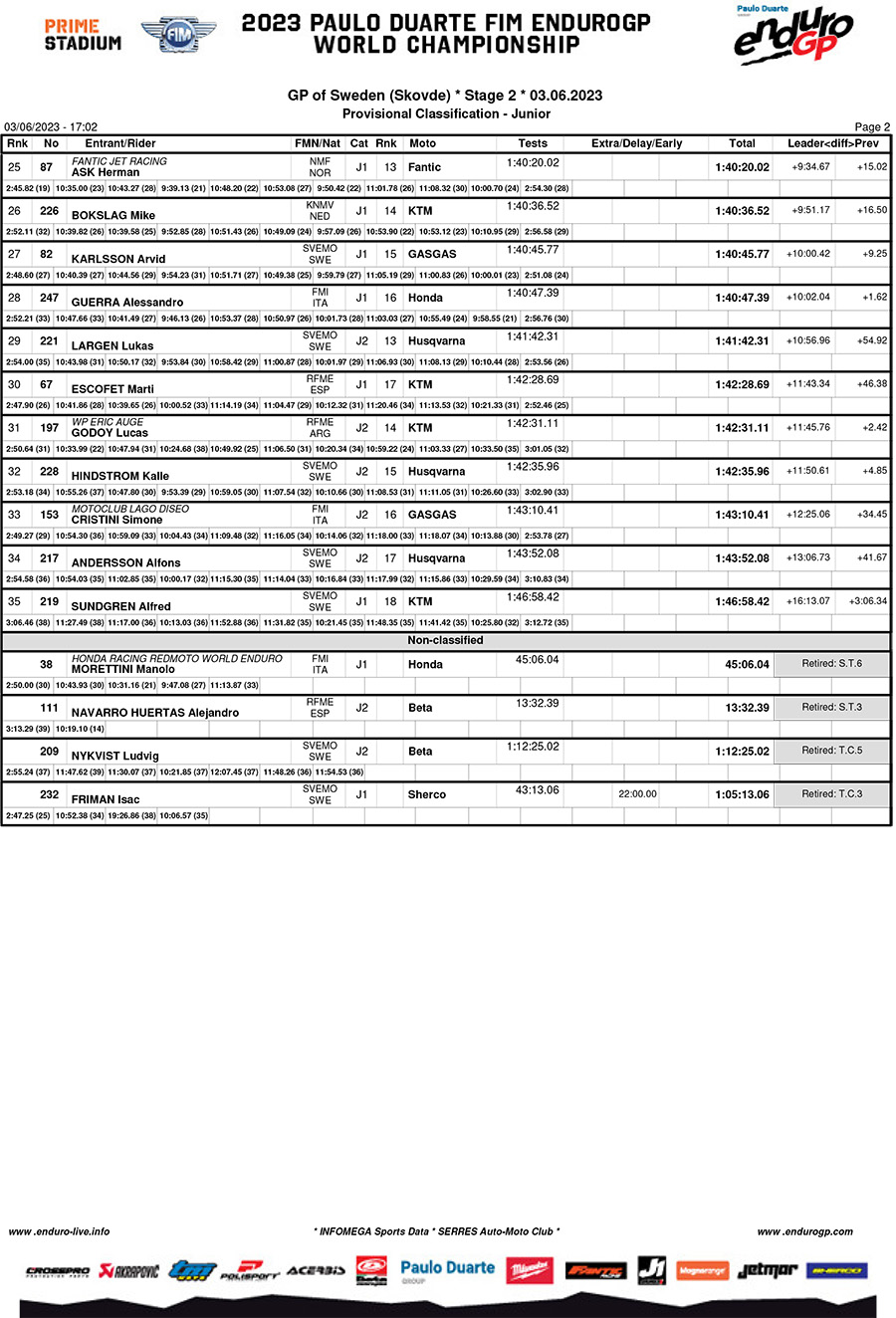 Youth results: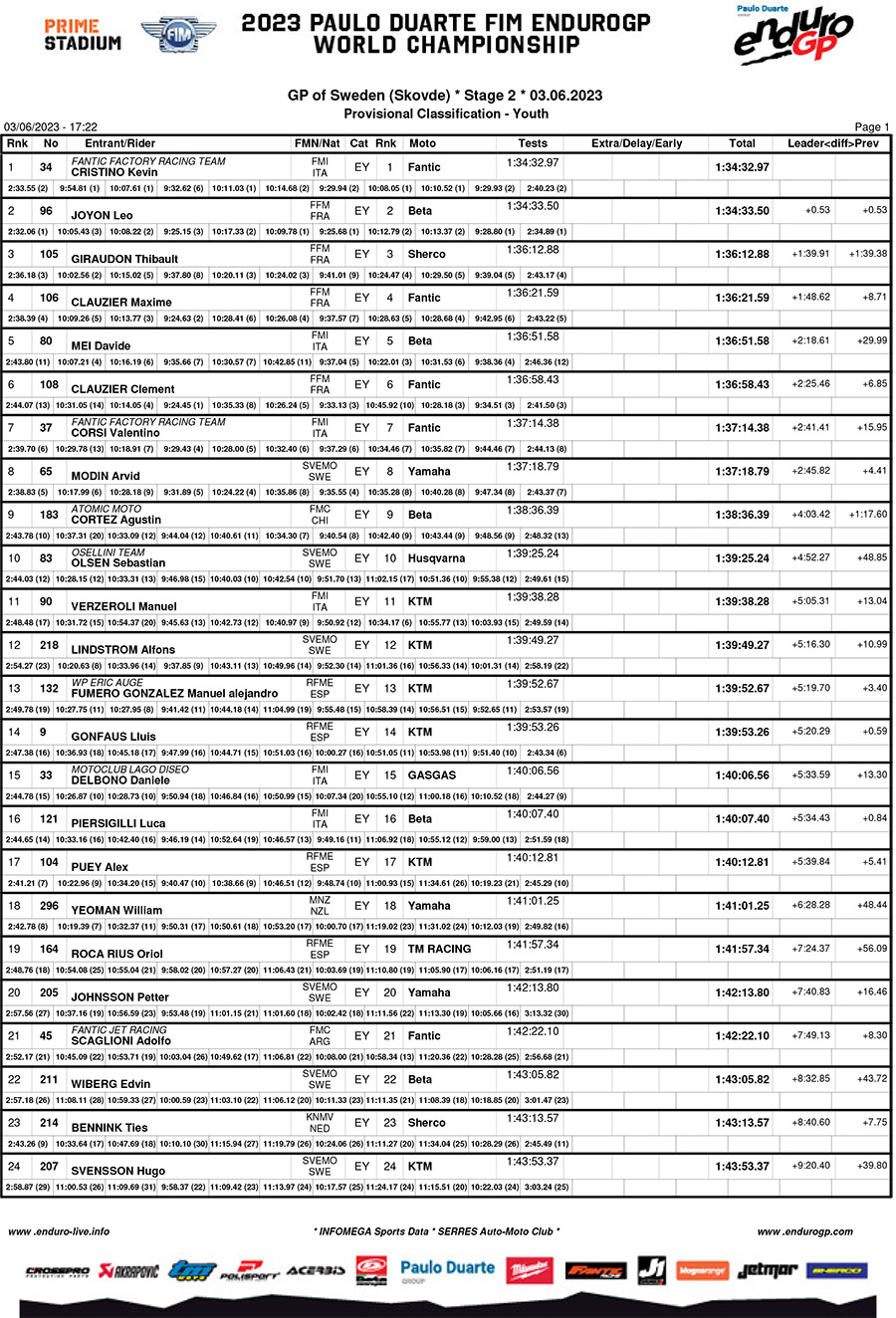 Women results: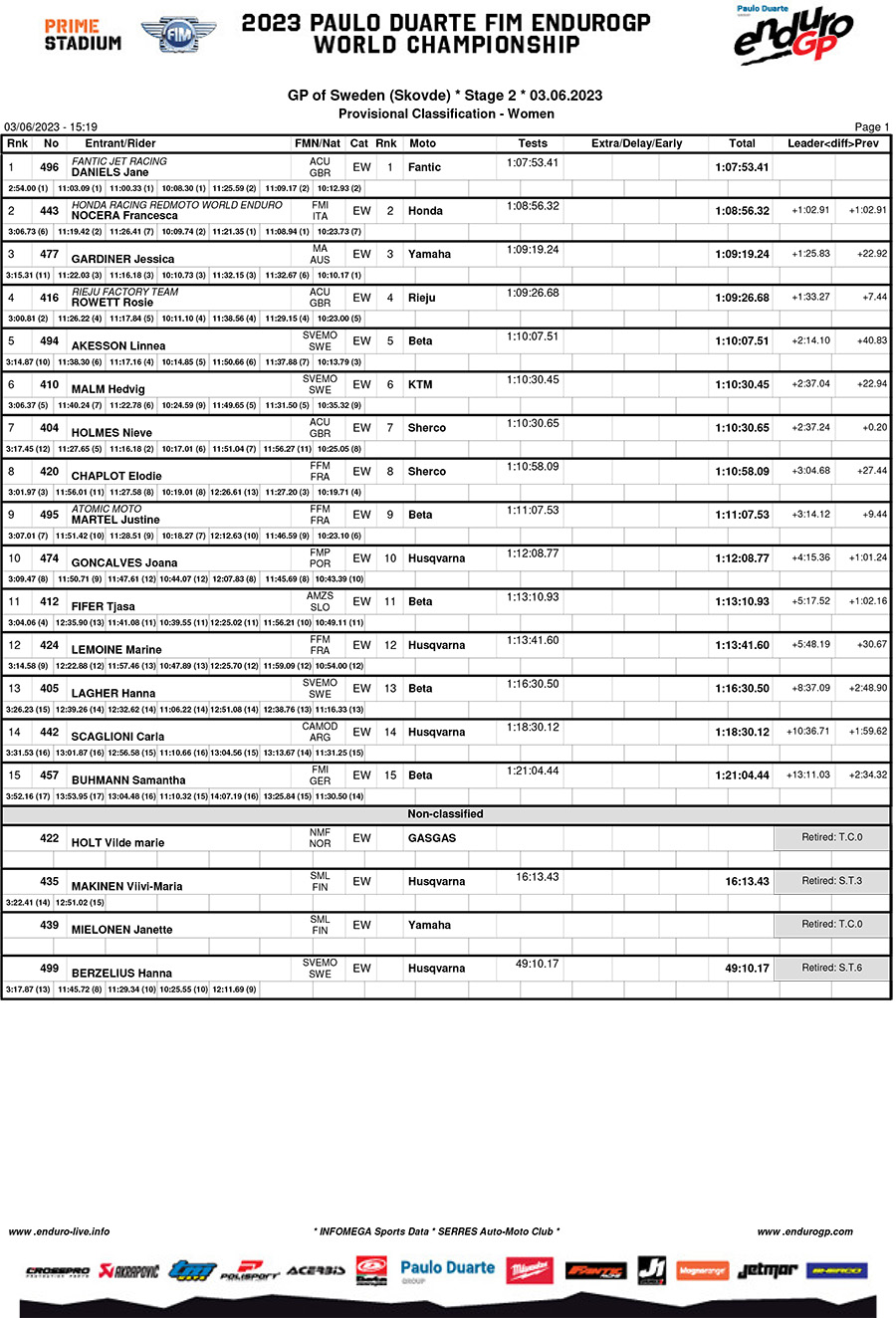 Open class results (scratch, top 10):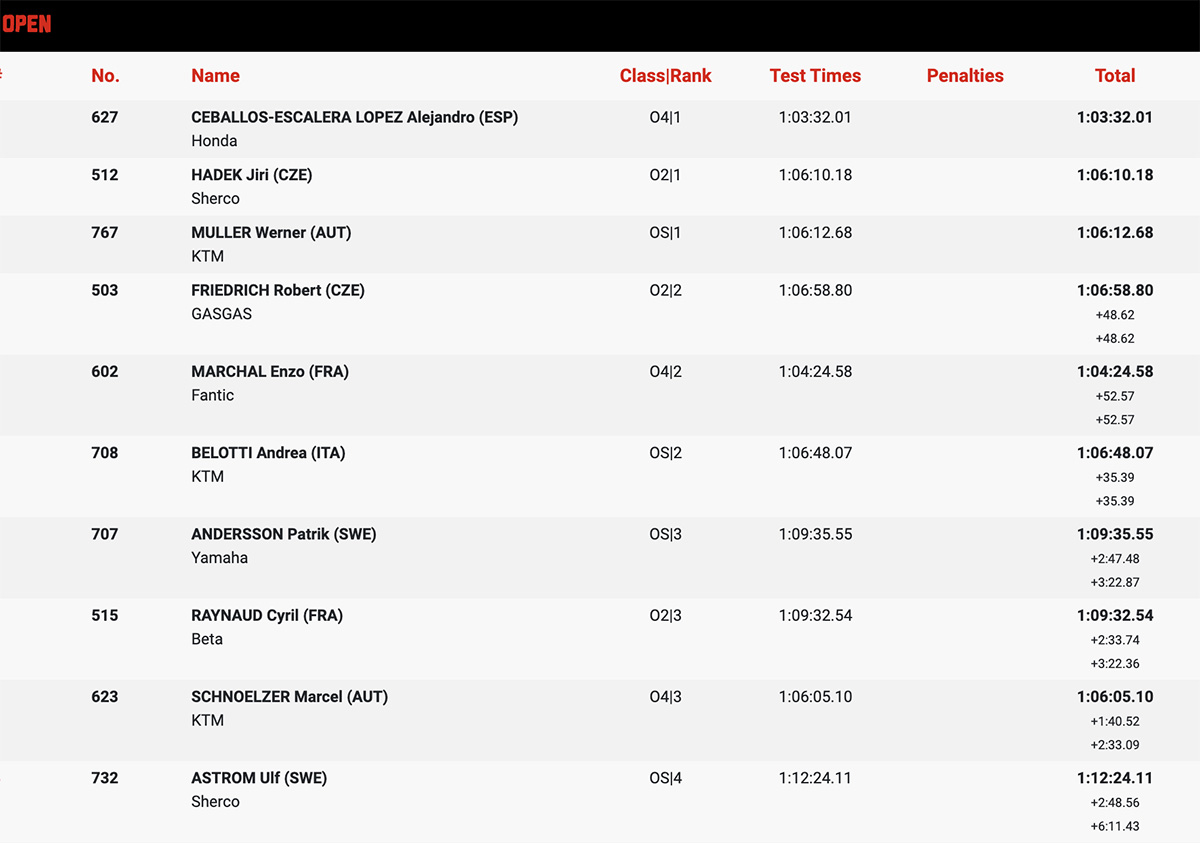 Photo Credit: Future7Media | Andrea Belluschi