EnduroGP Results: Holcombe takes double victory in France
Results feed from day two of the opening Grand Prix of the 2020 EnduroGP World Championship where Steve Holcombe has taken a double victory and with it Beta Racing's first four-stroke triumph – Theo Espinasse and Jed Etchells dominate Junior and 125 classes.
2020 French GP Day 2 in a nutshell:
Day two in Requista dawned with very different looking tests after overnight rain left conditions muddy after the dry and dusty day one.
Jaume Betriu blasted out the blocks for an early overall lead and went on to push hard for a scratch podium all day, only to fall just short in the final tests. Still, it was a strong showing from the Spaniard to finish fourth and P2 in E3 on his return to EGP.
The mud and ruts suited British rider Steve Holcombe who found his groove and, like day one, established a cushion out front. However, just like day one, Holcombe dropped almost 30 seconds to his nearest rival in the last two tests after "riding tight" at the end. Holcombe had already done enough though and took Beta's first overall GP win on a four-stroke.
Brad Freeman meanwhile, like 24hrs earlier, began slowly and had to pull his finger out to haul back into contention. "I can't keep losing all the time in the morning and having to make it all up in the afternoon" Freeman explained after finishing 3.2s off the overall and snatching E3 from Betriu with two tests to go.
Third place and the E1 victory went to Andrea Verona who enjoyed the conditions day two dished up and was more than happy with his first EGP scratch podium. "It's incredible to head to Italy next week with the E1 leader plate" said the TM rider.
By contrast to the senior class riders, Theo Espinasse dominated the day in the Juniors and proceeded to wipe the floor with opposition. The Sherco rider finished almost half a minute in front to lead of Juniors overall and J2 class.
Theo's Sherco teammate Hamish Macdonald repeated his day one performance with second place but only after a battle with third placed Matteo Pavoni. J1 honours went to Lorenzo Macoritto fifth scratch and a minute down on Espinasse.
The Youth 125 victory was equally impressive with Jed Etchells leading from the front all day to confidently take his and Fantic's first GP win in class. His margin of victory over Sergio Navarro was 26 seconds with Claudio Spanu again on the podium but almost a minute behind the all-conquering Etchells.
In the Open World Cup class it was exactly the same scratch result with Belgian Damiaens Dietger taking the fastest time ahead of Goncalo Reis and Mathias Van Hoof.
2020 FrenchGP results, day 2 EnduroGP scratch: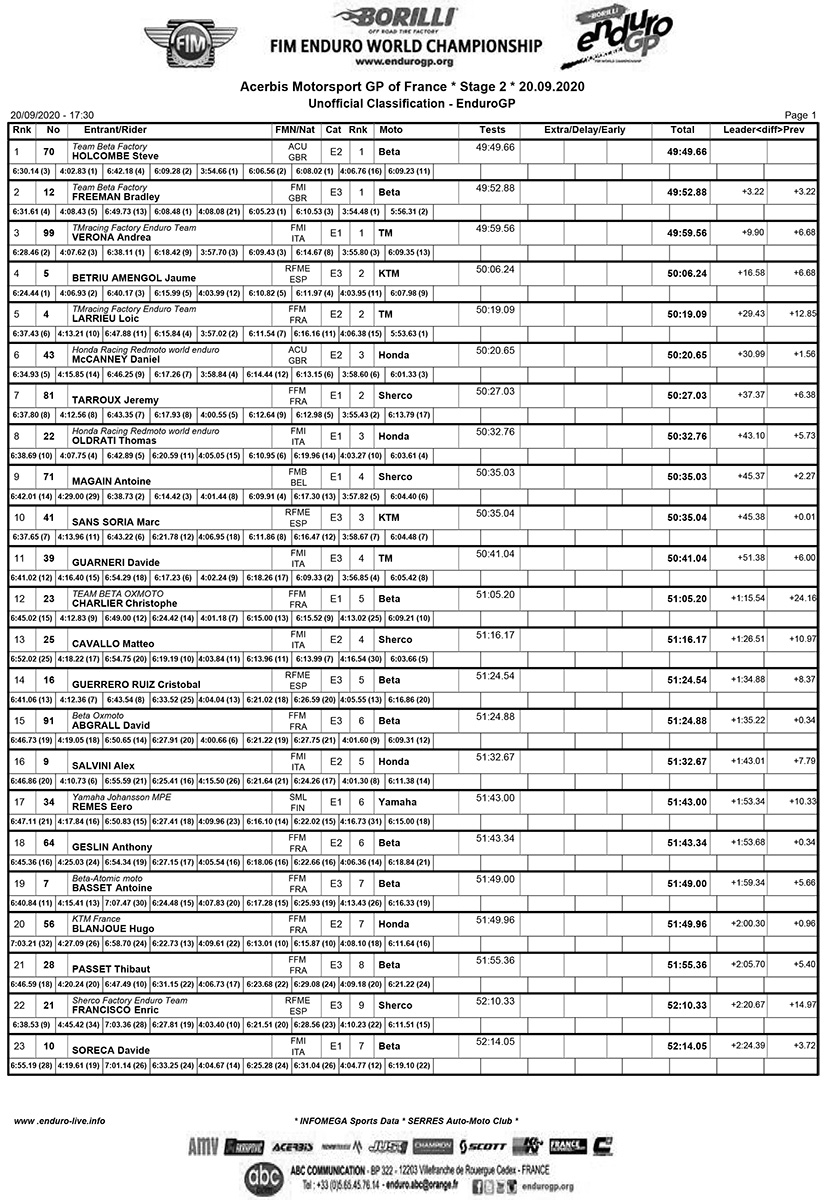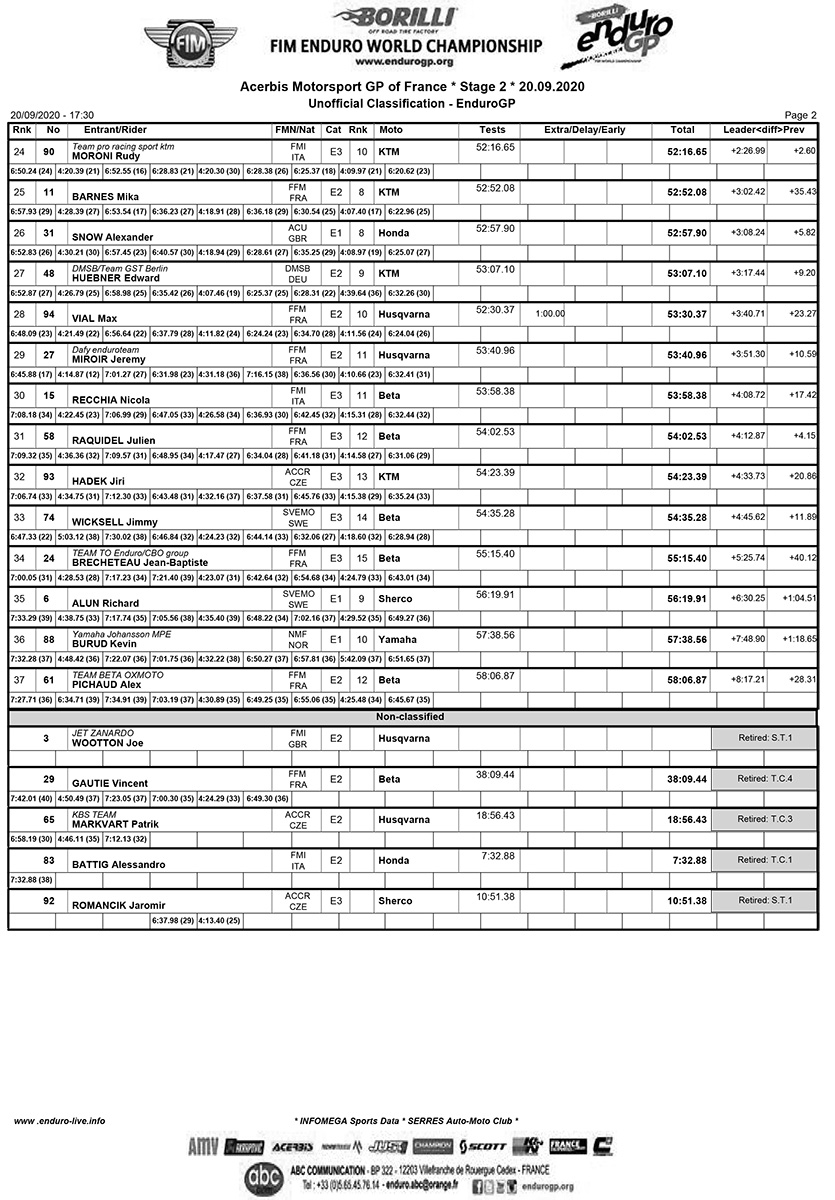 E1 class results:
E2 class results:
E3 class results: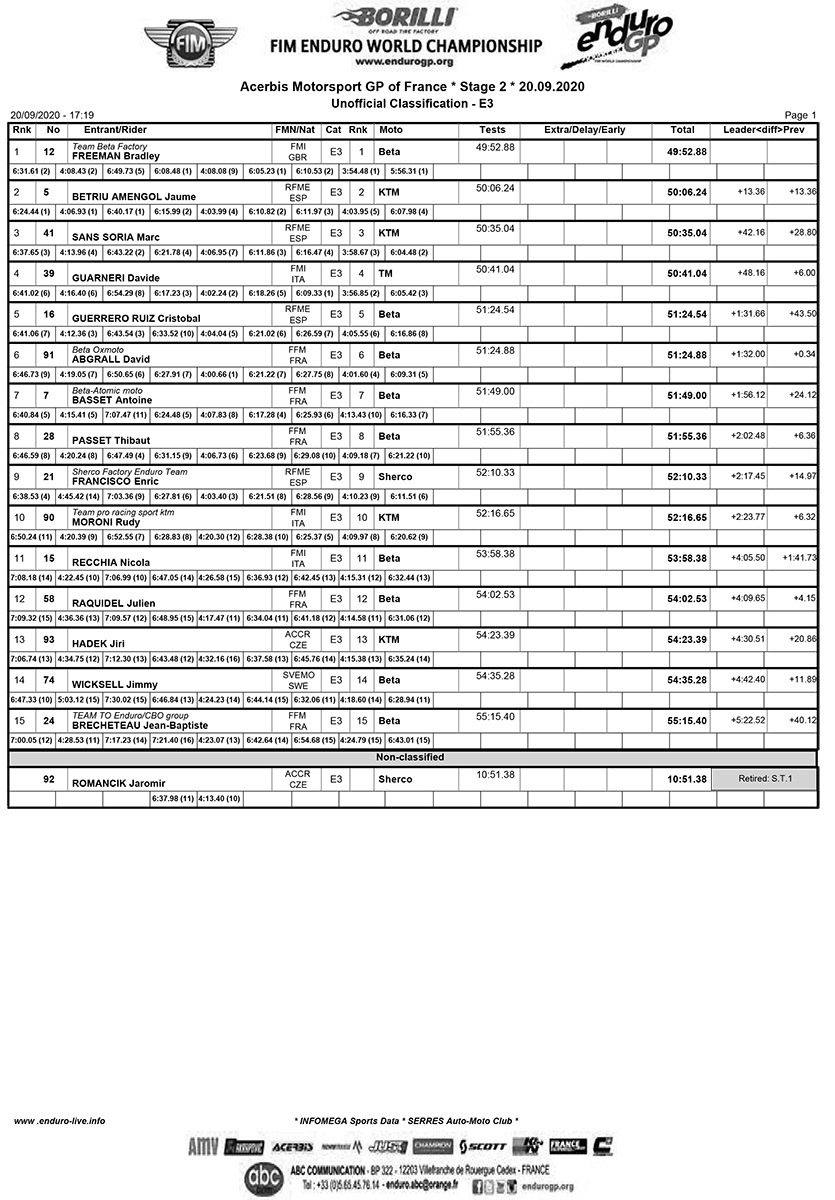 Junior scratch class results: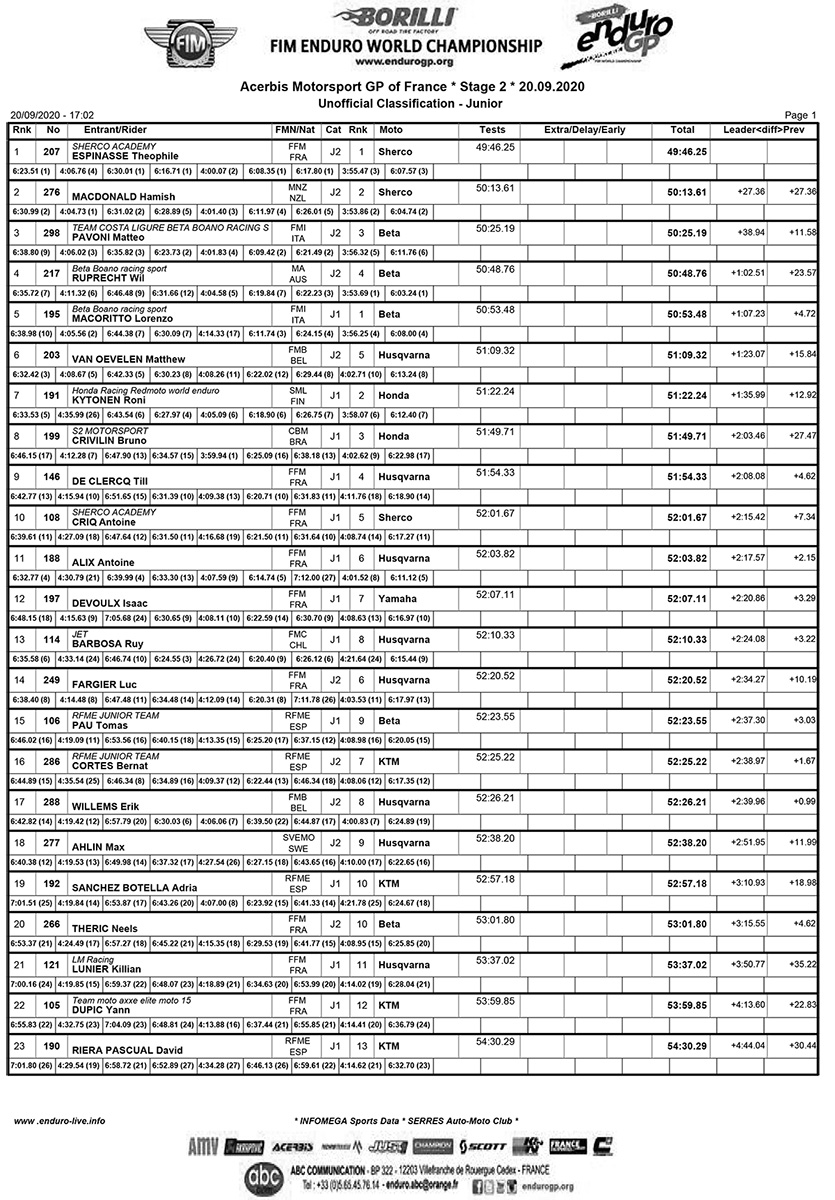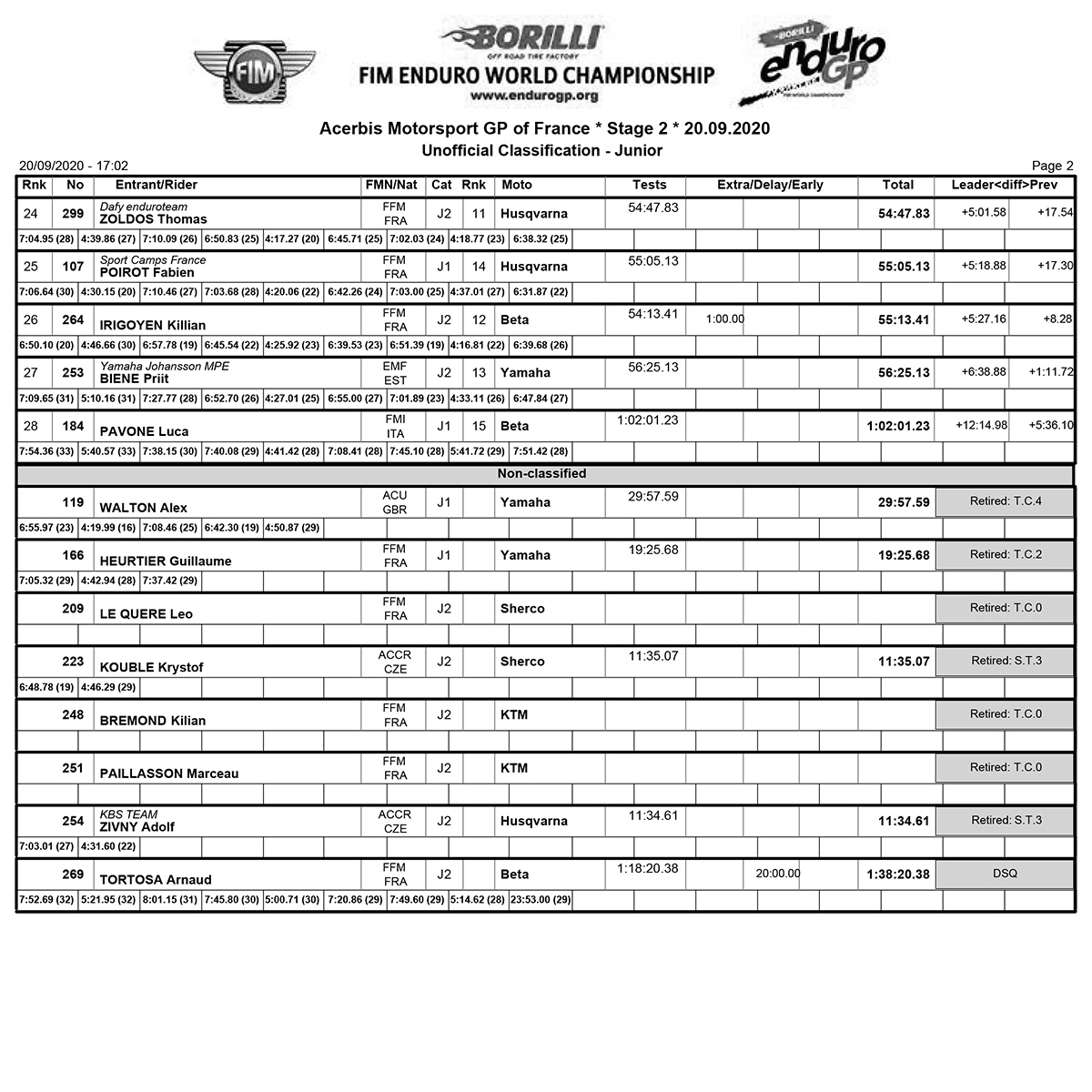 Youth 125 class results: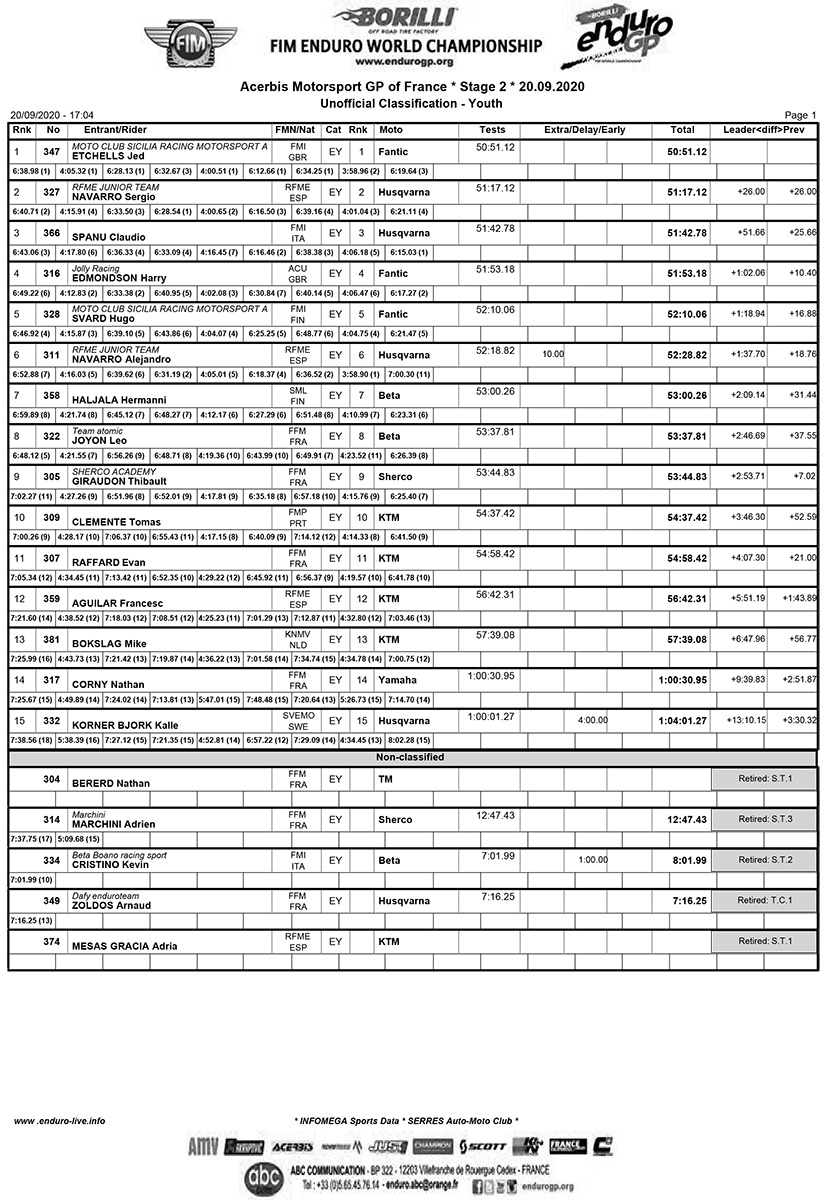 Open World Cup scratch results: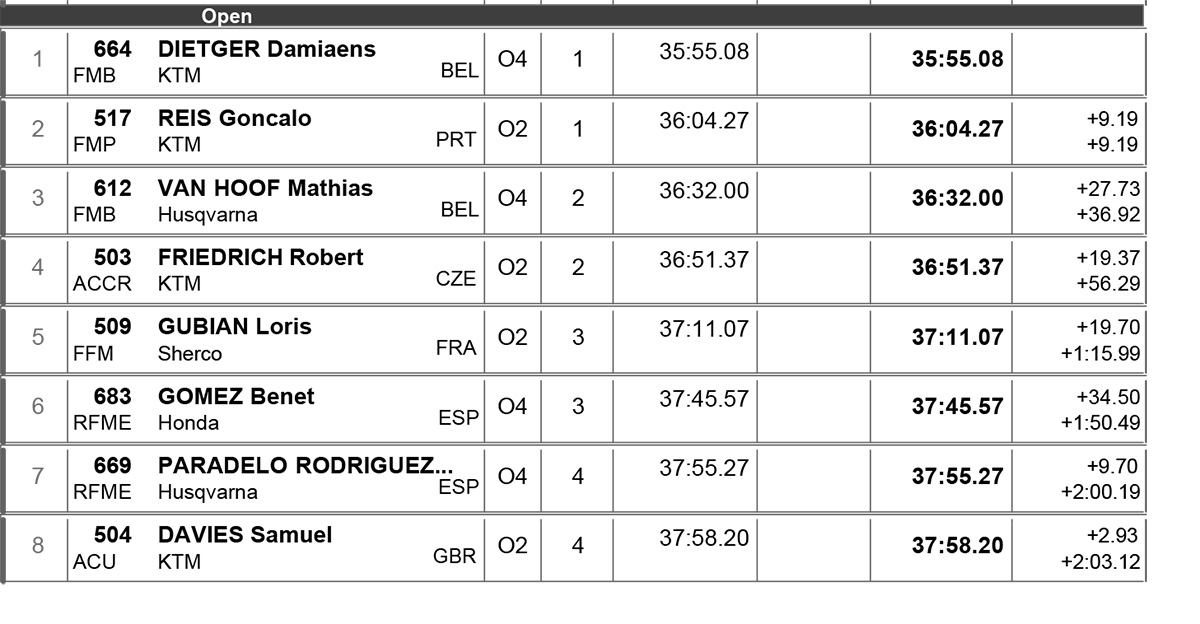 Photo Credit: Enduro21 | Andrea Belluschi