EnduroGP Results: Holcombe by 0.2s from Freeman on day 1, France
Results feed from day one of the 2020 EnduroGP World Championship in France where Steve Holcombe had to withstand huge pressure from Beta Racing teammate Bradley Freeman – the pair eventually finished just 0.27 seconds apart.
If day one of the 2020 EnduroGP season will be remembered for anything it should be how damn competitive it was. It was great to see. The story of the day was how Steve Holcombe's grip on the day looked solid until Brad Freeman knuckled down and took it right to the wire. Meanwhile Theo Espinasse kept French fans happy with the Junior victory and Fantic Motor were impressive on their return to GP racing with three riders in the 125 class top five.
French GP Day 1 in a nutshell:
Consistency as ever was the key and Steve Holcombe was solid all day, particularly in the Cross test where he pulled chunks of time to seal the overall and E2 class. It looked comfortable until the final two tests…
Midway through the second lap Brad Freeman settled into second place and proceeded to pile pressure on his teammate with a lightning fast final two tests to finish just 0.27s behind and top the E3 class.
Third, fourth and fifth overall went to TM riders Loic Larrieu, Andrea Verona and Davide Guarneri respectively who were equally fast and consistent. Loic kept French fans happy with third and P2 in E2 while his factory TM teammate will rue a duff second visit to the Extreme test where he dropped 10 seconds and the chance of a podium – the E1 win for Andrea will be a silver lining though.
Other names high up on the leader boards included Jaume Betriu (P3 in E3), Christophe Charlier (P2 in E1) and Jeremy Tarroux who was just pipped by Sherco teammate Matteo Cavallo in the final test.
If the senior classes were close then the Juniors were intense with Ruy Barbosa, Theo Espinasse, Hamish Macdonald, Wil Ruprecht, Lorenzo Macoritto and Roni Kytonen all trading places.
Junior overall and J2 winner Espinasse showed his dominance establishing a 10-plus second lead on lap two which he maintained for a rowdy win in front of the French crowd.
Theo's Sherco teammate Hamish Macdonald carried his Youth 125 title-winning form forward to his first Junior outing to finish a solid second.
Roni Kytonen snatched the third Junior place and the J1 win at the death as Ruy Barbosa dropped over 10 seconds in the final test, the pair were separated by 1.6seconds.
Ivan Cervantes' diminutive protégé Sergio Navarro looked like he had the Youth 125 class win nailed until a last test blitz saw Claudio Spanu victorious by just 1.5s.
Chip off the old block Harry Edmondson topped a successful return to GPs for Fantic Motor with third place ahead of Jed Etchells and Hugo Svard also on the new Italian motorcycles.
Overall fastest rider in the Open World Cup class was Belgian Damiaens Dietger ahead of Goncalo Reis and Mathias Van Hoof.
2020 French EnduroGP day 1 results - EnduroGP scratch: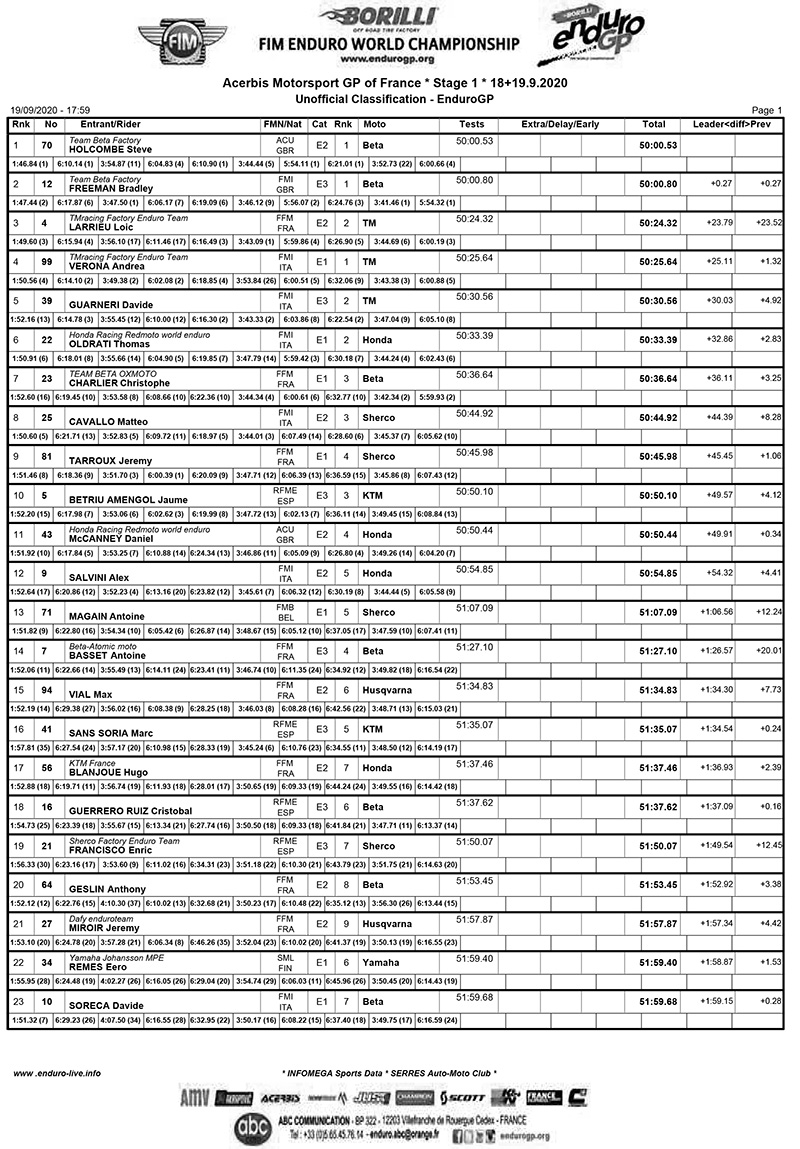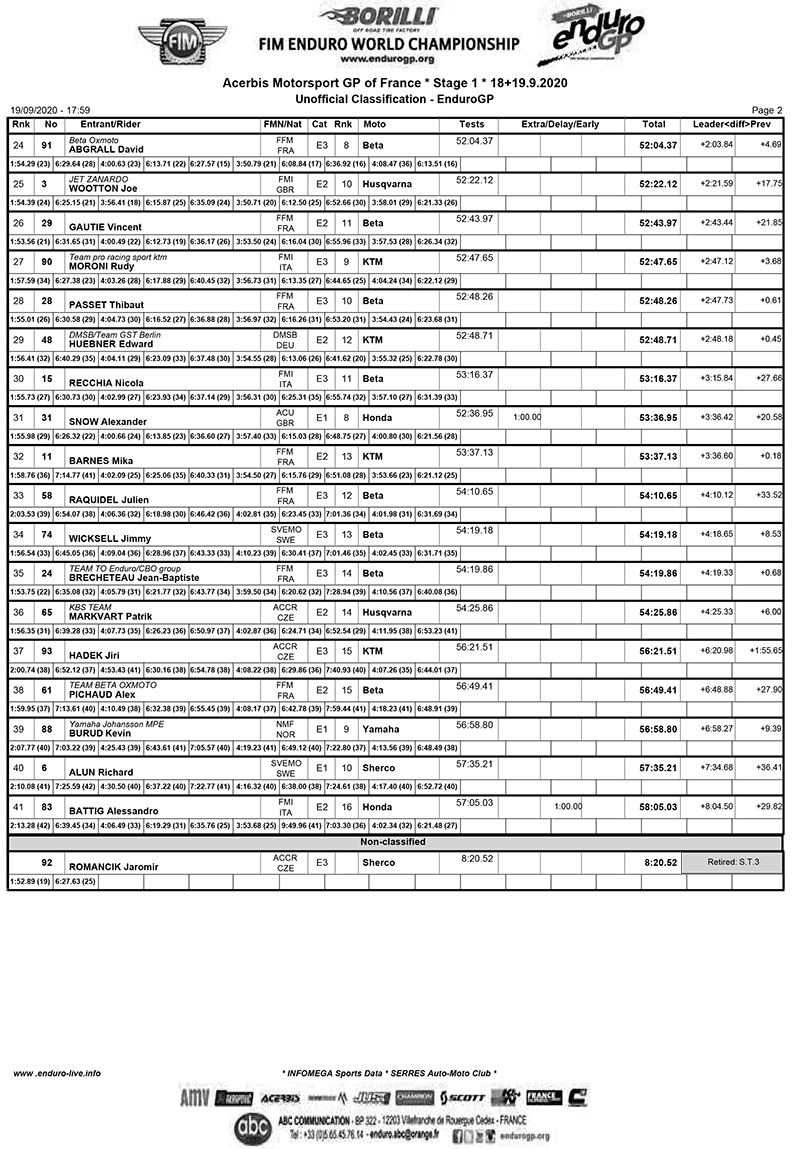 E1 overall: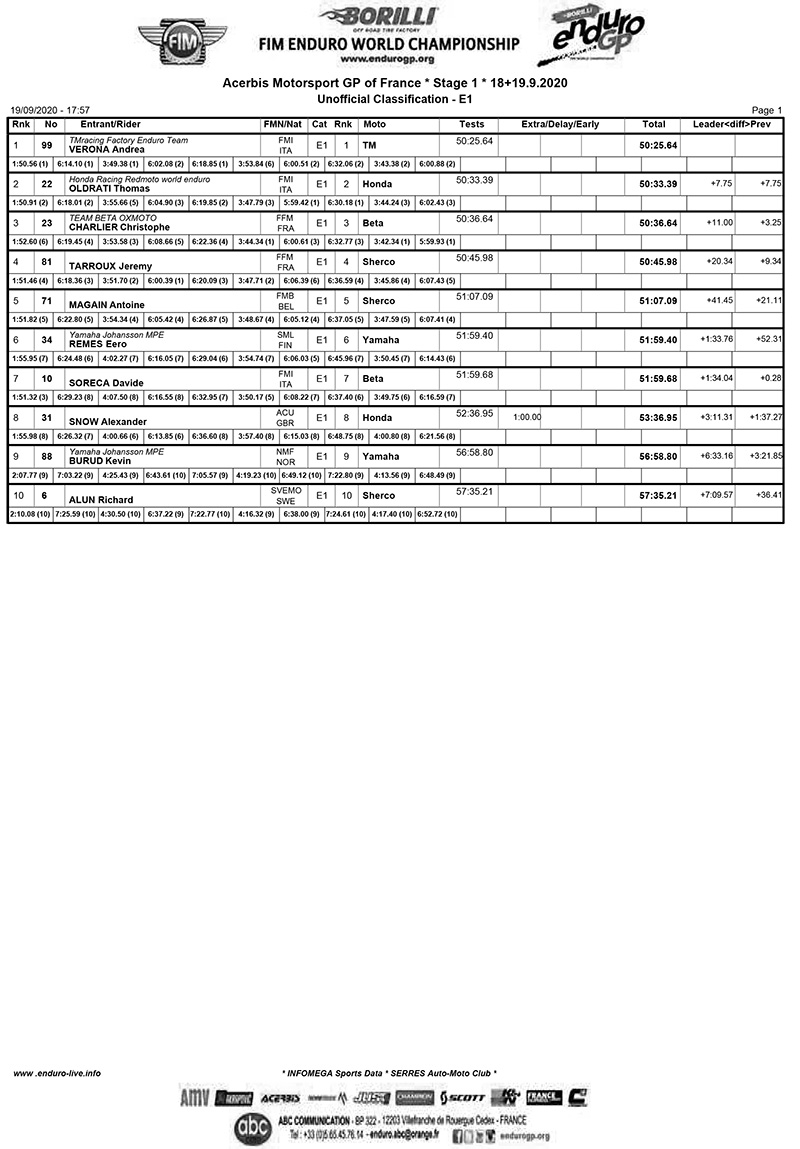 E2 overall: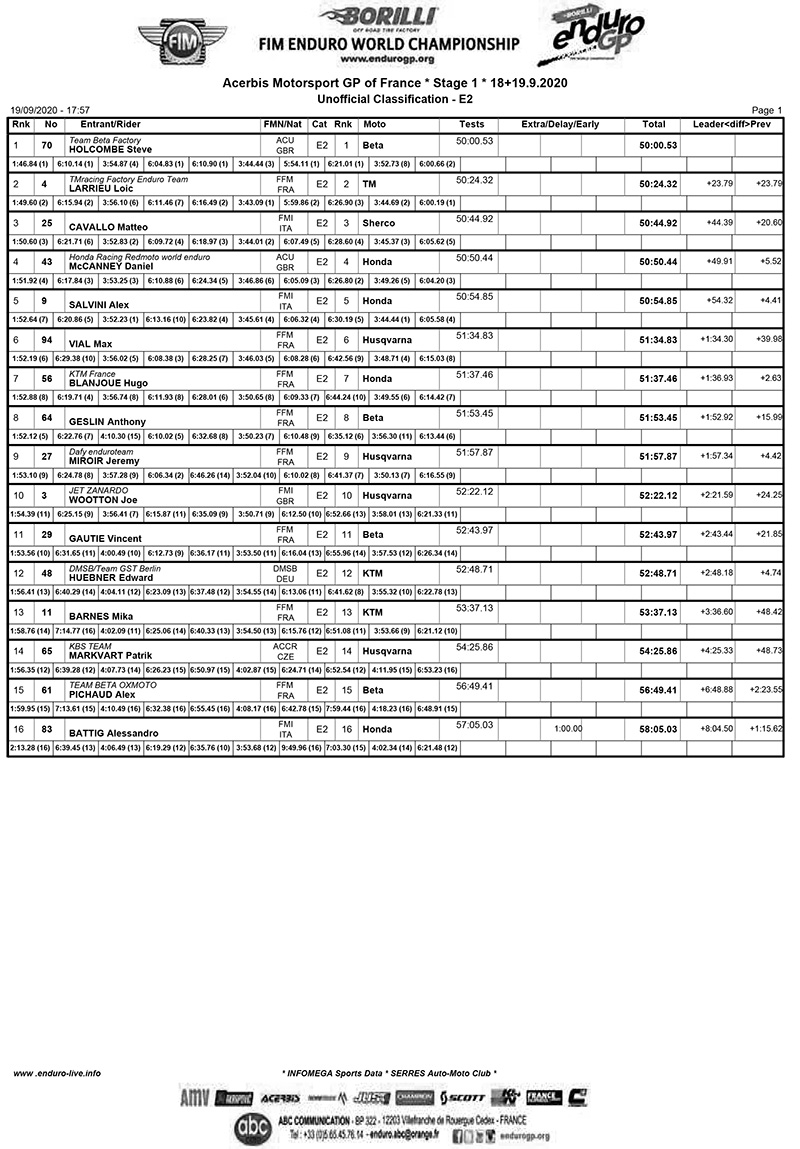 E3 overall: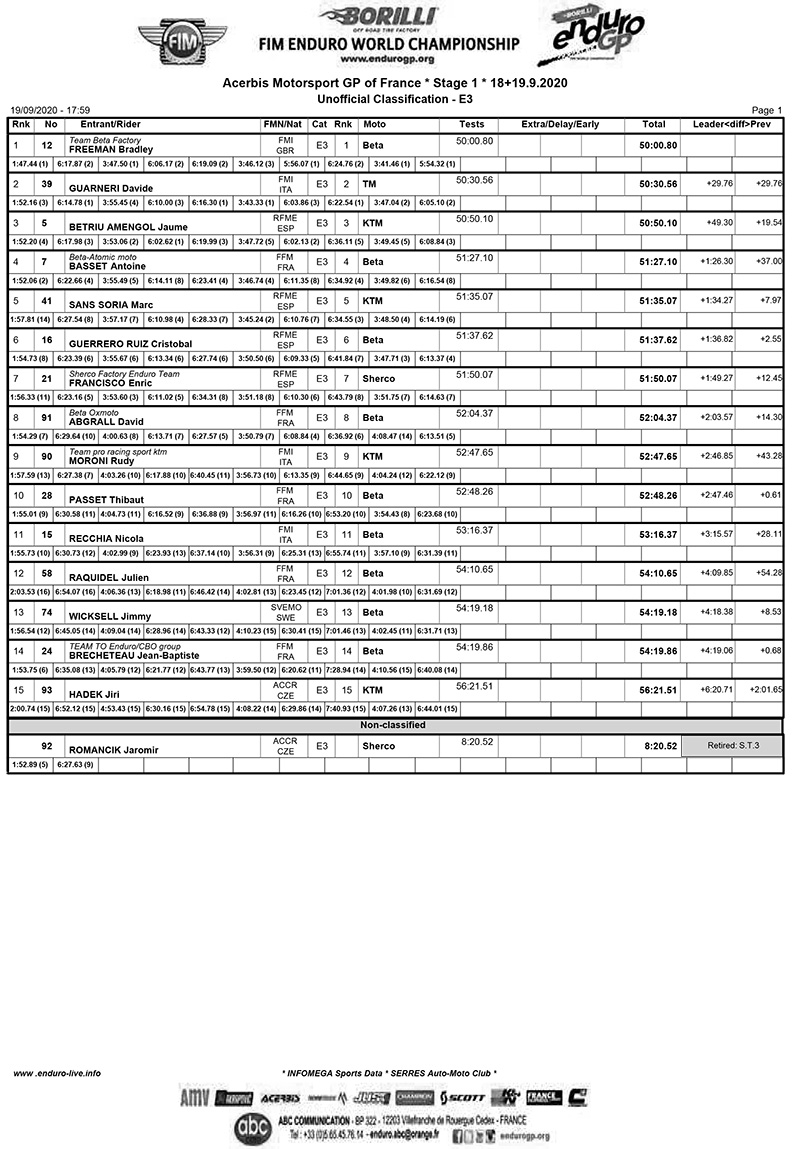 Enduro Junior scratch: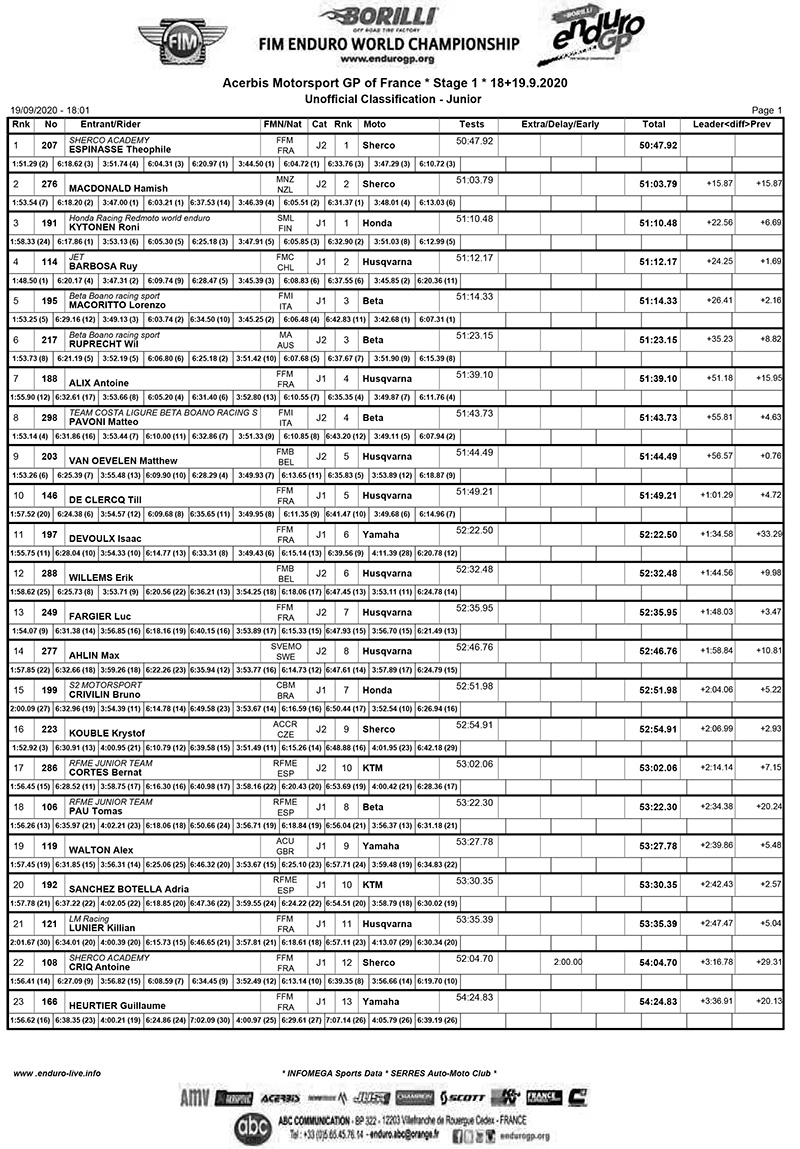 Youth 125: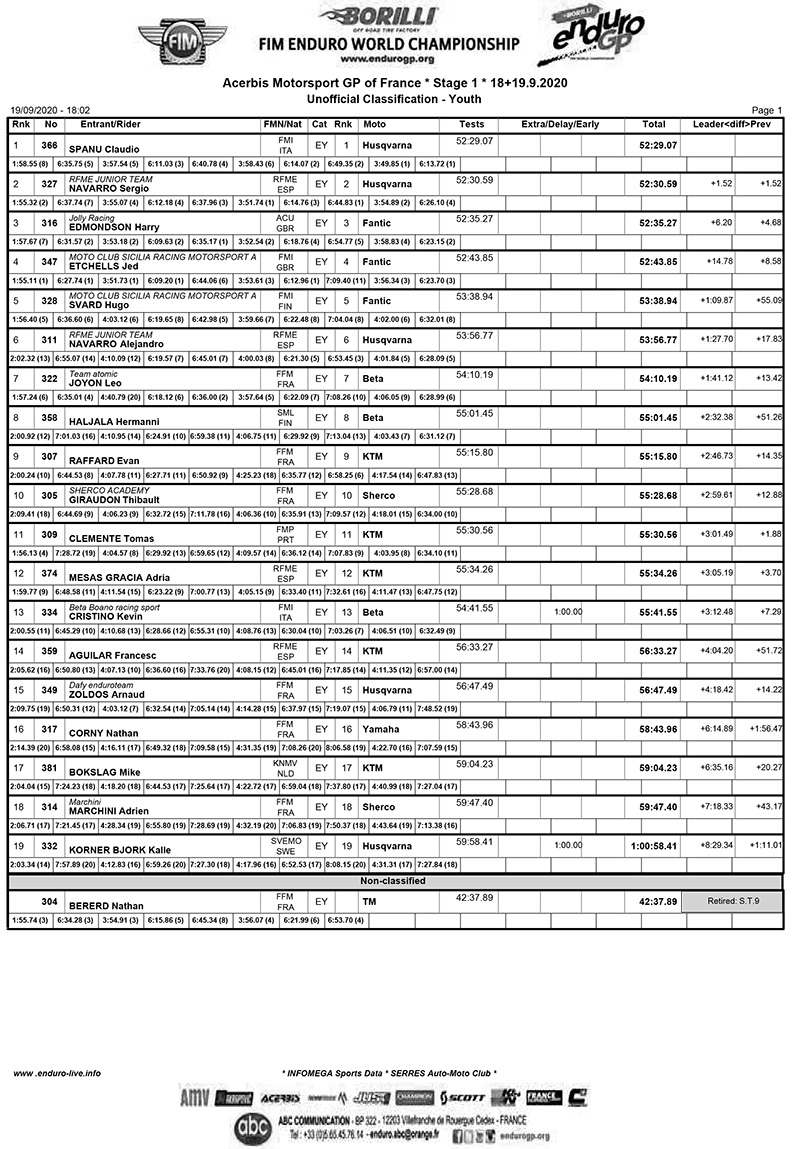 Open class overall: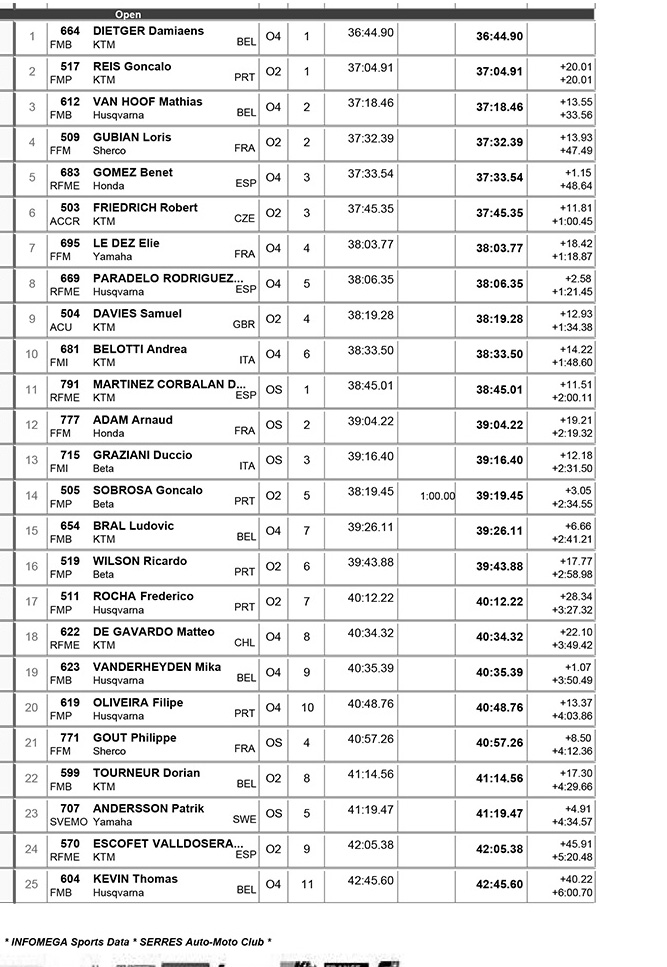 Photo Credit: Enduro21 | Andrea Belluschi