EnduroGP results: Italian GP day 2 – Holcombe masterful in tough conditions
Results feed from day two of the 2020 Italian EnduroGP in Spoleto which saw Steve Holcombe and Bradley Freeman engage in a titanic Beta battle for supremacy in slick conditions – Hamish Macdonald takes first Junior career victory.
2020 Italian EnduroGP day 2 in a nutshell:
Rain arrived overnight and continued to make the hard-pack Italian tests slippery, far from easy and ultimately helped cause many retirements on day two in Spoleto.
Not that Steve Holcombe and Brad Freeman were taking any notice though. The pair were masterful and riding at the top of their game. No other rider got a look in on the tests with the Beta Racing teammates taking all nine between them across the day.
Crucially, Holcombe was never far behind in time (usually one or two seconds) when he did not actually win a test. Add to that chunks gained in the Enduro test each lap plus a ruthless push in the very last Cross test, and victory was sealed along with the E2 class win.
Italy day one winner Brad Freeman's pace in the Extreme tests was something to behold and this was a performance worthy of a win if it had not have been for Holcombe. P2 it was though and the consolation of a clear lead in the E3 championship.
Loic Larrieu rallied his TM to another very solid day in the tough conditions which seemed to suit the Frenchman. His day two ended strongly as he slotted in just behind the dominant Holcombe in the last test to finish third overall and second in E2.
Thomas Oldrati can again call himself unofficial best Italian at the Italian GP with fourth place and with it the E1 class win. Second placed (P5 overall) went to Andrea Verona who maintains his E1 championship points lead at the half way stage of 2020.
Hamish Macdonald has claimed his first Junior class overall victory on day two in Italy. The New Zealander was head and shoulders about the rest with impressive Enduro tests times to match the senior ranks. He finished a mighty 1:12s clear at the finish.
Junior points leader Theo Espinasse can say the opposite after losing time to his Sherco teammate in the Enduro tests which proved way too much to claw back. The Frenchman capped it all off by dropping 20 seconds on the final Cross test to allow Wil Ruprecht into second overall to complete a J2 whitewash on the Junior podium. Ruy Barbosa came home in fourth overall to place best Junior 1 rider.
In the Youth 125 class the Fantic two-strokes of Jed Etchells, Harry Edmondson and Hugo Svard were singing through the trees and it was once again Jed who set the pace. By the finish Jed and Harry topped and tailed the 125 podium with Sergio Navarro sandwiched in second but a whopping 1:17s down on the peerless (or should that be fearless?) Etchells.
The Open classes of national level riders had a harder time of it in the tougher conditions on day two but once again it was Mathias Van Hoof who took the scratch and Open 4T class fastest time ahead of Damiaens Dietger with Reis Goncalo third scratch and best placed Open 2T rider.
EnduroGP scratch results, Italy GP day 2: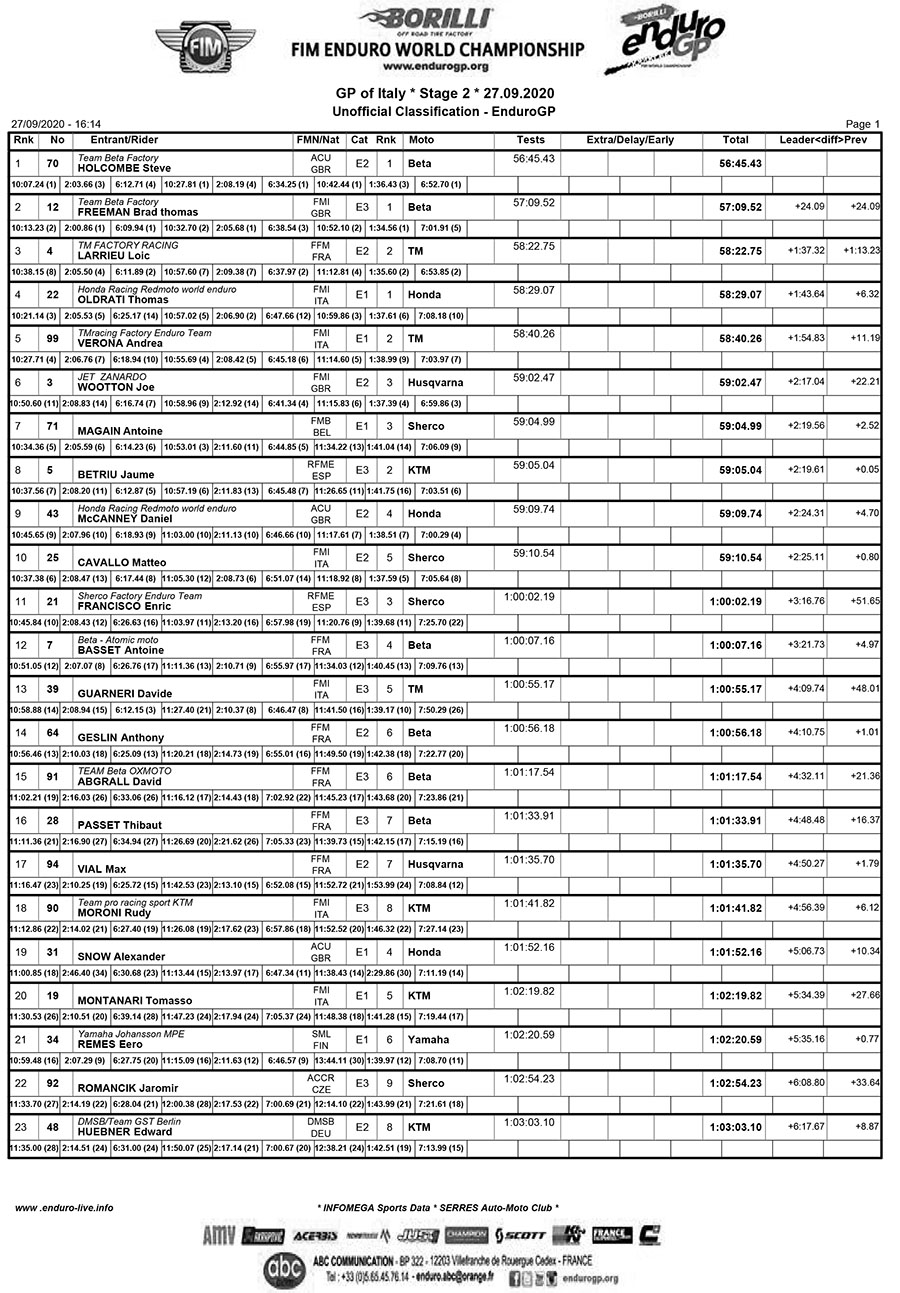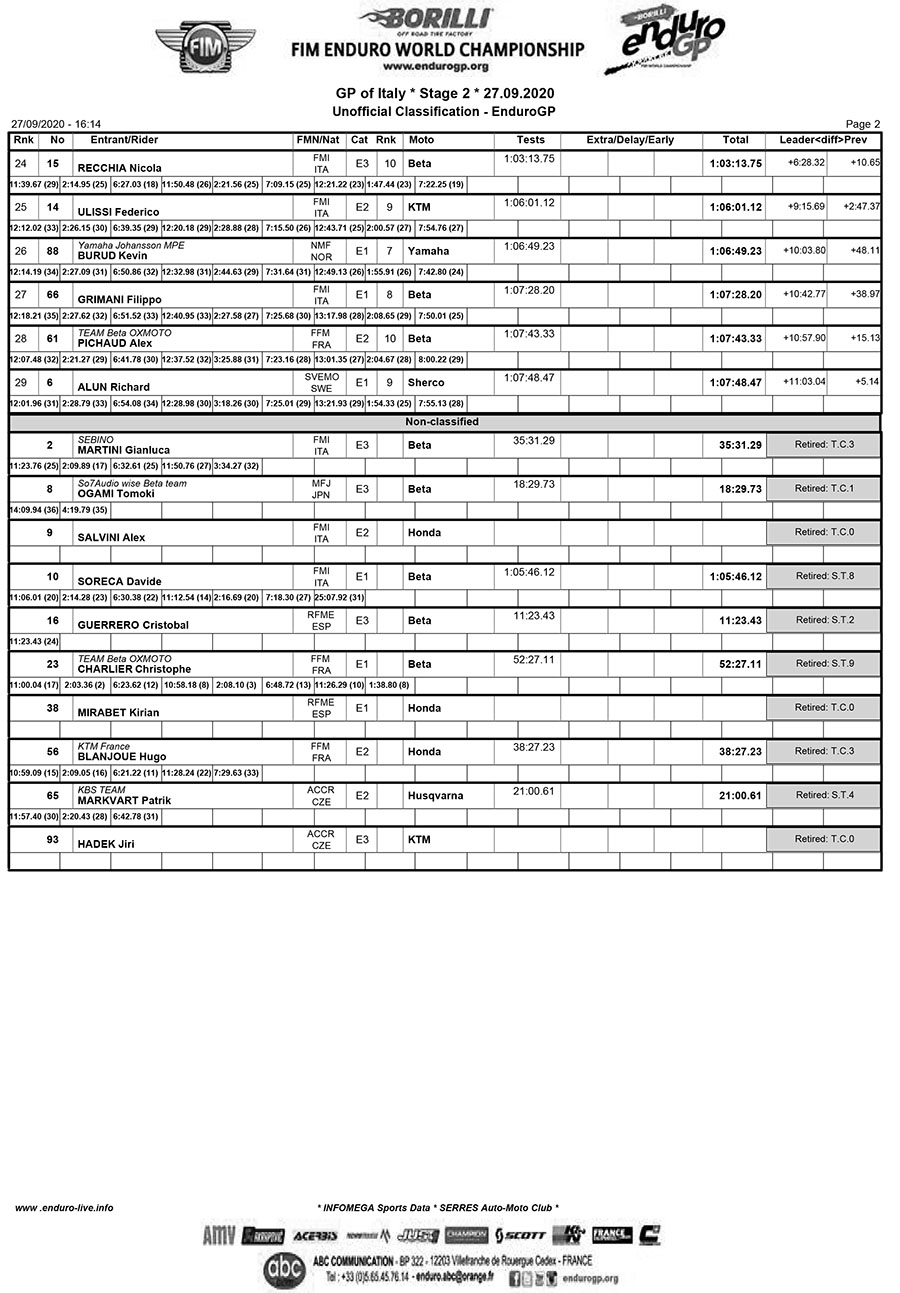 E1 results, Italy GP day 2: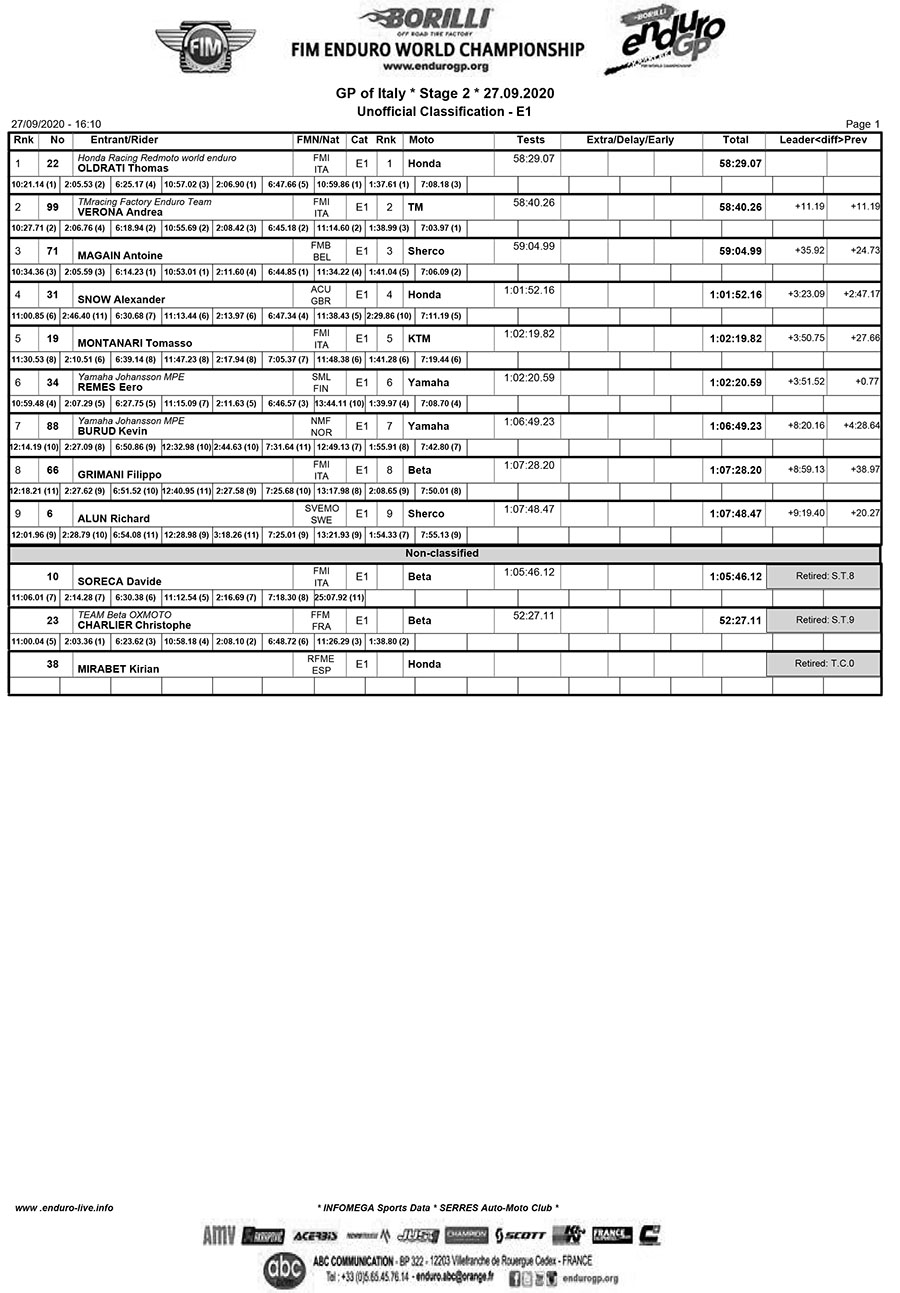 E2 results, Italy GP day 2: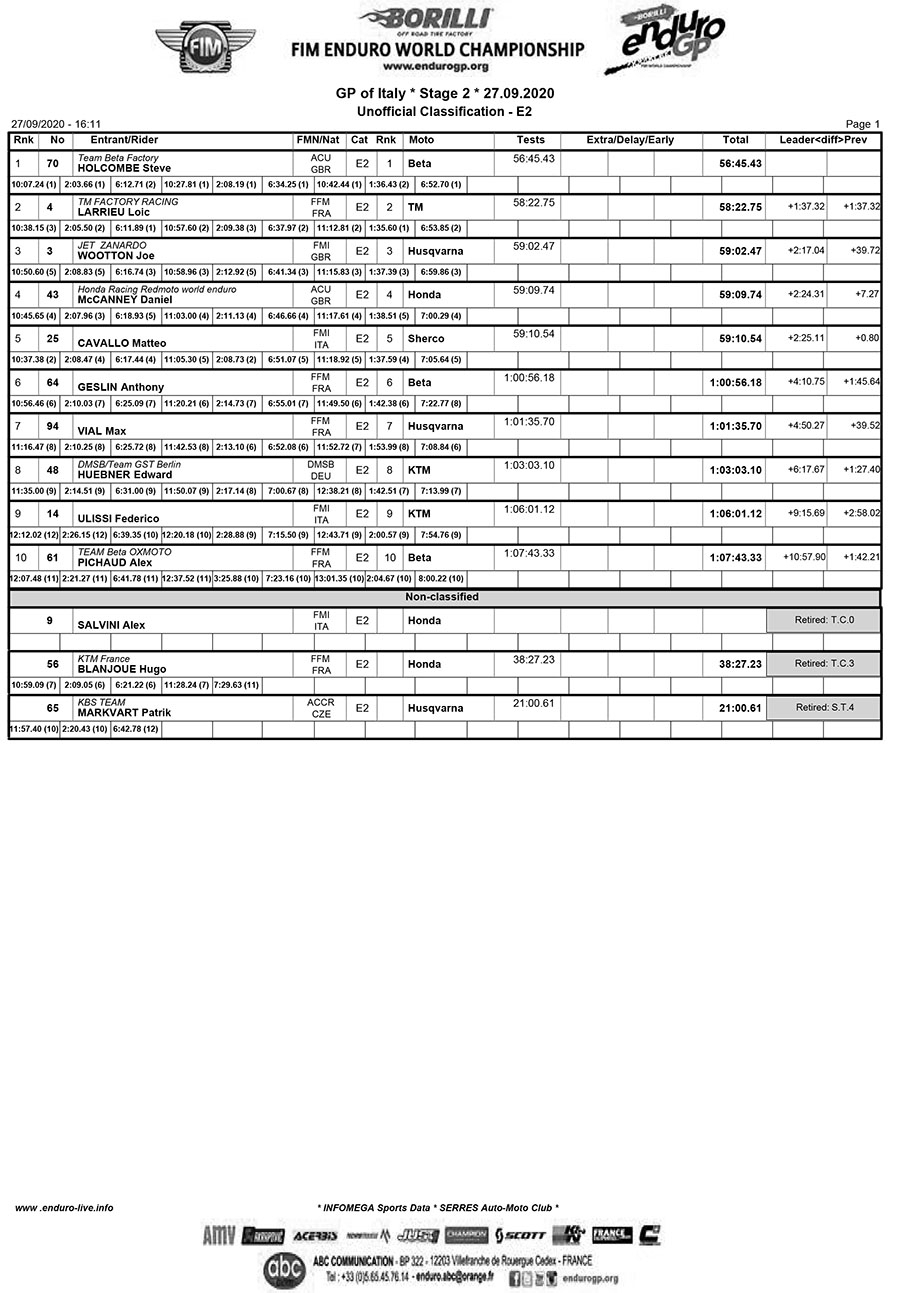 E3 results, Italy GP day 2: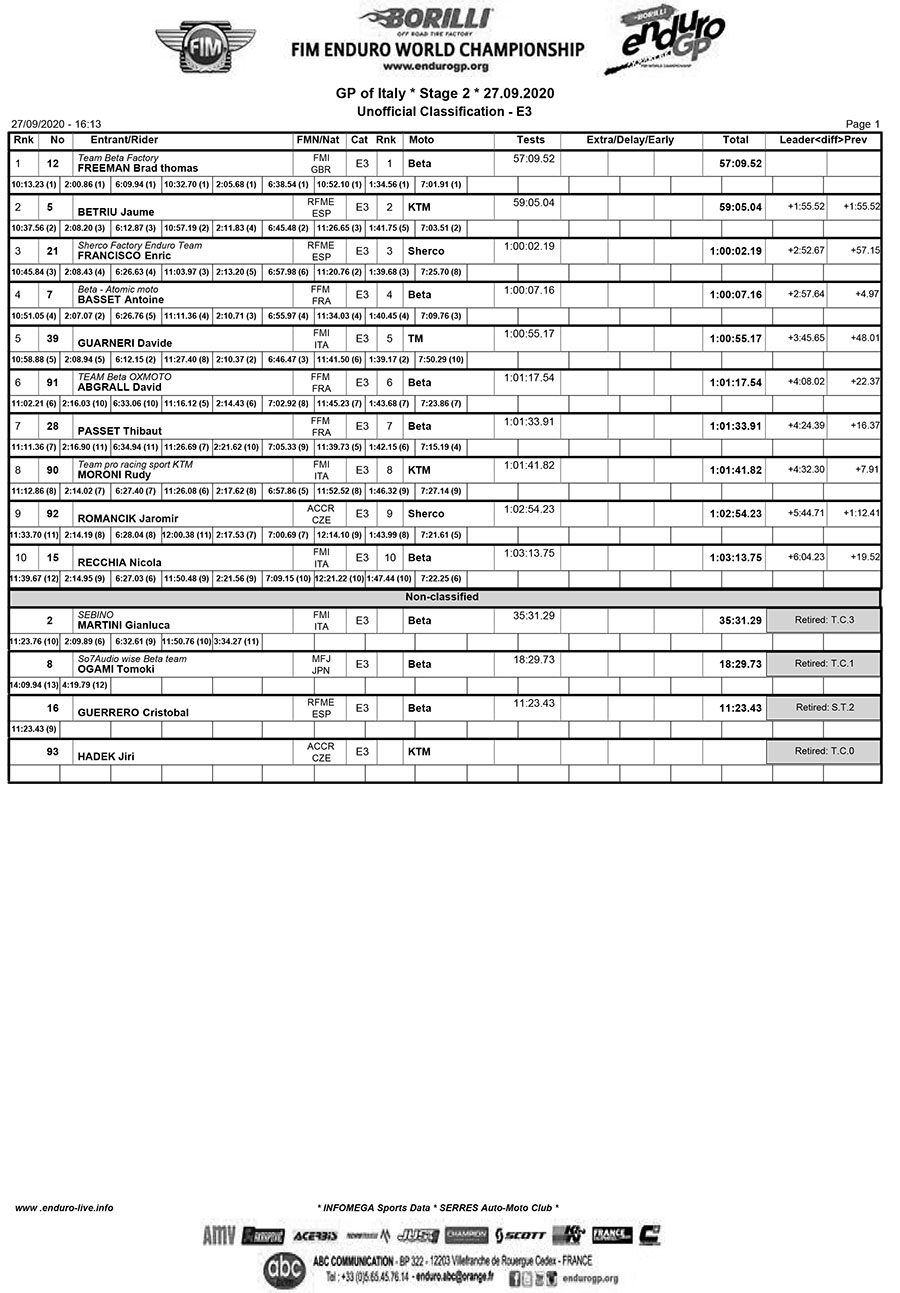 Junior scratch results, Italy GP day 2: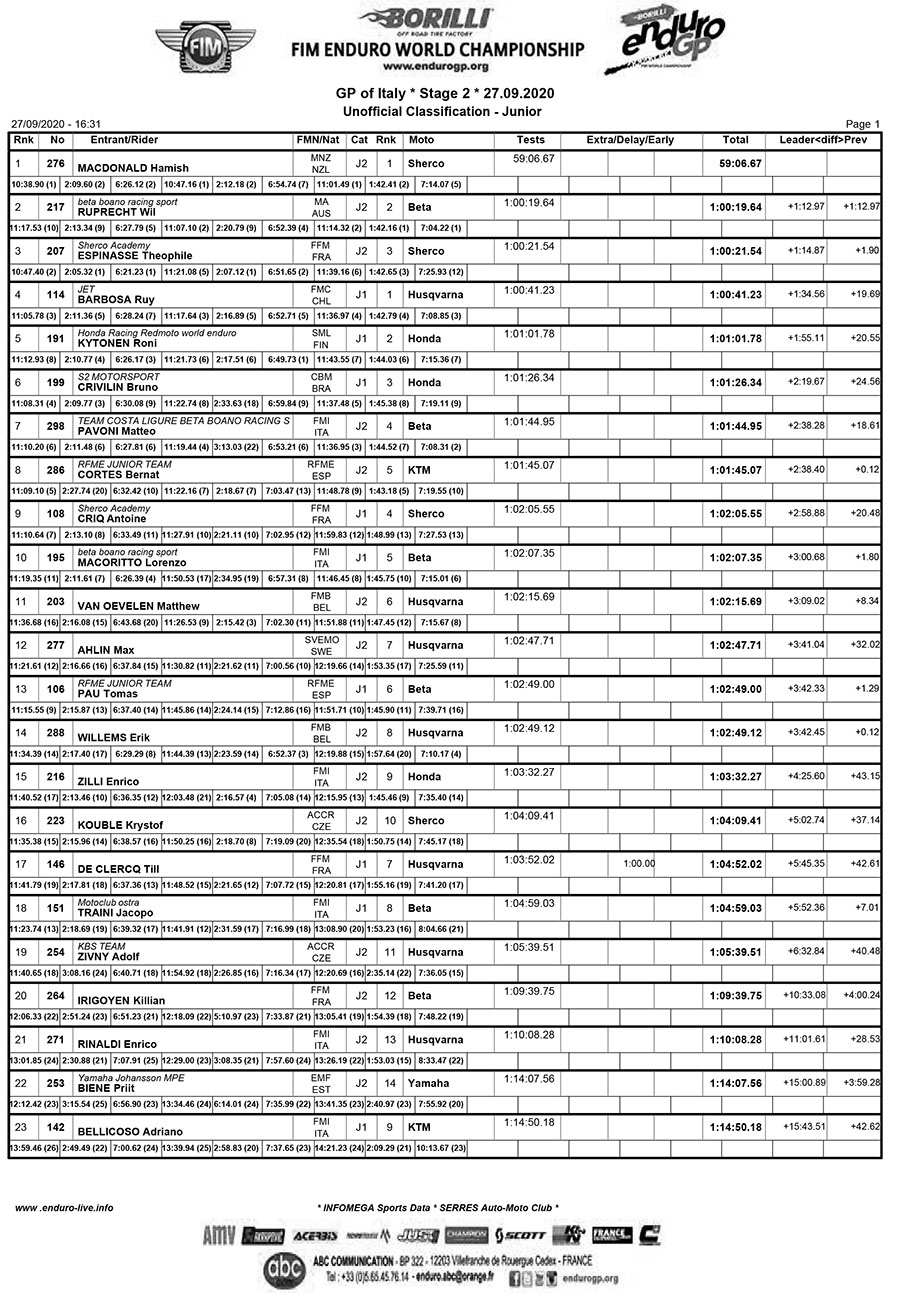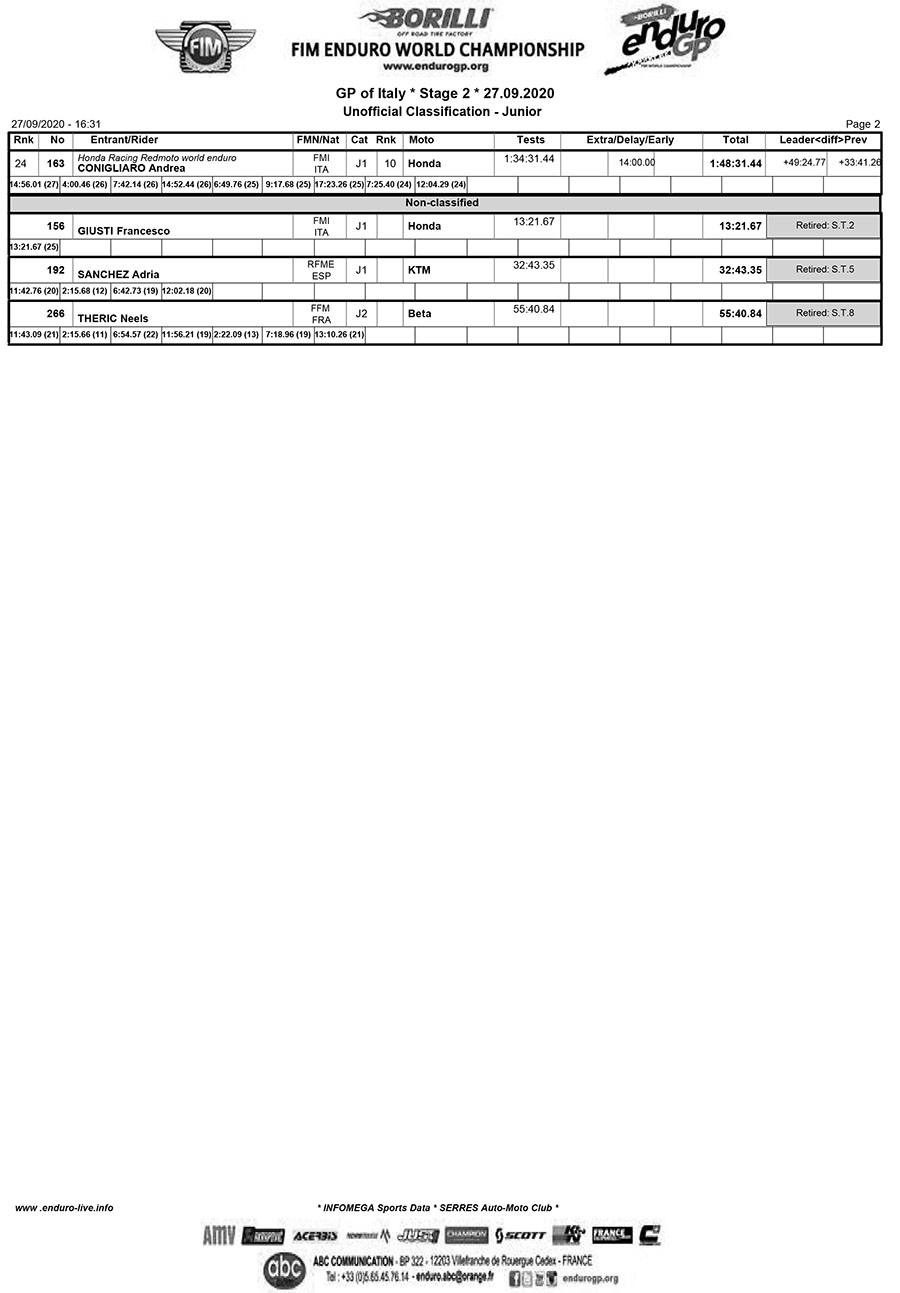 Youth 125 results, Italy GP day 2: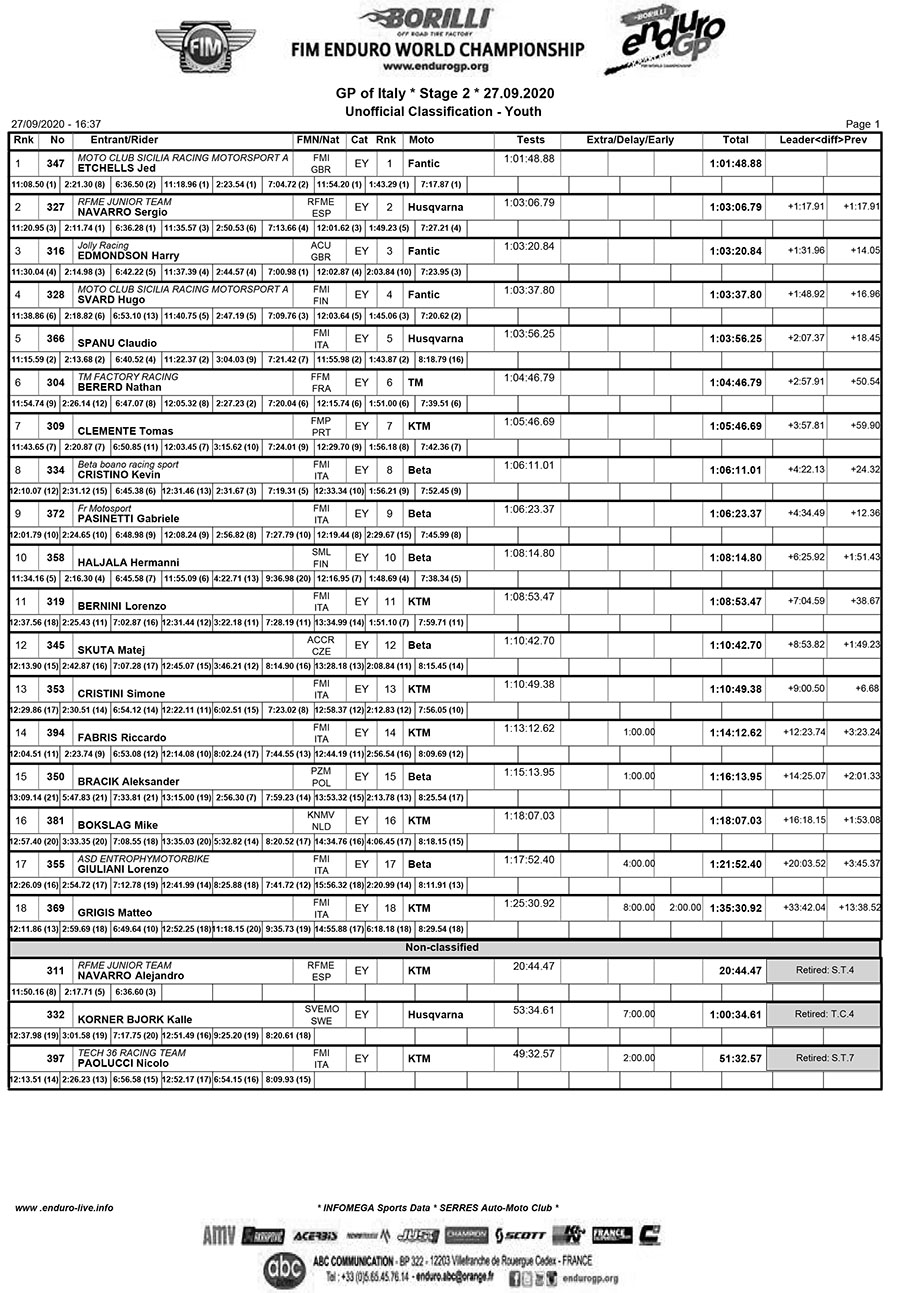 Open 4T class results, Italy GP day 2: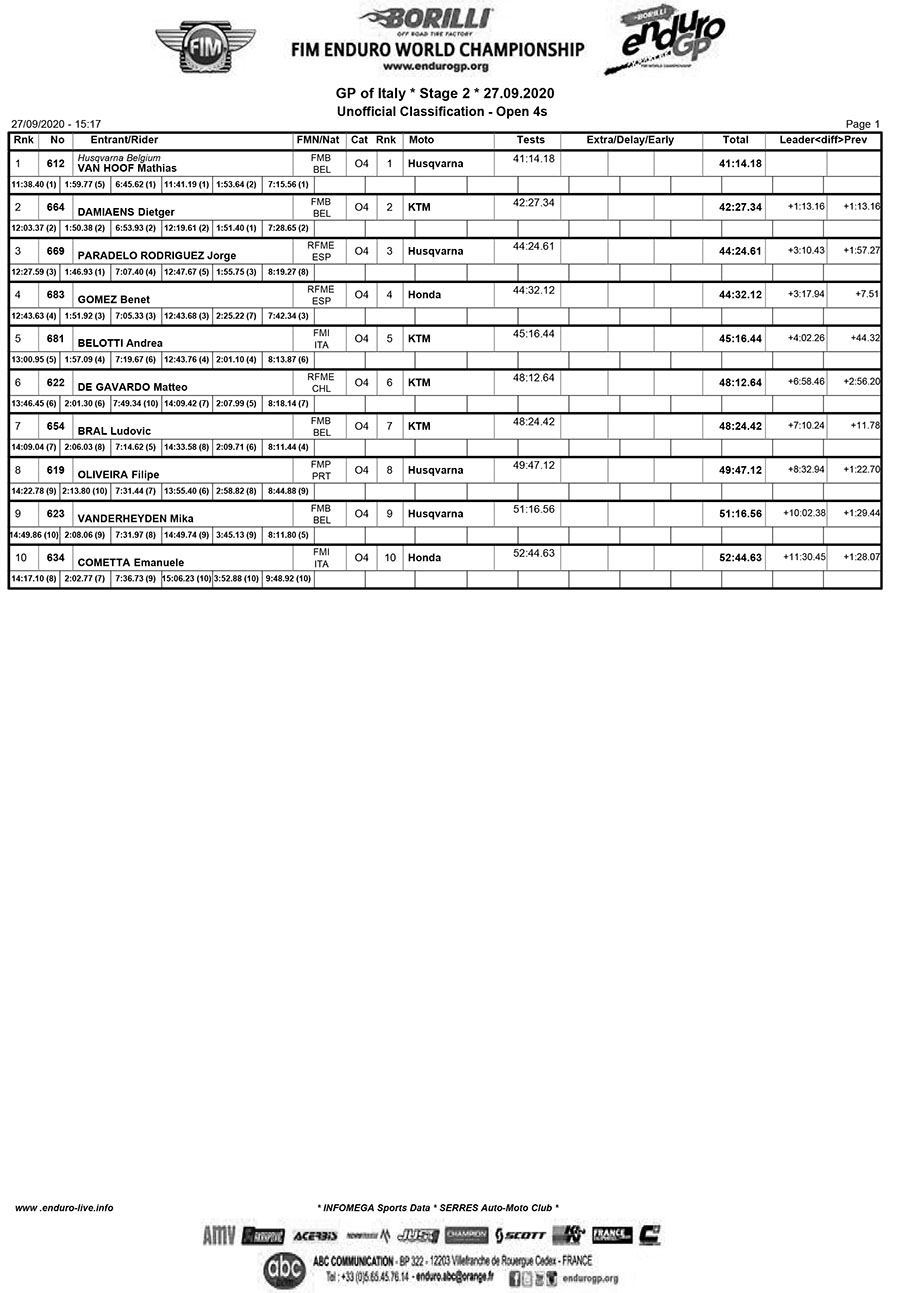 Open 2T class results, Italy GP day 2: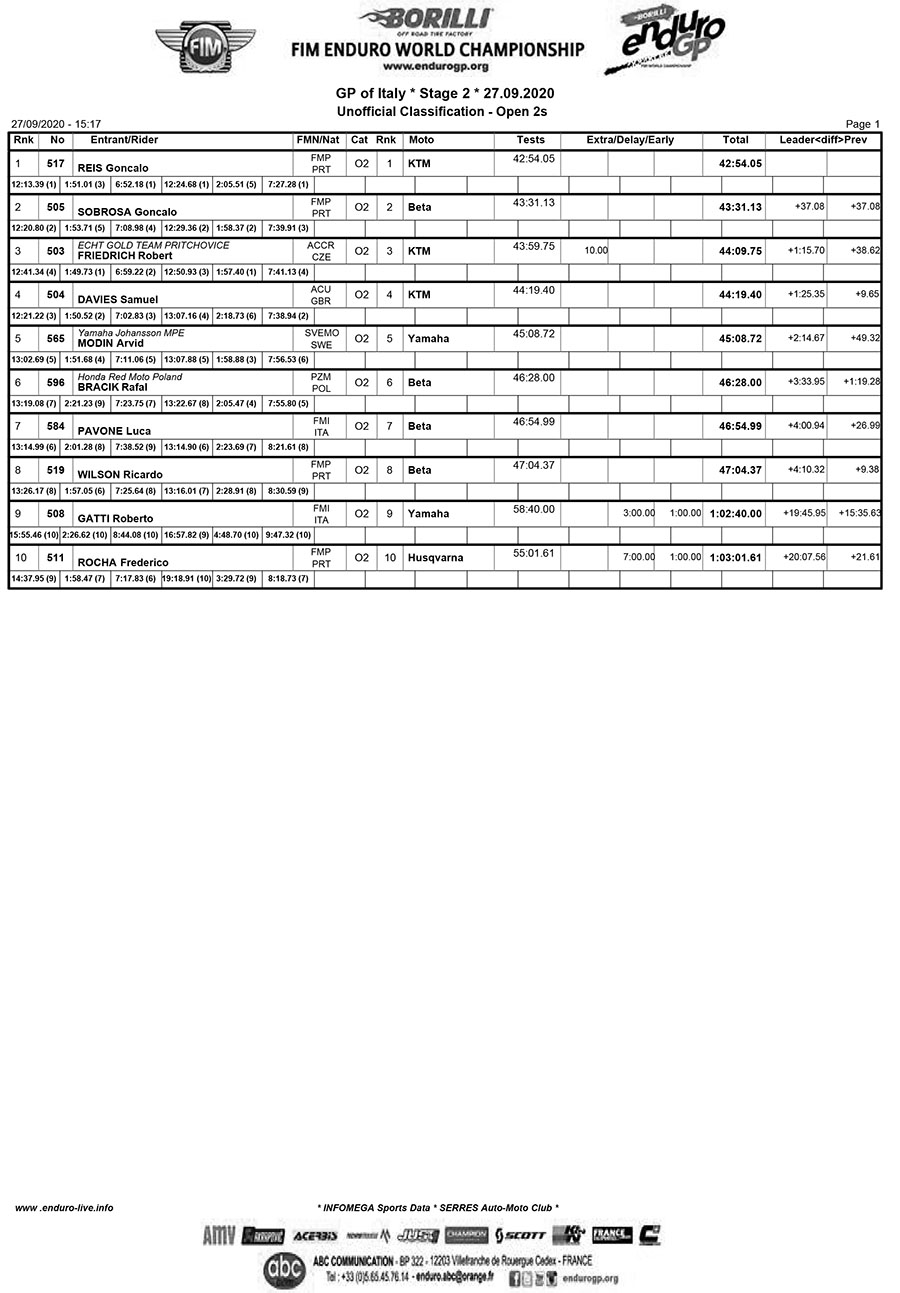 Open Senior class results, Italy GP day 2: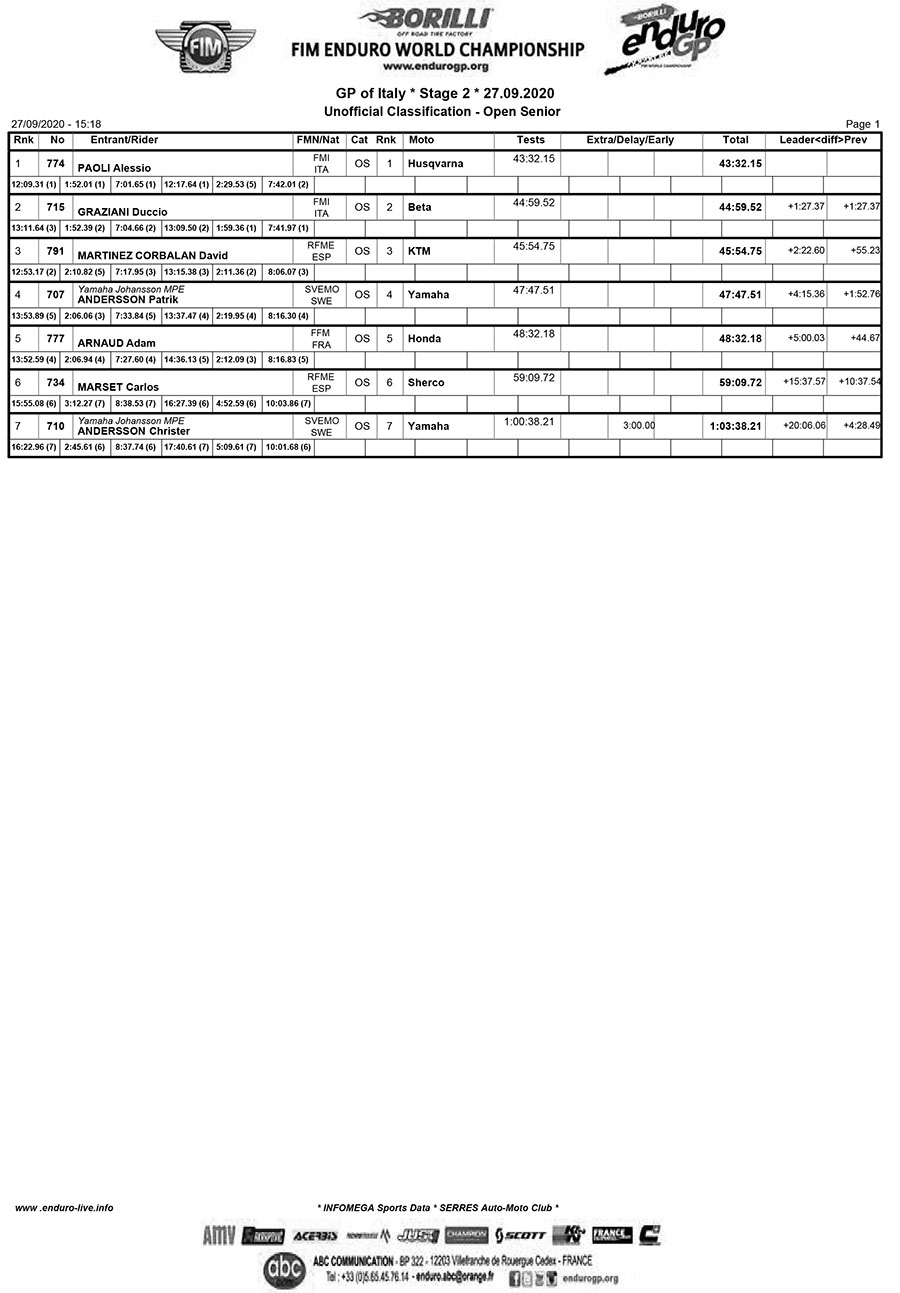 Photo Credit: Enduro21 | Andrea Belluschi