Hard Enduro Arsenal results: David Cyprian wins as Gomez takes wrong turn
Alfredo Gomez looked on course for the win at the 2021 Hard Enduro Arsenal but a wrong turn leaves an open goal for David Cyprian to top the overall results after three days of extreme action the Romanian mountains.
Hard Enduro Arsenal in a nutshell:
Gomez set the fastest time on day one's prologue at 16:41s with Cyprian second just 5 seconds back and Sonny Goggia third.
The Rockstar Energy Husqvarna rider continued to lead on day two, the first day's proper action in the woods, coming home in a time of 2:19.39.
Norbert Levente Jozsa was four minutes further back in second and two minutes clear of Teodore Kabakchiev third.
The third and final day saw the leading bunch of riders – including Gomez, Kabakchiev, Goggia and Jozsa – riding in a train before a dramatic turn of events, literally, saw them go the wrong way.
Alfredo was in front and took a left turn away from check point three, the other riders all followed along a track which turned out to be wrong and that meant they subsequently missed two further CPs along the way.
Sitting at the back of that lead group at CP3, and by his own admission not expecting to win, Cyprian noticed the course marking actually went to the right. He took the correct route and the rest is history.
"I looked around me and found out that the track goes to the right." Says Cyprian. "I went the correct way. The rest of the pack went on the road and after some time they found marking from the beginning of the race and that lead them to finish.
"A win is a win but in the end I know I wasn't capable of winning or even being on the podium without their mistake." David explained honestly to Enduro21.
The "mistake" also meant Jan Tuinstra jumped up to second place with Dieter Rudolf third.
2021 Arsenal Hard Enduro Results: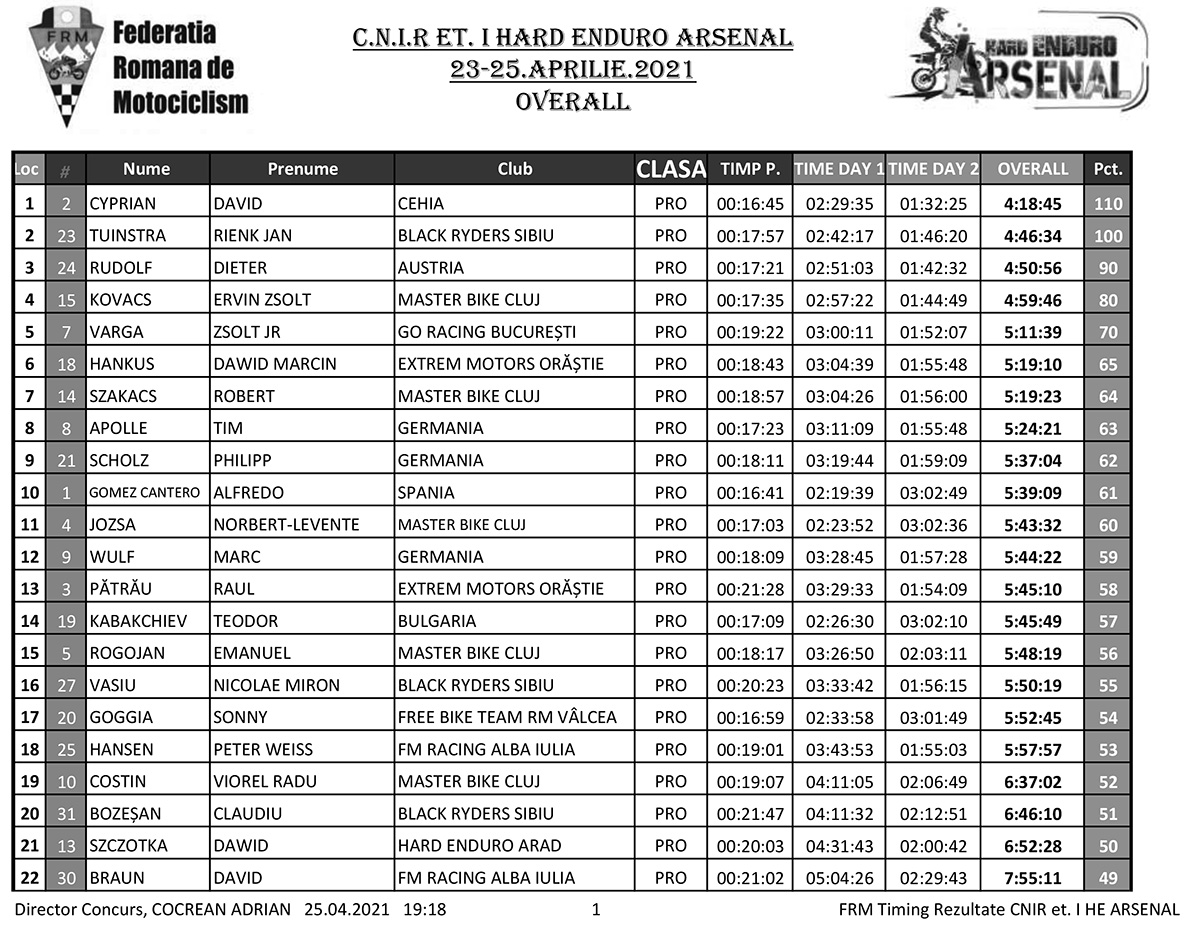 Full results for all classes on the Romanian Federation website.
Photo Credit: Marius Dinca