"Never again!" – when a Dakar Rally rider tries Hard Enduro
Factory Rieju's Dakar team rider Joan Pedrero decided to give swap his Rally bike for a 300 two-stroke at round two of the Spanish Hard Enduro Championship – he was, he tells Enduro21, like a fish out of water.
They might both be off-road disciplines but Hard Enduro and Rally are like chalk and cheese. Just ask Joan Pedrero.
Joan does not lack the fitness nor the riding talent you'd think after, like many rally riders, a career which began in Enduro – which is when he clocked the Gordexola Xtreme enduro win way back in the 2007.
But the sport of Extreme or Hard Enduro has changed a lot since those days and boy does Joan now know it. "The riders are crazy!" Joan explains to Enduro21 after an event that had him at times wondering if they were serious he was really supposed to climb the hills.
In his own words, Pedrero tells us how mad the sport has become (especially the riders) and how different life is in Hard Enduros compared to Rally…
A friend got me fired-up to give Hard Enduro a go...
Joan Pedrero: I live in Monegros (the desert near Zaragoza) now and as I ride for Rieju, and have the 300 two-stroke, a friend asked me if I might be up to give the Hard Enduro Championship a go. It was not far from home, so I spoke with Rieju, I trained a bit, loaded to my van and I went to Arnedo (La Rioja).
I raced the Gordexola some years ago, I manage to win it, but the hard enduro scene, I knew it as Extreme Enduro before, has changed a lot since. Before they were fast uphills but nowadays it's like trials.
The riders are more trained for it nowadays, which I find incredible, but these races are not my style, I'm used to riding fast. In the hard enduros nowadays you ride in first or second gear, third is the highest gear.
The hard enduro has nearly nothing to do with the classic enduro. Before, when I raced the Gordexola, you had some steps, but the race had a high rhythm, like a cross-country with tricky uphills. Nowadays it's everything about steps and impossible climbs one after the other. I don't criticize it but it's a complete different thing from before.
I was stunned with the grip from the soft hard enduro tyres and mousses
I wasn't expecting such a slow race, but the biggest difference I found was in the tyres used for hard enduro and the grip they offer. I'm not used to such soft tyres and, believe it or not, it was hard for me to find a good feeling. Not because I don't know how to attack technical climbs, but because I was used to attack them with harder tyres.
Sometimes I was thinking: "Do we have to climb that?" These soft tyres have an excellent grip, but I couldn't imagine it before. There were some places where I was thinking that it was going to be impossible. But thanks to the tyres it was possible. Sadly, I only got enough confidence to know what it was possible with them at the end of the race. I was quite amazed to be honest.
Hard Enduro vs Rally-Raid are two different worlds
There's no comparison between a rally stage and this. A hard enduro is like three hours, which is a sprint race for me. The Dakar Rally, in the other hand, is a marathon. There are a lot more hours on the saddle. I usually need some time to get fired up, I have a lot of muscle pump, so during the first hour of the race I was super stiff, I couldn't find my rhythm and I couldn't hold on to the handlebars.
The bike is really different to the one from the Dakar, it barely weights 100kgs and you spend the day going up and down. You have to ration your strength and keep the heartrate down, because it's always at the maximum… it's the difference between a sprint race and a marathon.
Normally, when I have spent one hour and a half on the bike I can stand anything. When I finished the race in Arnedo, I was done. Not totally done but specially my bum was sore. My body is used to work a lot and this came as no surprise but it is physically hard.
The races are there to have a good time
After crossing the finish line I found Mario Roman and I told him that he would never see me again at a hard enduro race. I was just kidding, but I have to admit that these races have changed a lot in the last 15 or 20 years, sometimes I was thinking: "Do we really have to climb up that?"
"These riders are crazy!"
The thing that caught me most off guard is that the riders were going forward at any cost. They crash into each other and don't say anything, not even sorry, and it's normal here. That caught me off-guard. Once I bump into the rider in front and I said sorry and he shouted at me: "Sorry for what?" I still can't believe it.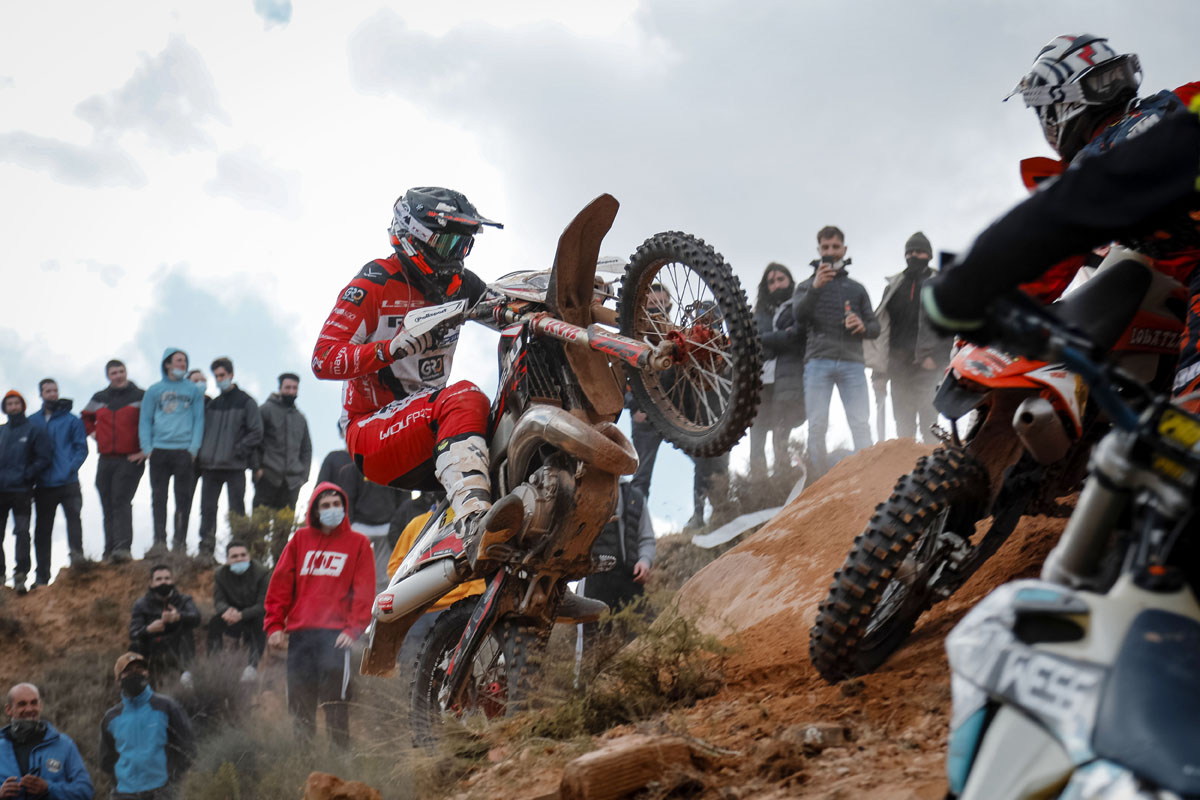 At one point there was a bottleneck, I said, "Just wait, the people in front are not moving." He replied: "No, in hard enduro you don't wait." So he went on and he had a big fall. I thought: "These guys are really crazy!" (laughs)
There were piles of bikes everywhere
There are riders with loads of experience and some others than don't have it. In some places I was thinking that if the rider and bike went down it was going to get gnarly…bikes going over riders, I couldn't believe it.
Another who had just been hit by a bike in his leg, he was complaining about the pain, but he didn't turn around, he just went on… they say nothing, it's like supercross! I was asking forgiveness and permission every time, I guess they thought that I was stupid. (laughs)
It was a great experience
Apart from all the joking I have to admit that it was a positive and enjoyable experience for me, anything that involves bikes and having a good time, I'm up for it. I like tricky uphills but not the ones like this where you make it or not. Anyway, we did a bit of a show and had a good time.
Would I be up for Romaniacs?
I think I could do better because I would take training seriously and with more time. I would train with proper tyres and I'm sure that the outcome would be quite different.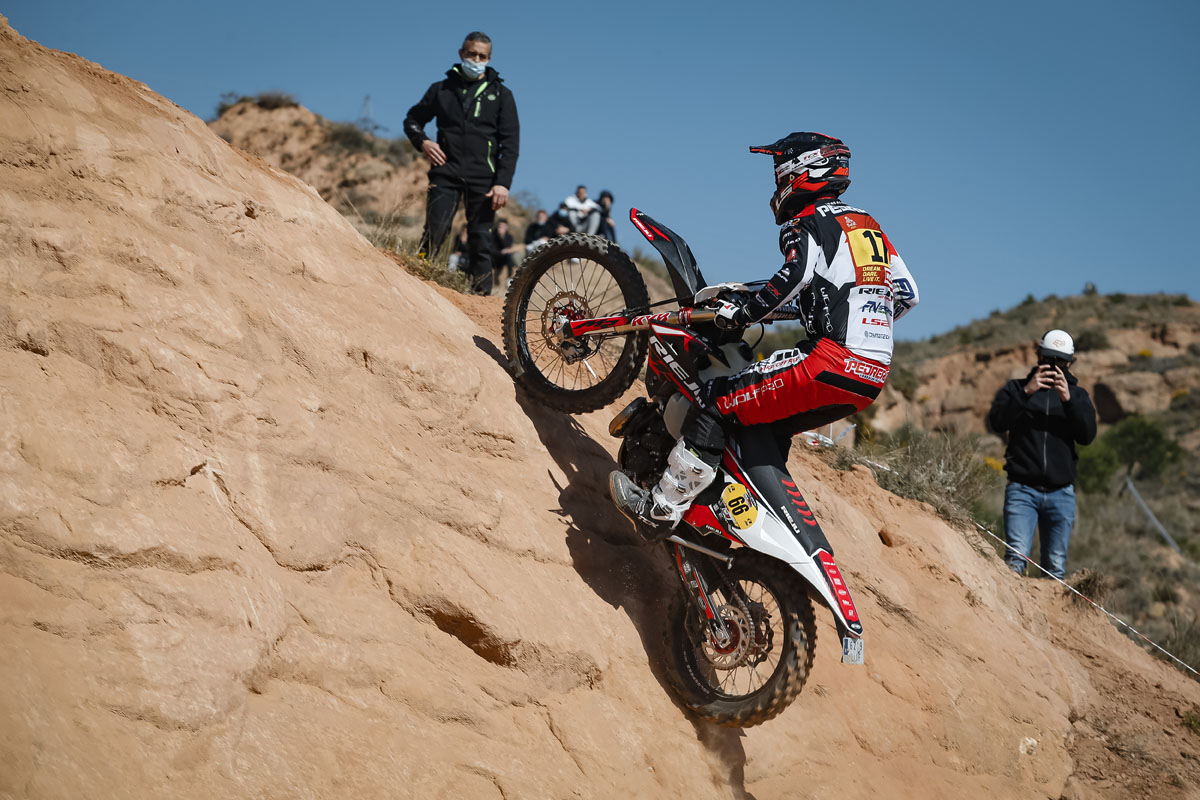 In this race I found out that with these soft tyres and mouses I could go up places that I thought I wasn't going to be able. Lap after lap I was seeing that the traction they offer, is like the first time you try studded tyres on snow, they provide traction that you can't imagine. I think they're key in hard enduro and the thing that makes the difference.
My bike was totally stock, bone stock. I didn't even have the suspension dialled for my weight…
I remember that Eloi Salsench, my Rieju teammate, told me: "Tomorrow you'll freak out." And I thought: "What's this junior saying…" (laughs). And the next day I found out that he was right.
There were places were I thought that I could spend a week there but you stopped in a rock and when you twist the throttle you were climbing up. Even when you thought that it was impossible to start from there.
We need your support
If you've enjoyed this article, if you've found it informative, interesting, entertaining even, please support us.
We want to continue doing what we do, to the best of our ability, serving the enduro and off-road community.
Please consider a donation, every little helps…
Thank you.
Photo Credit: Enduro21 | Nicki Martinez