GNCC Results: Toth pushes Russell to the wire at Rnd 8
Dust, a determined Josh Toth and being stuck in second gear couldn't prevent FMF KTM Factory Racing's Kailub Russell from taking victory at the High Voltage GNCC in Maidsville, West Virginia.
For once the lappers which so often feature in Kailub Russell's post-race analysis played in his favour as he went bar-to-bar on the final laps with teammate Josh Toth before, not for the first time this season, Kailub's never-say-die attitude stole the show.
https://www.instagram.com/p/CCjigXPj4dz/
The bar-to-bar XC1 Pro battle
After Josh Toth grabbed the holeshot and the lead he took advantage of a clear track while Dante Oliveira, KTM teammates Russell and Ben Kelley plus Josh Strang on the Babbitt's Online Kawasaki were fighting for position behind him.
Toth was at the helm for the majority of the three-hour race with Russell chipping away to finally sit eight seconds back heading into the final two laps. The battle was very much on this deep into the race as they headed through the pits and back into the woods as Kelley sat right on Strang's tail in the battle for third with Jordan Ashburn fifth and Grant Baylor in sixth place – Baylor would retire on the next lap due to another mechanical issue this season for the FactoryONE Sherco squad.
When the white flag came out, eyes were on the lead duo with Russell leading only to make a mistake and crash, breaking his gear shifter in the process and allowing Toth back to the front.
The seven-time champ typically wasn't in the mood for letting being stuck in second gear slow him down. When Toth got caught up trying to pass a lapper rider on the final hill before the finish, Russell pulled his party-spoiling trick to steal his 67th career XC1 victory.
"I did the best I could with the circumstances but I was frustrated mentally." Said Russell. "After Josh got around me, I stayed fairly close to him and while he was trying to get around a lapper at the end, I had enough room to take the main line that was faster and I passed him and the lapper at the same time."
GNCC round eight XC1 and XC2 Pro class results: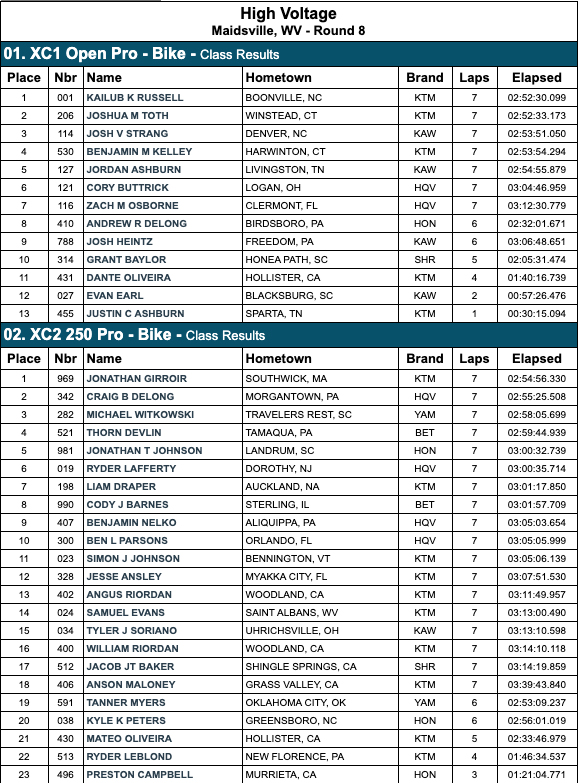 Toth the nearly man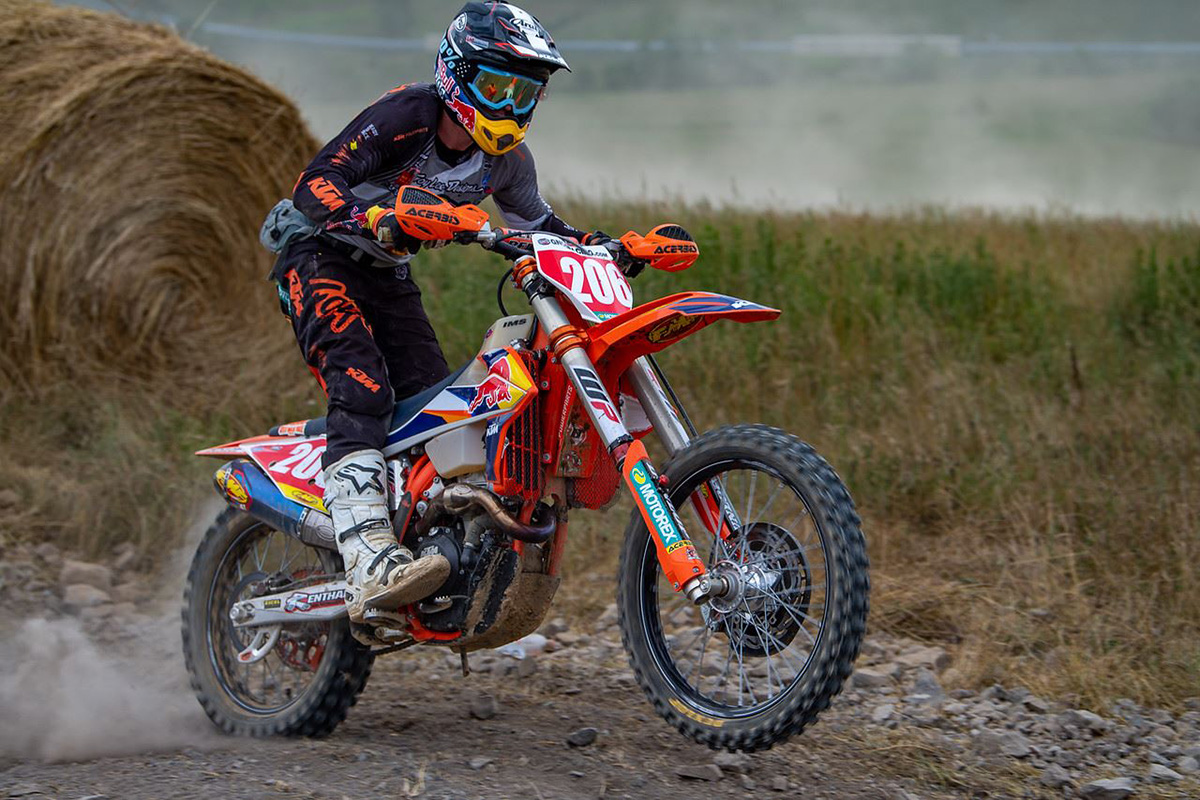 Josh Toth was just three seconds away from winning his first career XC1 race at round eight of 2020. After leading for much of the race it came down to a head-to-head battle with Russell in the final two laps and when Toth got caught up with a lapper he fell foul in the same way Stew Baylor did earlier in 2020 within sight of the flag.
After coming back from injury only two months ago, Josh Toth said: "I knew it was going to be dusty so I got the holeshot and got out front early on. Once I realized that nobody else behind me could see anything, I just tried to set a comfortable pace while I warmed up. I rode my own race most of the day but as we were getting into lappers it was pretty difficult to get through clean."
Osbourne beaten by GNCC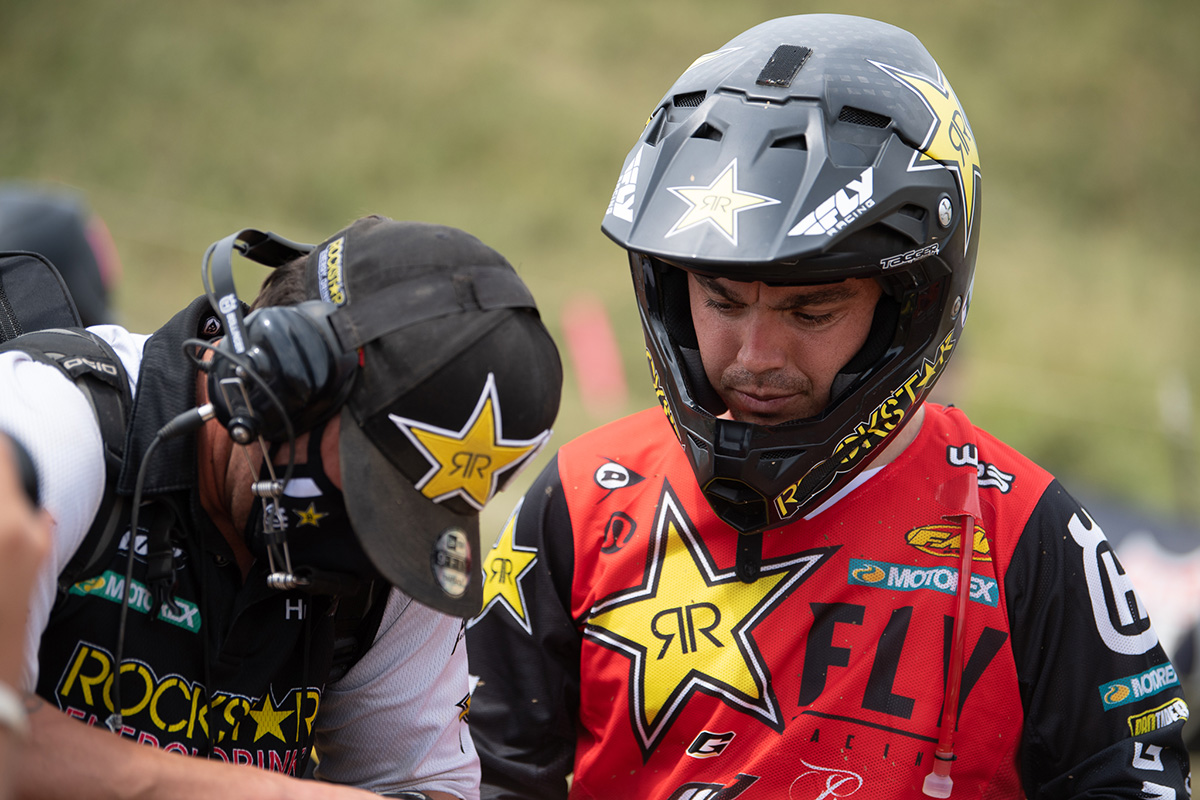 Notable entrant in the race this weekend was Rockstar Energy Husqvarna Factory Racing's Zach Osbourne who found the running a little tougher than expected. Finishing down in a surprising 29th overall, Osbourne pointed at a poor start and the dust for a reason for less than expected result. "I want to thank the entire Rockstar Energy Husqvarna Factory Racing Team for giving me the opportunity to come out here and do some racing," Osborne said. "It wasn't exactly the result any of us wanted but I will be back for more and I will be better."
Heading into GNCC's summer break, Kailub Russell has extended his lead to 42 points over Josh Strang in the XC1 Open Pro Championship.
Pro XC1 class points after round eight: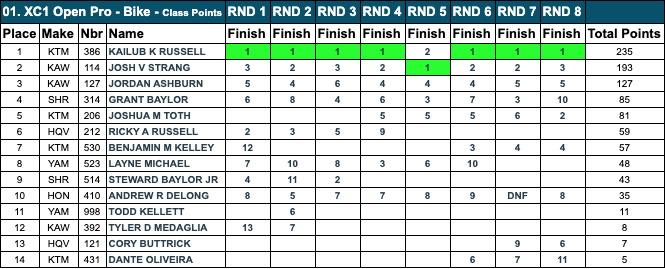 XC2 250 Pro race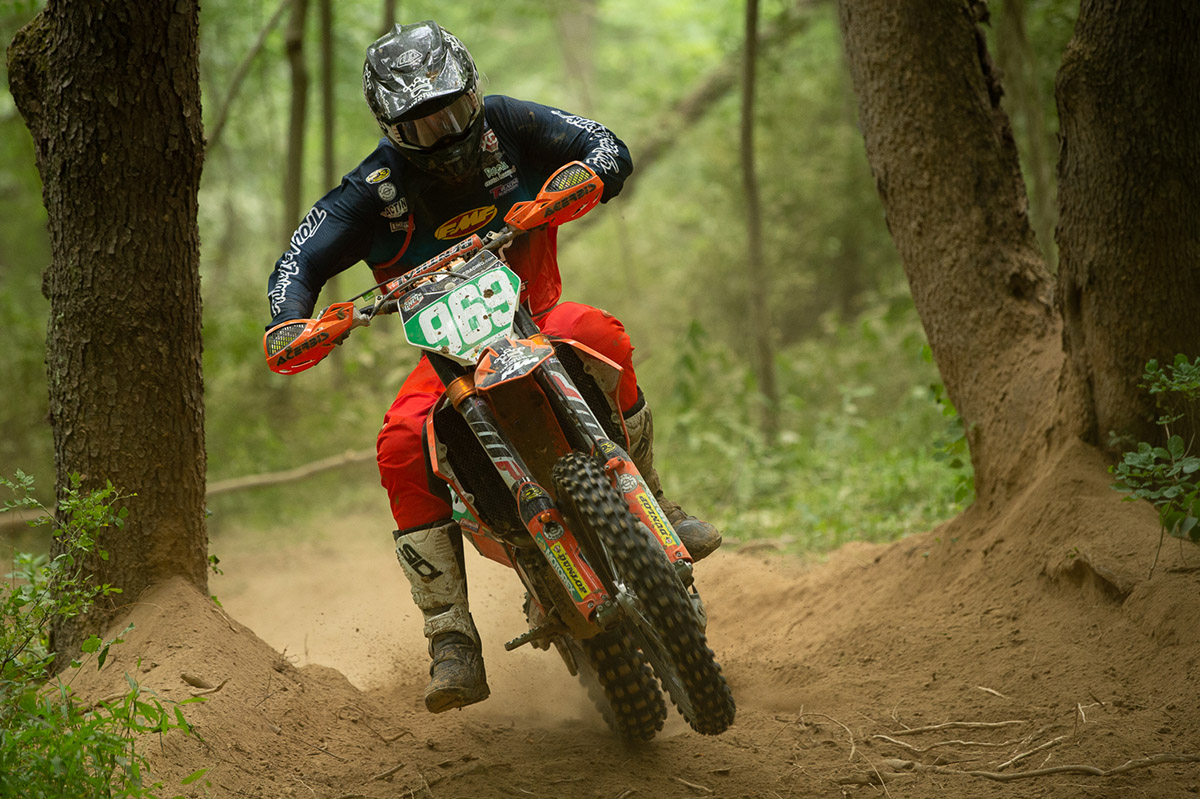 Like we haven't said this enough times this season already but XC2 threw up yet another hard-fought result and not without drama. It was another great day for Trail Jester's Racing/KTM's Jonathan Girroir, who led six out of seven laps for his third XC2 victory of the season.
Girroir ran in second place on lap one but made his way into the lead by the second lap which he never let go. But it wasn't for the lack of trying that the championship points leader, Craig DeLong, wasn't able to pick-off Girroir's lead however.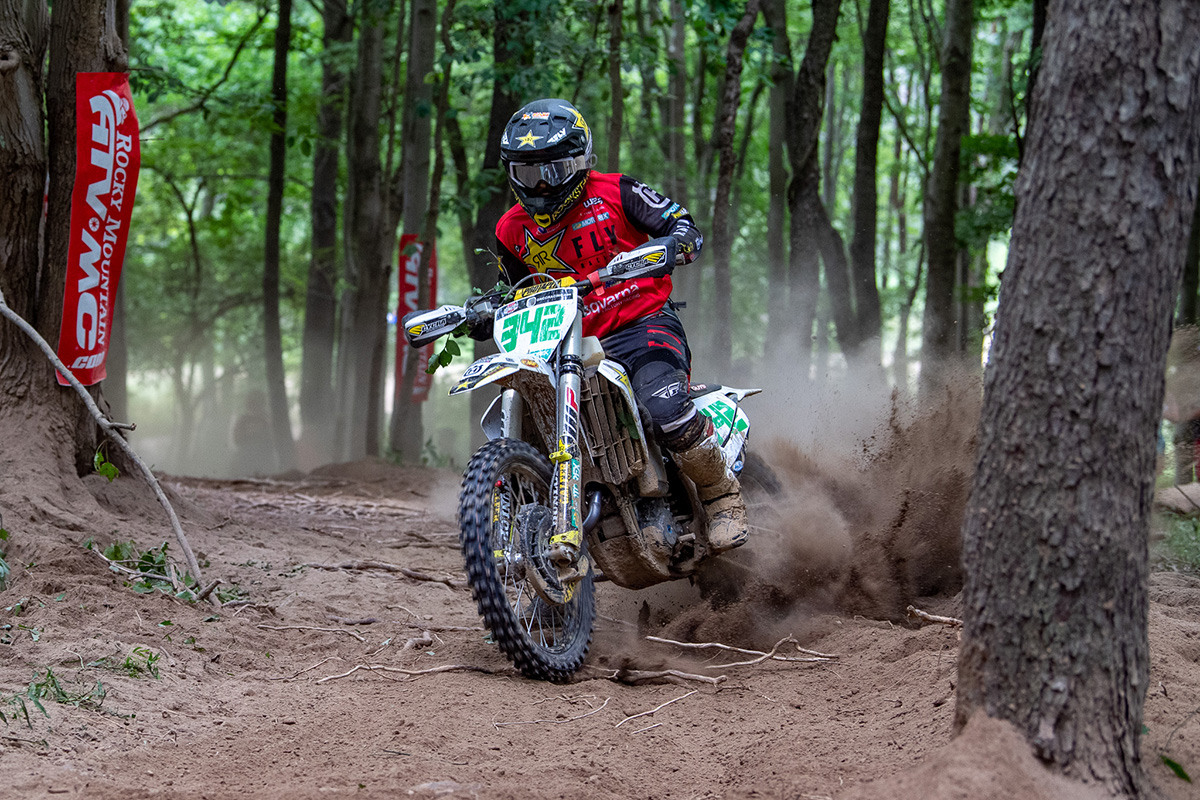 After proving you could make passes in the dusty conditions, despite what other riders said, DeLong battled through to the rear wheel of the XC2 race leader but mistakes cost him. "I actually ran Johnny [Girroir] down and got around him on lap four but I just made too many mistakes and he got back around me," DeLong said. "I ran him back down on the last lap and got up to his rear tire but I had a big crash and hurt my shoulder pretty good. Overall, it was a good points day and I'm happy to be healthy and in one piece."
AmPro Yamaha's Michael Witkowski also proved passing was possible after working his way up to third after a fifth place start. Witkowski finished third and sits third in the points standings, just three behind second place and 12 behind first.
Pro XC2 250 class points heading into summer break: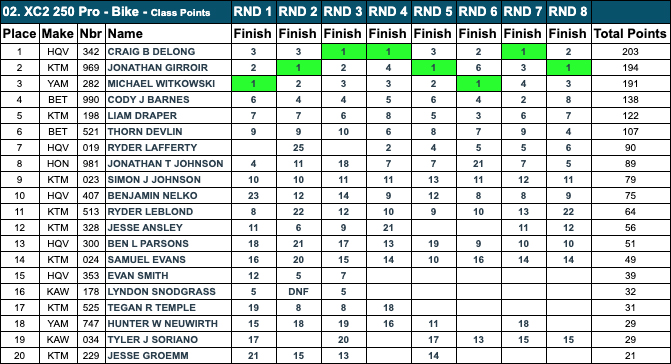 Rachel Archer takes first career WXC win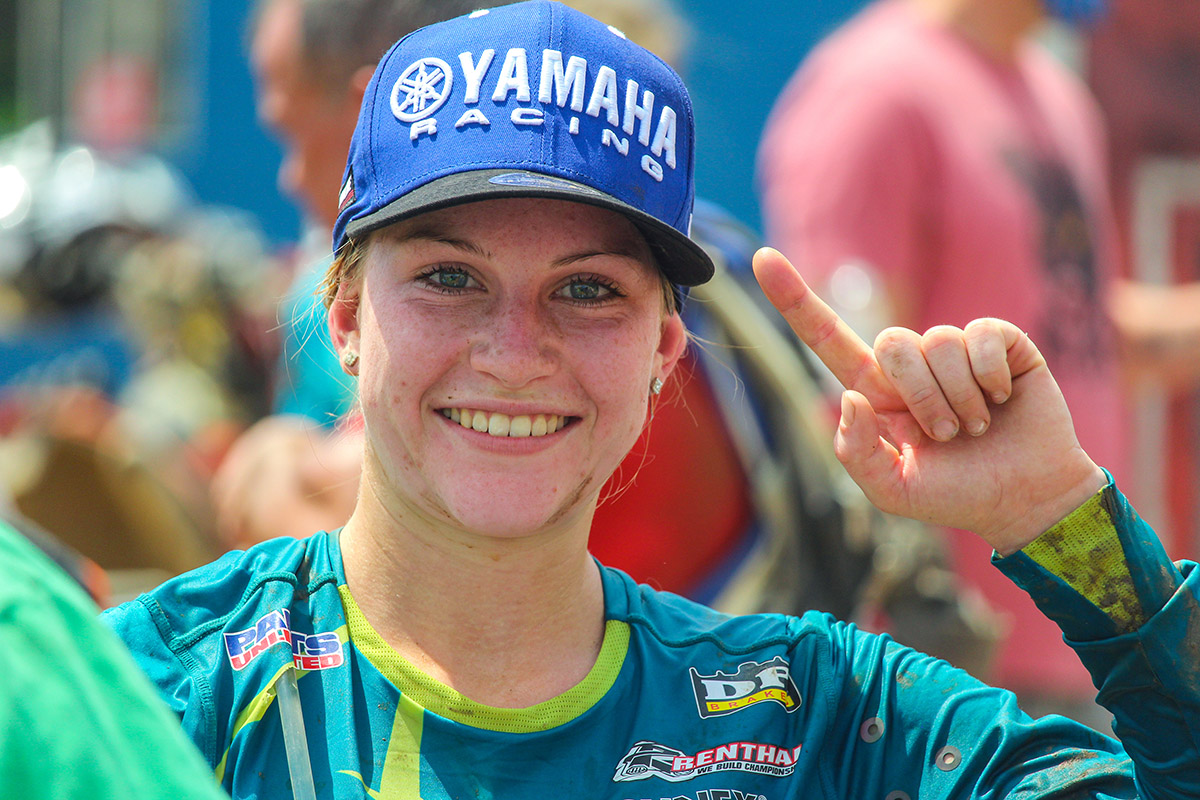 AmPro Yamaha's Rachael Archer took her first-ever overall (morning race) and WXC class win at High Voltage with a dominant performance to finish ahead of the championship leader by 59 seconds. Archer jumped out to the early lead and created a gap over the rest of the field early on.
BABS Racing Yamaha's Becca Sheets battled her way to second but wasn't able to catch Archer for the lead. Sheets remains in the points lead after eight rounds of racing ahead of Rockstar Energy/LanMills XC's Tayla Jones, who was third on the day with Archer sitting third in the championship.
WXC Results, High Point GNCC: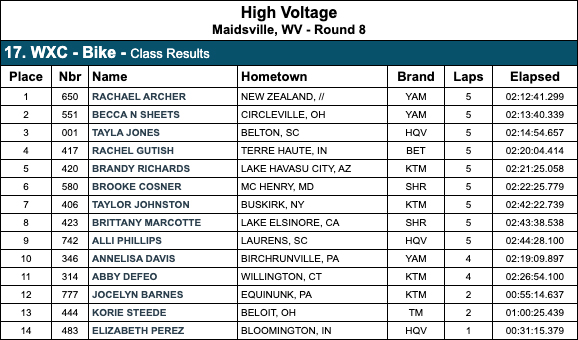 WXC class points heading into summer break: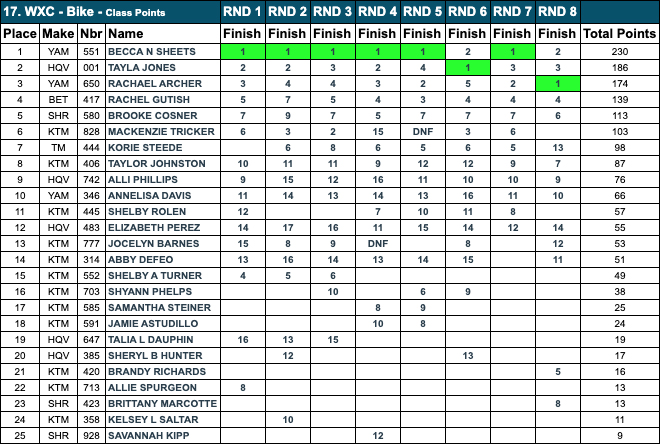 GNCC continues at round nine, The Mountaineer GNCC, on September 13, 2020.
More information: GNCCRacing.com and full results from High Voltage GNCC.
Photo Credit: Shan Moore + Ken Hill