Gotland Grand National: Second win for Albin Elowson at Swedish classic
Albin Elowson secures his second career win at the Swedish classic enduro, the Gotland Grand National ahead of Mikael Persson – teenager Tyra Backstrom storms the Women's win.
The Gotland Grand National on an island in the Baltic Sea can deliver riding conditions like nowhere else. But the epic mudfest which has prevailed at many of the 38 previous editions of the Swedish classic enduro seemed like a distant memory for the 3000-plus riders across three days of racing this weekend.
They faced more than 20 kilometres per lap, snaking around a Swedish military base which is legendary in its toughness, whatever the weather, with polished lime stones and huge stretches of the track running over bedrock offering zero traction. Add in the monster whoops and 0% rest in the whole lap and you have one of the hardest enduro races on the planet earth.
2022 Gotland Grand National in a nutshell:
With Swedish national television broadcasting live, EnduroGP E3 World Championship runner-up, and winner of the two previous GGNs, Mikael Persson took an early lead despite narrowly avoiding a crash in the early stages after a collision with another rider.
Ken Bengston, Max Ahlin, Rikard Hansson and Eero Remes were all in tow as they settled into the drying conditions and the relentless battering of the whoops and rocks.
At the end of the first lap Persson looked comfortable as he took the first of two mandatory pit stops (this first time, riding through without refuelling) to maintain the lead.
Meanwhile Albin Elowson got caught out on the mass start and had to work hard in the first of seven eventual laps to get into podium contention.
By mid-race Elowson's relentless pace, saw him hounding the leader and eventually take over the front position bringing along Hansson with him by Persson who admitted having "nothing for them" at that point.
With pit stop rounds done, Elowson set a rhythm which no-one else could a match and went on to extend his lead and finish almost one minute and a half clear.
"This win means a lot to me. Gotland is one of the biggest races in the world so to stand here are the winner feels awesome." Said the two-times winner, Elowson. "I've had too many second places, four in total here, and finally I am back on top. After such a bad start I was feeling a bit down but I tried to get in my groove, not to have arm pump and then when I was feeling I was closing the gap, I got past and I was able to push to the finish. It feels awesome." The win adds the Swedish Enduro and Cross-Country championships to Albin's successful '22 season check list.
The final laps saw a podium battle unfold between Persson, Hansson and Max Ahlin with Miki finding another gear with one lap remaining to claim second.
"I got a good start and had a good rhythm early on, but I had a dip and when the guys caught me and passed, I didn't have anything for them." Explains Persson. "I was riding well but after one hour I ran completely out of energy which was not good. I was probably down in fourth or fifth place mid-race so in the end I am happy to pull it back together for second place and be on the podium."
The third podium step was duked out between Hansson and Ahlin who were pushing all the way to the flag, with Rikard just 30 seconds ahead at the finish. Ahlin was fourth and easily best placed Junior rider with Ken Bengston completing the top five and Eero Remes in sixth suffering with conditions and illness he said after the race.
The women's classes at Gotland are celebrated with equal billing in the overall prize money (50,000 Kr no less – do the maths in your currency to work it out), the women's elite race was hotly contested.
Star billing this weekend went to MXGP number three in the world, Larissa Papenmeier who joined the Johansson Yamaha team for her first attempt at this ruthless race.
Despite being used to quick motos and some grip, Larissa led for the five of the six laps on her debut. A crash on the final lap allowed the chasing pack of Swedish girls to get past and it was an emotional Tyra Backstrom who took her first GGN win ahead of Hanna Berzelius and Linnea Akesson. Papenmeier picked herself up after her first taste of Swedish tree bark and came home in fourth ahead of Julia Svan.
2022 Gotland Grand National main race results (top 25):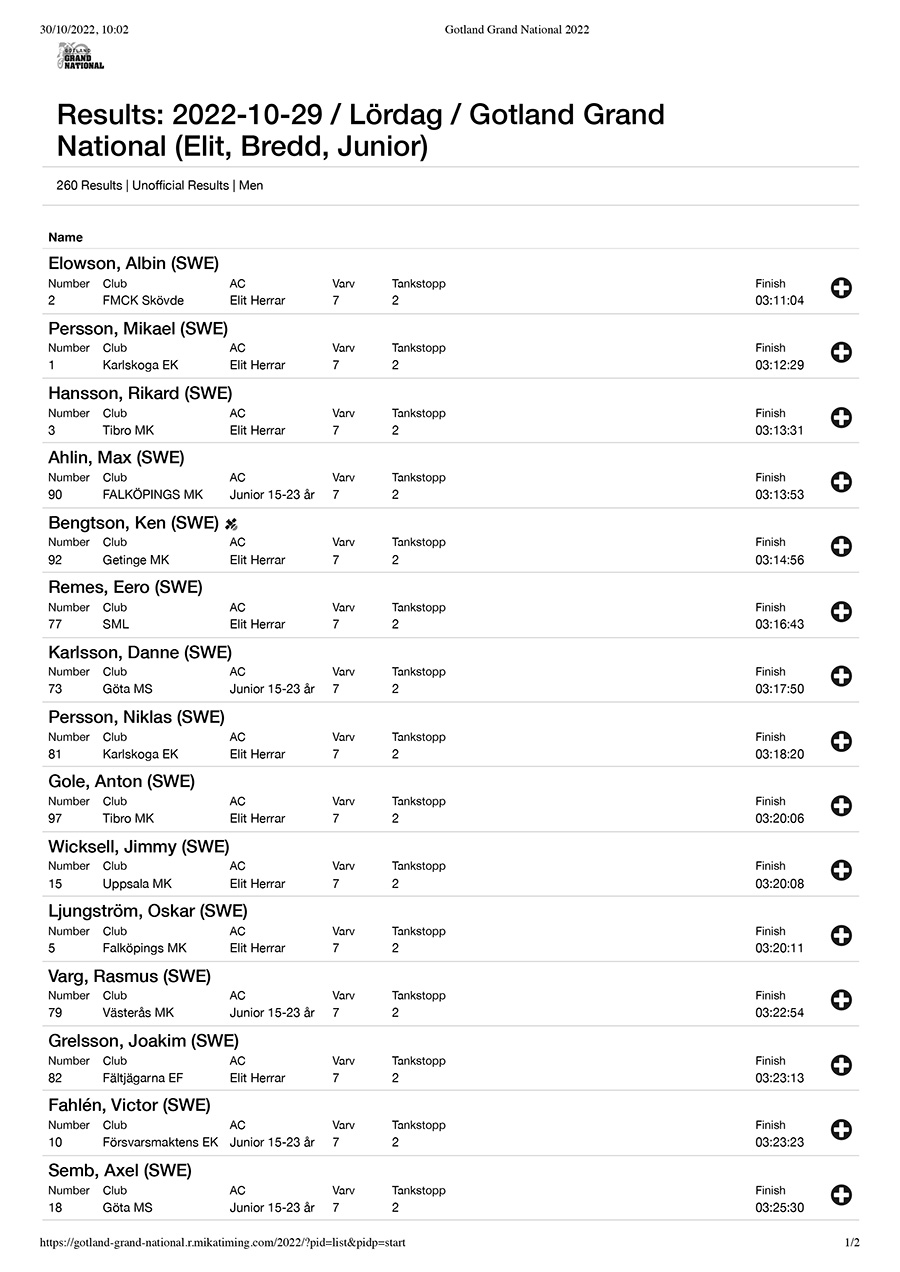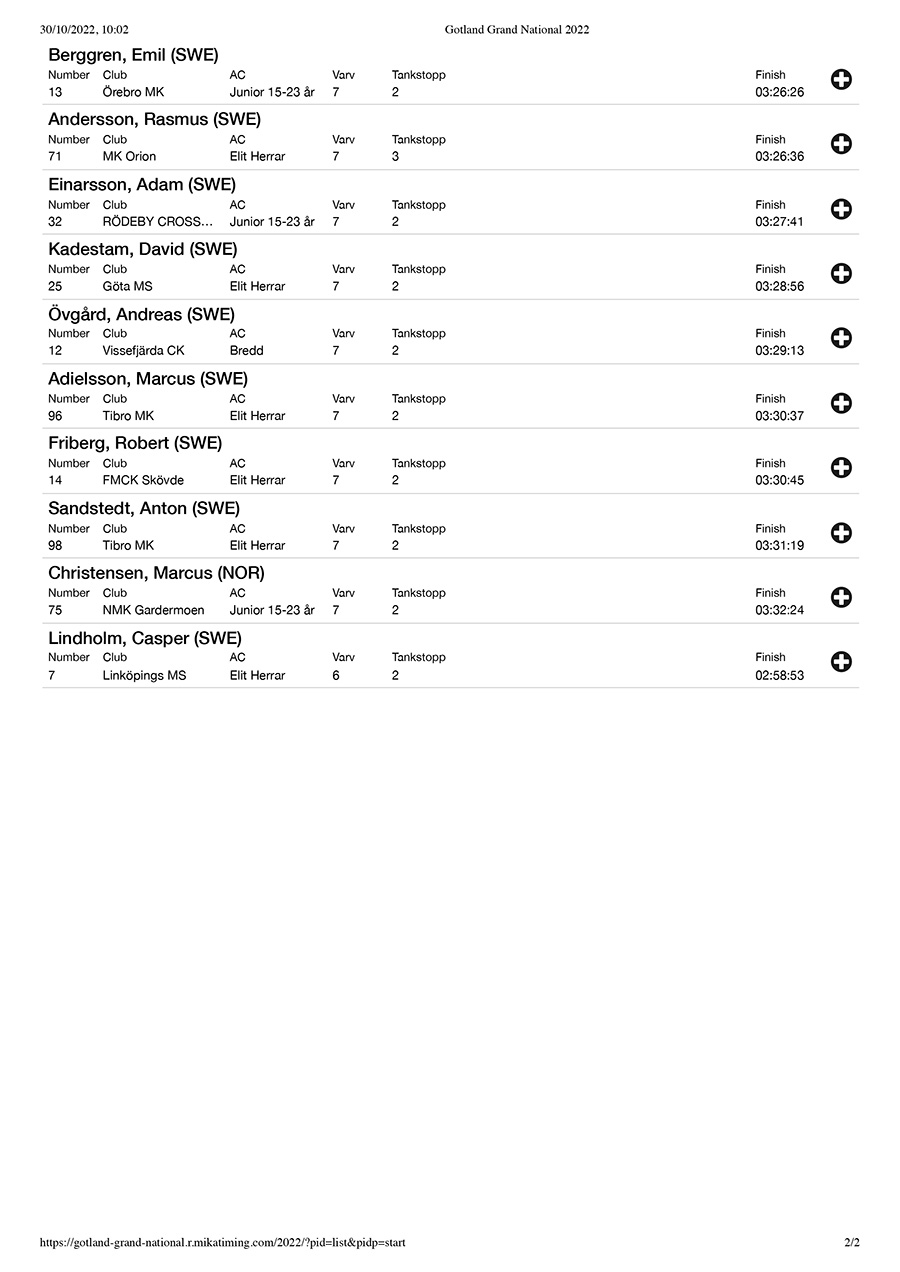 2022 Gotland Grand National Women's race results: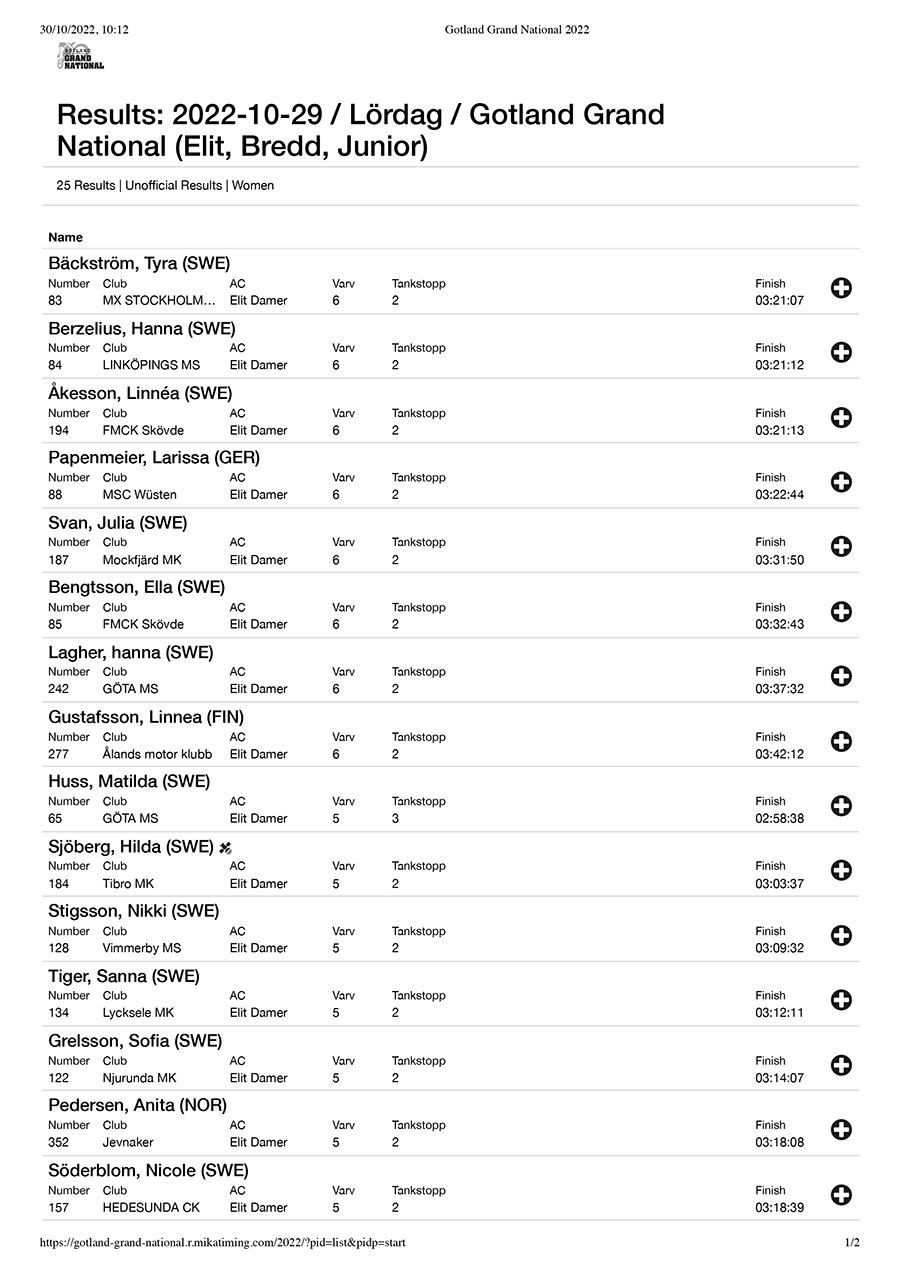 Photo Credit: Antii Helston