2022 Hixpania Hard Enduro results: Trystan Hart wins day 2 extreme race as Roman suffers bike problems  
Results from day two at the 24MX Hixpania Hard Enduro, the Campoo Extreme race where Trystan Hart wins after Mani Lettenbichler gets a speeding penalty (!) at the FIM Hard Enduro World Championship final round in Spain – meanwhile bike problems bring more drama for Sherco and Mario Roman.
2022 Hixpania day two, Campoo Extreme race in a nutshell:
Day two at Hixpania Hard Enduro normally means a slightly easier day, a two and a half hour trail ride (kinda!) round the Campoo lake side which riders previewed on Friday morning – just with a few unridden extreme sections thrown in.
Not so at this title deciding final round of the 2022 Hard Enduro World Championship which definitely tested the riders and brought plenty of drama.
Overnight rain made the opening lap a little slick in places but it didn't hold Mani Lettenbichler back from making "some sketchy moves" from a fourth place start position to lead. The German was pushing hard "because I really wanted to get to the front because of the dust", Mani explained, but really, as has often been the case this season, was in a class of his own with speed and commitment on the technical climbs.
Lettenbichler led home a one-two for Red Bull KTM, 10 minutes clear of Canadian Trystan Hart making his fifth appearance of the season and bagging P2.
But, and it was a late decision, Mani received a time penalty for speeding, dropping him to P2 and handing Hart the race win.
Lettenbichler wasn't the only one as third placed Alfredo Gomez, Mario Roman (more on him below...) and Mathew Green were among seven riders docked places for speeding across a dam.
Either way, on combined times or rather points for Friday and today, Lettenbichler is still in pole position for tomorow's main race ahead of Hart.
It's a qualification race effectively, and tomorrow is the main event and although start position is important, 2021 Hixpania winner Alfredo Gomez says it was important to save some energy for the main event. Gomez was another speeder on the dam but his combined times still sees him start third tomorrow.
Sonny Goggia had a good day finishing fourth ahead of Dominik Olszowy and Graham Jarvis sixth. Olszowy was among the speeding offenders too, demoting him to seventh while Goggia and Jarvis jumped up to third and fourth.
It was a harder day for Mario Roman whose Sherco died in front of a big crowd on one hillclimb. Sherco teammate Wade Young took one for the team to help the HEWC title challenger, swapping batteries to keep Mario going to the service area. But the problem persisted and caught him again on the same hill – the Sherco wasn't charging the battery while he was riding it seemed. With a better idea where the problem was, Mario was quicker to make a fix and eventually brought it home just inside the top 20 (after he too suffered a speeding fine).
Results combine from days one and two for the main race start position, so check below for combined points and therefore starting position for the Sunday main race.
Campoo Extreme qualification race results: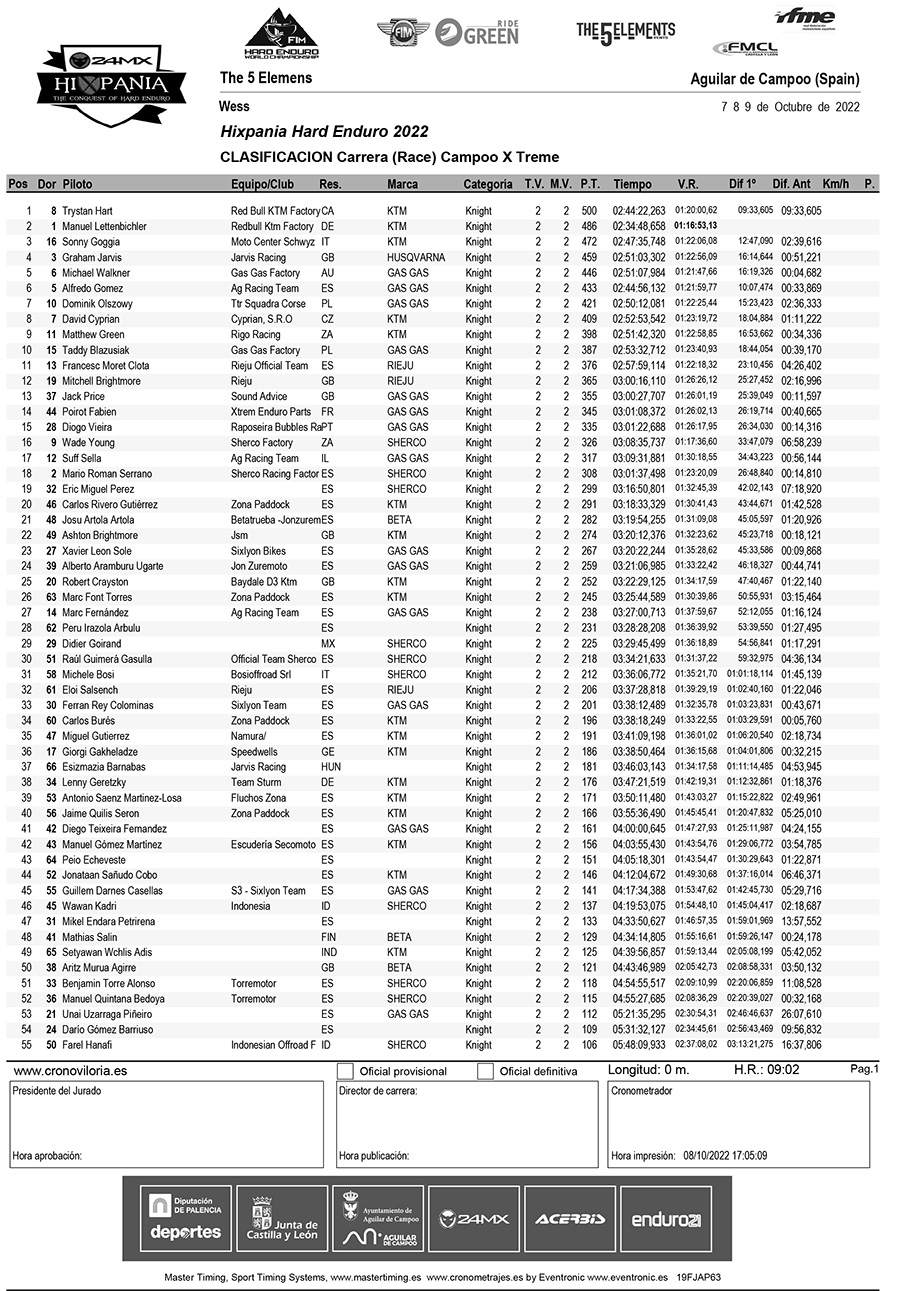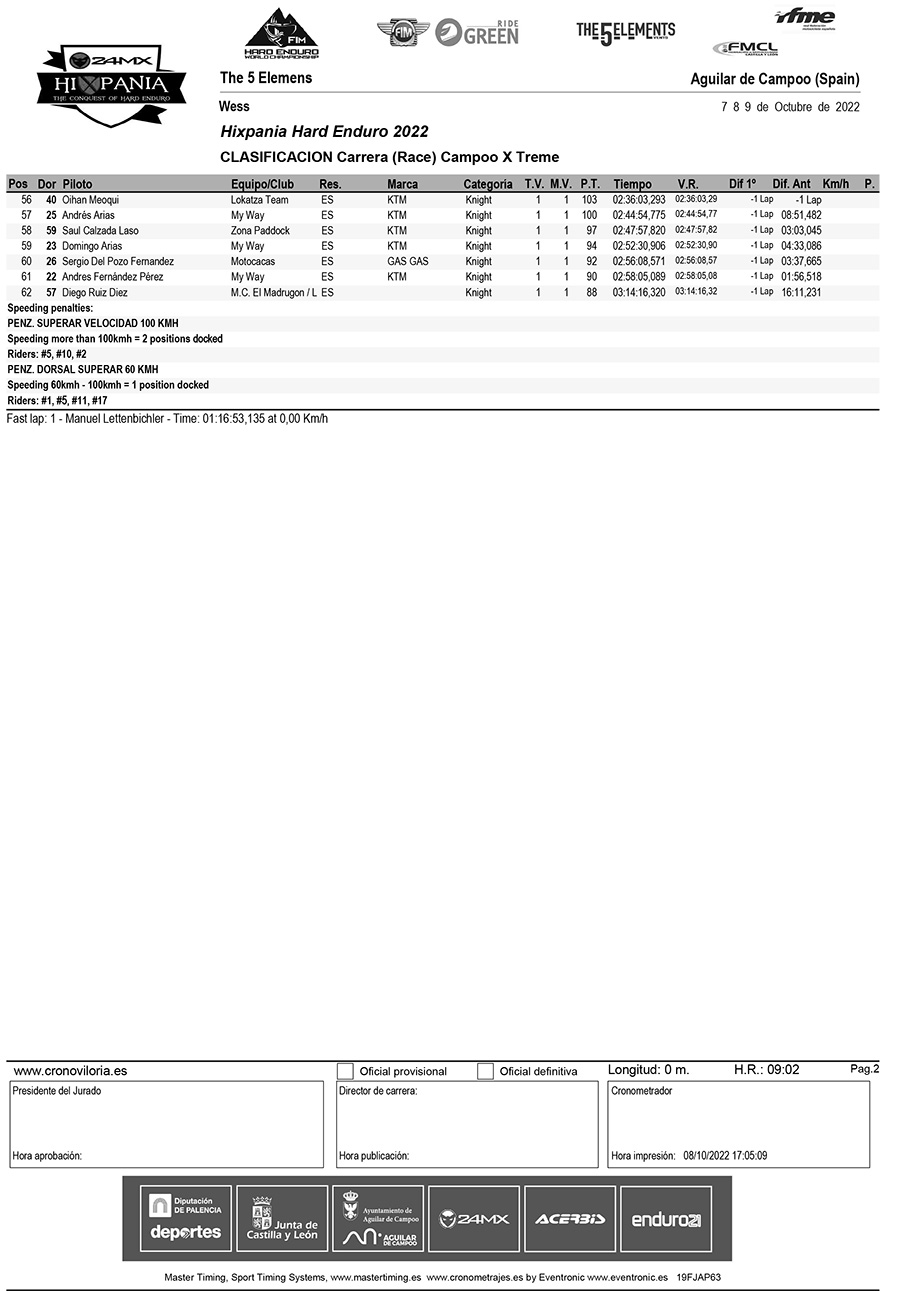 Combined qualification points from Friday and Saturday (plus starting order for Sunday):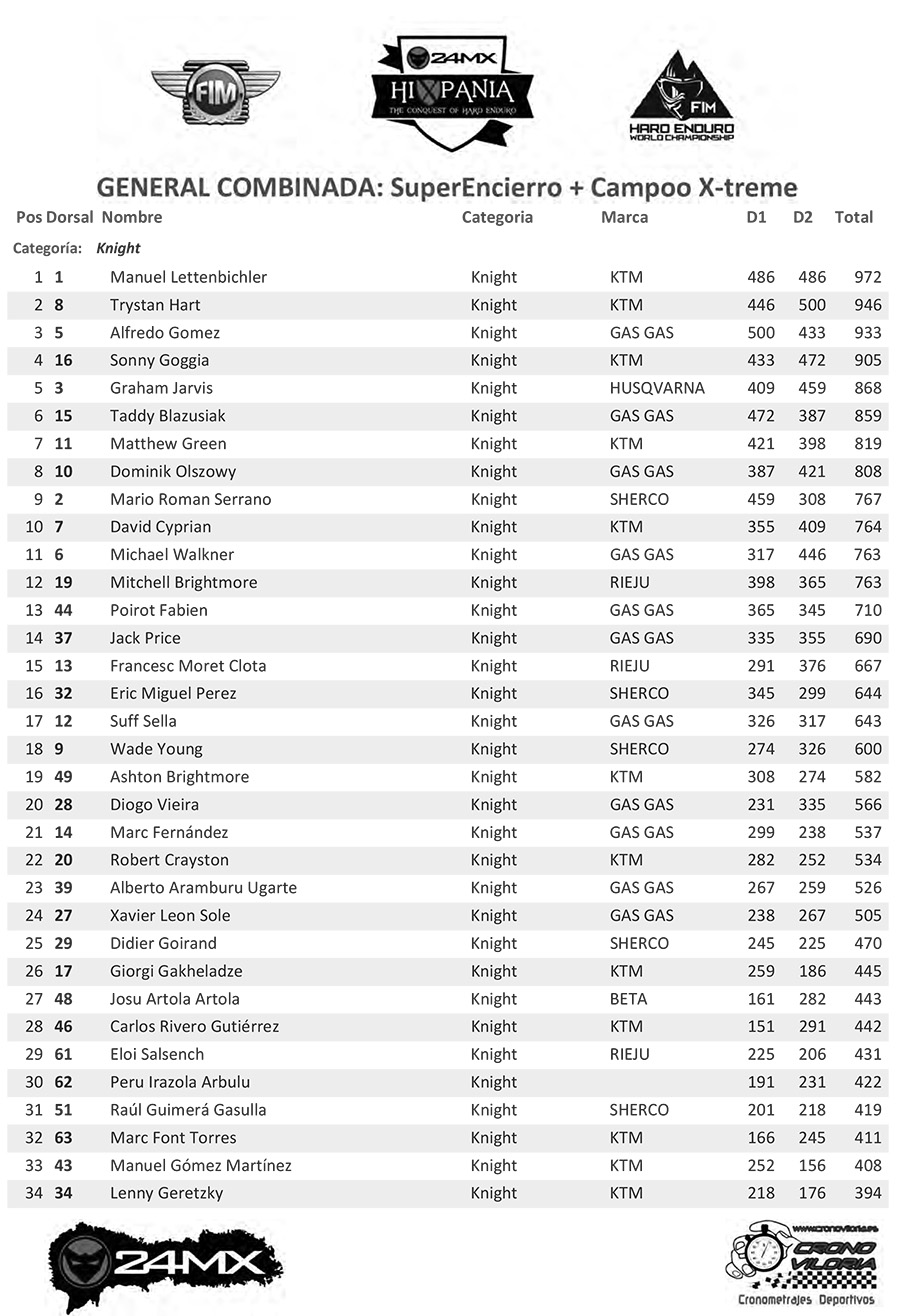 Photo Credit: Future7Media | Andrea Belluschi + Nicki Martinez