2023 Red Bull Romaniacs Preview – everything you need to know
Everything you need to know ahead of the 2023 Red Bull Romaniacs, round three of the Hard Enduro World Championship. Why everyone is aiming at Mani, the schedule, how to watch live, a weather forecast and the Gold Class (Pro rider) entry list...it's all here.
As we write this, hundreds of riders are already making their way to central Romania and the medieval town of Sibiu for the 2023 Red Bull Romaniacs. Round three of the '23 World Championship promises much this year as the 20th edition of this original four-day "Hard Enduro Rallye" ramps up the difficulty levels yet again to try and halt these guys out front.
For the many in the Silver, Bronze, Iron and Atom classes – riders from 55 nations in total – the event is at once the hardest and best of off-road competitions.
"The best trail ride you will ever do" ain't no exaggeration with epic up and down hills, spectacular views and an atmosphere like no other.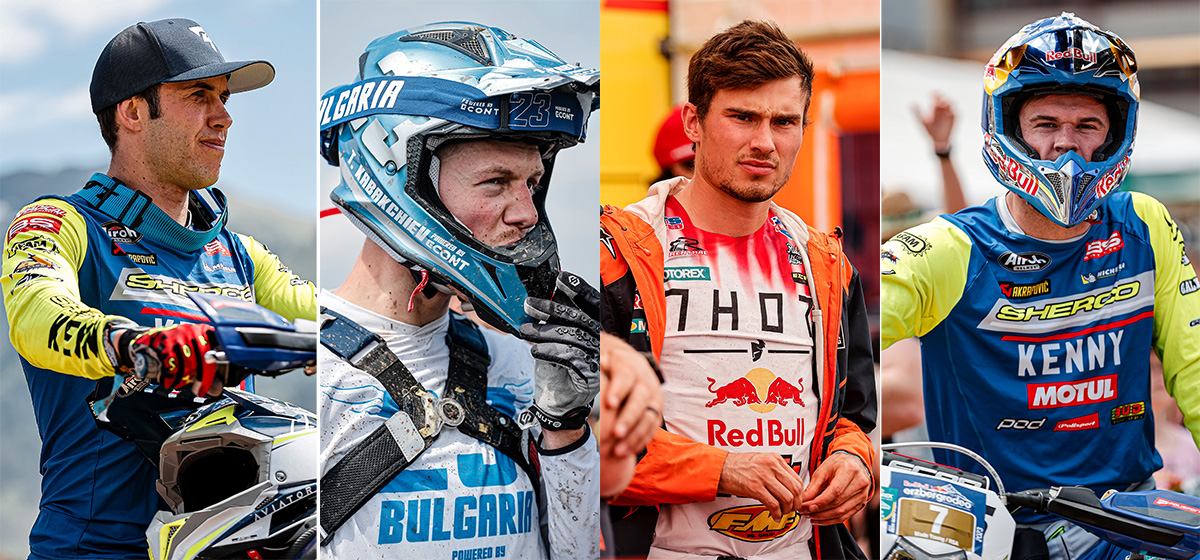 Who's got this?
The 2023 Red Bull Romaniacs is looking like it will be as competitive as it has been in recent years. For our money you could bet on seven or eight riders as podium finishers at this year's 20th edition. The problem for them all is they have a guy called Manuel Lettenbichler in the race.
You'd be a fool not to bet on Lettenbichler for a fourth win. The Red Bull KTM rider is in the form of his life and has been the rider to beat at Romaniacs for nearly half a decade now. With two wins from two HEWC rounds in 2023 so far, he is certainly the measure by which the others will gauge themselves.
Graham Jarvis claimed an historic seventh Romaniacs win in 2022 but without a two-hour time penalty after swapping a clutch, Mani would surely have been challenging the GOAT. Jarvis admits it is not getting any easier "at his age", as his rivals get faster, but that legendary stealth-mode on the technical hillclimbs saw him take two days wins outright on the way to victory. This is probably his best chance of a HEWC win.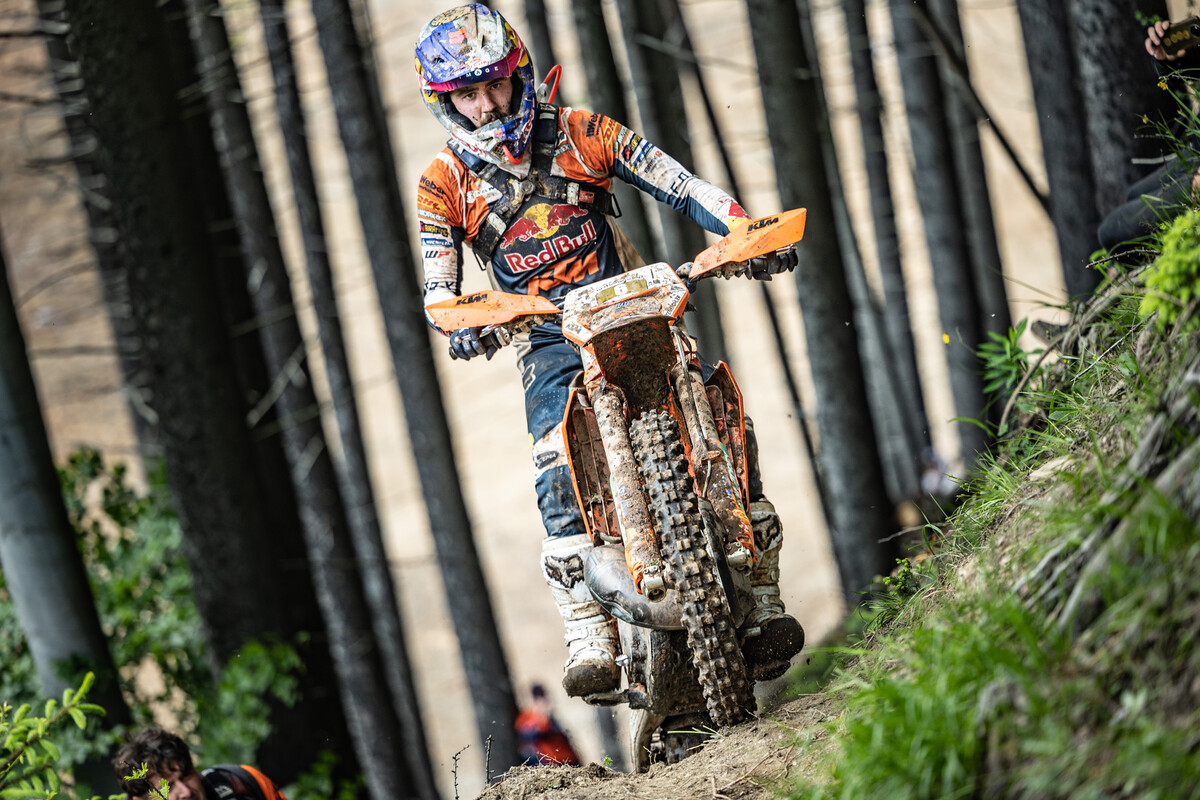 Riders we really want to see challenging Letti for the win include Graham, but also the Sherco pairing of Mario Roman and Wade Young, plus Trystan Hart and Teo Kabakchiev.
Sherco's two factory pilots are overdue a Romaniacs win – Young for a second time and Roman his first. Wade has had some bad luck in Romania in the past but also with his bike in previous HEWC rounds and too often seems hindered by outside forces preventing better results. This is his best event historically and he's due a better hand from the Carpathian Mountain Gods.
Mario meanwhile finally bagged a podium at last year's Romaniacs followed by a runner-up finish in the '22 world championship. But Erzberg's Iron Giant bit back when Mario crashed and resulted in a DNF for the Spaniard. He arrives in Sibiu in need of this result to get himself back in the points hunt.
Trystan Hart sits second in the HEWC points table and has already claimed the '23 US Hard Enduro title, plus a second consecutive Erzberg podium. The Canadian can have "up and down" days on these multiday, GPS-style races and that has proved costly in the past. But with those ironed-out he will be a contender.
Billy Bolt arrives after another sustained period off his bike due to a "training injury" to his shoulder which means, not for the first time, the former HEWC champ doesn't have the best shot at a Romaniacs win. Like Roman, Bolt needs to get the better of Lettenbichler in Romania if he is to make inroads into the German's HEWC points lead.
Last by no means least in our list of favourites for a podium is Teodor Kabakchiev. The Bulgarian is at his best in the Romanian mountains and has a string of national extreme races under his belt including the Ditrocks Hard Enduro win last week. HEWC round one in Serbia is a similar event and terrain and Teo has stood on the podium twice there as well as claiming a second place behind Jarvis last year in Romania. He's definitely a contender.
2023 Hard Enduro World Championship points after round two, Erzberg: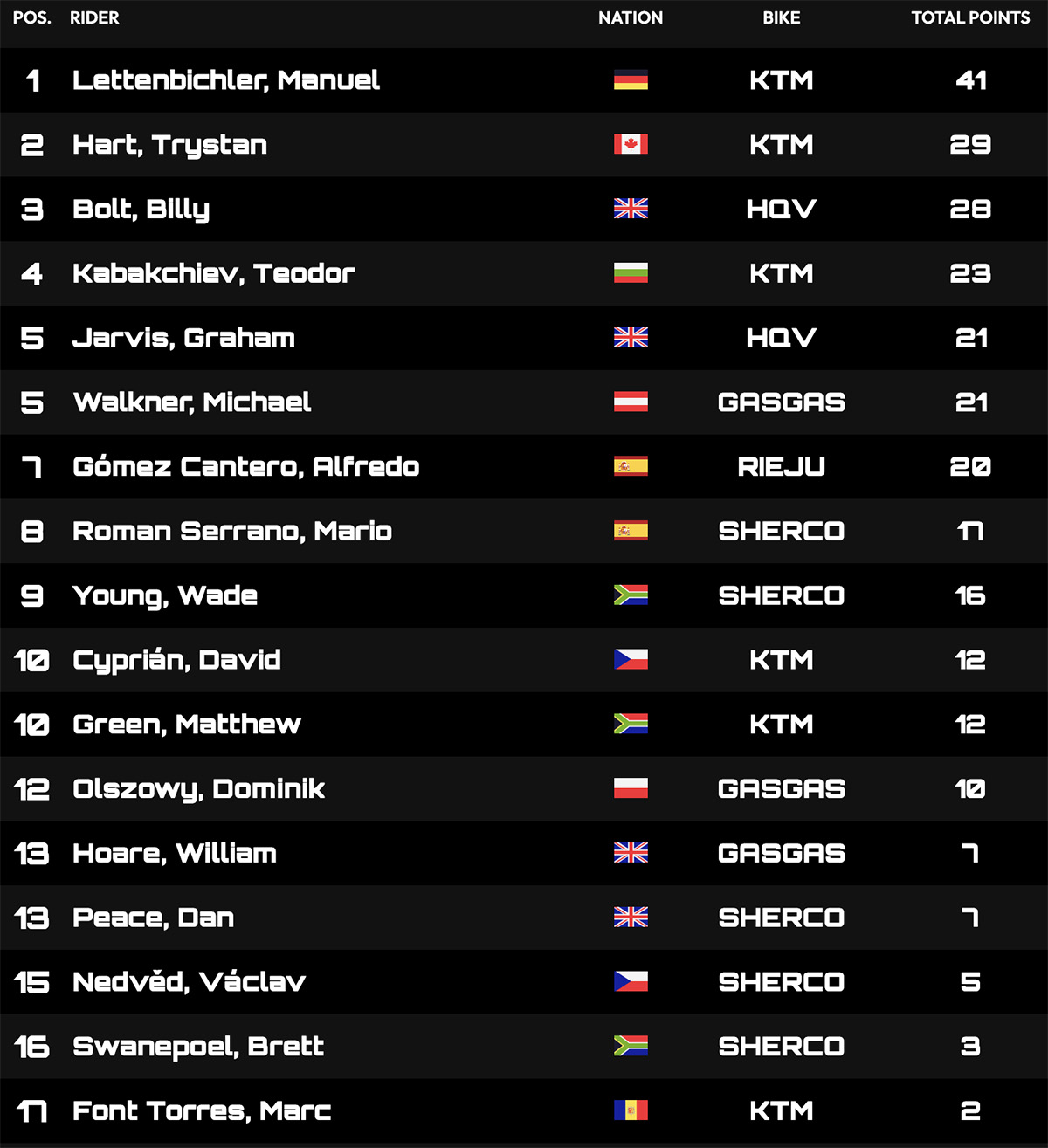 Romaniacs race schedule
Monday July 24 – parade through the streets of Sibiu from 13:00 local time followed by the opening ceremony at 14:00
Tuesday July 25 – city prologue with first riders on course (Silver class) from 07:30 for single lap qualification runs running through class order with Gold Pro clas not arriving until 15:30. The late afternoon sees the top 35 from Gold, Silver and Bronze riders qualify through to the multi-lap finals. Start order is determinged by finishing order/time set.
Wednesday-Saturday July 26-29 – main mountain race days typically beginning from 06:00
Live timing
Honestly, pretty much everything you could need is on www.redbullromaniacs.com where live race timing can be viewed on all devices for the prologue and through four race days.
Romaniacs is notoriously an early bird start each day so if you want to follow the front runners in each class it will mean logging in early – in Europe at least.
You can follow individual riders by name, race number (BIB) or nationality if you're wanting to follow a particular competitor.
'LIVEnews RBR' on YouTube is worth a follow plus their website 'social wall' drops video clips from a number of sources for a taste of what's happening each day.
How to watch live
Each racing day will also have sections of the track broadcast live, a welcome new feature in recent years. It's not easy broadcasting from these remote mountain locations but the race direction does their best to fix a route which can accommodate the live feed. Last year that included a couple of sections where the Gold Class riders tackled it twice to extend viewing time.
Enduro21 will attempt to bring you each day live on the website including the spectacular prologue on Tuesday from 17hrs local time. We'll follow that up with results when they become official and rider reaction plus video highlights daily.
Extended live coverage will come from the prologue finals on Tuesday and the final quarry and hillclimb on Saturday.
Video preview
Weather check
The longer range weather forecast for the week ahead in central Romania looks typical of this race: hot, mostly dry and sunny but with chances of showers and thunderstorms on some days. The Carpathian Mountains can dump a dose of rain on competitors, like all mountain regions, and that can mean some tricky conditions on the ascent and descents. If you get a Romaniacs week without rain you got lucky!
Gold class entry list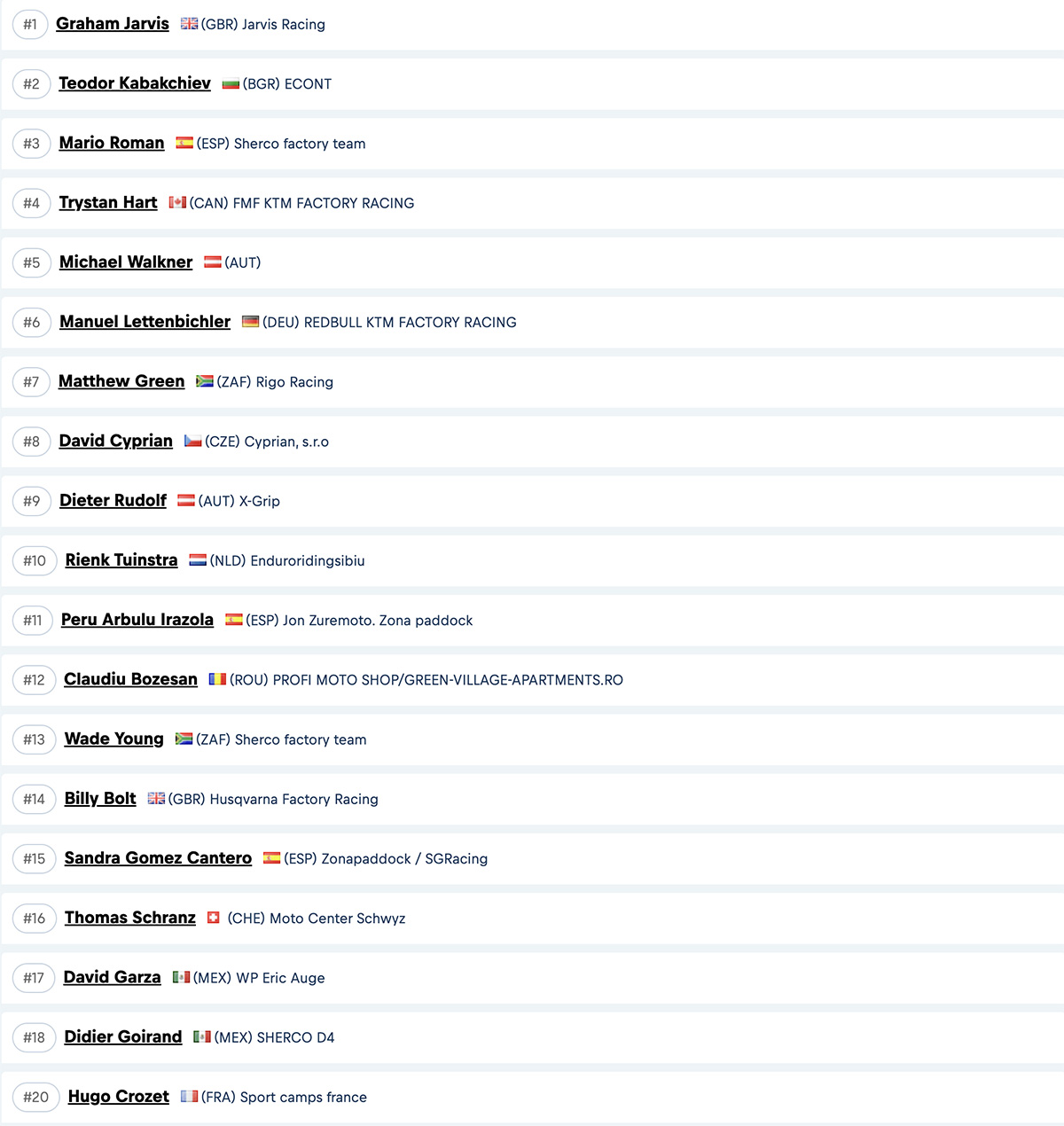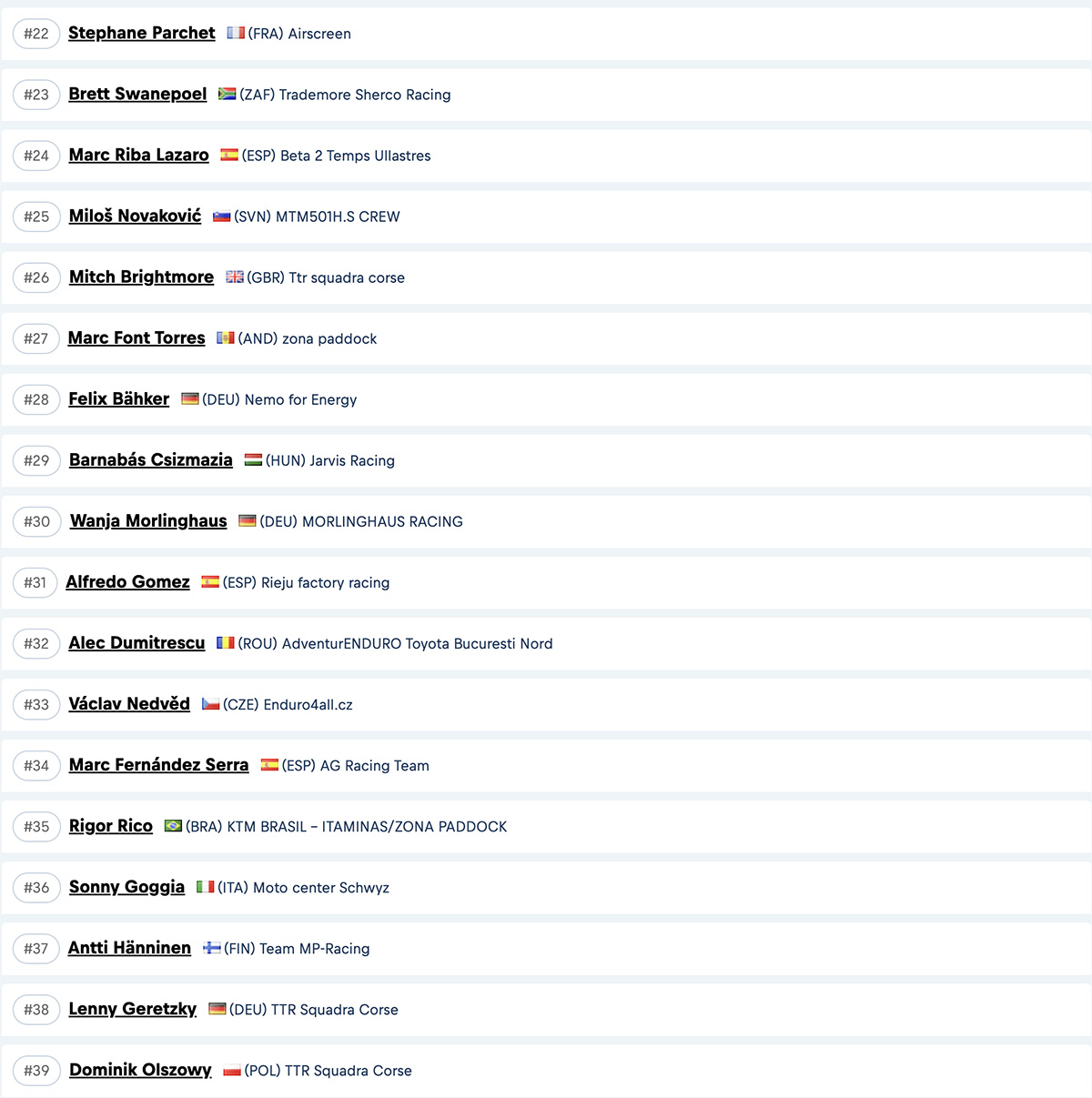 Enduro21 is on the ground as ever at the event, bringing the good stuff. One of us is actually making a maiden attack on the bronze class this year so wish him luck in struggle town! (Check out Enduro21 IG and our Facebook stories – some of it will be in Spanish). Bring it on!
Photo Credit: Future7Media | Andrea Belluschi + Pedrag Vukovic