2023 Xross Hard Enduro results: Lettenbichler wins day one after Bolt is docked time penalty
Results from Xross Hard Enduro Rally day one, round one of the 2023 Hard Enduro World Championship in Serbia where Billy Bolt fought Mani Lettenbichler (and the trees) for the stage win before the German claimed the day and the British rider was docked a 43 minutes time penalty.
2023 Xross Hard Enduro day one in a nutshell:
Day one proper in Serbia dawned in typical mountain weather, which is to say in among the clouds and wet. The streams were flowing and greasy, the rocky climbs and descents all moist but any day which finishes with some sixth gear blasting on tracks is a good one – the only problem was some riders had already long ditched their goggle by this point…
Trystan Hart was the first rider away into the fog and was holding steady but dropped his bike in a stream and flooded it, costing him a chunk of time early on this, his first morning of the world championship season.
Dropping your bike was easily done at times in the slimy streams which "made you look like an amateur" Lettenbichler explained: "they are so slippery you have to ride sitting down and then you just fall over."
The German was quick out the blocks too, overtaking the four riders in front to haul time and lay down the marks on the ground for others to follow and, as we re-write this for the second time, it proved to be the Red Bull KTM rider's day.
Billy meanwhile clattered a tree before the service point, hurting his right arm, but it didn't slow him too much as things got tougher after service point and he eventually crossed the line first, in a total time of 3:50.36 overall.
Enduro21 had already written Lettenbichler as the winner based on split times through the day and honestly didn't believe the results showing Billy five minutes clear. One split time was suspiciuously quicker and when Mani finished claiming no-one had overtaken him, well, it was a mystery.
"I'm pretty happy to be honest. I knew I lost time this morning and that leaving service Mani had 2.30s on us and when he's out front, he doesn't make too many mistakes." Billy explained at the finish. "I made one little navigation error and needed two goes at one of the big hills. After that I'm actually quite surprised to but I'm not complaining!"
The stewards were though as they spotted the 'little navigation error' was in fact cutting out part of the course. Bill held his hands up but they docked him a slightly odd 43 minutes penalty, dropping him remarkably only to ninth place.
Restored to the top of the classification, Lettenbichler's speed on the ground this morning was ominous. "I felt pretty good out there today." Letti explained after finishing in 3:56.01 on day one. "I'm pleased with my riding and the weather wasn't too bad out there riding actually. The last bit was sixth gear, wide open on a gravel road and I enjoyed that very much!"
2022 world championship runner-up Mario Roman clocked second after the shuffling, but sits a pretty big 16 minutes down on the winner, although the Sherco rider says it was a good start to his round one compared to last year: "I was riding third for most of the day and my pace was good. It was a challenging day compared with last year, everything was more slippery but I think everyone was struggling. I had a lot of fun and I enjoyed the muddy and slippery conditions, there was a bit of everything difficult today. After last year when I arrived with a broken toe, I'm super-happy with my day one."
Times were close behind the top two with Teo Kabakchiev taking third on the day but with added time from the prologue results (see below for ovrall classification) sits fourth behind GASGAS rider Michael Walkner, Trystan Hart benefitting from his prologue podium in fifth with Graham Jarvis starting steady in sixth but very much in the close contest so far for teh final podium place.
It was certainly not an easy first day of the season and there were some retirees including Wade Young, Ash Brightmore and Brett Swanepoel. Not for the first time, Wade suffered problems with his Sherco starter motor, this time it got stuck on and sucked the life out of his battery leaving him stranded.
Results below show combined times for the prologue and day one (final column is additional time based on prologue finishing position).
Xross Hard Enduro Rally Pro classification after day 1 (top 30):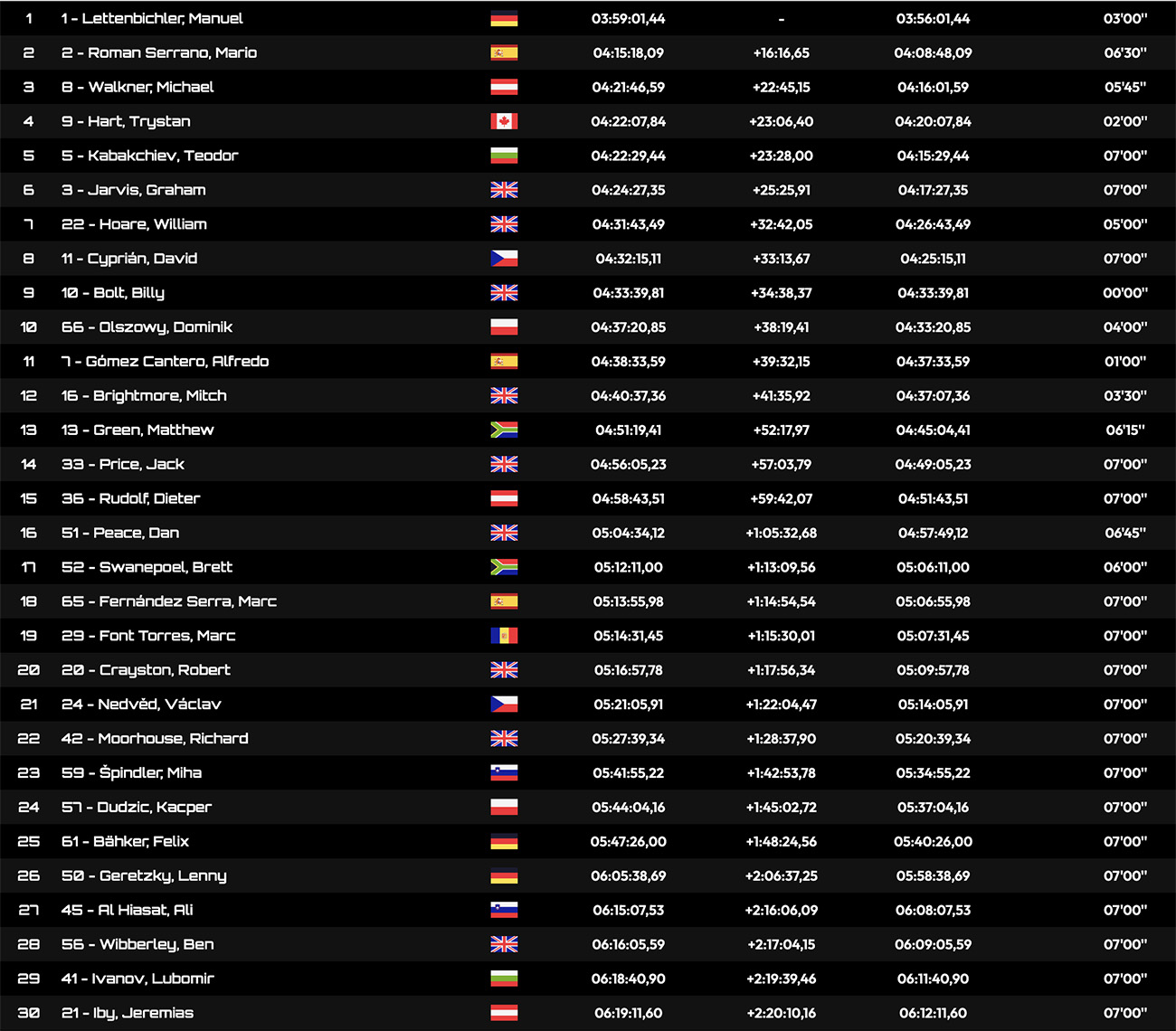 Xross Hard Enduro Rally Expert class day 1 results (top 10):

Xross Hard Enduro Rally Hobby class day 1 results (top 10):

Xross Hard Enduro Rally Amateur class day 1 results (top 10):
Photo Credit: Future7Media | Andrea Belluschi