2023 Xross Hard Enduro World Championship results: Billy's on top of "brutal" day 2 – Lettenbichler extends overall lead
Results from 2023 Xross Hard Enduro Rally in Serbia, round one of the 2023 Hard Enduro World Championship where Billy Bolt sailed through the pack to finish the day on top, six seconds ahead of Mani Lettenbichler who extends his lead overall to 20 minutes from Mario Roman.
2023 Xross Hard Enduro day two in a nutshell:
Two tough, long rocky stream sections before the service point on day two were the show stoppers. "Brutal" Mario Roman called them and they set the tone of the day, even if it did ease off into more enduro-like conditions later.
Billy Bolt started with a 43-minute deficit from 10th place following his navigation error yesterday but a strategy to overtake "as many people as possible", to get ahead of potential queues in two tough rock gullies before the service point, paid off.
The recent EnduroGP experience then came into play in a faster second half of the riding day allowing the Husqvarna rider to take the day win by just under six seconds and remarkably, after some of the course was cut, jump to third overall: "It was a fun day. I tried to pass as many guys as early as possible, I knew there were going to be two difficult rivers before service so I wanted to get as far forward as possible to because being stuck in traffic makes it harder. This afternoon was pretty fast so I just tried to push as hard as I could while staying safe. I started 10th and I crossed the line second so I'm happy with that."
Second by that narrow margin, Mani Lettenbichler remains in charge of the Xross Hard Enduro, as he did this time 12 months ago. A good lead after day one gave him room to judge his pace, but he doesn't need to. The pace is too good for the rest and he excels in these conditions: "Yeah, it was a solid day. Like yesterday, no-one caught up to me so I'm pretty happy with that. One day to go and I still feel quite strong, definitely all the winter training paid off when it is this hard." With one day remaining, Letti has a 25-minute overall lead.
Second place overall, and third on the day, Mario Roman finished closer to Lettenbichler on time, but still drops a further three minutes in the scratch timesheets: "The terrain out there is brutal," explained the Spaniard. "I rode with Billy for most of the day but I'm super-happy with the way I rode and I will keep going the same tomorrow."
Trystan Hart was fourth and cements fourth overall after time were shuffled, that despite struggling in one of the long gullies: "I'd say the day started off super-good but ended medium! Teo [Kabakchiev] caught me in a creek and I just rode super-bad in there."
How's Trystan doing on the 2024 KTM 300 EXC? "I'm changing things and testing different set-up every day. We'll probably make some more changes for tomorrow and see how that improves my feeling and we'll see after that what sticks to the wall."
A battle rages between Hart, Teo Kabakchiev and Michael Walkner in P4-through-P6 respectively. The trio are close on combined times with Teo and Michael 14 seconds apart and heading into the final day with each other to beat first and foremost.
Other riders of note in the results sheets include Wade Young who was allowed to continue in the race and finished the day P7, although he is certainly out of the reckoning after his Sherco's starter motor problems yesterday.
Graham Jarvis was in struggle town today too, dropping over 30 minutes on the lead riders after blowing a lot of time in one of the streams just before service. Eventually finishing P10, there will be no podium at Xross this year for the old dog.
Tough times for Ash Brightmore had a head-on with a Hobby rider going the wrong way. Nothing major injured (luckily) but sadly Ash is out the race.
Xross Hard Enduro Rally Pro class day 2 results (top 25):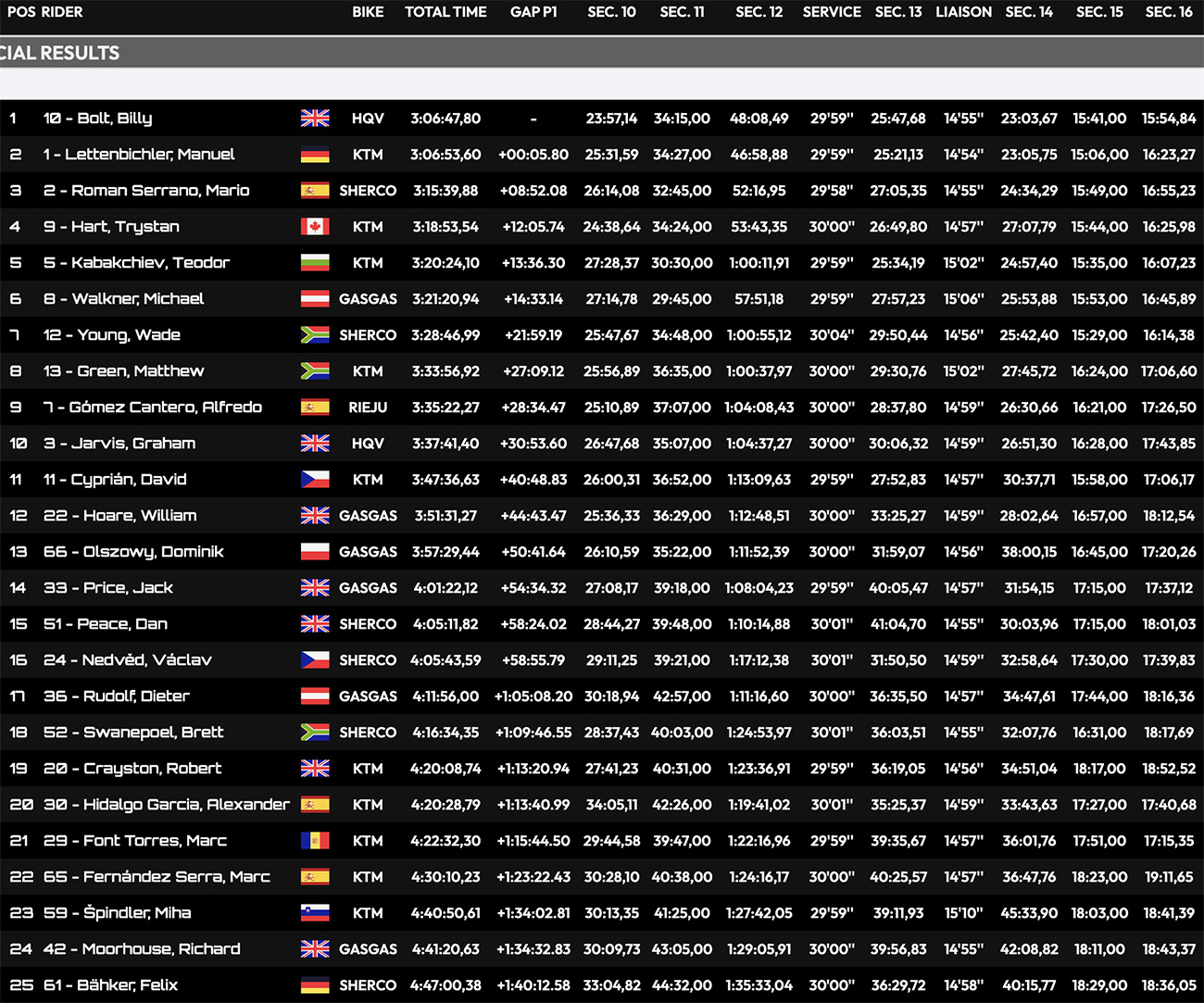 Xross Hard Enduro Rally Pro classification after day 2: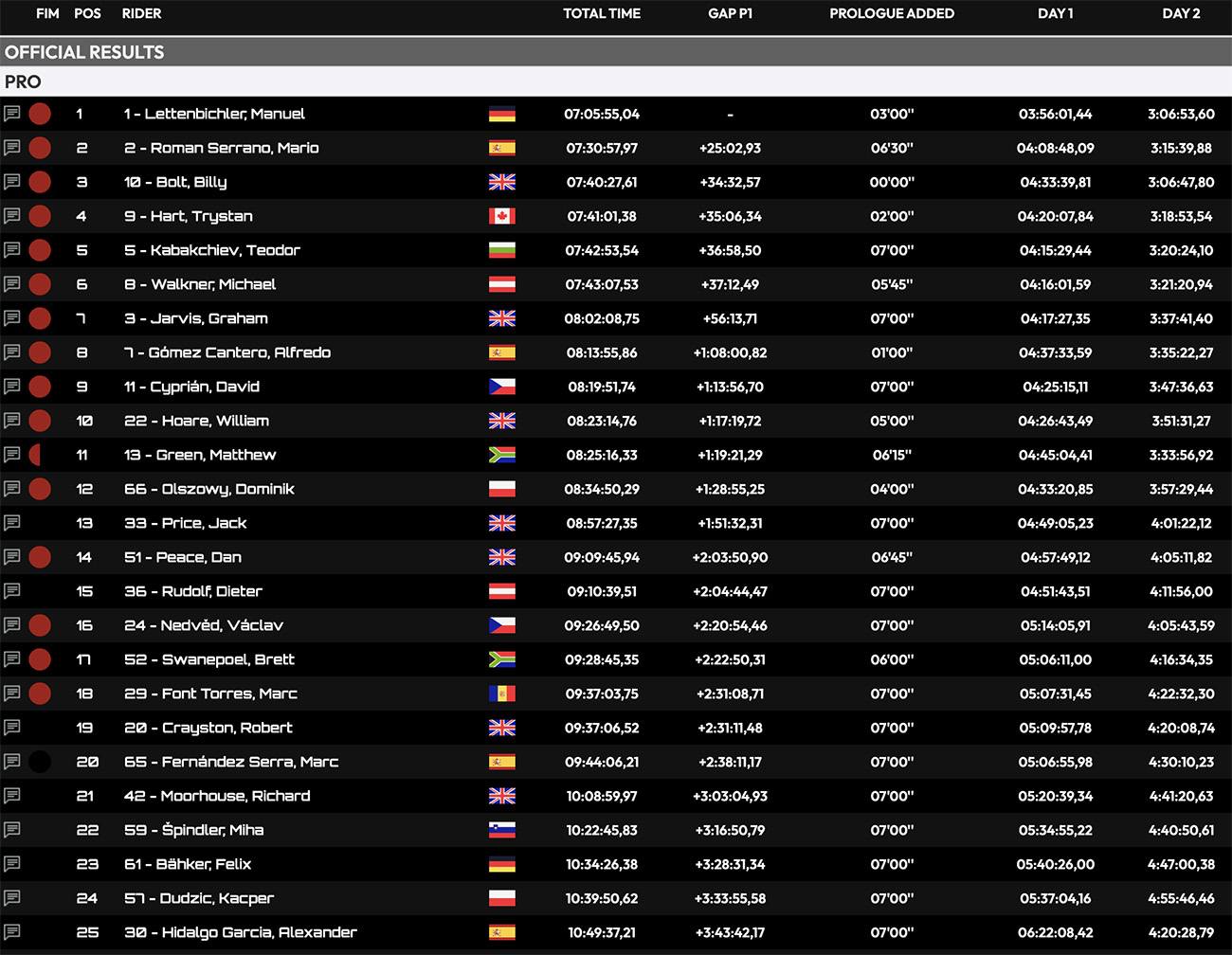 Xross Hard Enduro Rally Expert classification after day 2 (top 10):

Xross Hard Enduro Rally Hobby classification after day 2 (top 10):

Xross Hard Enduro Rally Amateur classification after day 2 (top 10):

Photo Credit: Future7Media | Andrea Belluschi