It's Erzberg week – The Iron Giant is calling
Round two of the 2023 FIM Hard Enduro World Championship heads to Austria for the Red Bull Erzbergrodeo this week – 1500 riders behind Lettenbichler, Bolt, Walker, Jarvis, Hart, Roman, Young...who wants this the most?
"The World's hardest one-day Extreme Enduro" is so much more than just one day's racing. From the atmosphere inside the giant Iron ore mine in Eisenerz, the raid on the town itself, the multiple competitions including the Rocket Ride uphill shootouts, and of course the prologue runs leading to the main event on Sunday.
The 2022 winner, reigning world champion and convincing victor at opening HEWC round of 2023 in Serbia, Mani Lettenbichler is easily the favourite here. The list of people behind him who want to get to that finishers podium ahead of him on Sunday afternoon is a long one.
Billy Bolt, Mario Roman, Jonny Walker, Trystan Hart, Wade Young, Graham Jarvis, Cody Webb, Teo Kabakchiev…who wants this the most?
Mani's formidable fitness has proved key in his most impressive wins in recent years but in this race things can easily go wrong and historically the biggest of leads have been eaten up across the three-plus hours of madness for the few who reach the finish.
Event schedule
Thursday: MITAS Rocket Ride begins the show on Thursday – 300 riders shootout, or rather up one of the quarry hills.
Friday: qualifying begins for 1,500 riders who get two attempts (one Friday, one Saturday) at the Iron Road Prologue. The high speed run goes from the bottom to the top of the quarry, sifting 1500 to 500 fastest riders qualifying for the Red Bull Erzbergrodeo main event. Getting inside the top 50 means an all-important (though not crucial) front row start.
Sunday: Starting at midday, waves of 50 riders have the task of ticking off 23 check points scattered around the Iron Giant mountain – as the organisers say, that task "is not to be underestimated."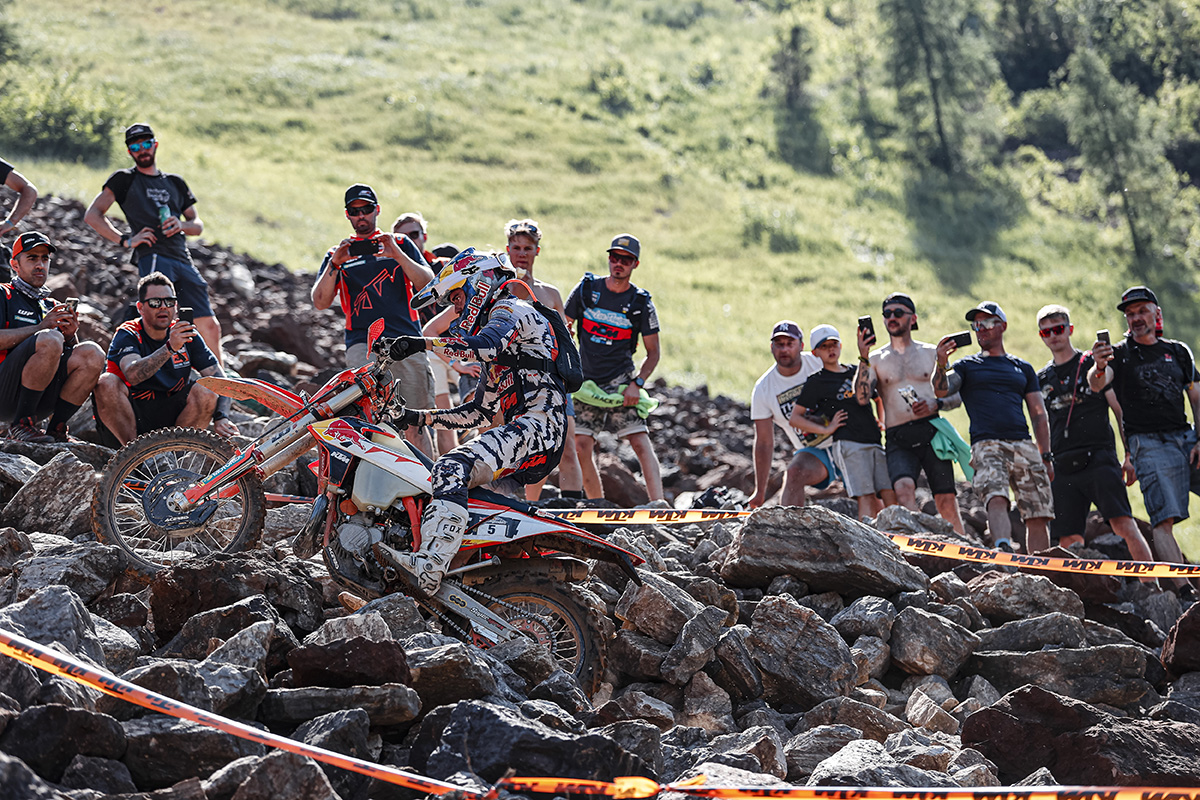 Mani Lettenbichler looking for back-to-back wins
Hoping to repeat his winning result from the FIM Hard Enduro World Championship opener in Serbia, as well as securing what would be back-to-back Red Bull Erzbergrodeo wins, Manuel Lettenbichler starts as the rider to beat.
In 2022 it was Spain's Mario Roman (Sherco) and Canadian Trystan Hart (KTM) that rounded out the podium alongside Lettenbichler, both riders will be 100% focused on returning to the podium again this year. Billy Bolt (Husqvarna) arrives looking to claw back championship points following his mixed week at round on in Serbia, not to mention tick this race off his wins list.
Third at the Xross Hard Enduro Rally in Serbia, Todor Kabakchiev (KTM) will be looking to keep his good form rolling and trying to take the fight to Lettenbichler, Roman, Hart, and Bolt. And with Michael Walkner (GASGAS), Alfredo Gomez (Rieju), David Cyprian (KTM), Wade Young (Sherco), Taddy Blazusiak (GASGAS) and more, all will be looking to reach the finish with as good a result as possible.
In addition, Jonny Walker (Beta) returns to the FIM Hard Enduro World Championship at Red Bull Erzbergrodeo. A former event winner who knows exactly what it takes to stand on the top step of the podium.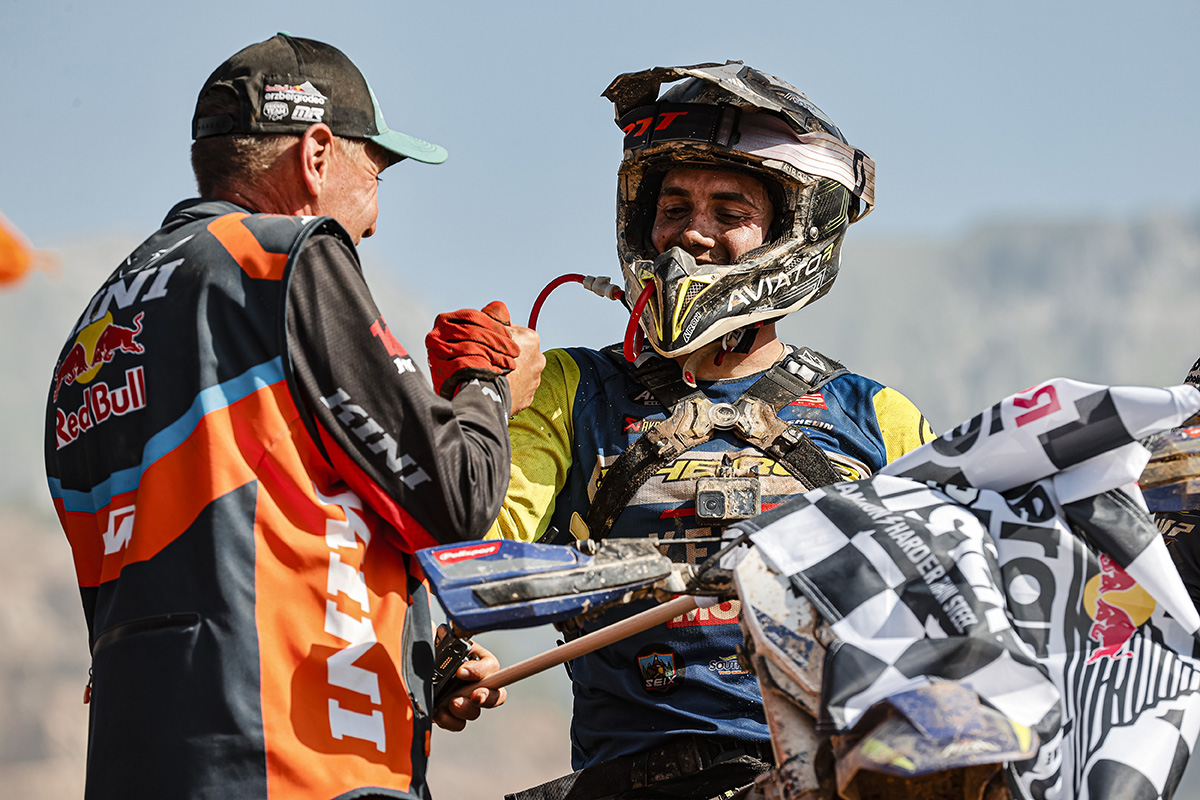 Add in the mix EnduroGP World Champion Andrea Verona who is taking on the event as a bucket list ride rather than with intentions of challenging. Read more about that here: Andrea Verona to race Erzbergrodeo – "I'm going to be pushing my bike up almost every hill"
Red Bull KTM's Trystan Hart is competing in the full FIM Hard Enduro series and now knows what the podium feels like after 2022. Fellow North American's Cody Webb (Sherco) and Colton Haaker (Husqvarna) and did we hear '22 prologue winner Kailub Russell is back for another go?
And then there's Graham Jarvis. Winner of the event five times, the organisers courted controversy in '22 when they disqualified him for outside assistance at the start, despite the fact he went from last place to knock on a top 10 result. The old dog isn't getting any younger but with age comes wisdom and all that.
In the FIM Hard Enduro Junior World Championship supported by KLIM, class winner at round one in Serbia and reigning champ Matty Green is the rider to watch as he aims for a top 10 overall result. Matty has fellow junior competitors Mitch Brightmore, Robert Crayston, Marc Fernandez, and Richard Moorhouse for company.
Sandra Gomez leads the Female riders trying to conquer the Iron Giant and aiming ot be the first to claim a coveted finishers flag.
The 2023 Red Bull Erzbergrodeo starts on Thursday, June 8 with the main race starting at 12.00 mid-day on Sunday, June 11.
Photo Credit: Future7Media | Andrea Belluschi