Results feed: BR2 Enduro Solsona – Jonny Walker tops Friday Super Test
Results from the BR2 Enduro Solsona Super Test at round seven of the World Enduro Super Series – Jonny Walker tops the test ahead of Christophe Nambotin and Nathan Watson.

The seventh round of WESS, the BR2 Enduro Solsona, kicked off with tonight's Super Test where the fast track suited Jonny Walker perfectly as he takes the win ahead of traditional enduro specialists, Christophe Nambotin and Nathan Watson finishing second and third respectively.
BR2 Enduro Solsona Super Test in a nutshell:
Jonny Walker showed he's on the gas for the second half of the WESS season with a first place finish in the Super Test: "I'm supper happy with it, made a good start and managed to take the win. I'm really looking forward to ride tomorrow's tests," said Jonny at the finish line.
Christophe Nambotin made his first WESS appearance of the season and a return to a happy hunting ground on the Bassella course (he's a previous winner here), with second place.
Third place went to Nathan Watson, racing his third weekend on the bounce after MXoN and WESS round 6 at Hawkstone Park.
Racing on home soil, 2019 Enduro Open World Cup 2 Stroke vice champion, Benet Subarroca, finished fourth among the WESS regulars.
Taddy Blazusiak finished fifth in front of Jaume Betriu who's last WESS appearance was in 2018 at Hawkstone Park.
It was not an ideal start to the weekend for Manuel Lettenbichler and Josep Garcia who finish 14th and 15th respectively.
Classic enduro and fast tracks are clearly #notJarvisstyle for Graham Jarvis, crosses the finish line 39th today, top 10 WESS contender Pol Tarres finished 35th.
BR2 Solsona Enduro Super Test results: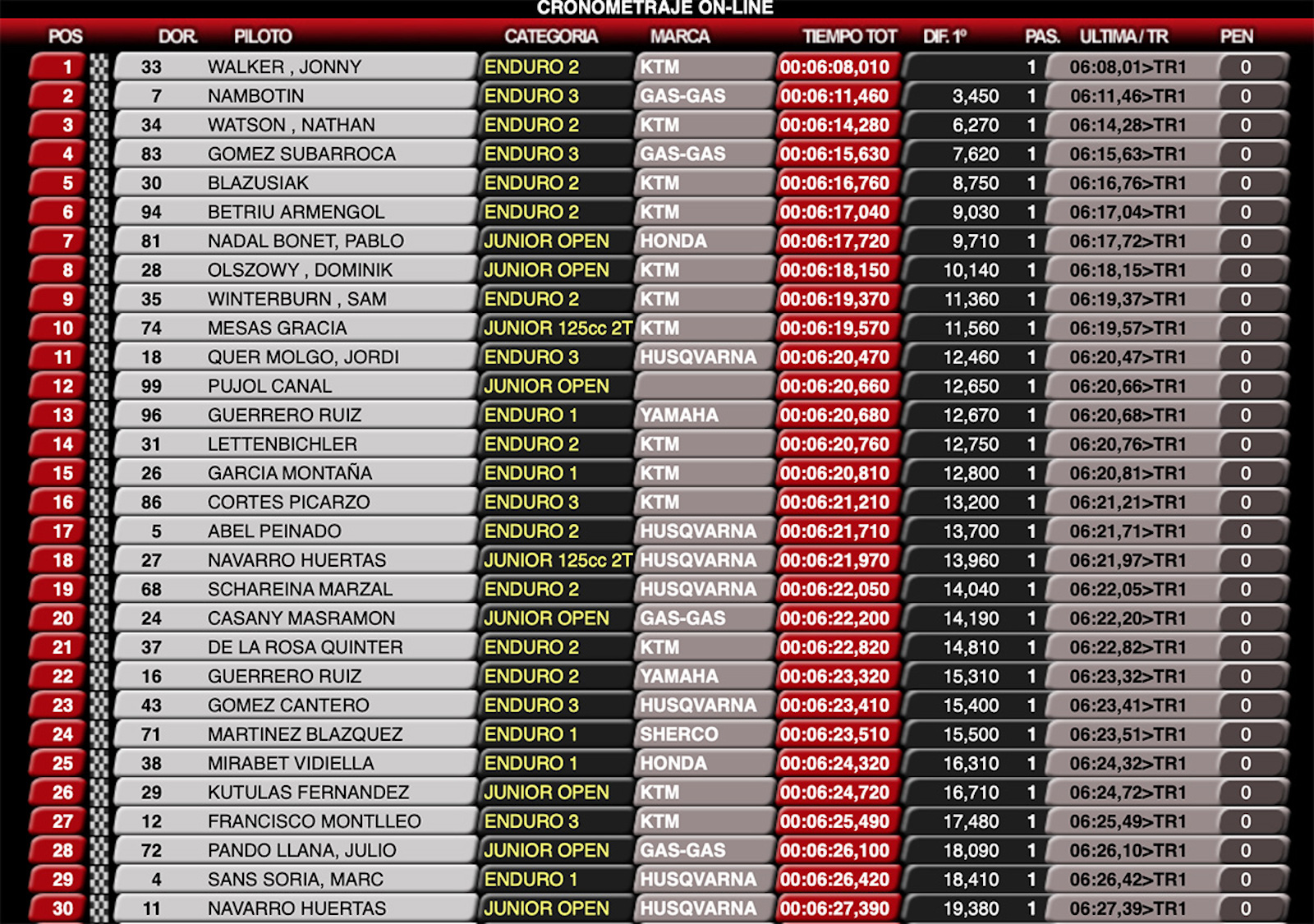 Saturday and Sunday's main races will see the riders going out on a course that loops around Solsona and nearby Bassella off road area with three special tests (Enduro, Cross and Extreme) each lap before ending back with the Supertest. The riders will complete two laps on Saturday and three on Sunday.
The Vintage Enduro riders will only race on Saturday as well as the non-competitive Fan class, which takes on the same track as the WESS rider but without facing the special tests.
Solsona event timings:
Saturday, 5 October:
Day 1 Start: 8.30hrs
Day 1 Super Test: 16.00hrs
Day 1 Podium: 20.00
Sunday, 6 October:
Day 2 Start: 8.30hrs
Day 2 Super Test: 16.00hrs
Day 3 Podium: 19.30
Photo Credit: Future7Media