ISDE 2022: Day 4 Notebook – Enduro hurts and how long to change a fork seal?
Enduro21's day four notebook direct from the International Six Days of Enduro paddock in France finds two brutal truths of racing enduro: sometimes it hurts and sometimes you gotta be quick on the spanners.
There are many things about this race which make it hard: length of days, long tests, day after relentless day. What a difference a day makes and how easy is it for everything to change? There are a few riders who can tell you all about that tonight.
From leading the world to not knowing what day it is
Test one today was one of the best, a fast blast through some grass fields, some switchback corners through woods and a section in the middle which dropped steeply down in to a tight valley and back up the other side.
It looked more like extreme enduro before heading back up and around to some more grass and awesome step-up jump past some howling French fans.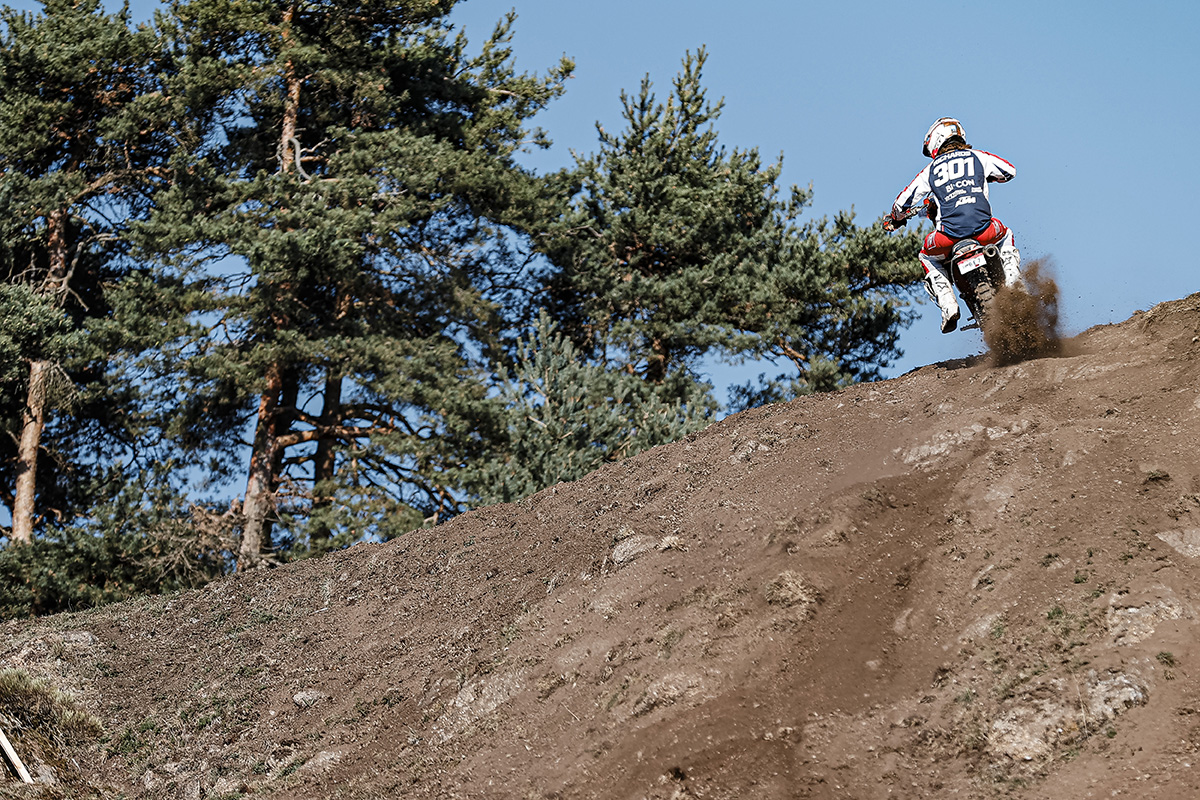 Sadly for Brandy Richards this test was the beginning of the end of her reign as the standout female rider in this year's ISDE. She got pitched off her KTM dropping down a steep and choppy descent and hit the deck hard.
It was tough to witness to be honest as she got trapped under the bike but Brandy was so quickly back on her bike, it looked like she'd got away with it. Except she hadn't and back at the test finish she was clearly in pain.
"She crashed badly in the first test on a downhill and hit her head pretty hard." Explains the USA's Trophy Team Manager, Antii Kallonen. "She continued but she basically kept blacking out and fell off in the transfer where some of the other girls had to help her.
"She did the next test or two but crashed a couple of times, and the girls were helping her and waiting for her, but I think it was obvious she could not continue. When you do not know what day of the week it is it is not safe."
The USA and Spain also, two of last year's ISDE WWT podium teams, are now out the competition while the other one, Great Britain, sits pretty and 11m:30s ahead.
How long does it take to change a fork seal?
How long does it take you to change a fork seal? Half an hour? Or a lot longer because you have to take it to your nearest dealer or suspension specialist to get the work done?
At the ISDE everything has to happen at break-neck speed. Riders basically get 10 minutes in the morning after exiting parc ferme and 15 in the evening before parking the bike up for the night. Any other maintenance has to come out of your check times and that can be risky.
The paddock each night is a busy as hell pace then where most people are switching new tyres in and/or doing essential parts they have broken.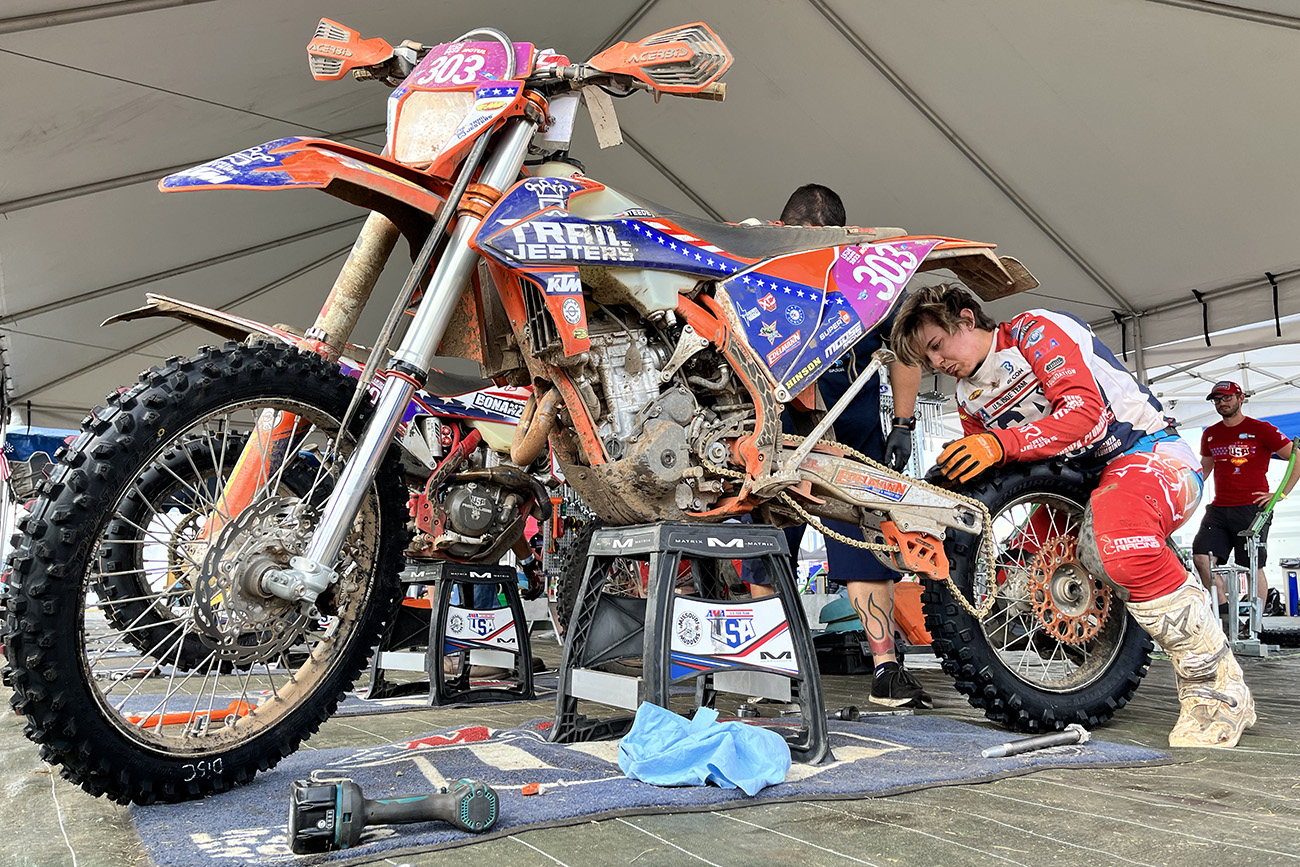 Tonight, USA's Korie Steede not only had to deal with going out of the team competition (see above) but also a leaking fork seal.
The rules state you have to work on your own bike, basically no-one else can touch it except to clean dirt off the plastics or number plate and put fuel in. But a fork seal is a tough one and they allow service crews to do that job, so long as you remove the fork leg and get it to them.
It's why the suspension technicians are here behind the KTM truck or USA paddock and service teams like WP Eric Auge are ready and waiting.
How long does it take? Once Korie had taken the fork leg out and a runner took the fork leg to the WP van, it took 3m:14s (give or take) for him to switch the left fork seal and check the oil level. In fact it was done and back before she could change a tyre. Impressive.
Note: the image shows a spare fork leg Korie fitted while the real one was in the WP truck. The reason for that is to be safe. If the WP guy finds a problem or doesn't get it back, Korie can still ride the bike into parc ferme as it stands (and put the fixed fork leg back in during her 10 minutes tomorrow morning).
In the end Korie took the fork leg out, put the dummy one in, cleaned the oil out the caliper, switched new brake pads, changed a rear tyre, replaced the fixed XACT fork and all within 15 minutes.
Aussie World Trophy team join the list of retirees
Another rider added to the wounded list today was Aussie World trophy rider Todd Waters who was taken to hospital after ST2 when he smashed his shoulder. Team Australia's seniors join six other World Trophy teams in retirement now: Australia, New Zealand, Poland, Austria, Venuzuela, Portugal and Canada.
Add to that the three Junior teams who went out on day one, plus the three Women's Trophy teams also dropped to the bottom of their time sheets due to people or bike issues.
By contrast, after a tree put a hole in his arm yesterday, Josep Garcia had no trouble stashing the fastest time of all today, he looked in determined mood on the tests and clearly wanted it. "I feel good on the bike today and I gave it my maximum." Josep told Enduro21 in the paddock tonight after he had stiched five form five test wins.
Italian World Trophy teamster Samuele Bernadini meanwhile didn't have such an easy day after hitting a tree square on yesterday. He broke his hand and though he continues, the reigning ISDE Trophy holders slip to third in the classification behind Spain.
Taking different lines
What makes the long hours we put in here during ISDE week, or an EnduroGP or Hard Enduro round for that matter, is watching the best riders in the world doing what they do.
At the ISDE it is one after another rider from around the world giving it their all. EnduroGP, GNCC, AORC, ex-motocross riders and more all throwing shapes. It's awesome and no mistake.
There are different riding techniques going on all over the place and sometimes a different approach to the same problem is presented by the tests. Today the early morning dew on the grass, plus beaten up main line in test one of the day shone a light on how a different line sometimes can help make it smoother and potentially faster.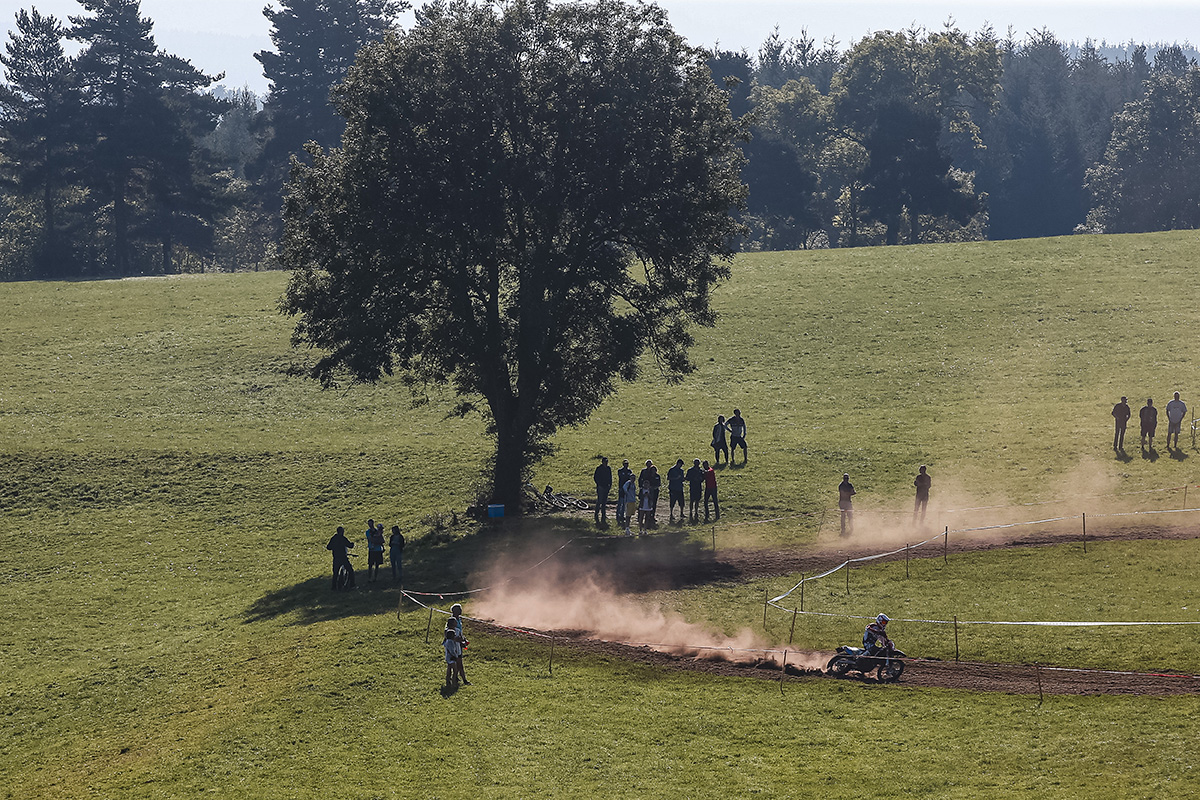 Jaume Betriu, Jamie McCanney and a couple of the French team riders were all on completely different line to everyone else on these flat corners. Basically they were coming in way wider and deeper, turning it and cutting back across the main line and out tighter. It's a technique not unusual on flat grass tests in classic French enduro where there's little or no berm or ruts to hang off.
"Last night we came to the test with the team to walk it and look." Says Betriu. "The first corners were really destroyed on the line so I looked to see where it is possible to make a smoother line and carry more speed with the big bike. Sometimes it is better to look outside and make a new line when the track is so destroyed from so many riders.
"I liked this test a lot and I remember the lines really well so when I arrive I had a good feeling to push a lot even though the grass was wet this morning."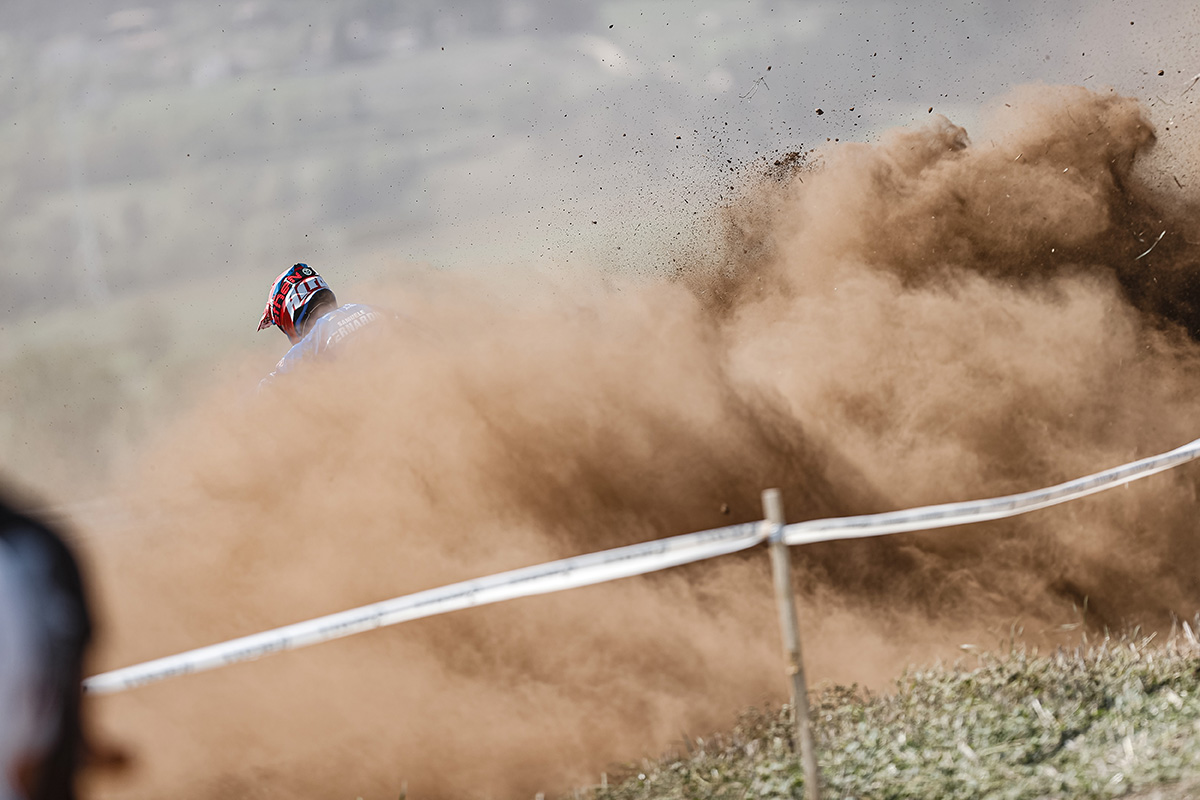 Day five tomorrow sees riders face another fresh set of five tests, with one and five being repeated. Riders will head north east of the paddock here at Le Puy-Lourdes airport.
The twist in the tail could be the weather and some promised technical riding (again). If the rain does come – disclaimer: it was meant to arrive much earlier in the week – it could play a role in the results across the classes ahead of Saturday's final MX tests.
Photo Credit: Future7Media | Andrea Belluschi + Nicki Martinez + Enduro21