Alex Salvini joins Fantic to race 2023 Dakar Rally
The rumours are true, Alex Salvini is joining Fantic Motor on a multi-year deal to develop the motorcycle range and will race the 2023 Dakar Rally alongside Franco Picco in the XEF 450 Rally.
Two factory Fantic XEF 450 Rally bikes will line-up at the start of 2023 Dakar Rally in Saudi Arabia. Vastly experienced Franco Picco, making his 29th Dakar, who has ben responsible for a lot of the Italian manufacturer's rally bike development, will be joined by a rookie, former EnduroGP World Champion Alex Salvini.
As the Dakar entry lists and teams begin to emerge, Fantic have blown their big news early that they will employ the multi-talented Salvini in both the next stage of their bike development and Alex's career.
Fantic say Alex has signed a multi-year agreement for the project that will also involve him in other off-road categories, not just rally, taking on testing and development duties for the Italian manufacturer.
"I'm thrilled to have struck a deal with Fantic." Says Salvini. "The thought of being a brand ambassador and tester of such an important company is very exciting. I'm delighted as well to be involved in an off-road racing project. I've previously taken part in races in various disciplines and the fact that I don't have to race exclusively for victory, but can also contribute to the development of the bikes, is all the more exciting."
After making his official debut at the Andalucia Rally, the final Rally-Raid World Championship round last month, Alex says he wasn't expecting to get an opportunity like this quite so soon. "This is really great for me, it will be a new adventure and I will therefore have to learn and discover how to navigate in the desert and how to ride a Rally bike. I want to start with the aim of reaching the finish line and gaining experience along the way, taking the advice of Franco Picco and the entire Fantic team."
December date for Dakar
Dakar 2023 in Saudi Arabia runs between December 31 and January 15, 2023 and will see see the rookie Salvini join one of the most experienced rally riders on the planet, Franco Picco.
Franco is the 2022 vice-World Rally Raid Champion in the Senior Trophy category having contested the series on the Fantic XEF 450 Rally which they debuted at the '22 Dakar.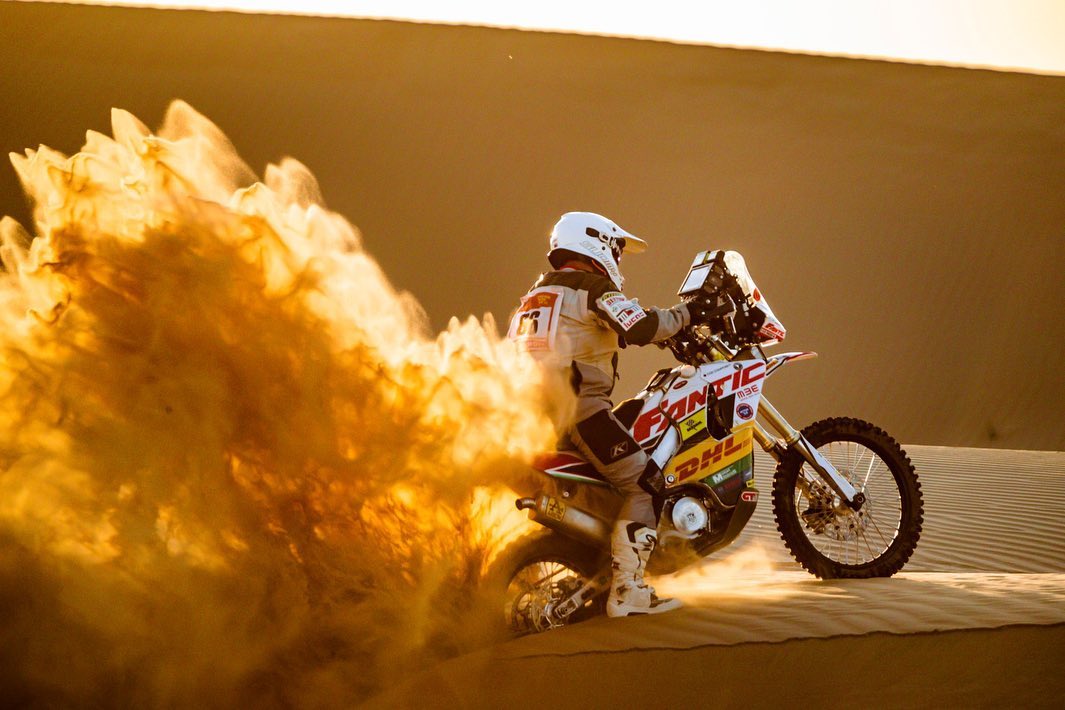 Fantic say the agreement with Alex Salvini will take them "deeper into the Dakarian landscape and beyond". It is certainly proof of Fantic's commitment to develop off-road bikes using experienced riders as racers, ambassadors, and also as testers. It's a big step for Alex but he has an old hand at his side who can surely help hugely on his Dakar debut.
Franco Picco says, "Having a teammate, a motocross and enduro champion like Alex Salvini who takes part in motor rallies, has given me the added impetus to share in the development of the bike and set my sights even higher."