Cross-Country Rallies World Championship: Skyler Howes takes Kazakhstan stage 2 win, Walkner leads overall
Rockstar Energy Husqvarna Factory Racing's Skyler Howes has won stage two of Rally Kazakhstan – his first FIM Cross-Country Rallies World Championship stage win – ahead of Red Bull KTM Racing's Matthias Walkner who takes over the rally lead while Yamaha Racing's Andrew Short finishes third.
Howes was the third rider to enter stage two and chased down the two riders ahead of him, stage one winner Ross Branch and Matthias Walkner. The fast 280km timed special took Skyler just less than two hours and 40 minutes to reach the finish with a one-minute-and-ten-second advantage which in turn elevates him to second overall in the standings. Howes will now be the first rider to face the second half of the event's marathon stage on day three tomorrow.
"That was a fast stage today – really, really fast." Said Howes at the stage finish. "Before the refuelling I had a couple of scary moments in some rain ruts, but after that I was able to gather myself together and put the hammer back down.
"I actually had a lot of fun racing through the fast trails, and everything went good – the navigation went ok, I only made a few tiny mistakes like going past a corner too far, but otherwise, no major errors at all. Now I must lead out tomorrow, so we'll see how that goes, but otherwise I'm having a lot of fun."
Walkner takes the lead
Stage two of the rally was the first half of the event's marathon stage. With very little in the way of liaison, riders entered the day's 280km timed special that led them east from Aktau towards the temporary bivouac at Kenderly, on the Caspian Sea coast.
Starting with open desert, the route turned more technical on the run back down to the finish and proved to be a fast one.
No outside assistance allowed on this first marathon stage, and with only 30 minutes to carry out any needed maintenance, riders also had to preserve their bikes and tyres in order to arrive safely and to be ready for Friday's stage three.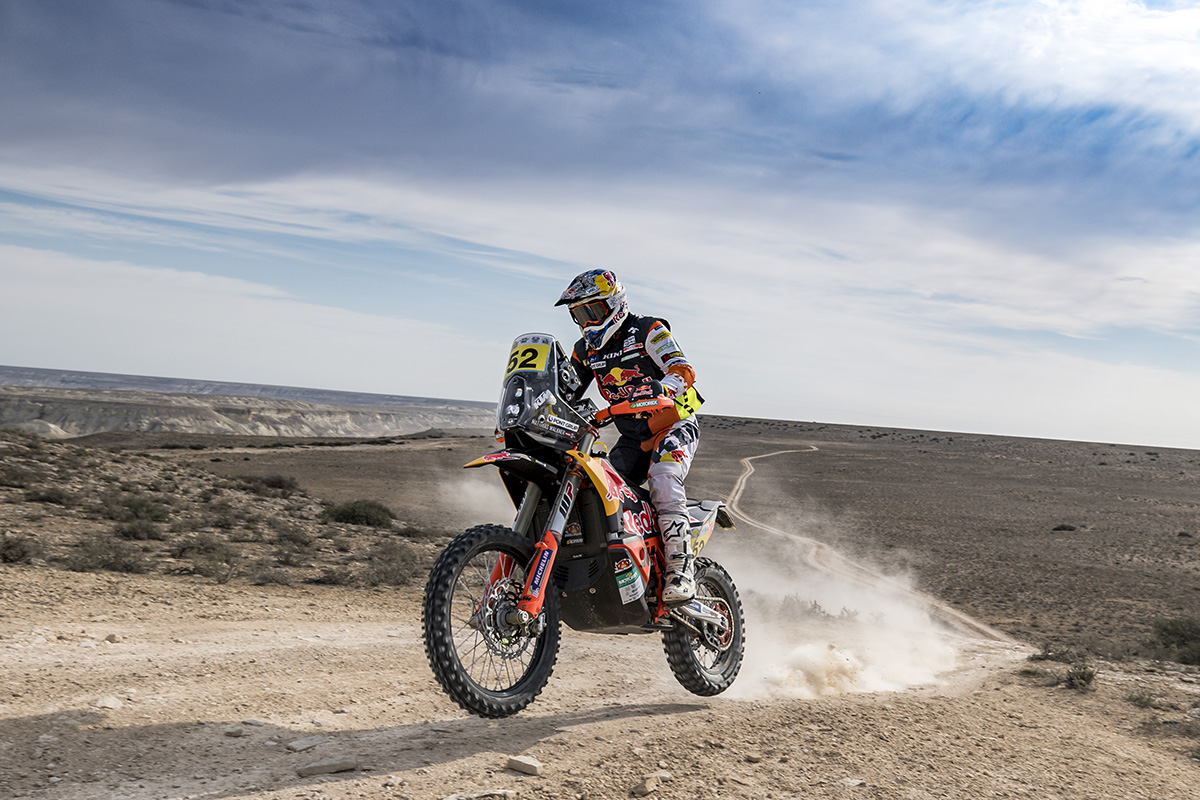 Showing impressive consistency despite leading the stage today along with Branch, Matthias Walkner now sits at the top of the provisional standings.
"It was a beautiful stage to race, ending up riding along close to the sea." Said the new provisional rally leader. "I started off second, and although setting off early is often a disadvantage, I was able to really focus on my navigation today and thankfully it wasn't too tricky.
"I'm feeling extremely comfortable on the bike at the moment, which is great for my confidence, and it meant I was able to find a really good pace for the stage. Again, I finished second, which doesn't give me the best start position for tomorrow, but if I can do the same again and not make any mistakes, I hopefully won't lose much time."
Yamaha's swarm top five
Andrew Short faired best of the Yamaha racing riders on stage two, placing third overall. Stage one winner Ross Branch was close behind in fourth with Adrien Van Beveren rounding out the top five and maintaining their top five ranking in the overall provisional classification.
"Stage two was really fast." Explained Short. "The navigation was a bit easier than expected and it was pretty much wide open all day. The turns were fast as well so the stage wasn't quite as interesting as yesterday, but I'm really happy to place third and complete the first part of the marathon stage. It's good to be in such a great position overall this early in the rally, it was an awesome day for Yamaha."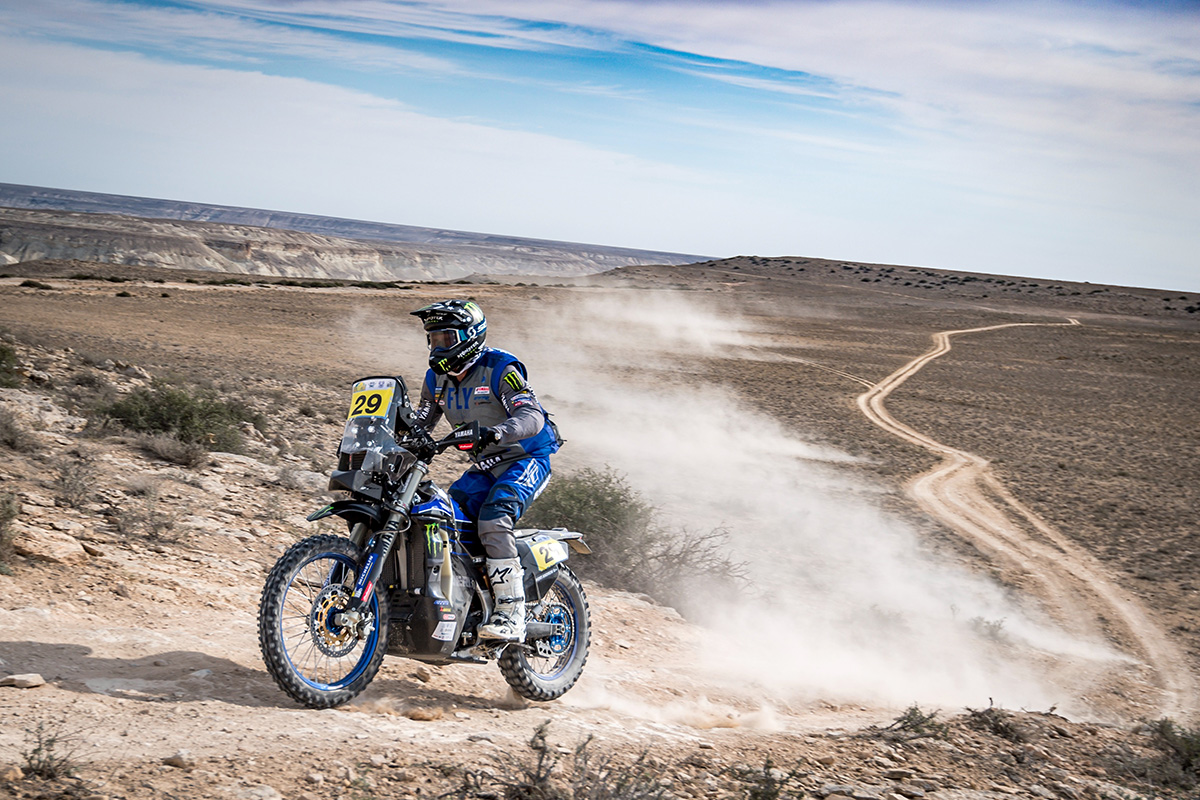 Rally Kazakhstan continues with the long 533.57km stage three. Riders will face a 331.83km timed special – the longest of the event – and returning to the bivouac, and their teams at Aktau after this two-day 'marathon' stint without assistance.
2021 Rally Kazakhstan – stage two results: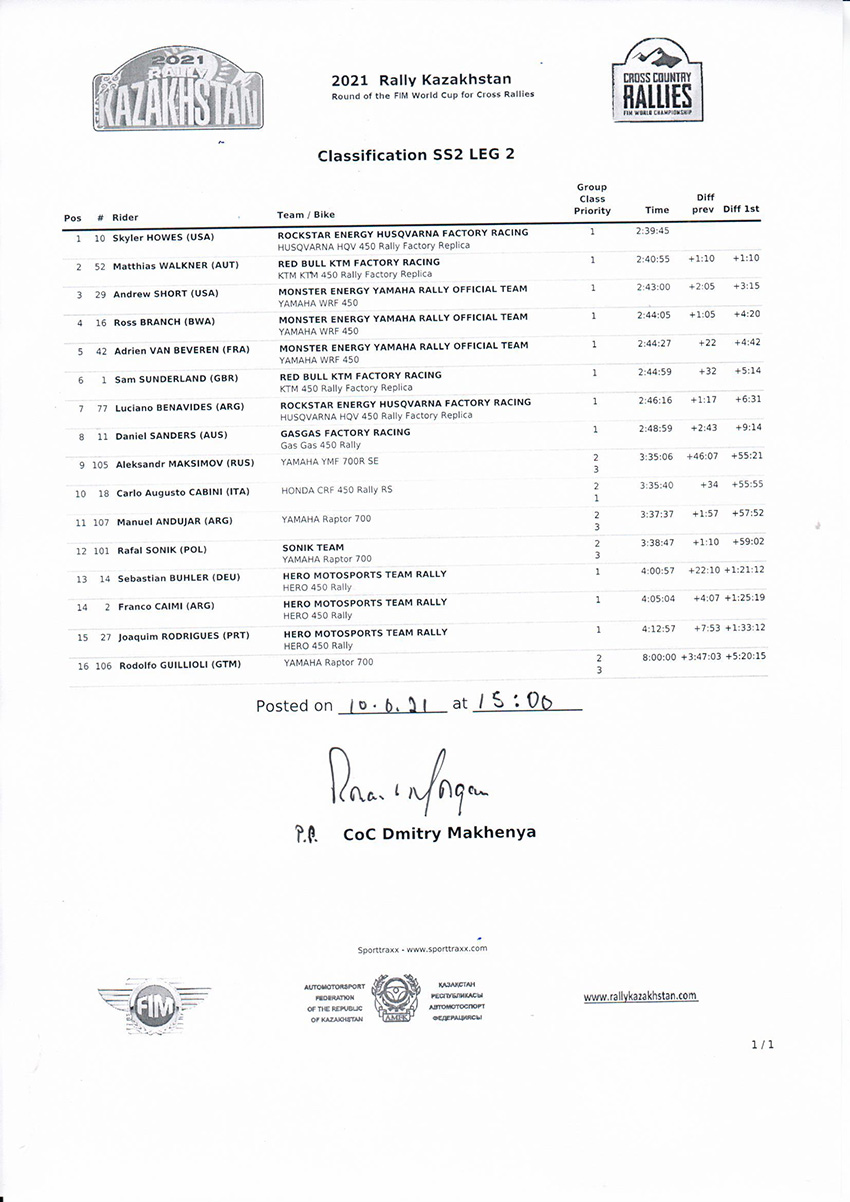 2021 Rally Kazakhstan – general classification after stage two of five: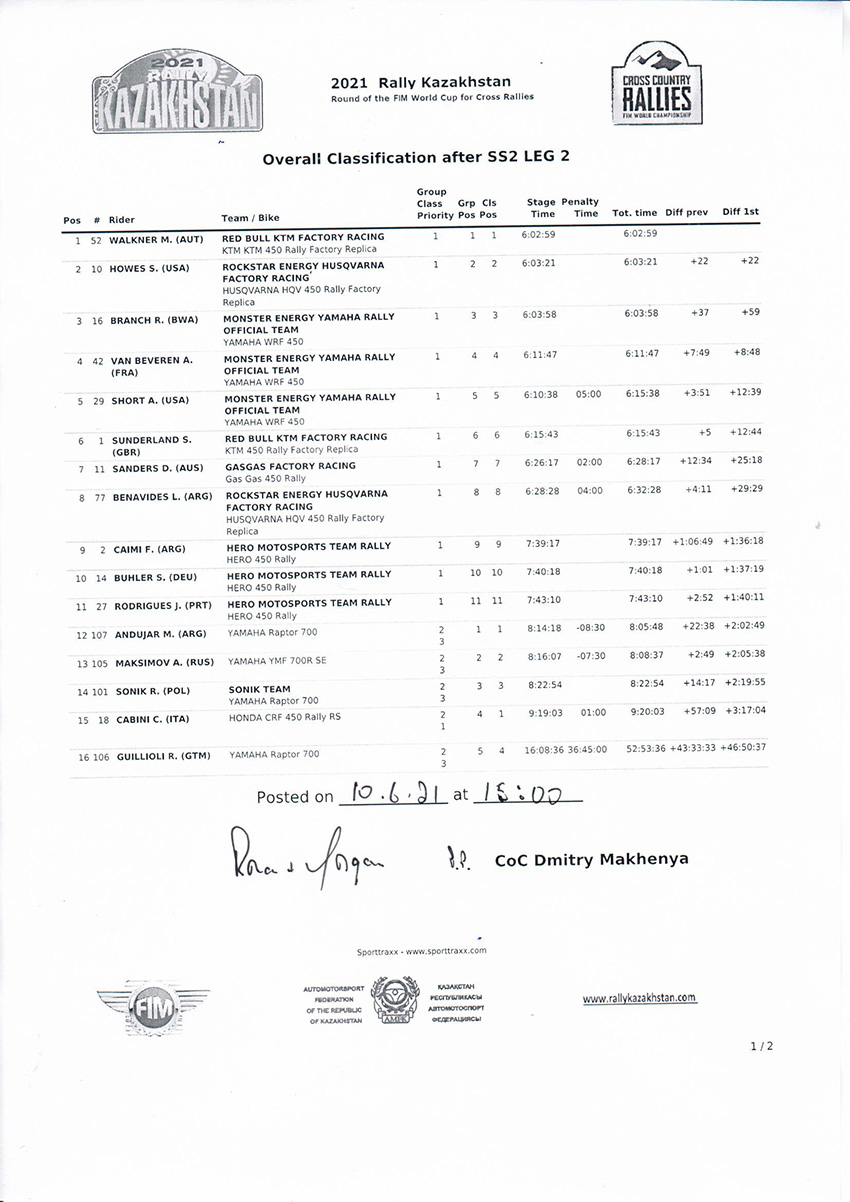 Photo Credit: Rally Zone