Dakar Rally 2021 news & results: Brabec heads Honda 1-2-3 on stage 10 – leader Cornejo crashes out
Ricky Brabec pulls the pin on stage 10 of the 2021 Dakar rally to jump right back into contention and head home a Honda one-two-three result – meanwhile his teammate and rally leader Jose Ignacio Cornejo goes out.
The relatively easy (!) 342 kilometres on the pegs for the riders on today's 10th Dakar Rally stage saw Ricky Brabec blitz back into contention with a finish three minutes ahead of teammate Joan Barreda.
Five days ago Brabec was 25 minutes down in 14th place. He's since posted 13-8-6-4 overall scorecards and is now just 51 seconds behind first place. That is some run.
Kevin Benavides, third today, now takes back control of the overall standings just ahead of Brabec.
Yet another twist in the plot sees the rally leader, HRC's Jose Ignacio Cornejo, added to the list of retirements. Despite finishing the stage in 11th place and sitting third overall, 1:07s down on his teammate, a crash just under 100km from the finish saw the Chilean hit his head hard and he has withdrawn from the race on safety grounds and medical advice.
Sam Sunderland is the sole remaining Red Bull KTM rider in with a shout of winning but lost 12 minutes on Brabec today to lie 10 minutes behind the leaders. With Cornejo out, Sam jumps back into third overall and his eighth-place today means P8 start tomorrow morning on the longest stage of the rally which features plenty of his favoured sandy terrain in the dunes.
Second on the day, Barreda will move to fourth overall and will also aim for a good day in the sand tomorrow but, like Brabec, will have a tough time setting a fast pace while opening the piste.
Fourth today, and best-placed KTM no less, was BAS Racing team's Skyler Howes who moves to fifth overall. He has rookie Daniel Sanders challenging in the overall times for that P5 spot.
The 2021 Dakar Rally could hardly be better poised entering the penultimate day tomorrow. Riders have a very short liaison of 46km before the longest special of the rally at just over 500km. A lot of it will be dunes which suits the south Americans, plus sand specialists like Sunderland, but it won't favour the riders leading the way. Today's top three have a long, hard stage 11 and what could be a decisive day for the podium at the very least.
2021 Dakar Rally Stage 10 results: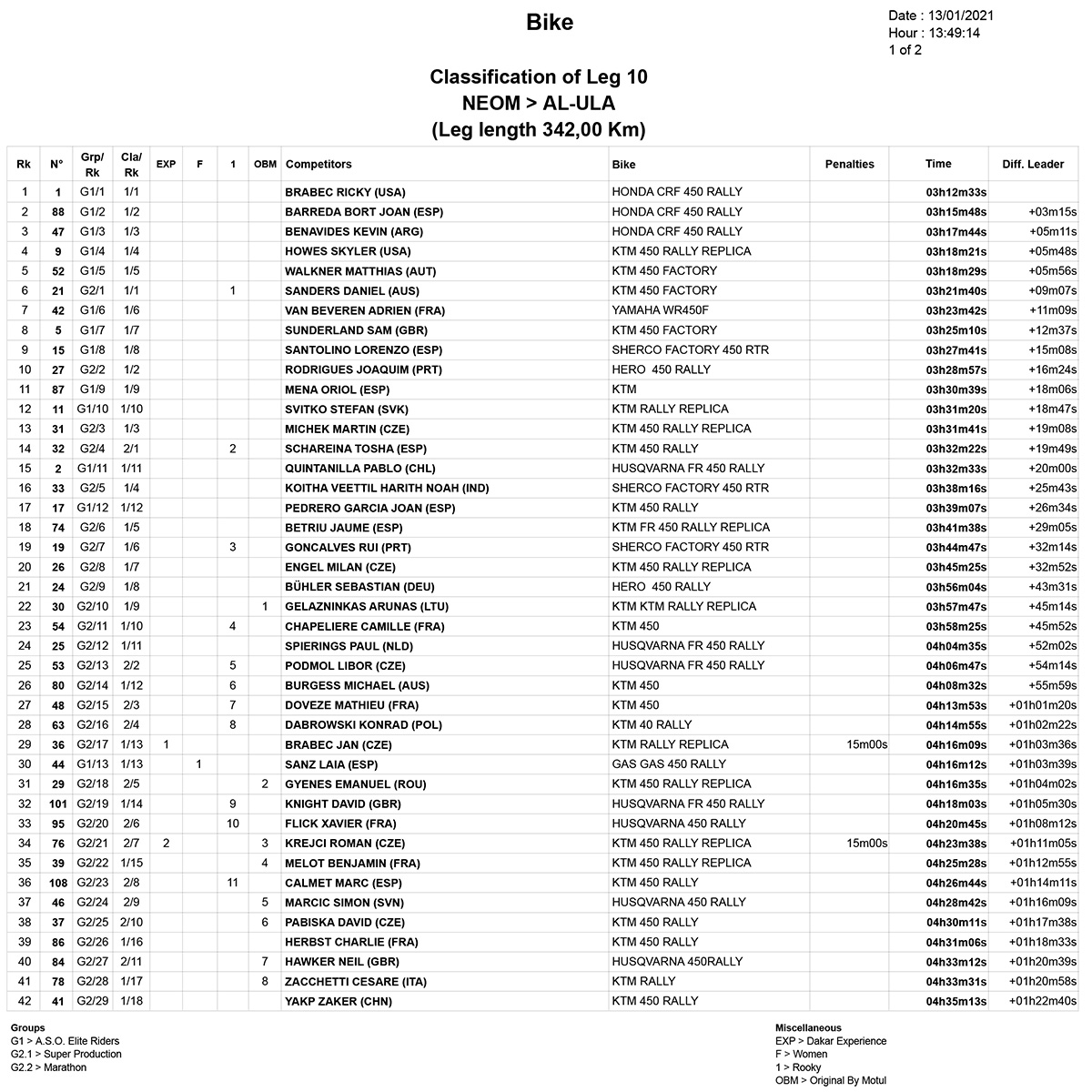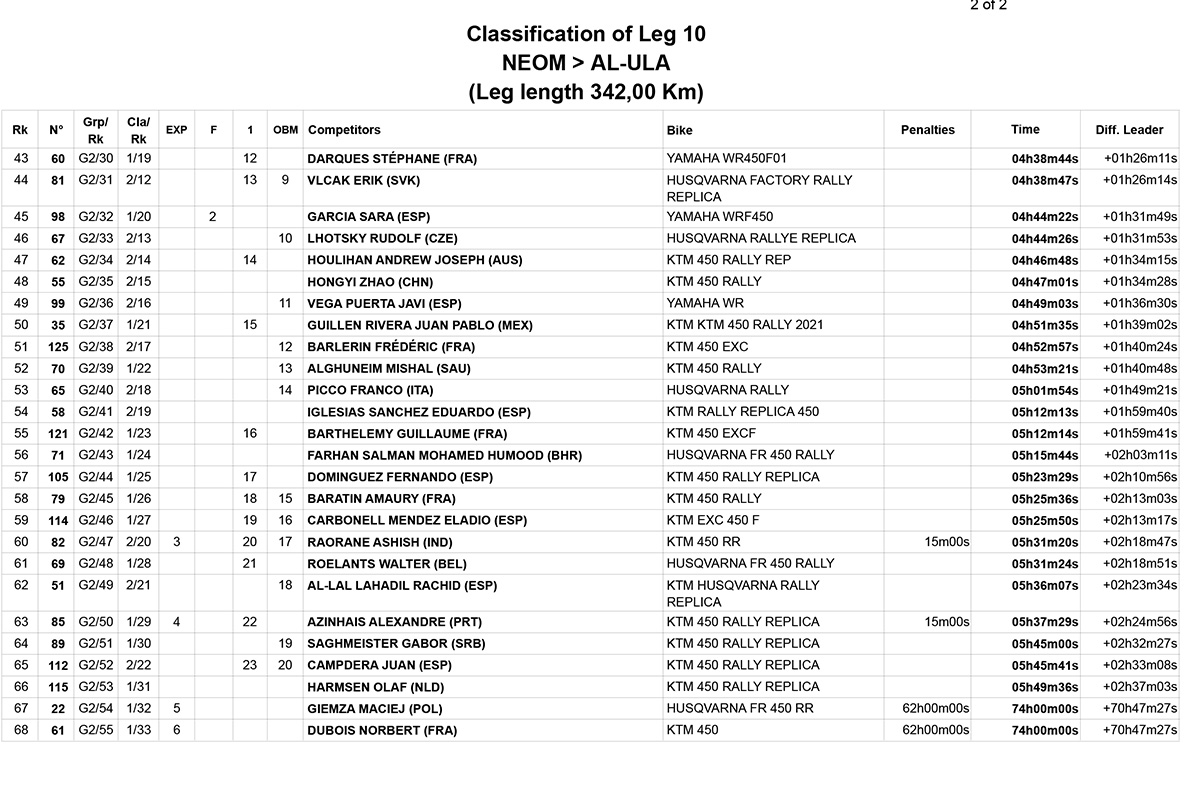 Fourth on the day and the best-placed non-factory bike on the BAS Racing KTM, Skyler Howes moves to fifth overall (next best privateer is Stefan Svitko in P10)…
https://www.facebook.com/dakar/videos/409648060286702
It was a good day for…see above, Skyler Howes. Make no mistake the BAS Dakar KTM Racing Team is a professional squad but for a couple of decades now we have seen nothing Red Bull KTM's dominating this race. To be best placed Austrian-built bike, orange, white or red, on stages this late in the Dakar is, well, unbelievable. Credit to the team but a round of applause for Skyler.
It was a bad day for…Nacho Cornejo. It was almost via the back door that Jose Ignacio Cornejo arrived at the top of the time sheets in the second week. Yesterday he went 11 minutes clear as Toby Price, his then nearest challenger, crashed out. The Chilean has had an immense 2021 Dakar and was widely considered one of the best out there for navigating and that skill proved incredibly important this Dakar – along with being like a Roadrunner in the desert. Get well soon to all who have gone out injured.
A.O.B.
The Monster Energy Honda Racing Team have a problem. Which rider do they want to win the 2021 Dakar? Surely as eggs are eggs Kevin Benavides, Ricky Brabec and potentially Joan Barreda all desperately want this.
"We all know we all wanna win. Winning is the best thing there is in life." Said Brabec today before adding, "I don't think there will be any team orders. We'll see after tomorrow."
Most obviously Honda will want three riders on the podium at the finish, that has never happened and in so many years of Austrian bikes dominating it would be one hell of an achievement. The team's priority will be to win first and see that podium result second.
BTW, we happily eat our words. During week one it looked incredibly unlikely Ricky could get even close to a podium let alone be in contention to win. Humble pie for dinner tonight for this journalist.
2021 Dakar Rally overall motorcycle standings (after stage 10):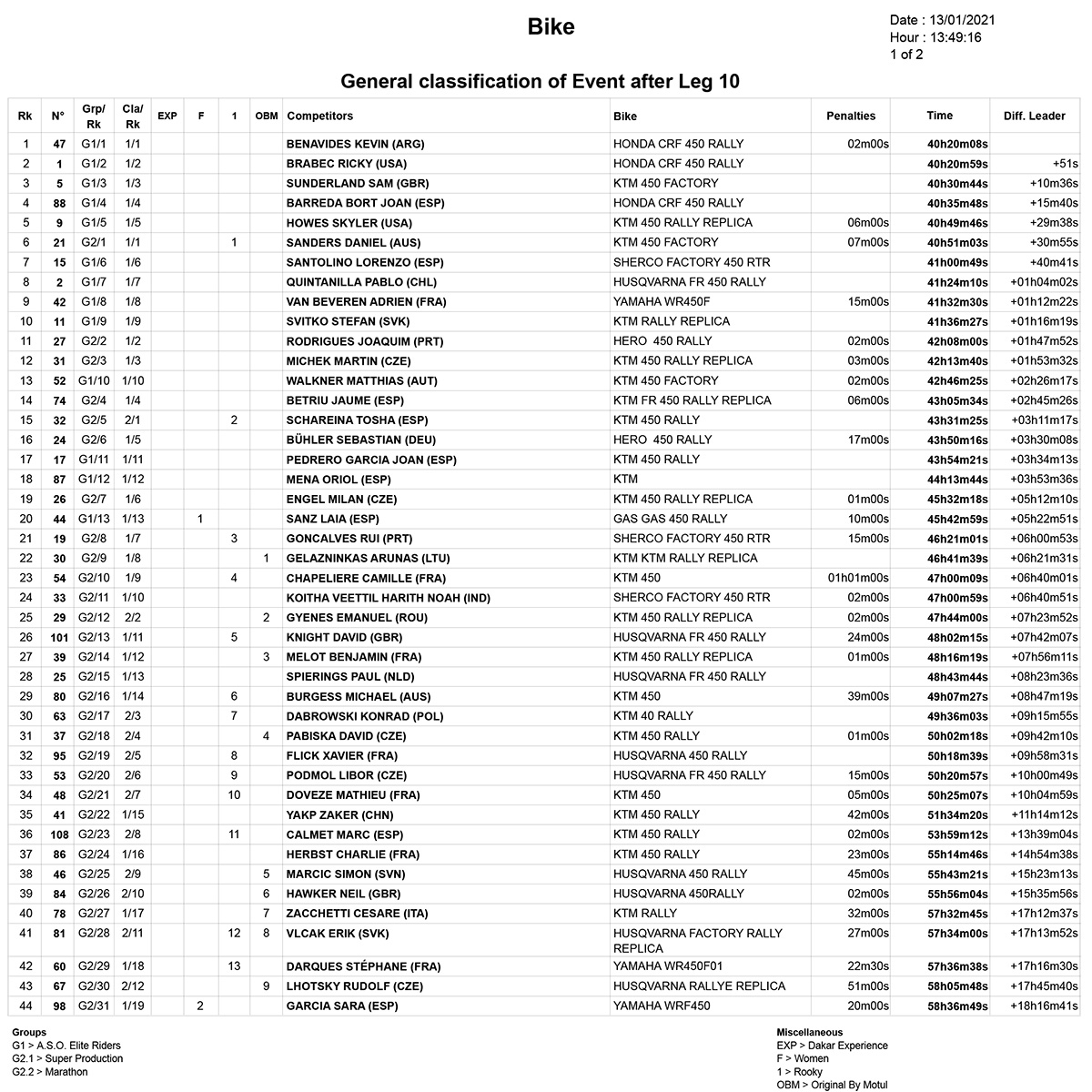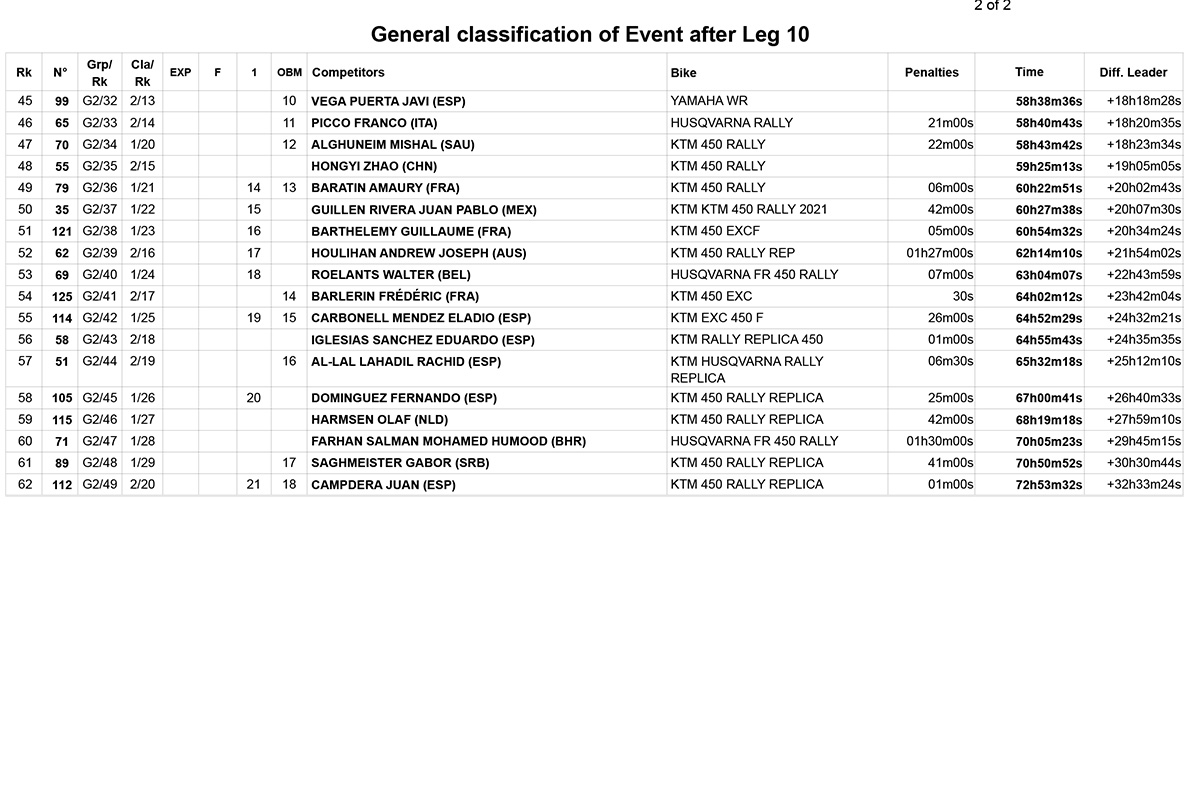 Photo Credit: Rally Zone