First look: Monster Energy Honda Team for Dakar Rally 2023
Monster Energy Honda Rally has officially launched their rider team ahead of the 2023 Dakar Rally – Ricky Brabec, Adrien Van Beveren, Pablo Quintanilla and José Ignacio Cornejo show off their CRF450 Rally machines all-set for Saudi Arabia.
With the FIM Cross Country Rallies World Championship season concluded and many months of hard work, testing and training the Honda CRF 450 Rally across many different terrains across the earth, the HRC Rally Team say they are ready for Dakar '23.
This is the first look at the official four-rider line-up and bikes heading to Saudi for the Dakar which this year starts on December 31 and runs for 14 days.
The team rider line-up brings experience by the bucketload with stage winners, podium finishers and one overall Dakar winner in Ricky Brabec. N.B. long-standing HRC rider Joan Barreda will be at the Dakar, as an officially supported by Honda but no longer a factory rider as such.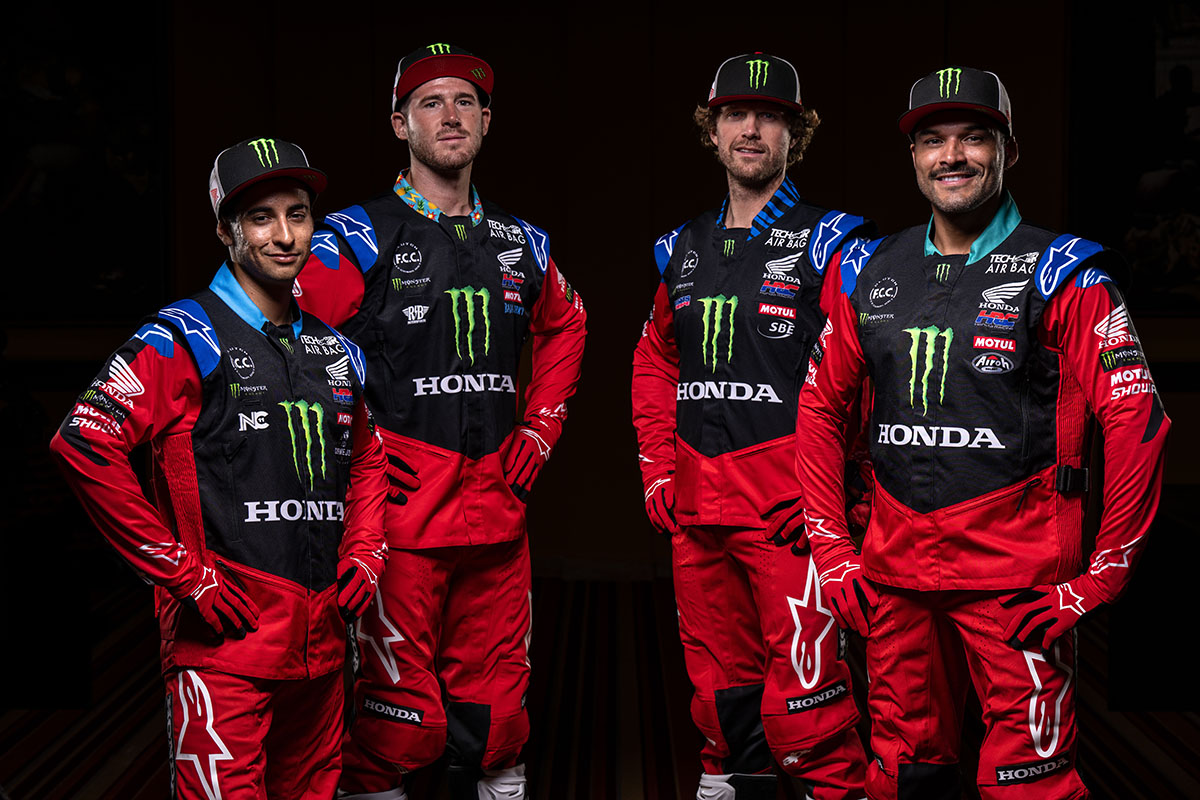 Honda's legacy at Dakar may have started back in 1982 with a victory from Cyril Neveu but the recent years, taking on the might of KTM and beating them, have been their strongest with wins from Ricky Brabec (2020) and Kevin Benavides (2021), plus consecutive podium finishes.
As team manager Ruben Faria points out, if you add all their team riders' Dakars together we are talking about 30 in total – 10 for Pablo, seven for Ricky and Adrien and six for Cornejo. This means for sure a lot of experience and all on a proven bike fit for purpose.
Here's what the riders had to say about their preparations for the 2023 Dakar Rally:
Ricky Brabec – number 4
"We have been working really hard in the preparation of the Dakar Rally 2023, focusing on navigation, speed and staying healthy. In 2020 we won the Dakar, not just me but also Honda. We are quite confident, since we almost did it in 2019 and we did it again in 2021. We are focused on reaching number one again, the confidence is there but preparation and staying healthy is key."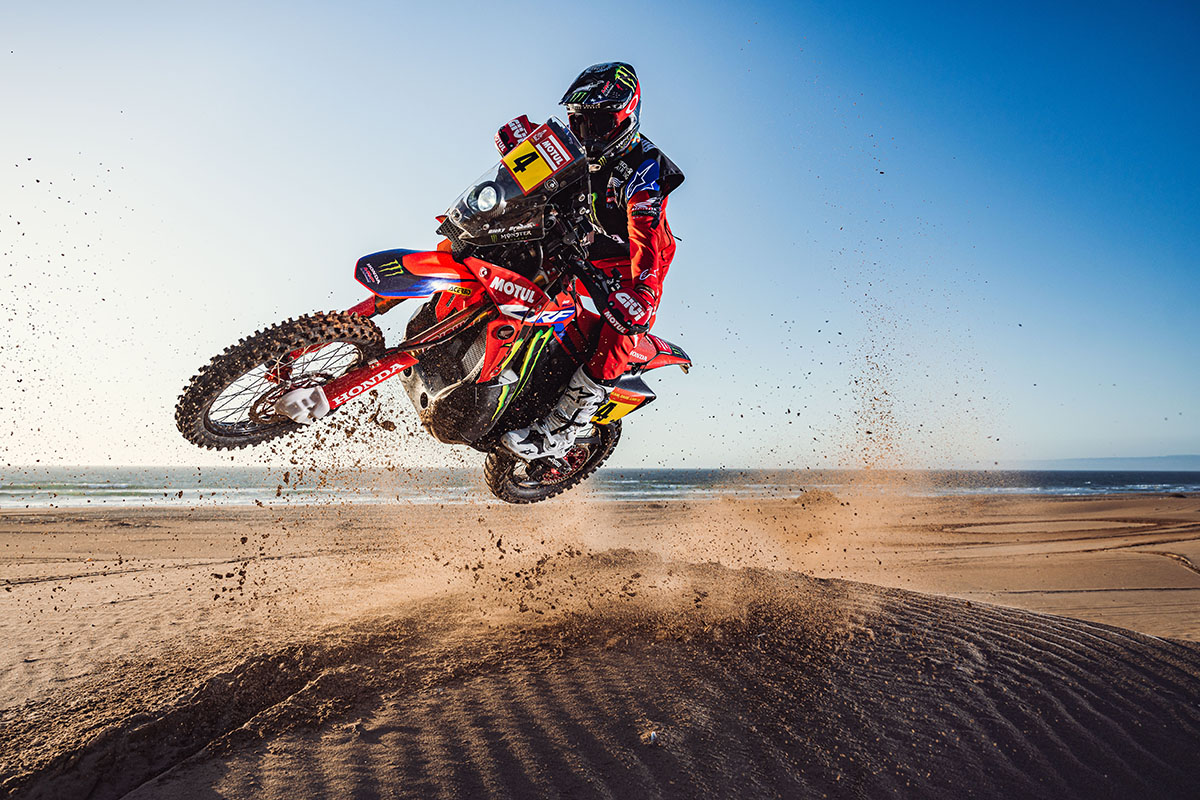 "It looks like the 2023 route has something in common with 2020, it can be more or less similar, I mean it's going along the coast – which is the area that helped me a lot in 2020 with rocks and rough terrain. So I'm looking forward to riding in the same region again and hopefully we can secure some good times and some good stages in a way we can make it to the finish line in the top step.
"As a Dakar winner, maybe the pressure is not so high to me because I know I've been there before. But, as I always say, Rally is always a complicated game with so many variables that until the very last mile anything is possible, so let's stay focused and do our best".
Adrien Van Beveren – number 42
"The preparation for the Dakar Rally 2023 went really well and I am very happy to join the Monster Energy Honda Team. It's been an amazing preparation, the Honda CRF 450 Rally is incredible, I feel so comfortable on the bike . If I had to use only three words to describe our bike I would say it's comfortable, stable and fast!"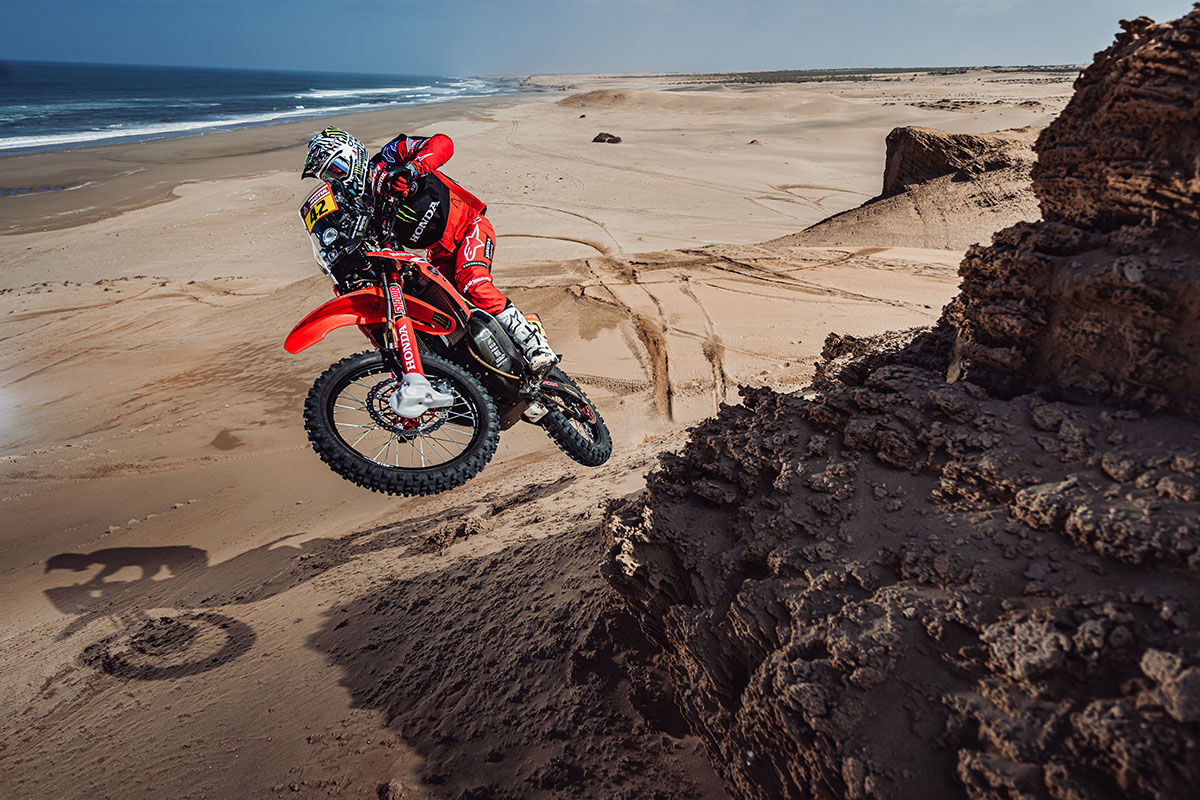 "To join the Honda Racing rally team is a big chance in my career and I feel really lucky about this. It's a privilege to be able to access this world and to count on all the expertise of Honda and its manufacturer official team. To have a factory bike in my hands and to have all this people from Japan around me working together for the development of the bike is a dream come true! I know this is a bike made to win.
"About the coming race, I feel very excited and super happy, having at the same time my feet firmly on the ground. This will be my 8th Dakar Rally and I know it's time to move forward in the rankings. I've finished fourth on two different occasions and I'm willing to escalate. Motivation is high – especially after winning the last race in Andalucia - I feel fully integrated in the team. So I can't wait to start in Saudi Arabia!"
Pablo Quintanilla – number 2:
"Dakar Rally 2023 is just at the door and I feel quite well about it after all the intense preparation we have done over the past months. I am very happy with all the work done in each field."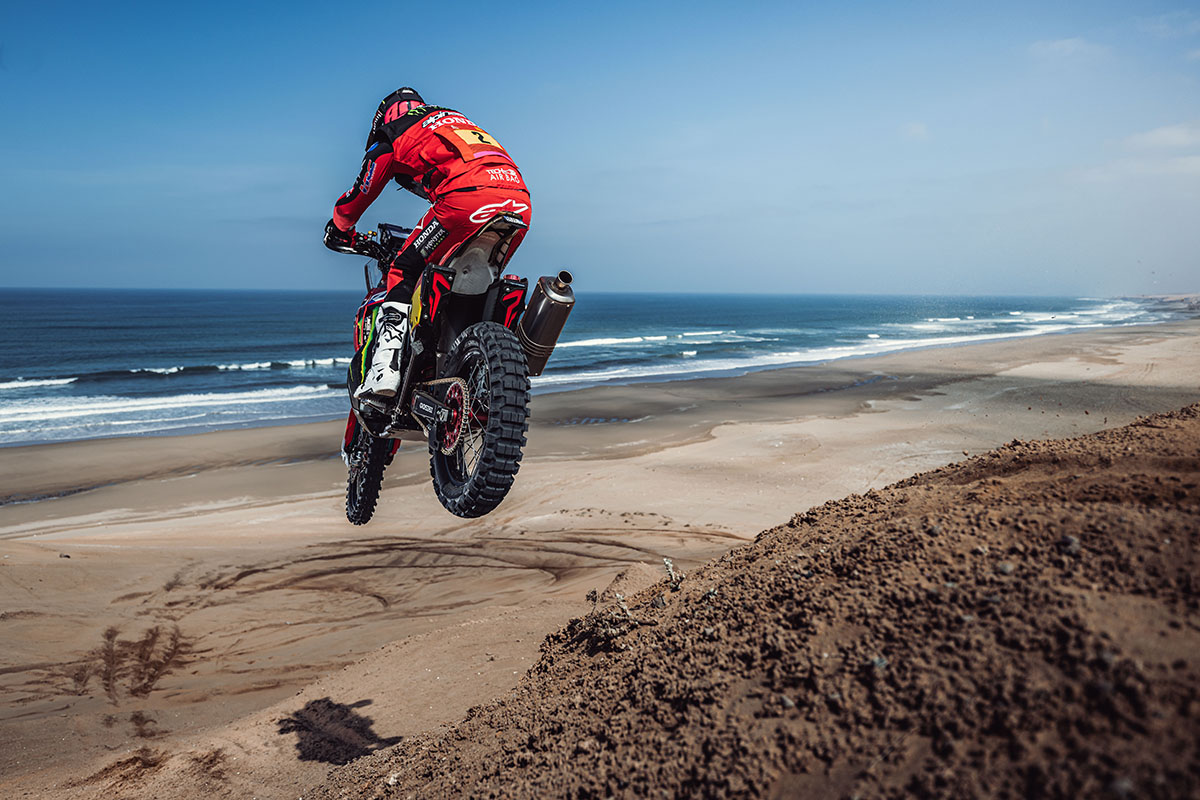 "I had a crash in Rallye du Maroc that had some implications at the end of last season, since I was not able to race the Andalucia Rally, but now I feel fully recovered physically. I needed a lot of rest and physiotherapy but now I feel confident in my shape to start racing another Dakar. This confidence also comes with my large experience in this race, after 10 editions you learn a lot.
"Last year I was second overall and now I am looking forward to fighting again for the title – I know I can do it and I know this is not just a dream. Anyway, I know the competition will be at the highest level and there are a few riders in good condition to win.
"The fact that the setup of the Honda CRF 450 Rally is especially designed for the races in the desert makes me feel even more confident, with a great balance between performance, comfort and safety."
José Ignacio Cornejo – number 11
"I am happy with the preparation for Dakar 2023, since we all have made our best effort to make it work and to reach our full potential. I know we are getting back to Saudi Arabia in the best possible shape and in this matter I think I'm not just talking for myself but also for the whole team."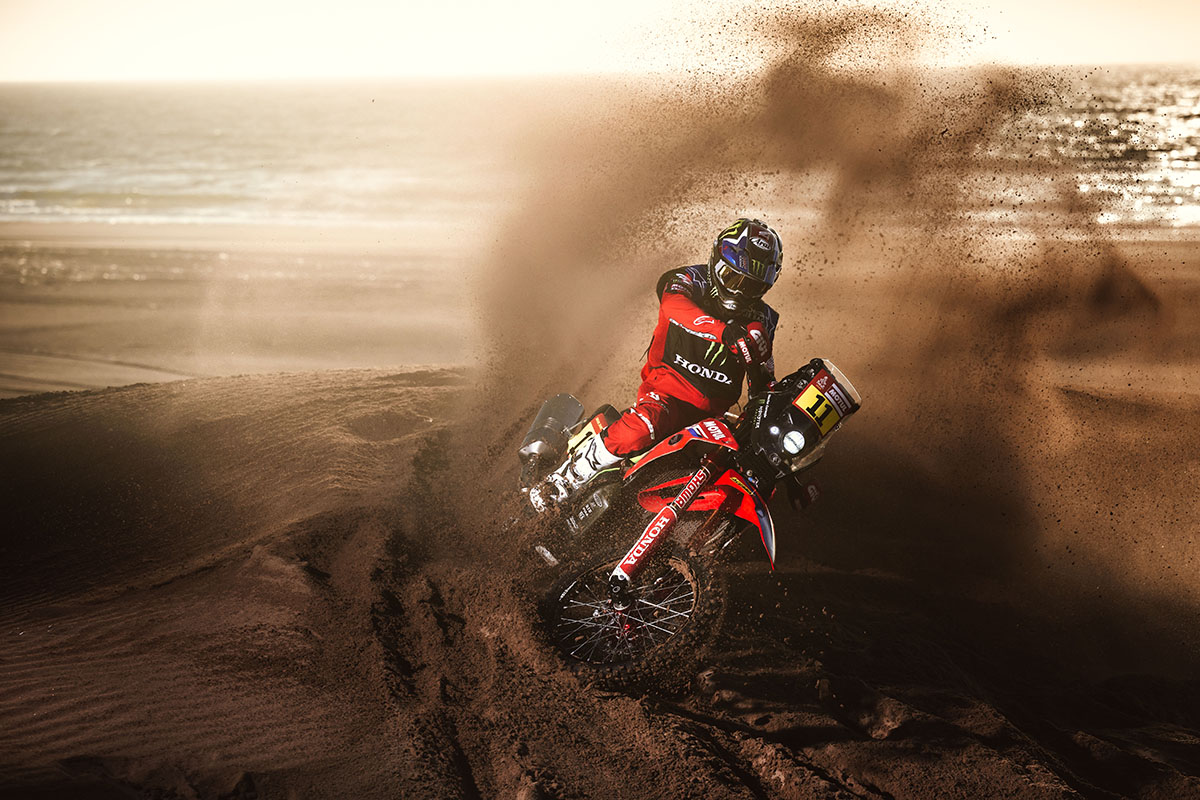 "About my goals, I can remember the 2021 race where things were going really well and that was a point from where I could see winning the Dakar Rally was at my reach. We are working hard to make it happen, to be able to lead and win the race in the near future. I believe that we can do it, that I can do it – that's the goal we have as a team and individually.
"It's not just a goal, but also a dream I believe we can make true. Monster Energy Honda Team is on the right path to win again the Dakar. We are all working hard – the riders, mechanics, managers, everybody in the team is doing their best efforts. It feels great to know this."
The 2023 Dakar Rally starts on Saturday, December 31 with a Prologue to decide the start order for stage number one on New Year's day. In Saudi Arabia for the fourth year now, teh 2023 Dakar consists of 14 full stages, covering a distance of around 5,000 km, the longest since 2014.
The itinerary includes 70% new special stages all kicking off from the beaches of the Red Sea and concluding on the opposite Saudi coast and the Arabian Gulf in Dammam on January 15.
Enduro21 will be there to cover the bike action. Stay tuned.
Photo Credit: Monster Energy Honda Team