Ticket to Dakar 2024 for EnduroGP Women's World Champion Jane Daniels
Four-times EnduroGP Women's World Champion Jane Daniels had one main goal at the Rallye du Maroc, the last round of the World Rally-Raid Championship, to finish and claim her ticket to ride 2024 Dakar Rally.
For all her vast experience in enduro, Jane Daniels still found herself having to prove she could cut the mustard in the very different world of rally-raid and racing while navigating.
Literally the day after winning the 2023 World Enduro Championship in Portugal Jane was on a plane to North Africa and the last round of the FIM World Rally-Raid Championship in Morocco.
The Morocco Rally was her only real chance to prove to the organisers including race director David Castera (who is one and the same guy in charge of both Rallye du Maroc and the Dakar) that she had what it takes to be competitive, read a roadbook and reach the finish of a W2RC-level event.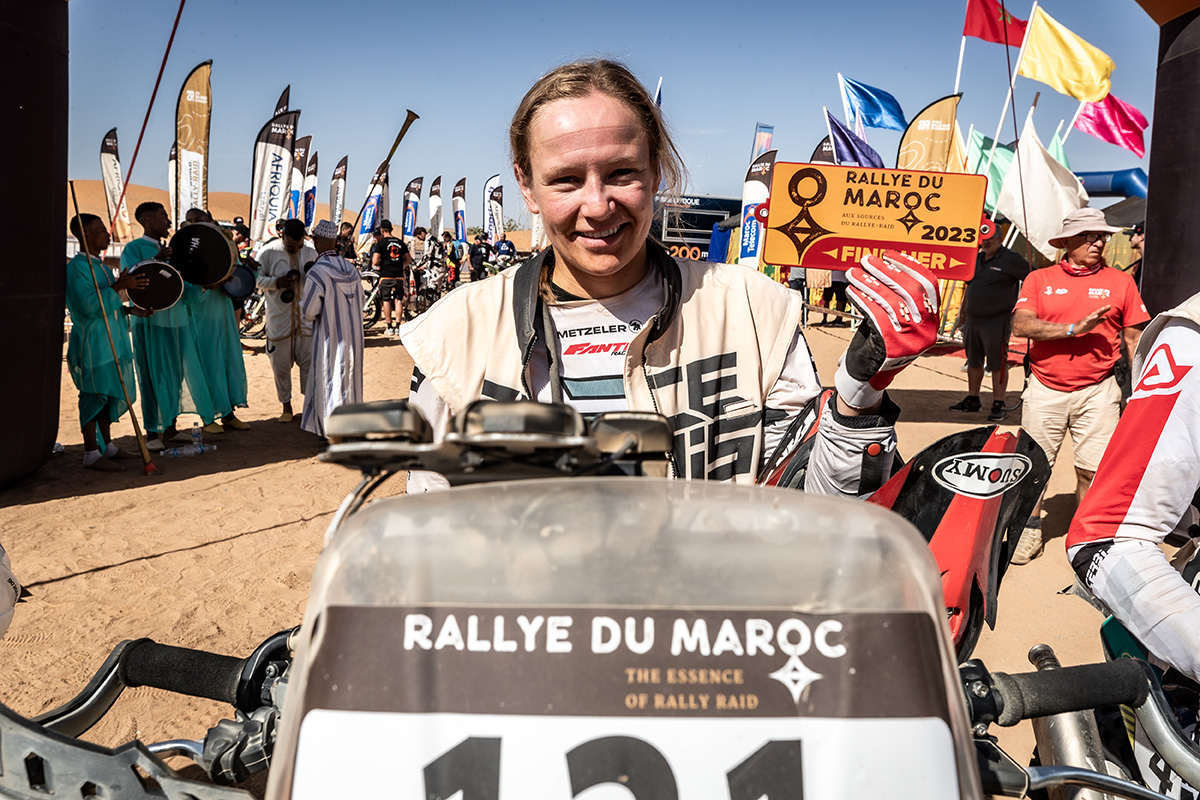 It meant switching the Fantic XEF250 for the factory rally bike and short, timed tests for long special stages but after a tough opening stage where she finished 85th after a few errors which are understandable in your first W2RC event! It was a baptism of rally-raid fire with 721 kilometres to cover in total, 397km of transfer and 324km of special test, and a bivouac start time of 5:46am.
Jane proceeded to climb the standings from that point on with daily overall results of 38th, 39th, 36th and 38th which meant a final finishing position of 41st overall and 30th in the most popular and very competitive Rally2 class.
When Enduro21 caught up with Jane after the final EnduroGP round she was eager for the challenge – and obviously keen to make that finish line in order to get the nod for Dakar.
Learning the rally-raid game is a new challenge and Jane's experience in the long distance races has been limited to an Italian national event and the Swank Rally in Tunisia in Spring 2023.
The Rallye du Maroc was the key result in qualifying for the Dakar next January 5 to 19, which she will now do for Fantic in the Italian manufacturer's third participation at the race.
Jane Daniels: "I am very happy with my result. I overcame the initial difficulties and found my rhythm and felt comfortable on the bike. The important thing was to qualify for the Dakar, and we did it!"​​
Photo Credit: Fantic Racing