Sprint Enduro 'World Championship' – Johnny Girroir best in the tests
FMF KTM Factory Racing's KTM's Johnny Girroir claims the win at the 2023 Sprint Enduro 'World Championship' where international racers and Team USA ISDE riders fought it out over 24 tests across three days of racing at the High Voltage Raceway.
It's the time of year when East Coast meets West Coast in US Off-Road as the guys and girls from different off-road disciplines pitch themselves against each other in the same dirt. Part of the aim, as ever, is for the Team USA ISDE riders to come together and dial-in their enduro test games ahead of Argentina on November 6-11.
The occasion is the self-styled Sprint Enduro World Championship, now in its second year and attracting some the top sprint racers including 2016 Individual Overall ISDE Champion Taylor Robert and former 125 World Enduro Champion Jack Edmondson to the High Voltage Raceway in Dilliner, Pennsylvania. The race weekend format included four runs daily on two tests (a beautiful grass track and a rugged enduro test) over the three-day Labor Day weekend.
Dante dialled on day 1
FMF KTM's Dante Oliveira kicked off the event by taking a six-second win over teammate Johnny Girroir in the opening cross test. FXR KTM's Layne Michael was five seconds back in third, with Enduro Engineering GASGAS' Josh Toth another second back. The battle for the win between these four riders would last all three days.
Dante went on to win two of the final three cross tests on day one but lost time to his competitors in the enduro tests, while Girroir made up the difference with dominating wins in three of the four enduro tests to pull out the day-one win by five seconds over a fast and consistent Michael, winner of the second cross test.
Rockstar Energy Husqvarna's Craig DeLong was a consistent third for the day, with Dante, Toth (who won the final Enduro test), and FMF KTM Factory racer Mateo Oliveira rounding out the top six to complete the first-day results.
The UK's Jack Edmondson (Tely Racing KTM) was the top Pro 2 rider in 11th overall, while first in the Pro-Am class went to Magna1 Husqvarna's Jason Tino in eighth overall.
Sunday, day 2
Though he won just two tests on day two (Sunday), Girroir remained on top of the standings, while Michael and Dante Oliveira showed their prowess on the cross test, with each winning two of the four for the day. Dante was also consistently one of the fastest on the cross test (in fact, he posted the fastest times of the weekend) but fell in the second cross test.
Toth also improved his status, moving up to third overall after two days of racing by winning two of the enduro tests.
Edmondson maintained first place in the Pro 2 class while improving to seventh overall. Tino was once again the top Pro-Am rider in eighth overall.
Dante goes down on day 3
Day three would see Dante Oliveira win all four cross tests, although a crash in the first enduro test cost him badly with nearly two minutes. Michael also topped Girroir in all four cross tests, however, Girroir would make up the difference in the enduro test, ending the three days with a 15-second advantage over Michael with Toth in third.
Say what? Top riders speak...
"I felt at home in the woods, as I always do," said Girroir. "I kept it consistent and was lucky enough to keep it on two wheels all weekend. I definitely need to clean it up in the cross test. I just wasn't happy out there. I had a couple good times but nothing crazy. So, I definitely want to work on that a little bit. I had fun. Layne and Dante were flying out in the cross test and Josh laid down a couple of heater enduro tests. Just I guess consistency paid off and I kept it on two wheels."
Layne Michael definitely showed his speed in the cross test, winning three of the 12, but just couldn't catch Girroir in the enduro test. "Honestly, it came down to I had one crash in the enduro test yesterday and that's where I lost the bulk of my time," said Michael. "Other than that, we were kind of back and forth. I was beating him in the cross test by four or five seconds, but he was beating me by six or seven in the enduro. I got a little close at times, but overall I just couldn't consistently stay close there."
This was only the second sprint race Josh Toth had raced all year, but he managed to get up to speed by the second day. "It was a blast," said Toth. "I only did the first [US Sprint] round so I was a little rusty and just pushing the edge and crashing too much on day one. I dug myself out of the hole yesterday and just tried to survive the tests today. Rode pretty well, but they were getting nasty and these guys were shredding."
Rockstar Energy Husqvarna's Craig DeLong had a consistent weekend for fourth. "I really enjoyed the first day," said DeLong. "Not so much the cross test. It's fun, but it's not my strong point. I really enjoyed the enduro test. I was happy to get through it, honestly, the first day. I knew the next two days were going to be tough because Josh was finding his groove and so was everybody else."
Coastal Racing GasGas' Ryder Lafferty rounded out the top five. "I haven't done one of these in over year," said Lafferty. "So, not my best format but I feel like I got better, like I always do with these races. You start out Saturday a little rusty and then by Sunday you figure it out. That's how this weekend was. Actually, it went pretty quick. I felt like I had some good times on Saturday. Same thing Sunday, and then today as well. Today was a little sketchy. Just the enduro test was really rough. It got chewed up pretty good."
Dante Oliveira had a good shot at the overall win had it not been for a crash in the enduro test that cost him almost two minutes. "It wasn't that bad of a crash; it was just the way I went down," said Dante. "I jammed my hand into the ground. My brother was actually on the ground the same time as me because he took off fifteen seconds before. So then I got up there and I saw his back and then I smashed the ground right away. Just hit a root a little bit in the dust."
Seventh went to Rockstar Energy Husqvarna's Trevor Bollinger, who just last week had been cleared to ride after breaking his heal. Mateo Oliveira was eighth overall, with Taylor Robert just behind, having spent very little time on the bike this year due to injuries.
10th overall and top Pro 2 rider was Jack Edmondson of the UK.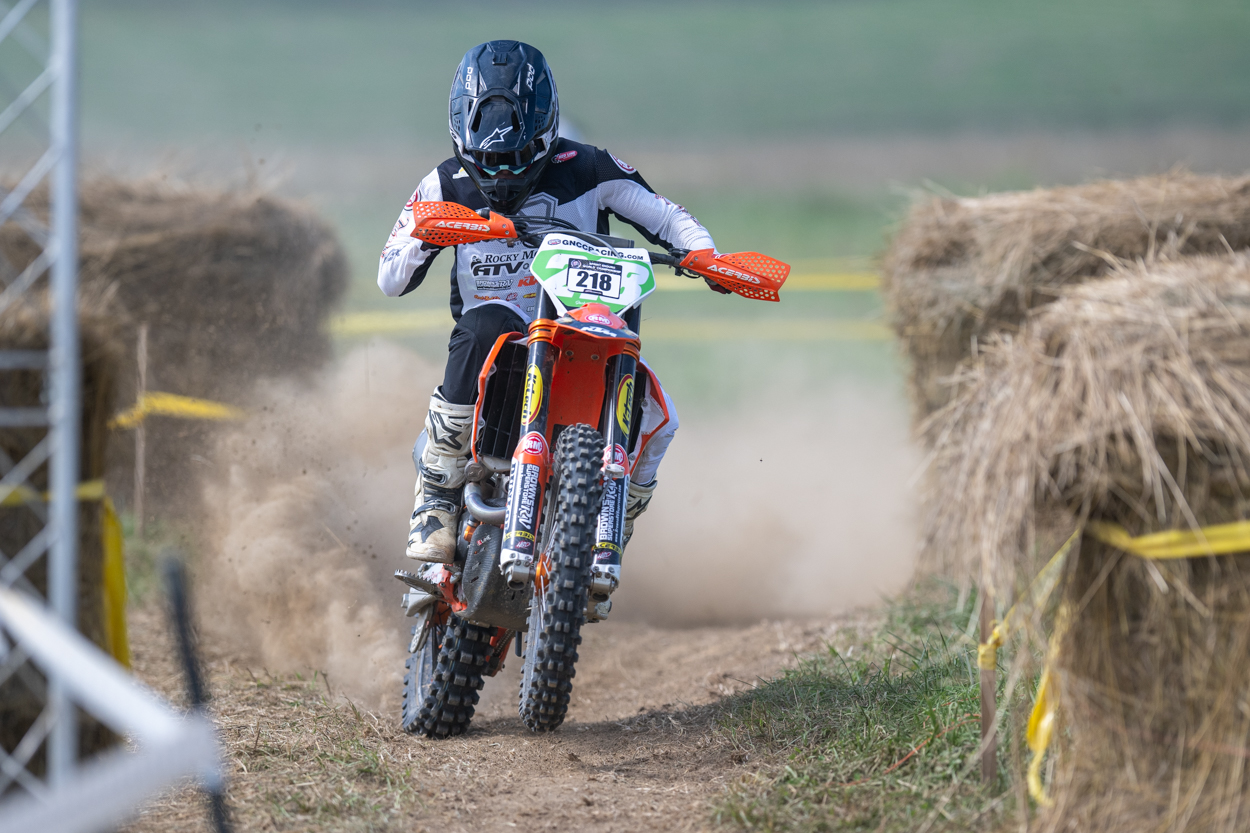 The top Pro-Am rider was Tino in 11th, while the top Amateur was Levi Elliott in 15th.
Richards bosses the cross test
Brandy Richards (FMF KTM) won the Pro Women's division ahead of Am-Pro Yamaha's Rachel Archer and Over and Out's Rachel Gutish (KTM). Richards was eight seconds short of winning by a minute and the fastest pair were banging on the door of a top 20 overall result.
"The cross test was incredible," said Richards. "It's very similar to the west coast, so I felt a little more comfortable out there. The enduro test, not so much. I haven't ridden the woods for quite some time. But it was nice to get back out there and kind of get back into it. Rachel (Archer) was ripping the enduro test. I couldn't catch her."
Archer meanwhile says she struggled a bit on the first day: "I was struggling a little bit on day one," said Rachel. "I went down twice and then I just spent the whole weekend trying to play catch-up, basically. I'd beat Brandy over here, and then she'd get me over here. It was fun. I enjoyed it."
2023 US Sprint Enduro World Championship overall results:

Full results and more information: www.sprintenduroworldchampionship.com
Words and Photo Credit: Shan Moore