New Zealand Enduro: Hamish Macdonald crowned 2020 Champion
2020 New Zealand Enduro Championship video highlights of the special tests and deep Manawatu sand at Santoft where Hamish Macdonald claimed his first overall NZ enduro title.
With travel restrictions still in place and the 2020 Enduro World Championship awaiting its start, the 2019 Youth World Champion Hamish Macdonald took the chance to race the New Zealand Enduro Championship and aim for a title the young Sherco Racing rider has never actually claimed.
Last weekend saw the final two rounds of the four-round championship at the Santoft Sand Forest where Dylan Yearbury arrived with the championship lead. Yearbury has been in GNCC action this season already and wasn't about to make it easy for Macdonald after a 1-2 scorecard over the opening weekend. Meanwhile Macdonald scored 2-3 on the open farm tracks of rounds one and two which also saw Seth Reardon in contention with his 3-1 score.
Electing to ride the SER-F 300 four-stroke in a warm-up for the 2020 Junior World Championship in Europe (where he is heading this week), Hamish showed the way in the Santoft Sand Forest with a perfect 1-1 result to claim his first overall New Zealand title. The results means Hamish follows in his father's footsteps who took the overall back in the 80s – though sadly there is no real recognition for winning the overall in NZ.
2020 New Zealand overall championship results: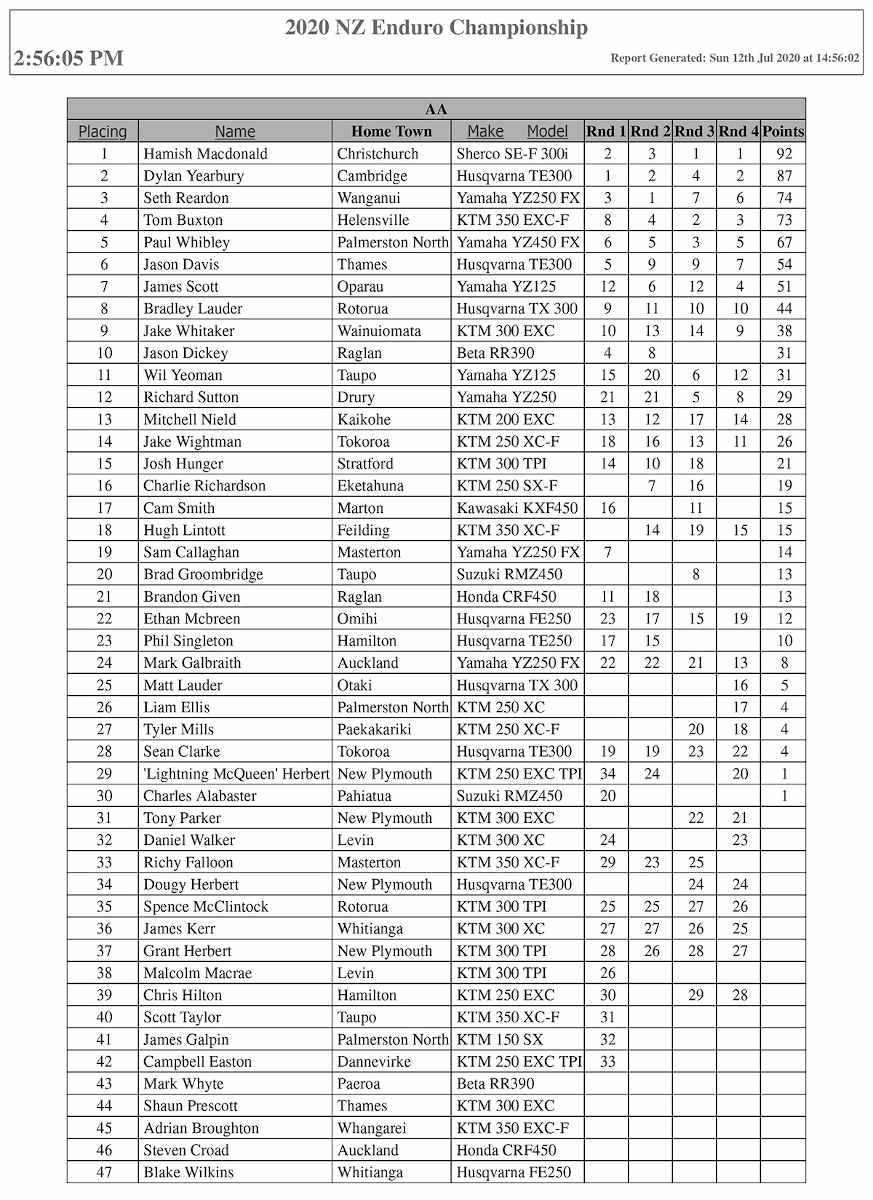 Class winners
In the 0-300cc four-stroke and 0-200cc two-stroke class, Seth Reardon backed up his 2019 title with another class win on the YZ250FX. It was actually a Yamaha clean sweep with James Scott and Will Yeoman finishing out the podium on YZ125s.
In the 201-Open two-stroke division, Dylan Yearbury won every round and took the title, followed by fellow TE 200 rider Jason Davis, who is back to racing after a number of years of being a dad. Richard Sutton on a YZ250 finished third.
In the 301-Open four-stroke class, Auckland KTM rider Tom Buxton ousted Yamaha man Paul Whibley to the title for 2020 after a number of years away focusing on the Red Bull Romaniacs. Third place went to Richy Fallon.
Thanks to Chris Power for help with this report: thedirt.co.nz