2021 EnduroGP World Championship preview – Rnd1 in Portugal "will be tough"
The opening race in the 2021 FIM EnduroGP World Championship season has been a long time coming and promises to be a hell of a competitive season – beginning this weekend in Marco de Canaveses, Portugal, the race director promises "enduro has to be tough".
EnduroGP is back and the 2021 season will kick-off where everything came to an end in 2020, Marco de Canaveses in Portugal. That dramatic climax to the 2020 season sets up the new championship perfectly, and some with scores to settle, high-profile riders returning and fresh blood across the classes.
The opening race of the year also promises a spicey set of tests in Marco de Canaveses with an 80% new for those who've raced here before and some demanding riding as the weather may play a role – Portugal is never easy on the riders!
2021 season opener – what to expect:
Wide-open contest for EnduroGP world title with half a dozen (at least) possible contenders
Friday night Supertest is back
Fast and all-natural track "will be tough" says race director
Super-competitive senior classes with an incredible depth of field in E2
Women's World Championship spiced up with Laia Sanz's return
Mixed weather expected over the weekend
It's gonna be a tough one
"Our race is going to be tough. We feel enduro has to be tough – not impossible, but tough. Riders can expect an old fashion enduro that's demanding both physically and technically." Admits race director Bianchi Prata whose course setting team have ensured the course will feel different to that which has been raced before.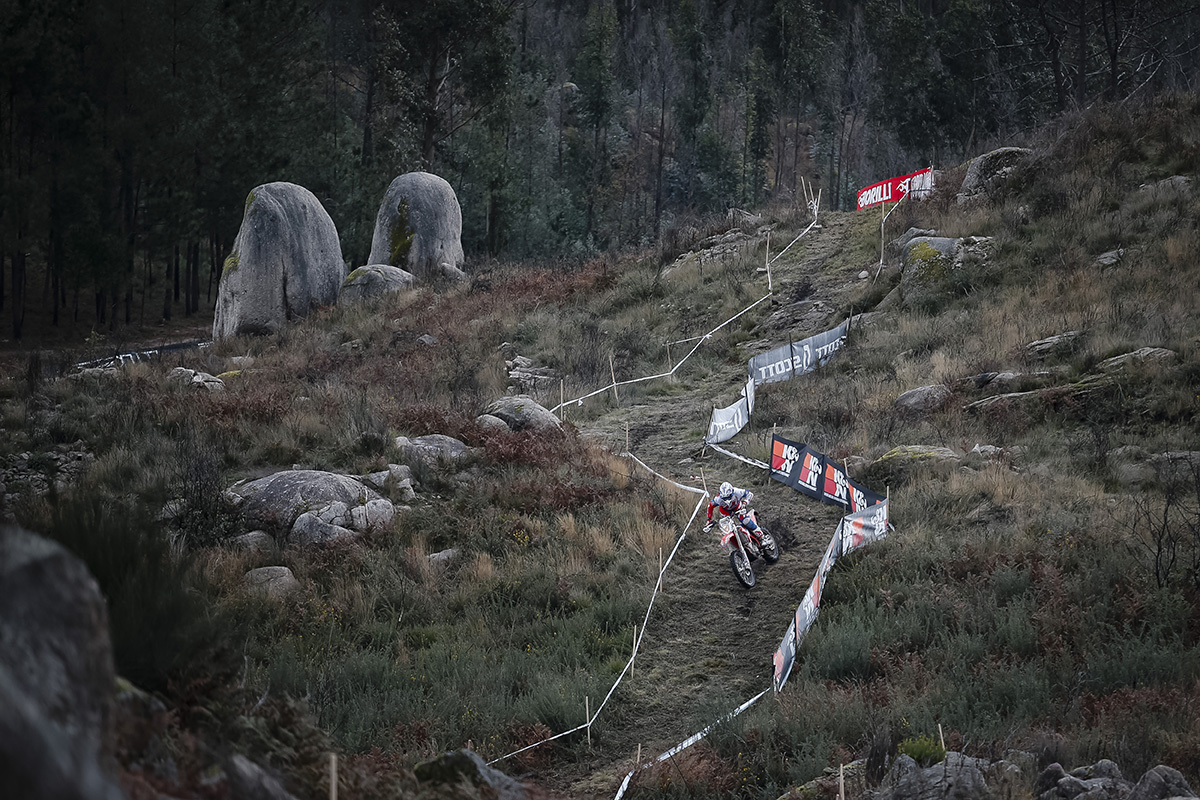 EnduroGP riders will face a three lap race with four special tests both days and a demanding liaison which will go through some old roman roads. The lap kicks off from the paddock in Marco de Canaveses town and heads to a long Cross test which is predicted to take seven minutes to complete for the fastest riders according to the organization.
From there they'll head to the Enduro test which is completely new from last year and, "it's fast, but all natural. We just cut the trail in and left the ground as we found it." Says Prata. The Extreme test will be located in the same spot as last year, but it'll have a different layout through the dramatic Portuguese rock slabs and boulders which proved tricky in the rain at the end of last season. In total the lap will be 52 kilometres long.
Supertest is back
The other news about the race is after a year off the competition will again start, as we were used to pre-pandemic, with a Super Test on Friday evening in the city centre. It's an intense start to the weekend which often shows who's fired-up for the main test action.
This same test will also be used during Saturday and Sunday when the riders will have to tackle it at the end of each lap making it 12 special tests per day to be ridden.
Brilliant contest in prospect
Last year's EnduroGP world title went right down to the final test between Steve Holcombe and Brad Freeman. Both also secured respective E3 and E2 world crowns but that drama-fuelled last afternoon where Freeman had fuel issues and Holcombe held his nerve was a classic.
What it means is both riders are hot favourites as we start 2021. There's little doubt these will be the two riders setting the benchmark this season again.
Josep Garcia returning to the Enduro World Championship this season will certainly shake up the Beta pairing's dominance just as he did in the final two rounds of 2020.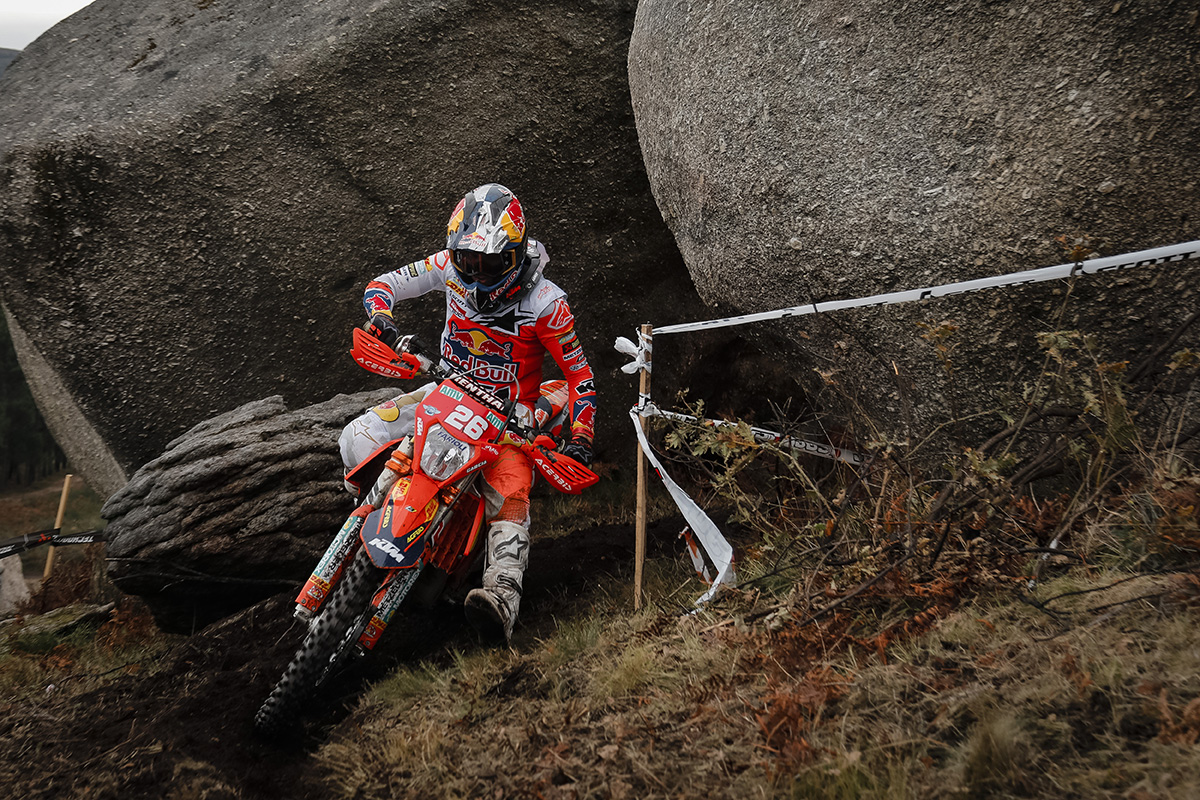 Josep was straight back to the top of the timing sheets alongside Holcombe and Freeman and took the last GP of the year outright. The Spaniard has spent a couple of years racing the WESS championship for KTM and claims the experience has made him a better rider.
This is not a three-horse race though and if preseason races in the Italian Enduro Championship – where many of the top riders and teams race – are anything to go by we also must count Wil Ruprecht, Andrea Verona, Matteo Cavallo and Thomas Oldrati in the contest.
One rider who would have been in the reckoning is RedMoto Honda rider Theo Espinasse. The Frenchman, unfortunately, broke his collarbone just last week in training and will miss the opening rounds.
Count in also a couple of Manxmen by the name of McCanney. Danny has returned to a 300 two-stroke with Sherco this season and that has been a formidable combination. We also welcome back Jamie McCanney in the JET Zanardo Husqvarna 300 two-stroke back from the world of rally and with a point to prove.
Two ends of the age spectrum in Alex Salvini and Hamish Macdonald (Junior champ fresh into the senior classes) are just two of many riders very much in contention for podiums at least.
Portugal the first of three Women's rounds – Sanz is back
Jane Daniels dominated the Women's World Championship last year but, as she switches to Fantic for 2021, she has five-times champion Laia Sanz to deal with as the Spaniard makes her comeback to the series.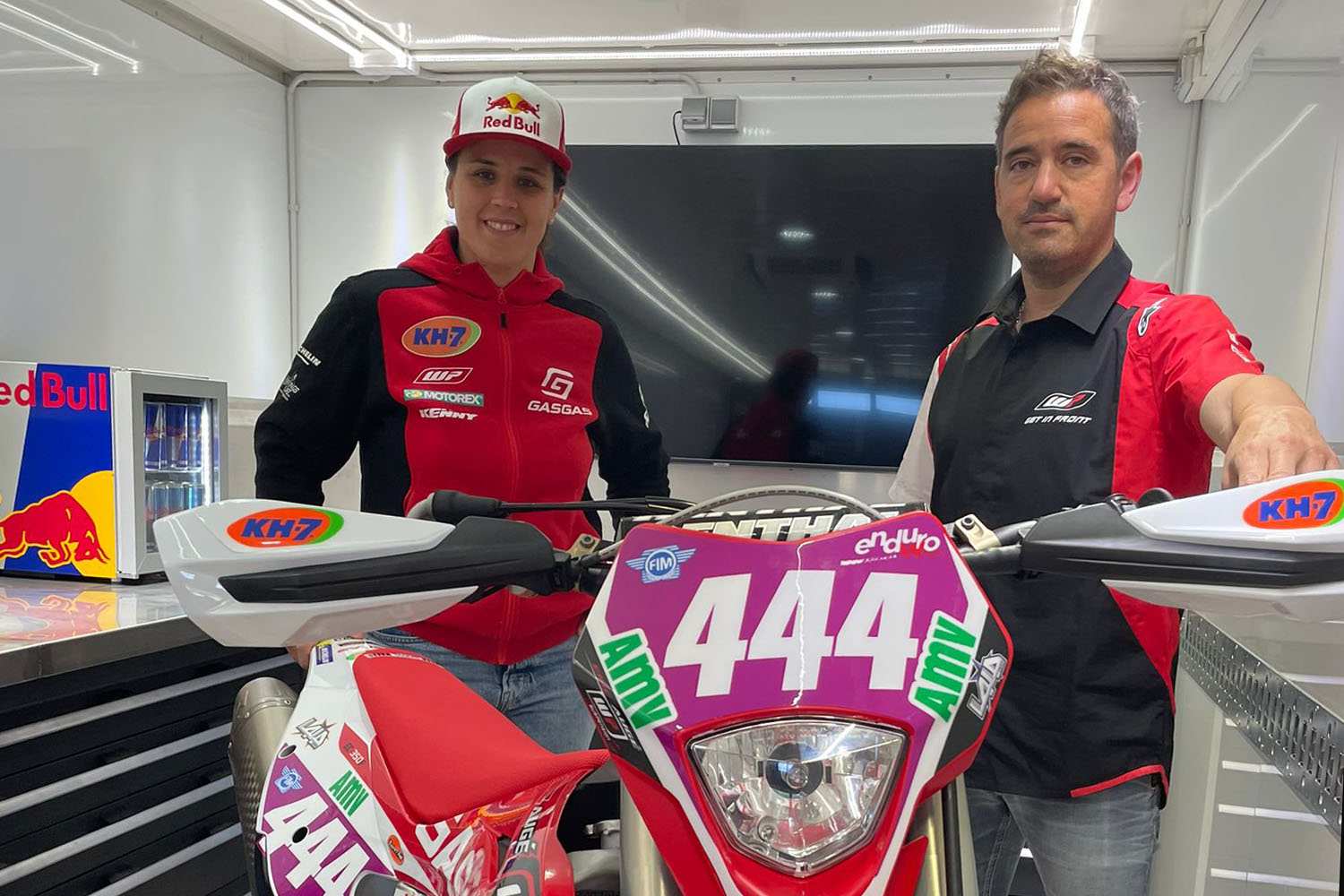 Daniels has stepped it up since Laia's dominant years before she jumped to rally racing, but the Spanish legend, shown above with her new team boss Eric Auge, has made a similar return to TrialGP just last weekend and won on her first day back…
The action begins on Friday afternoon, June 18. Enduro21 will bring you all the results, analysis and video highlights from across the weekend.
Bring it on.
Photo Credit: Enduro21 | Nicki Martinez