EnduroGP: Portugal prepares for penultimate GP of 2020
The FIM EnduroGP World Championship is back on track this weekend, November 7-8, for the penultimate round of the 2020 season in Marco de Canaveses, Portugal.
Rain and rocks look set to play a role as the season heads towards a conclusion (while still being only halfway through) with battles raging within the Beta, TM and Sherco factory teams.
Where are we at?
After the shortened season so far, two GPs in France and Italy in September, Steve Holcombe leads the EnduroGP scratch standings by just six points ahead of his Beta teammate Bradley Freeman.
The pair have traded test wins all season in both the Italian and EGP championships and continue to push each other above and beyond the rest of the paddock. At this penultimate round in Portugal, beating the other guy is still the order of the day with the standings showing Steve on 77 points to Brad's 71. But with 20 points still up for grabs across each of four days racing, there is plenty to play for.
Team contest No.2
Behind them in the scratch standings, another two teammates have eyes on the podium (at least) with Loïc Larrieu and Andrea Verona equal on 52 points apiece. Thomas Oldrati is still in the mix and has been in great form this season for the RedMoto Honda squad having taken his 10th Italian Championship title ahead of Verona last weekend.
One fact which stands out in the EnduroGP scratch standings, especially if you add in sixth placed Jaume Betriu, is the list of bikes topping the time sheets. From the top that is a 350 four-stroke, 300 two-stroke, a 300 4T, two 250 2Ts and a mighty 500 4T all winning tests.
Oh, and don't forget this weekend will also see a certain Josep Garcia make a return to EGP action.
Josep Garcia set for EnduroGP return in Portugal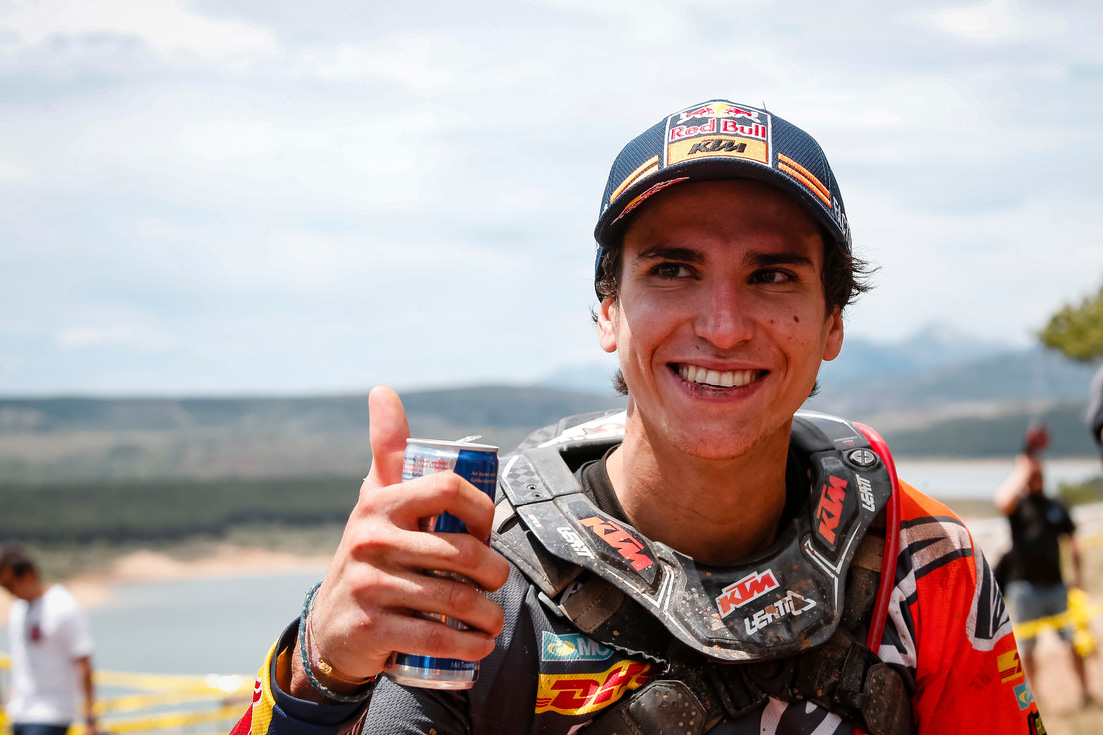 Sherco Junior duel
Despite the clear lead Théo Espinasse holds in the Junior category, his Sherco CH Racing teammate Hamish Macdonald sits only four points behind in this just his first season in the Junior ranks having won the Youth title in 2019.
The list of fast Juniors capable of winning is as impressive as it is impossible to predict. Roni Kytönen, Matteo Pavoni, Wil Ruprecht and Ruy Barbosa are all capable of getting in the mix with Espinasse and Macdonald.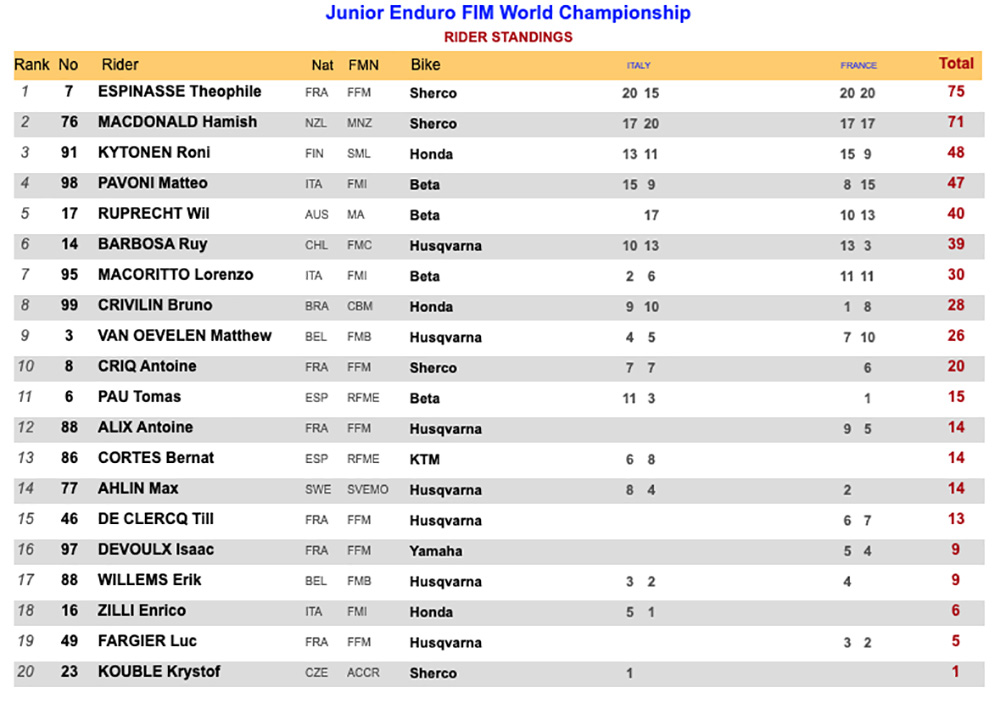 Etchells in charge of Youth class
The Youth 125 class has Jed Etchells in charge on the Fantic with an impressive string of three wins in a row. A blot on the copybook on the opening day in France for Jed means Sergio Navarro is still in contention while Claudio Spanu and Harry Edmondson have each shown they have the pace to sneak a win. One thing is certain, with the tune of screaming 125 2T engines, this class is never short on excitement.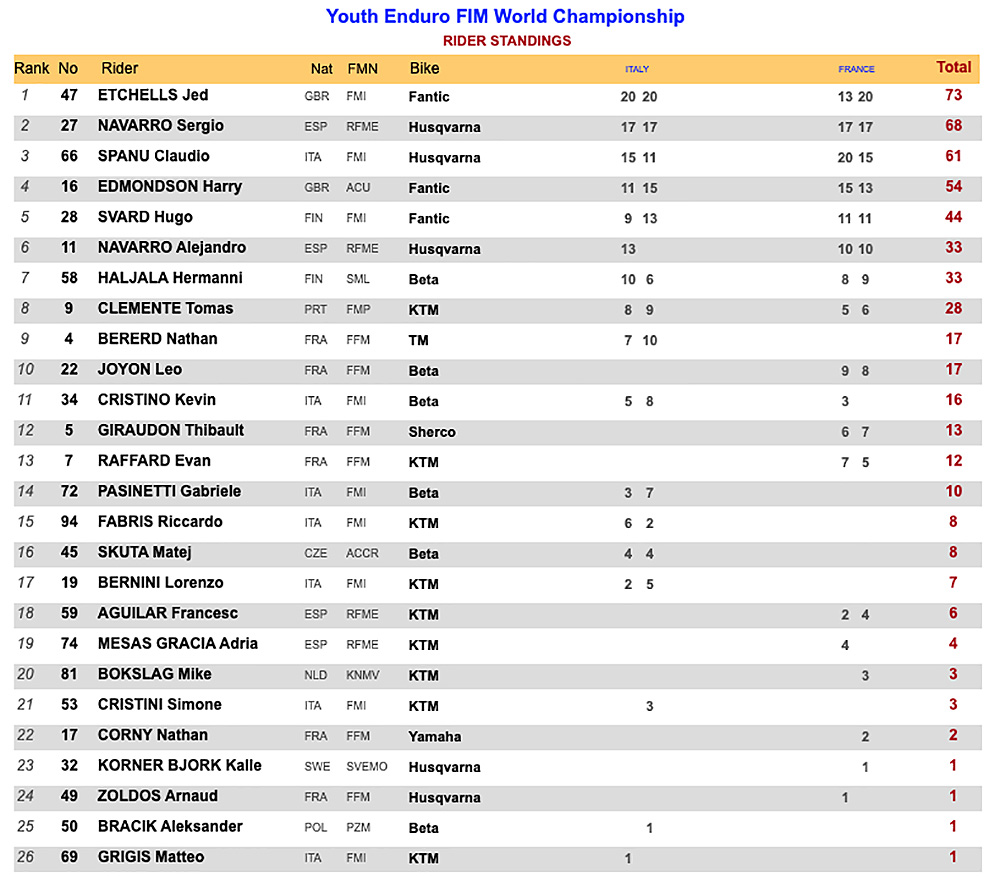 Get set for wet weather
Motor Clube Marco and the Portuguese Federation (FMP) will play host the final two rounds of the 2020 Enduro World Championship at the same west Portugal location. The weather forecast looks like playing a role as it rolls off the Atlantic into the Porto region and onto what promises to be a rocky ride.
Speculation has been rife in the last week or more that the final rounds of the 2020 EnduroGP series may not have taken place due to increasing cases and restrictions across Europe. But we are racing, albeit with attention to safety and without spectators, sadly in this enduro mad part of Portugal. There will also be no Friday night Supertest this weekend due to Covid restrictions.
Riders begin on Saturday and Sunday, November 7-8, from 09:00 GMT with a finish approximately 16:30 GMT
Stay tuned to Enduro21 and Enduro21_official on Instagram for updates.
Photo Credit: Enduro21 | Andrea Belluschi + Nicki Martinez