EnduroGP results: Freeman blitzes final test to take 'Portugal II' day 1 win
Results feed from day one of the 2020 Enduro World Championship showdown in Portugal where Brad Freeman flew to an awesome last test of the day win to snatch victory from Steve Holcombe's hands – the Beta pairing secured E3 and E2 World Championship titles along with Hamish Macdonald who is crowned 2020 Junior World Champion.
EnduroGP of Portugal II, day one in a nutshell:
Steve Holcombe put in a copybook performance in the opening two laps in Marco de Canaveses to establish a lead with four of the first six tests to his name ahead of Brad Freeman and Josep Garcia.
Heading into the third and final lap Holcombe needed only to nurse the gap and all looked secure until the penultimate test where he dropped it twice, losing 10 seconds to his rival in the process.
It set up a tense final Enduro test where all eyes were on the timing screen to see Brad duly deliver a hell of a time seven seconds faster than Garcia and 11 seconds faster than Steve. With that he'd secured victory and set up a showdown on the final day tomorrow with the pair separated by just four points.
Almost as a side-show, the Factory Beta pairing took their respective class world championship crowns today, E2 for Holcombe (and with that Beta's first four-stroke title) and E3 for Freeman.
The battle in E1 was every bit as intense between Andrea Verona and Thomas Oldrati who are also in the hunt for third place overall in scratch. The Italian pair were nip and tuck all day but ultimately the tests just kept going the way of the TM rider who ended 15 seconds clear of Oldrati and who now holds the advantage heading to the final day.
The Junior class began as unpredictable as ever with Theo Espinasse, Wil Ruprecht, Roni Kytonen and Hamish Macdonald all jostling for position. Consistency was the key and after overcoming a mechanical issue with his Sherco early on, Macdonald put a string tests together which saw him win the day and with it the 2020 Junior overall title.
By contrast, the Youth class leader Jed Etchells had a tougher time seeing out the season while his main rival Sergio Navarro pulled the pin to finish well-clear of Claudio Spanu and brother Alejandro in third. That put Etchells P4 which means the gap is just four points with one day remaining.
Equally, by contrast to all of the above, reigning Women's World Cup Champion Jane Daniels stormed day one in Marco de Canaveses. The British rider took a strong early lead and stretched it with particularly impressive Enduro test times to finish the day over a minute clear of Justine Martel and Mireia Badia in third.
Portugal II, EnduroGP scratch day 1 results: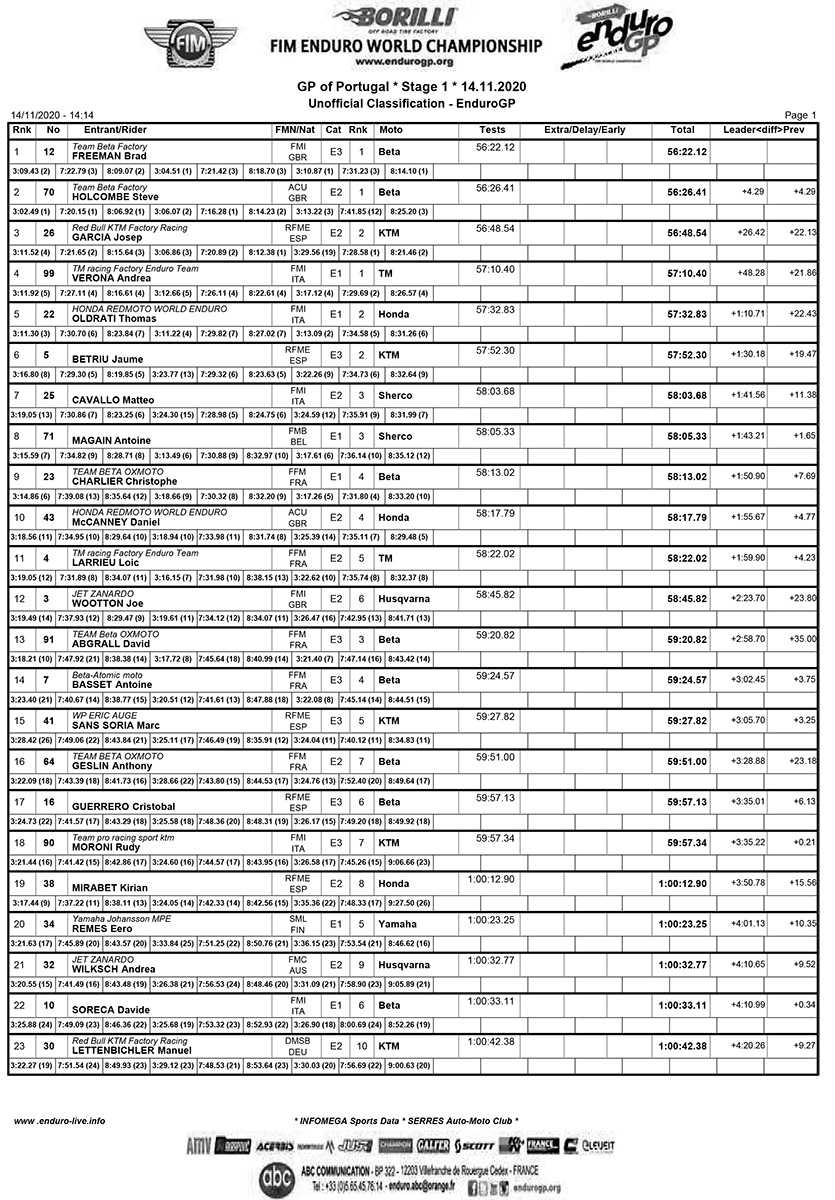 Portugal II, E1 day 1 results: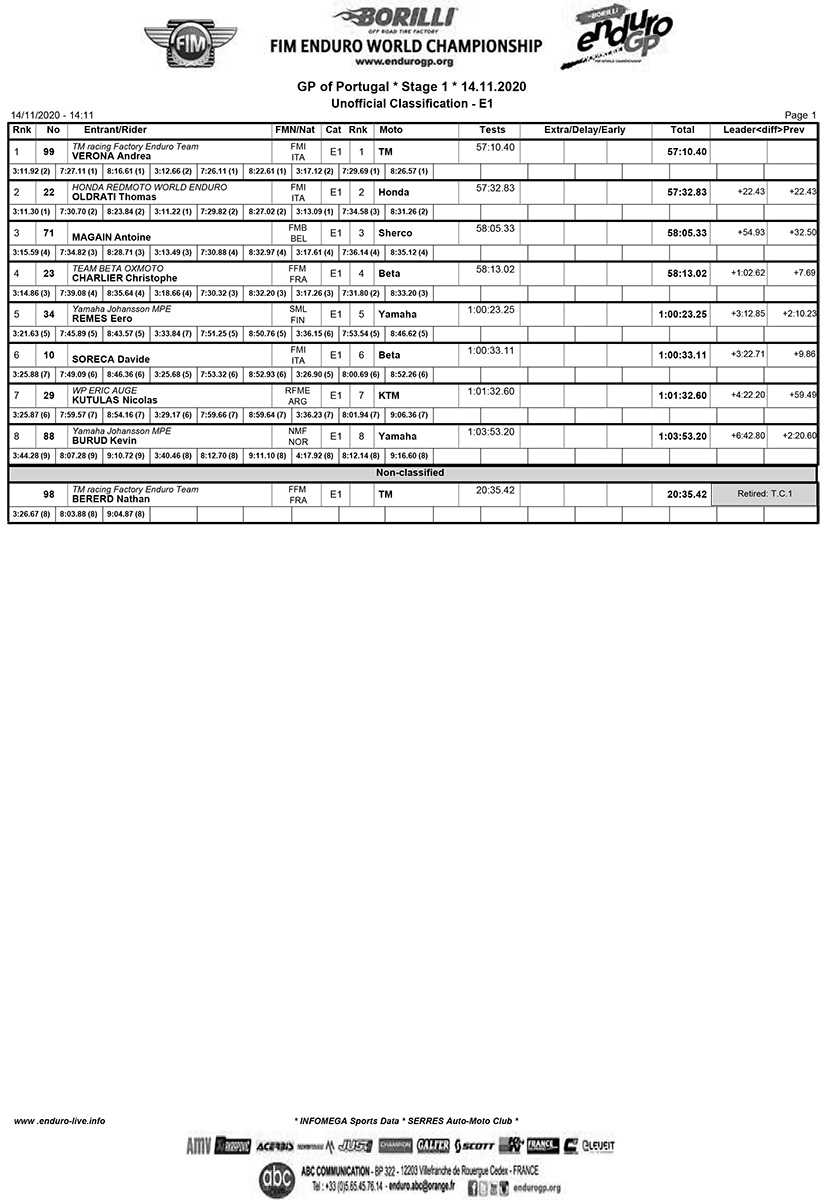 Portugal II, E2 day 1 results: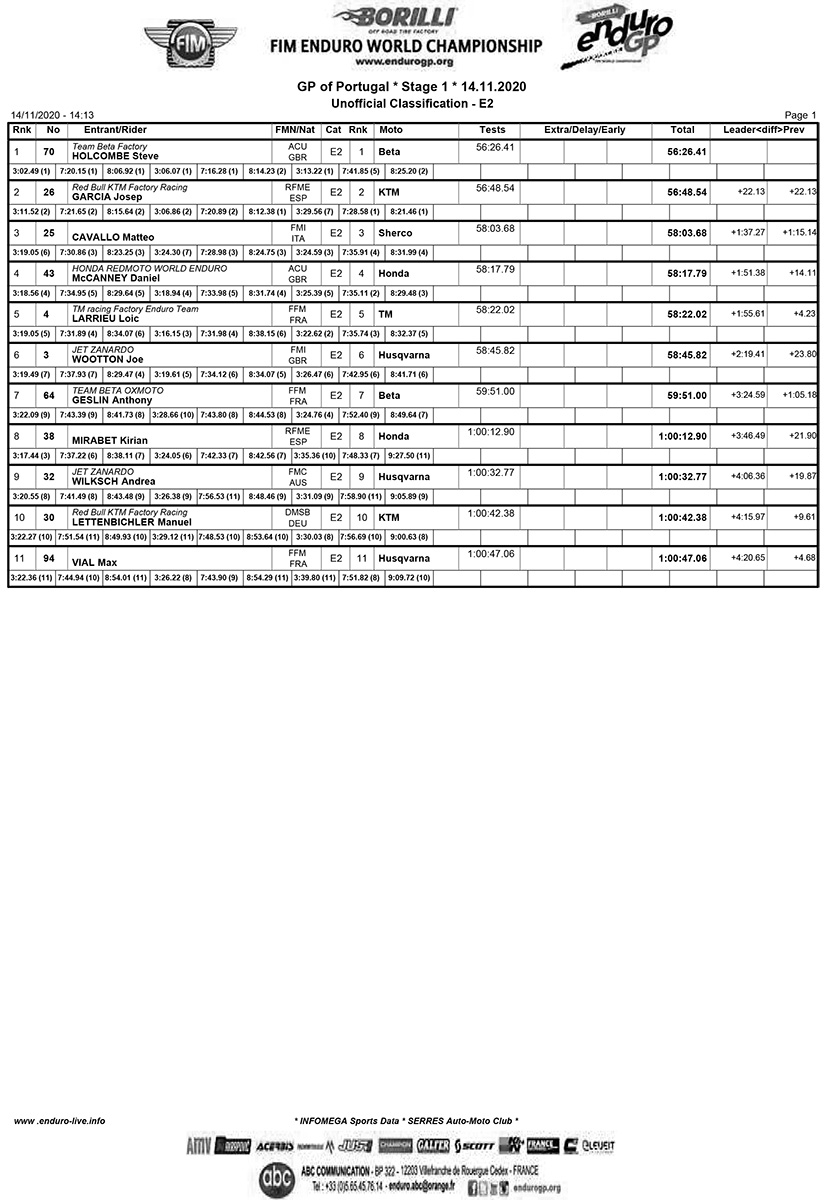 Portugal II, E3 day 1 results: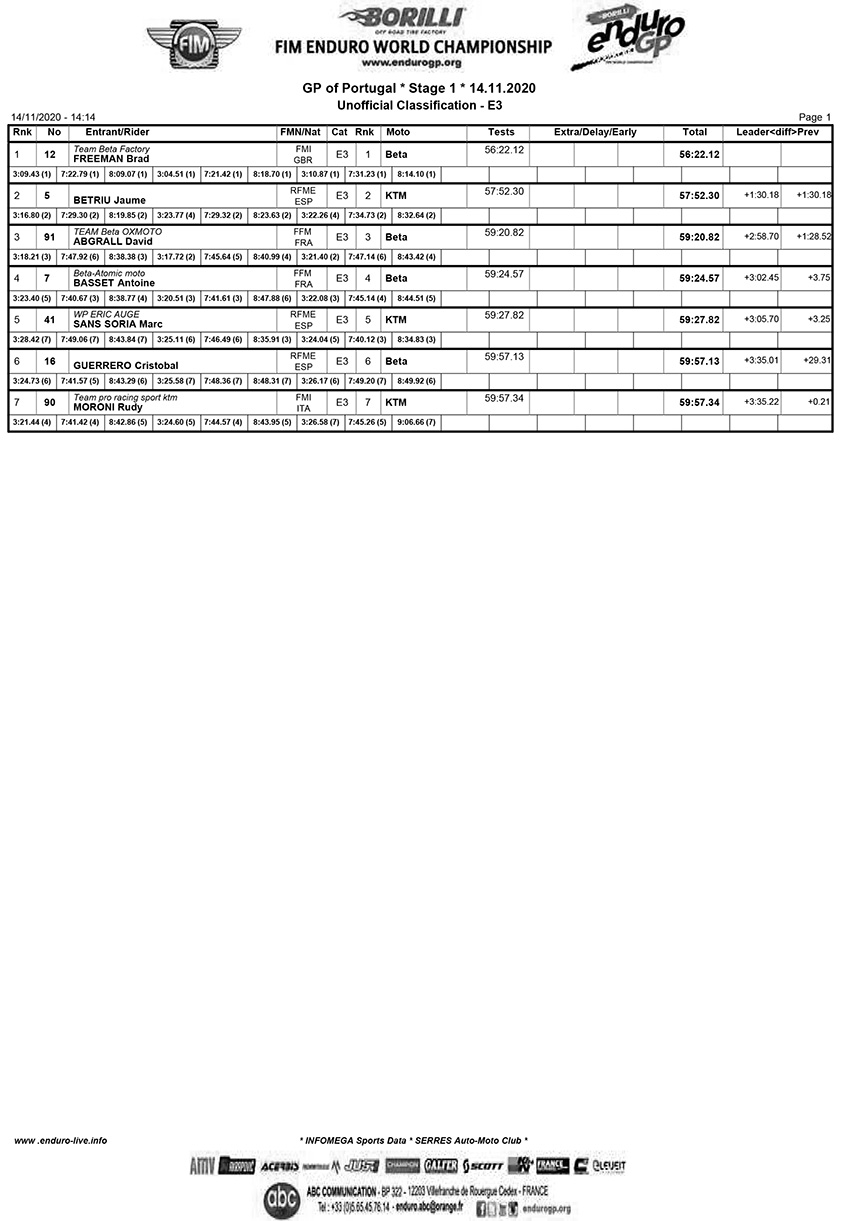 Portugal II, EJ overall day 1 results: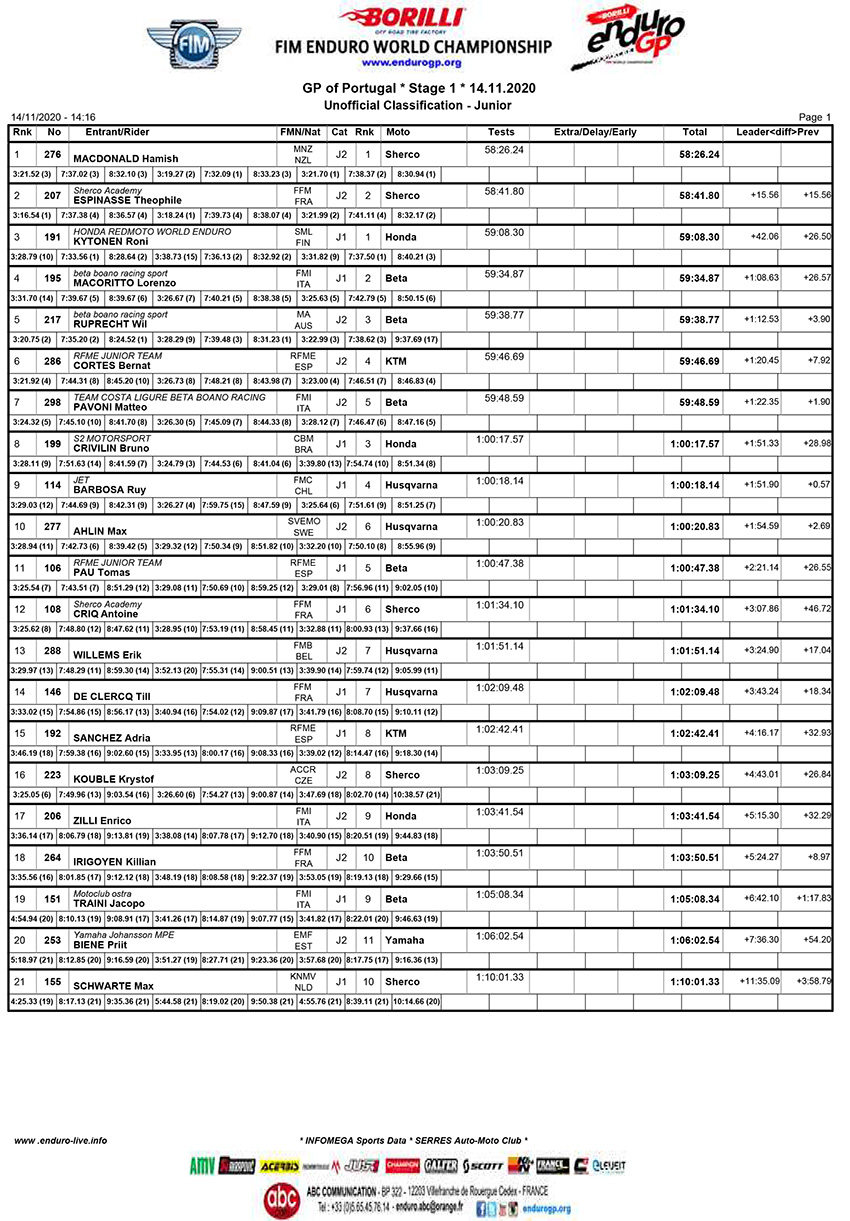 Portugal II, Enduro Youth day 1 results: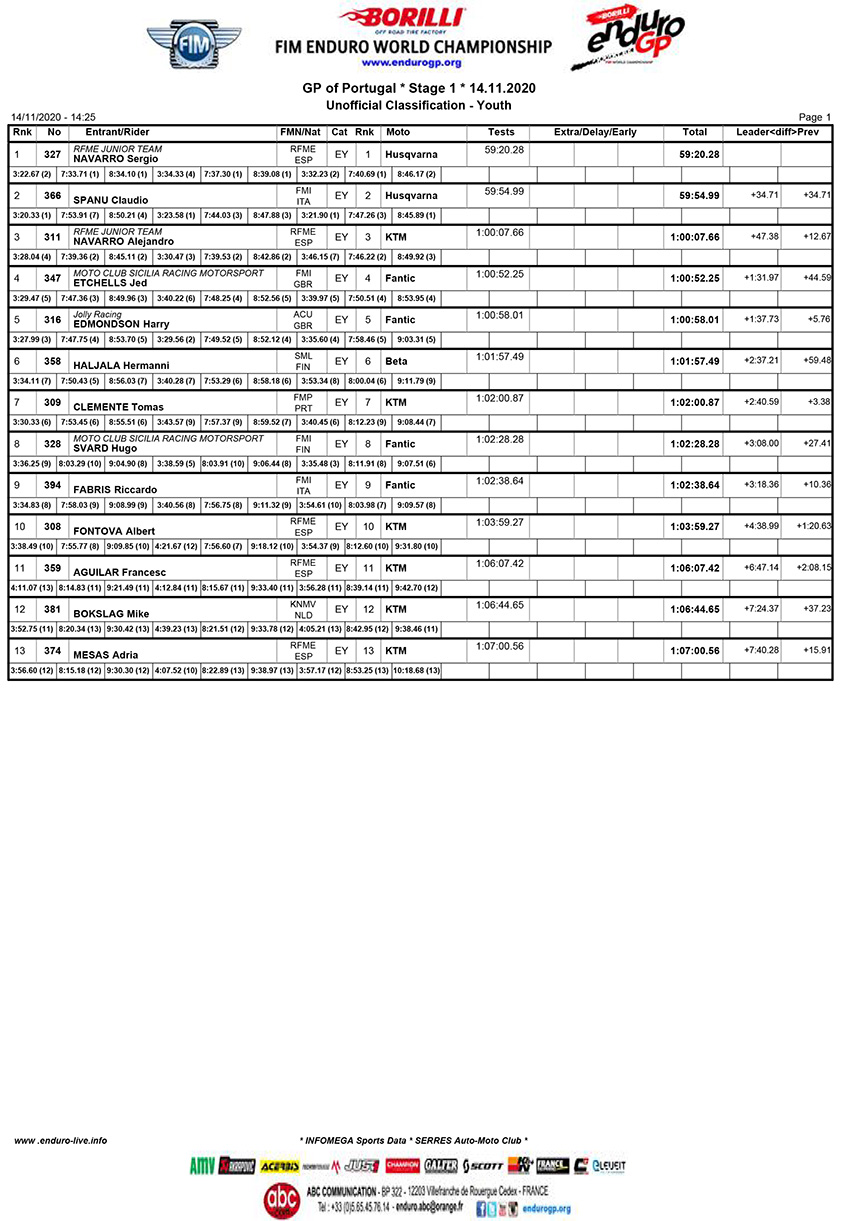 Portugal II, Enduro Women's World Cup day 1 results: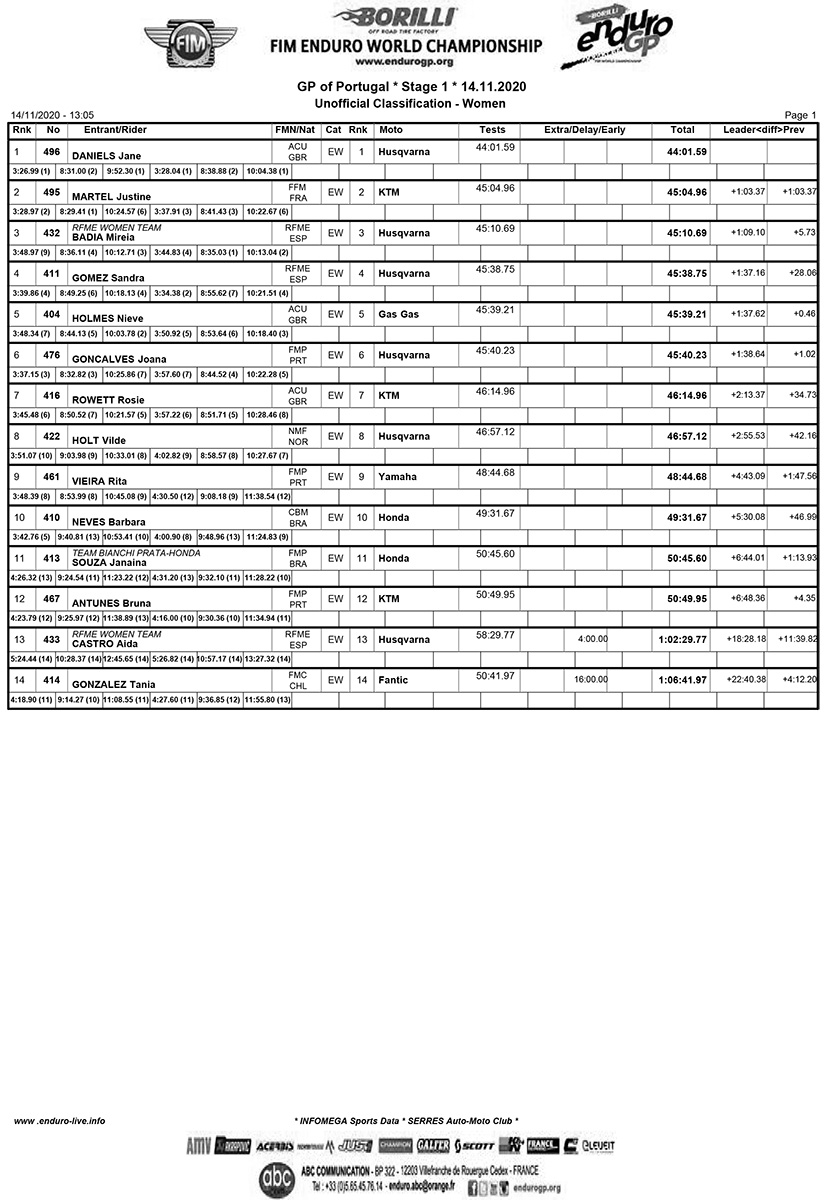 Portugal II, Open World Cup day 1 results: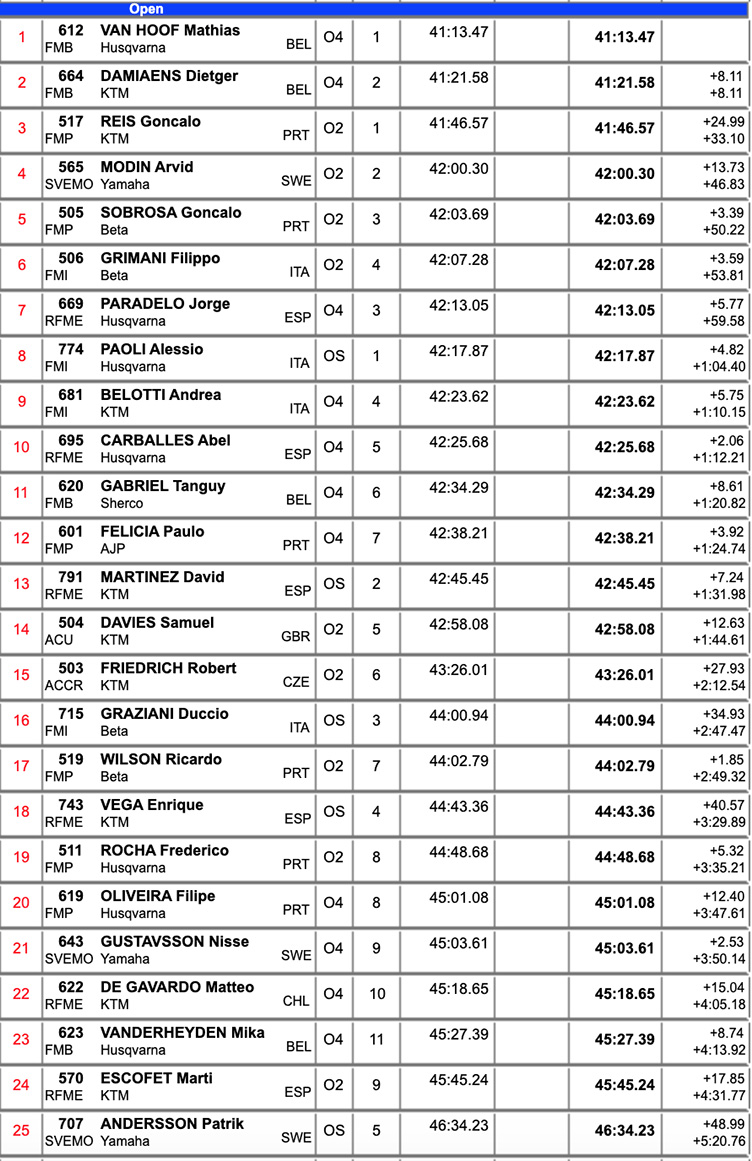 Photo Credit: Enduro21 | Nicki Martinez