GNCC Results: second win of 2020 for Steward Baylor at Burr Oak
"2020 has been and up and down but I sure hope we can ride this high note" says Steward Baylor after taking his second win of the season for AmPro Yamaha at the 2020 Burr Oak GNCC – meanwhile Kailub Russell crashes out of the race.
It is fair to say the 2020 season has been a dramatic one for Steward Baylor. Major surgery, headline-grabbing team changes and a post-lockdown string of different rides, sometimes on bikes straight out the showroom, which show the big guy has lost nothing and his status as the racer of the people stateside has grown because of it.
When AmPro Yamaha stepped in with the ride at GNCC round nine, Baylor delivered a shock winning result. If that was unexpected then a second win on the bounce at the Burr Oak GNCC was a gobsmacker.
FMF/KTM Factory Racing's Ben Kelley bagged the holeshot at Burr Oak but he overshot the first turn, allowing Steward into the early lead as the group of XC1 Open Pro riders made their way into the woods.
The lead was seven seconds lead over GNCC points leader Kailub Russell after lap one, with Kelley running third just eight seconds further back. Russell looked like he was making a charge for the lead but on that lap hit a tree, injuring his knee in the process and was forced to return to the pits and retire through injury.
That allowed Kelley into second position and though he continued to put pressure on Baylor out front, a mistake as the white flag came out cost him almost a minute. That left Stew Baylor clear to take his second-straight win of the season after a grueling three-hour race.
https://www.instagram.com/p/CFp4NVdDcOf/
"Stoked to prove some shit talkers wrong and back it up with another one!" Said Stew on social media. "Thanks to all the guys that got me back out here doing what I love and (!) the ones who wouldn't give me a shot and wouldn't return calls or texts when I was desperate! "This is quite a turnaround from buying a bike two months ago just to go racing or having a PICC line in three months ago! 2020 has been up and down but I sure hope we can ride this high note to '21!"
Kelley's comeback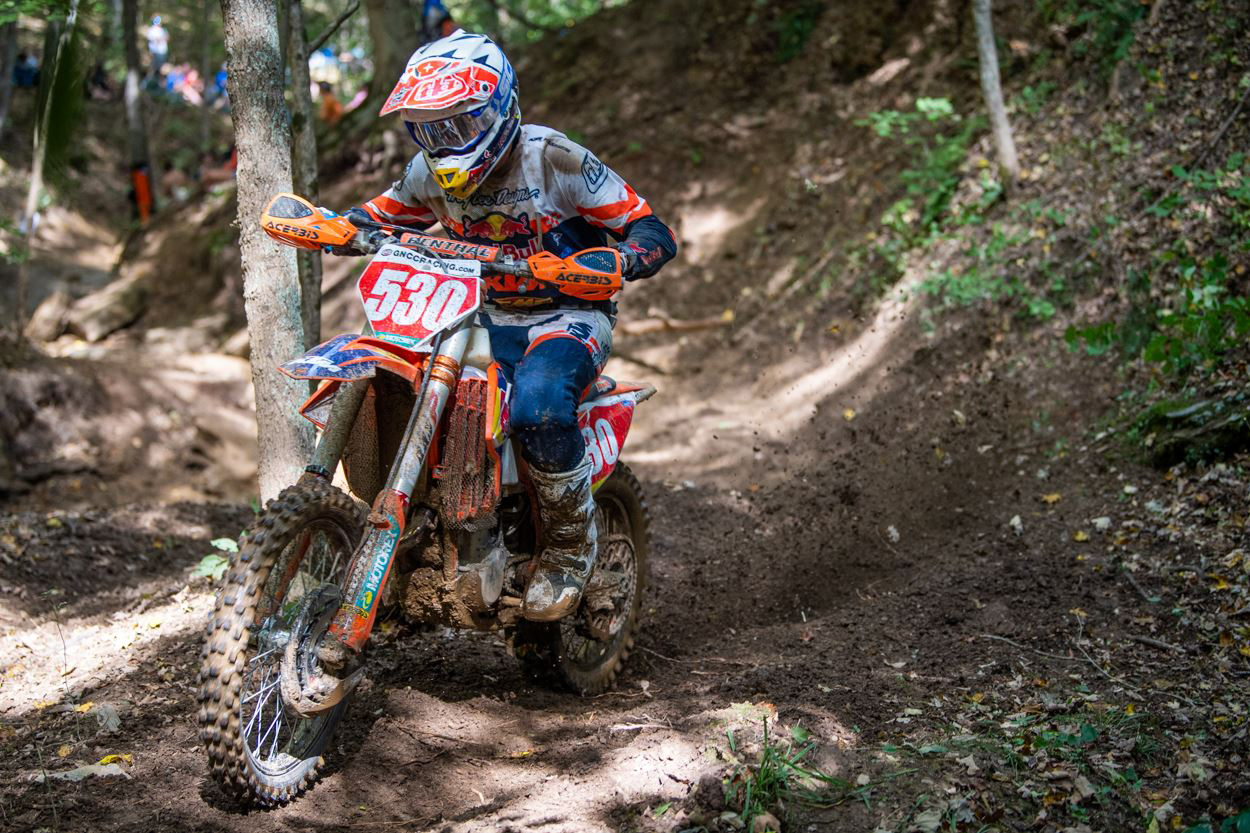 Despite missing the first five rounds of the series due to injury, Ben Kelley was happy with his riding and now sits eighth in the overall championship standings with three podium finishes.
"I felt good today. I had a few little mistakes here and there but it was all typical GNCC style." Explained Kelley. "I felt like I rode really good but Stu just beat me straight up. I'm happy to be back racing and healthy. I've been grinding ever since I was allowed to get back on a bike and things are starting to click finally."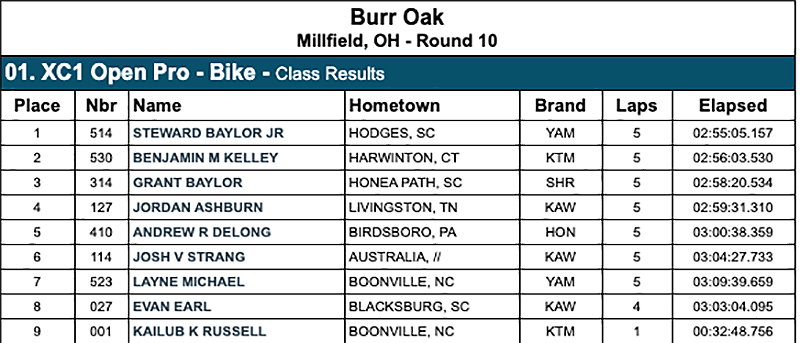 Russell's get-off
Explaining his crash, Kailub Russell says he got confused but has Josh Strang to thank for helping him off the ground. "I just got confused on my line choice in the John Penton section," says Kailub, "we were on this little road bed and I thought I had already committed to the outside line but I was actually on the inside and when I drifted out there was a tree right in the centre splitting the two lines and I just smashed my knee up against that tree and my bike.
"I knocked the wind out of myself and had a hard time bending my knee so Josh Strang stopped and helped me up on my feet because I was laying right in the middle of the track and couldn't stand up, so thanks to him."
Double Baylor podium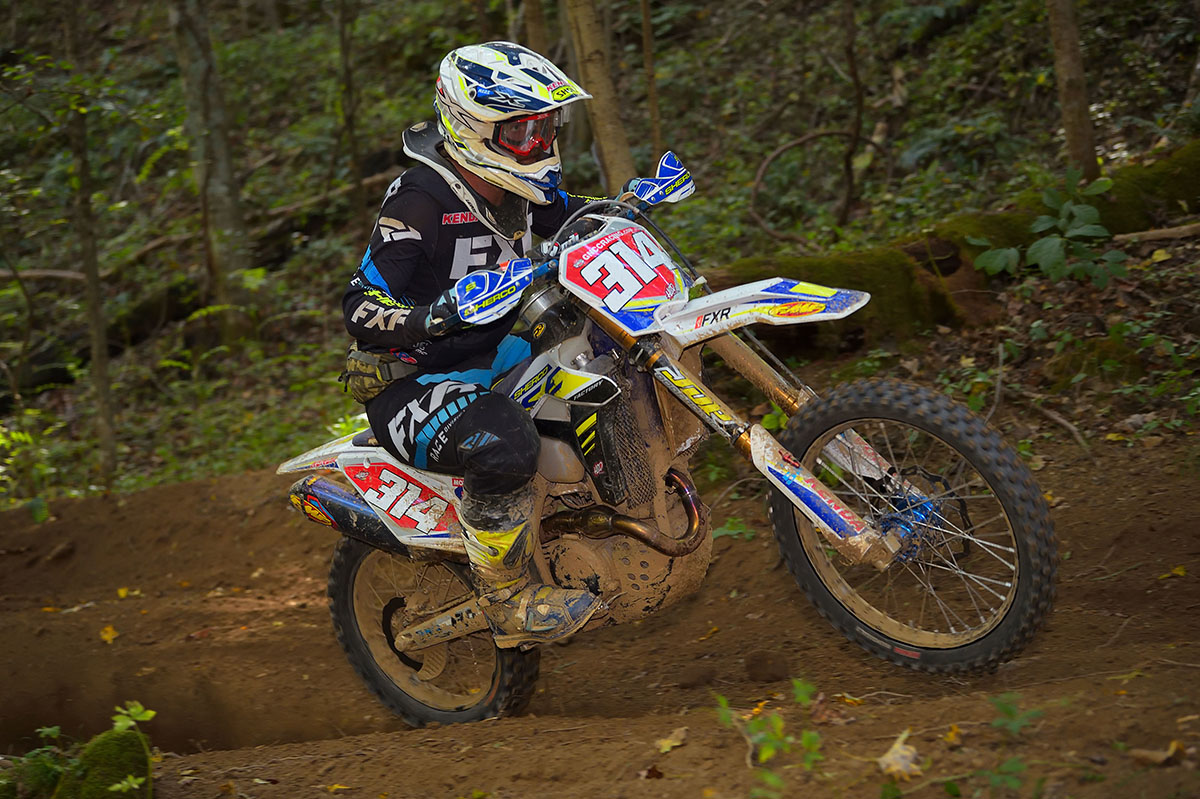 FactoryONE Sherco's Grant Baylor was in fourth overall on lap one and landed in third overall after Russell's incident. Grant tried to close the gap between himself and the lead pairing but in the end finished over three minutes down on his brother at the chequered flag but says it was a great feeling to share the overall podium with his older brother.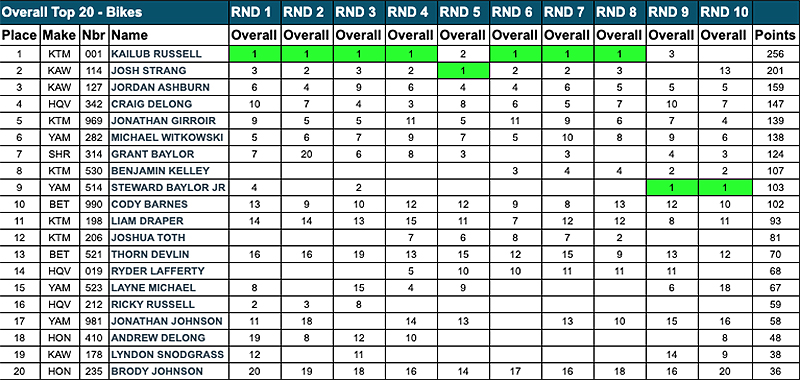 Girroir back in charge of XC2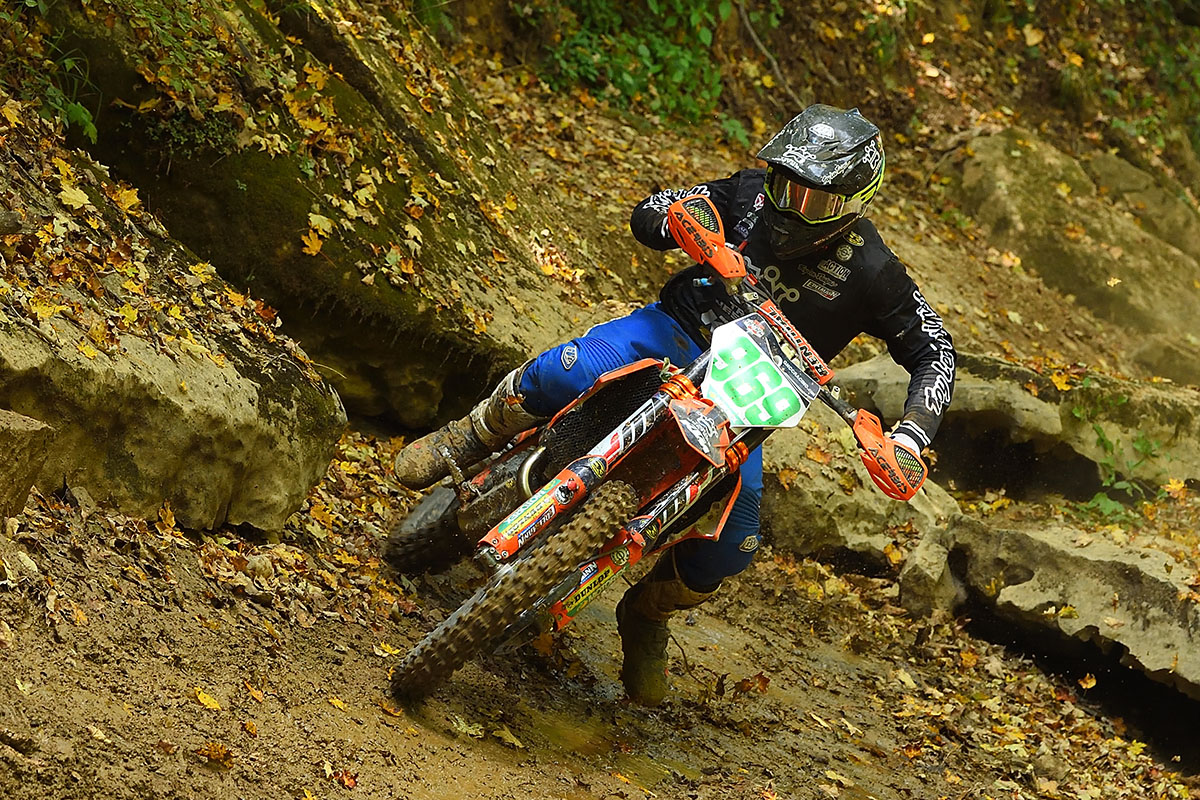 In the XC2 class it was Trail Jesters KTM's Jonathan Girroir who got himself out front early and maintained a lead for the duration of the race. When the flag came out Johnnie had a 22 second gap between himself and AmPro Yamaha/St. Lawrence Radiology's Mike Witkowski in second place to earn his fifth win of the season. Girroir has been the XC2 rider in form of late and takes a nine point lead in the XC2 class.
Witkowski had a consistent race but Girroir's pace was too much over three hours. Witkowski remains third in the points standings though and 20 points behind the leader.
Rockstar Energy Husqvarna Factory Racing's Craig Delong had work cut out for him as he came through timing sixth on lap one. Delong made his way into fourth by the second lap and then third where he finished out the day in his class, and seventh overall.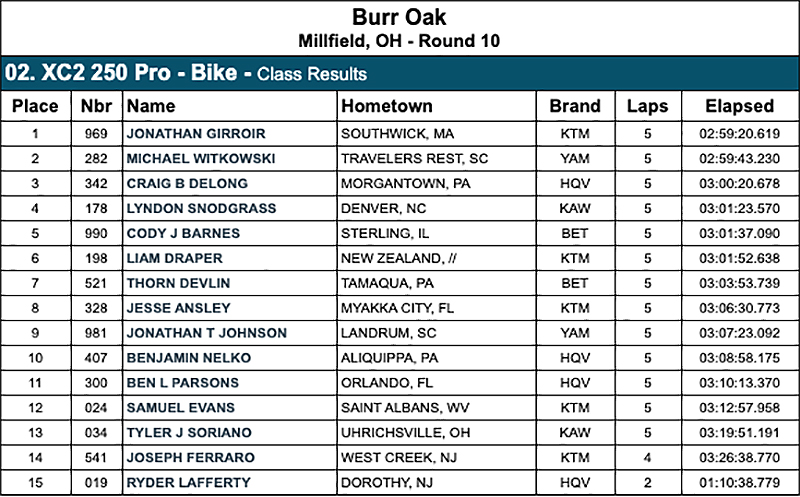 WXC win for Archer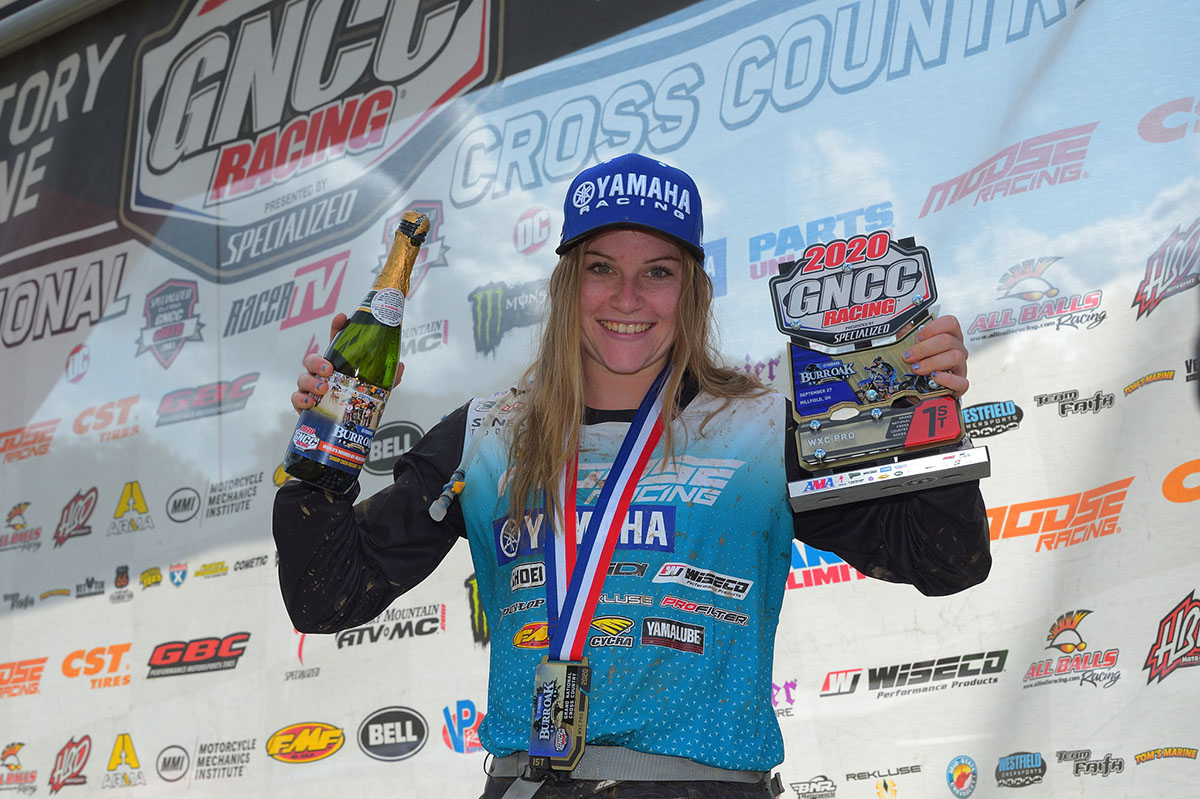 Factory Beta USA's newly signed Rachel Gutish grabbed the WXC holeshot but it wasn't long before AmPro Yamaha's Rachael Archer made her way to the lead. Archer would check in 18 seconds ahead of Gutish on the opening lap with current points lead BABS Racing Yamaha/Maxxis' Becca Sheets right behind her.
Archer held her lead position throughout the two-hour race, crossing the finish line with over a minute gap back to second. Sheets made the pass on Gutish for the second but was unable to catch Archer for the lead. Sheets remains in control of the points standings ahead of Archer and the injured Tayla Jones. Gutish held onto third on the day and currently sits one point down on Jones, fourth in the WXC class points standings with three more rounds of racing to go.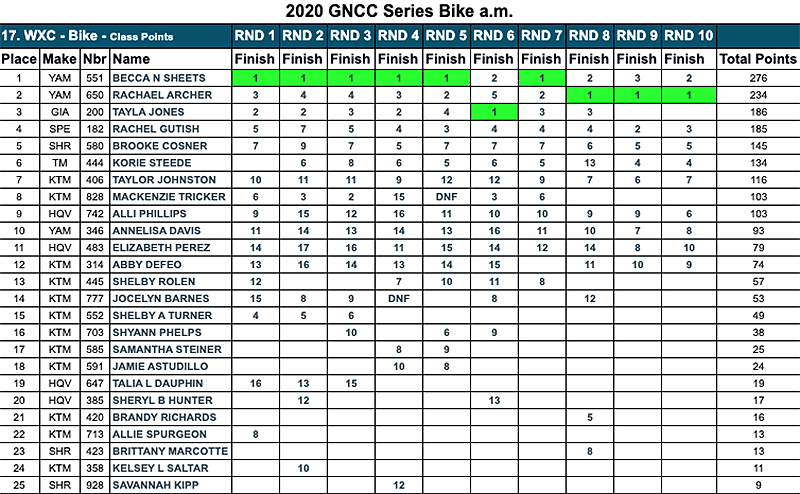 Round 11 of the 2020 season is the Mason-Dixon GNCC on October 11.
More information: www.gnccracing.com
Photo Credit: Ken Hill + Shan Moore