"The second day was like hell!" Broken toe woes for Mario at HEWC Rnd 2
After smashing his foot against a tree stump, Mario Roman says the Xross Hard Enduro, round two of the 2022 world championship, was three days of pain just to scratch some points.
After winning the first round of the Hard Enduro World Championship plus the Extreme XL Lagares in Portugal earlier this month, Mario Roman arrived for round two in Serbia last weekend with confidence and aiming for a very similar result.
But after battling for third place in the prologue, just five minutes into the first mountain stage a hidden tree stump had other ideas for the Sherco Factory Racing rider. Then followed three days of pain for Roman as he knuckled down for points not prizes.
Enduro21 caught up with Mario for his blog (catch it in full on the Enduro21 Spanish language sister site). We'll let Mario take over from here…
"The Xross Hard Enduro in Serbia started very well. This was the second 'Straight Rhythm' this season, and the truth is the format is fun." Explains Mario. "Although it is also true that, on this occasion, it was a bit dangerous. There was a balance beam and there were several accidents between the Pro pilots. One of them almost got killed, literally. And two others crashed and luckily no harm was done."
"Apart from that, it was a very intense prologue. I had three duels…with Letti, Cyprian and Gomez.
"There are two parallel sides and these are not always the same. So, like in tennis, to get a chance for both of you to play one side and the other, you switch sides.
"Alfredo beat me and went to the final, but I finished third and it went very well. I am happy to have beaten Letti and be very close to Alfredo. I am very happy with the improvements in the SuperEnduro-style sections."
And then came the tree stump…
"The starting order was actually according to the timed runs, and not according to the prologue. I started fourth and the first part was super-fast, so I went out on the attack.
"But after only five minutes, I hit a stump that I couldn't see. The impact was so strong that I went flying headfirst, doing a somersault! I thought I had broken my foot because I couldn't feel it..."
"I gritted my teeth and told myself that this is the World Championship and that I had to continue. I was thinking about the injury and hoping it wasn't very serious, and hopefully the skin hadn't exploded, or the bone was out...well, continuing like this is normal.
"I took an anti-inflammatory at refuelling and continued in the race. I didn't want to look at my boot until I was done.
"At the end of the day I went to the hospital, they did an X-ray and they saw that my last phalanx was broken in three on my third toe. Luckily it was a small break and, for now, there is no need to operate. So, I decided to continue to get points for the championship."
The idea of the podium had vanished
"I wanted to try to do my best, trying at all times not to aggravate the injury. Someone in my team gave me a size 45 boot to prevent the toe from touching the end of the boot. With a bigger boot, a bandage and fixing the toe to the healthy one next to it with tape, it was possible to ride quite well, with the help of only an anti-inflammatory and without any painkillers…it hurt, but I tried not to stomp on the ground and ride as smoothly as possible, without crashing or anything."
Wearing a bigger boot helps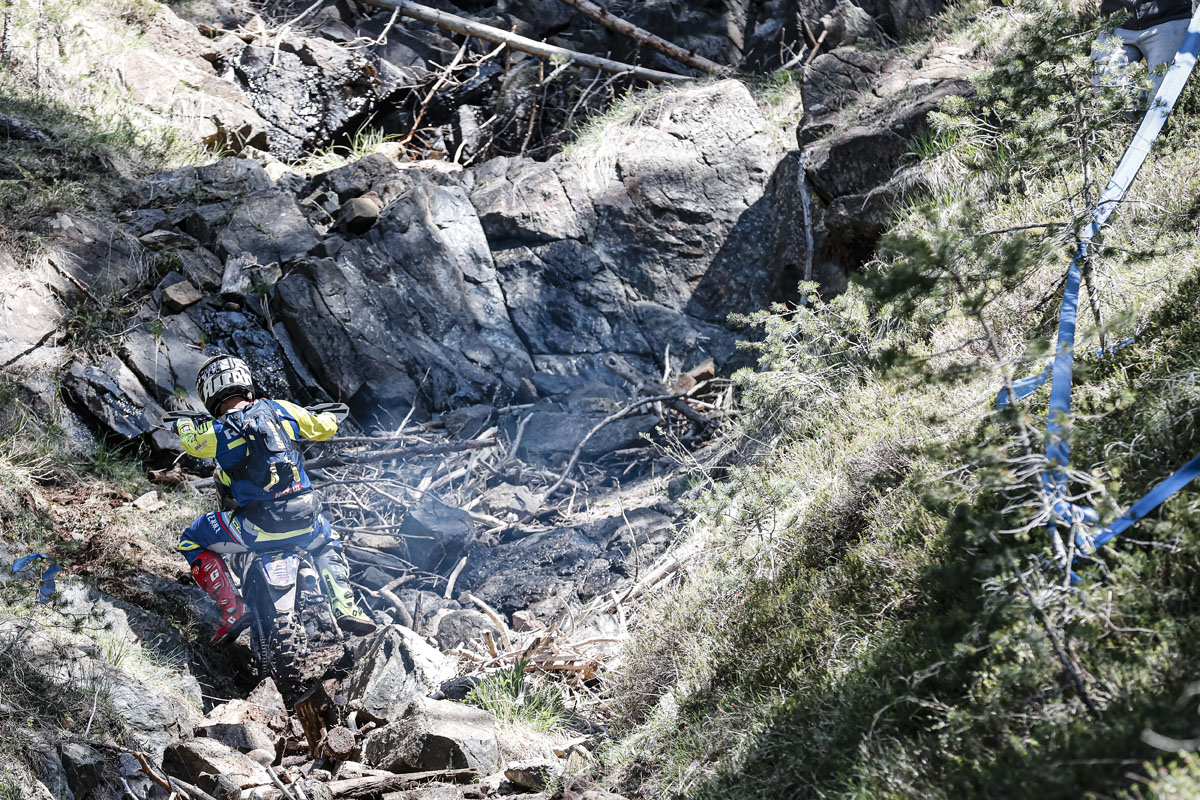 "The second day was a 'fakirada!' (means like eating fire in Spanish!), with 7 hours 20 minutes. It was very hard for me, almost eternal. But I got to the finish line. The last day was already a day of survival and at less than four hours was shorter. The work was already done, so I tried not to make any mistakes and just finish.
"I am very happy to score six points, which could be very valuable in the fight for the championship. Right now, I'm fourth. The top two finishers are tied on 30 points, the third has 27, I have 26 and Wade, if I'm not mistaken, 22...that means that everything is still at stake and that there is still a long year ahead."
The third round of eight in the 2022 Hard Enduro World Championship is at the infamous Iron Giant, the Erzbergrodeo in Austria on June 16-19.
Read the full interview with Mario in his latest blog on Enduro21's Spanish language sister website.
Photo credit: Future7Media |Andrea Belluschi