Xross Hard Enduro: Bolt leads after tough day 1 win in Serbian mountains
Billy Bolt holds a narrow lead after a tougher than expected day one of the Xross Hard Enduro, round two of the 2022 Hard Enduro World Championship this week in Serbia.
The opening day in the mountains at the Xross Rally in Serbia set the tone properly for riders tackling the second round of the Hard Enduro World Championship: you're in for a hard time boys (and girl).
Billed as a day which would be more like enduro than hard enduro, it actually proved a tough four hours of riding with an 'easier' one hour sprint to the day's service, where Mario Roman was setting the pace. But as the day wore on the two lead riders became Billy Bolt and Mani Lettenbichler on the ground.
The story of the afternoon's work was hard graft in slick rock streams and, for those opening the tracks, it often meant busting through trees to cut the lines which the others could follow.
That played into the hands of some riders behind who could both follow the wheel tracks but also rely less on their GPS for navigation. The two riders chiefly benefitting from that were Teodor Kabachiev and Michael Walkner who closed down riders in front all through the afternoon to post first and second places respectively on the day.
(Pro class results are below)
Rider quotes: team work makes the dream work
Leader overall on corrected time, in part due to his winning ride in the previous day's prologue but also thanks to buddying-up with Mani Lettenbichler for some sections, is Billy Bolt by a mere 58 seconds margin. "It was quite a tough day, especially in the afternoon." Explained Billy at the finish. "There was a big part of the track which was new and had a lot of trees, branches and stuff to push through.
"It was a difficult track for me and Mani to navigate out front, we made a lot of wrong turns – although luckily Mani's navigation was very good so we found the right track most of the time.
"We worked pretty well together and we kept moving forward, as I said it was a difficult track to be out front. The two guys behind must have picked up some minutes on us but I'm happy with how I rode and how I was feeling on the bike. I'm ready for day two."
Teodor Kabakchiev had a blast ticking off the riders in front and taking advantage of his start position. "I was riding comfortable and fast today, that's what I was aiming for so I'm happy." Said the Bulgarian. "I had a lot of fun out there. I was trying to catch people all day so I enjoy catching guys one after the other.
"The track was really challenging with some very slippery rocks, I expected it to be muddier but it turned out to be a rocky track. I'm quite surprised with myself, before I used to struggle a lot in the rock but I'm improving on it lately."
When we spoke to Mani Lettenbichler in the week leading up to Xross, we thought he said he was going to take it easy at his first race back for six months! Instead the KTM rider was in the mix all day, sharing the task of leading the way with Mario Roman and crossed the finish line second on the road, just behind Bolt to stand an eventual P4 on corrected time: "It was hard, definitely hard." Says Mani. "In the morning I caught the guys in front and thought that I was riding a pretty good pace, but it was definitely not easy to keep it all day.
"Billy and I tried our best out front but the navigation was not easy. The tracks were so new that sometimes there wasn't even a line there and were filled with trees and bushes. Definitely we had a good day but near the finish we saw that Kabakchiev and Mikael were there and we tried to open a gap."
Speaking about the first real race test of his knee, Mani says it felt good but he had his moments, "I had to hold off the throttle a couple of times because I still not trust the knee 100%, but at the same time I didn't want to lose these guys. It won't be easy to ride at this pace for the whole race."
Sherco boys suffer
It wasn't a good day for the Sherco Racing riders Mario Roman and Wade Young who lay P7 and P8 overall. Winner of HEWC round one in Israel, Roman was initially leading the way but some confusion with rider order after the service point, plus a hitting a tree and injuring his foot made day one proper in Serbia a tough one for the Spaniard. "It wasn't an easy day." Says Mario. "I hit a tree in the morning and smashed my toe. I haven't check it yet, because I didn't want to look how it is. The organization made a mistake because they sent me first after the service point and I had to open the way, but in reality I shouldn't have been doing it. I did my best until the finish and I'll be happy if I'm in the top 10. I need to go to the ambulance now to check my toe and see how it holds for the next days."
Injury woes also hit Roman's Sherco Racing teammate and former Xross winner, Wade Young. "It was good in the beginning but I did something with my back." Wade explained. "I have a long injury in my foot and while trying to avoid damaging it I tweaked something in my back. I'm pretty disappointed and I felt quite bad riding. It was good at the beginning but we got in a riverbed and my foot got wet and while I was trying to look after that I did a movement, which felt normal, but I did something to the bike. I had to use a lot the body to get over obstacles and I couldn't fully extend it. I hope I can have it looked at and fixed for tomorrow."
Xross Hard Enduro provisional day one Pro class results: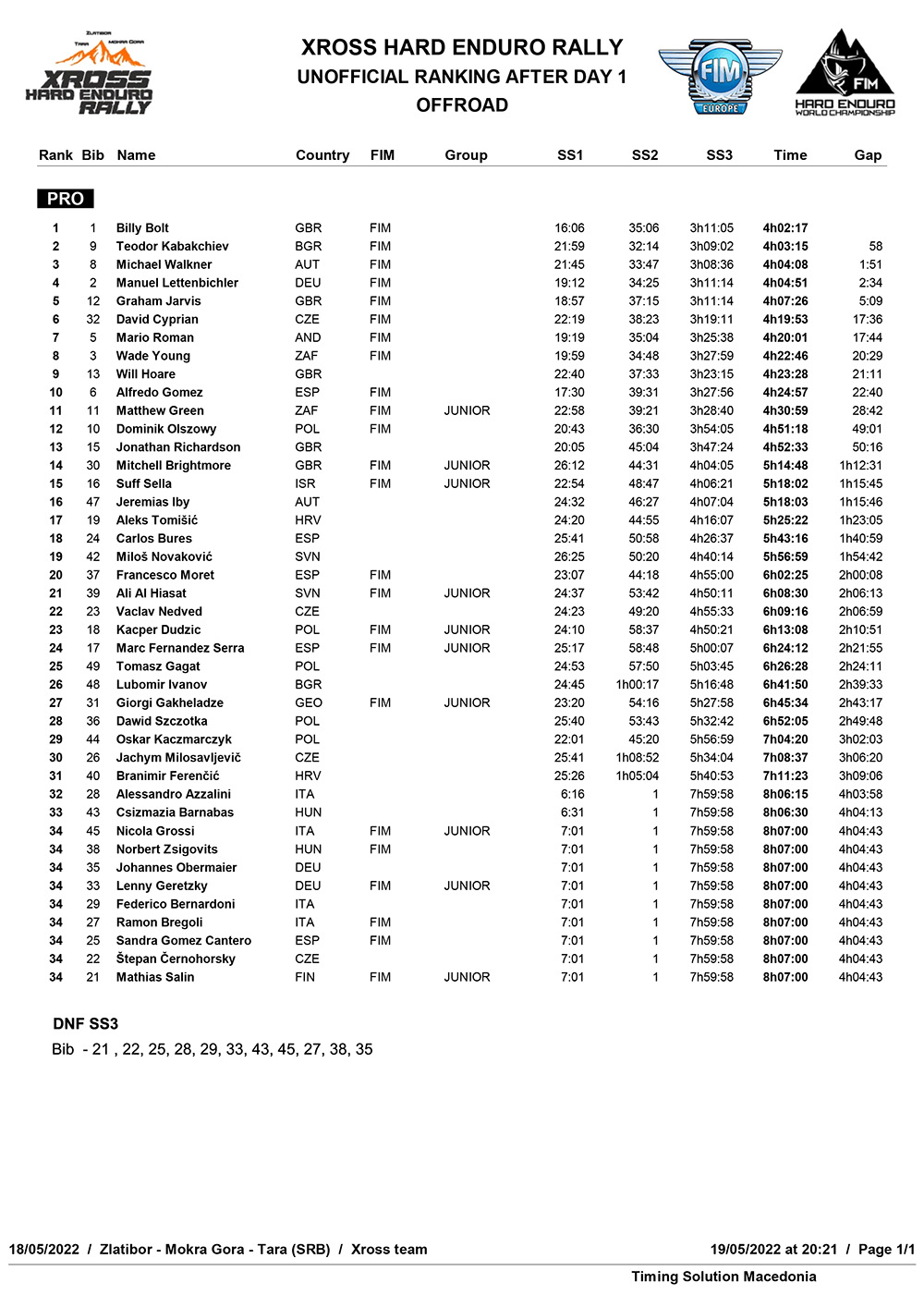 Photo Credit: Future7Media | Andrea Belluschi