2022 Dakar Rally Notebook: stage 8 – "If you want to win the race, you have to win stages"
Enduro21's daily Dakar Rally notebook aims towards the finishers flag – it's four, long days away still but the moves made now will affect the final result (plus we check in on Daniel Sanders' crash site).
You got choices as a rally rider: go balls out and race each day like a huge enduro test or play the long game and keep the ship steady, steering a smooth course to the flag.
The latter seems sensible given the pitfalls of this bloody fast sport where riders spend their long working hours racing while avoiding crashing (in the dirt or on the asphalt) and trying not to make any time-consuming mistakes navigating for invisible points in a vast desert.
But being sensible just ain't going to cut it for a whole rally. As Sam Sunderland proved on stage eight today, at some point you've got to grab the bull by the horns and to hell with the consequences.
"If you want to win the race, you have to win some stages"
Given the yo-yo effect winning a stage has on the leaderboard, why did Sam Sunderland go all out for the win today? He could have employed his GASGAS teammate's tactic from earlier in the rally, had a picnic near the end of the timed special and killed some minutes to finish fifth or similar.
Being first means you're first on stage next day and that can be a disaster, Sam knows that from stage seven (a whole 24 hours ago) when he led out and got bitten on a tough navigation day.
Sunderland and his main sparring partner this Dakar, Matthias Walkner, had little choice but to go balls out to claw back the 20-plus minutes lost finishing outside the top 20 on stage seven. Sam did that and then some, adding nearly four minutes to his new overall lead. Despite this actually being his first stage win of the rally, he has now lead for six of the eight days.
The option to be more measured might be smarter during week one, with the luxury of so many days racing still ahead, but it hasn't worked for some big names this Dakar and in this second week the choices dry up.
"I gave my all and tried to recuperate some time." Sam explains. "I had a few crashes in the dunes this morning where I was perhaps riding a little bit too hard, but I settled down after the refuelling and got a good rhythm."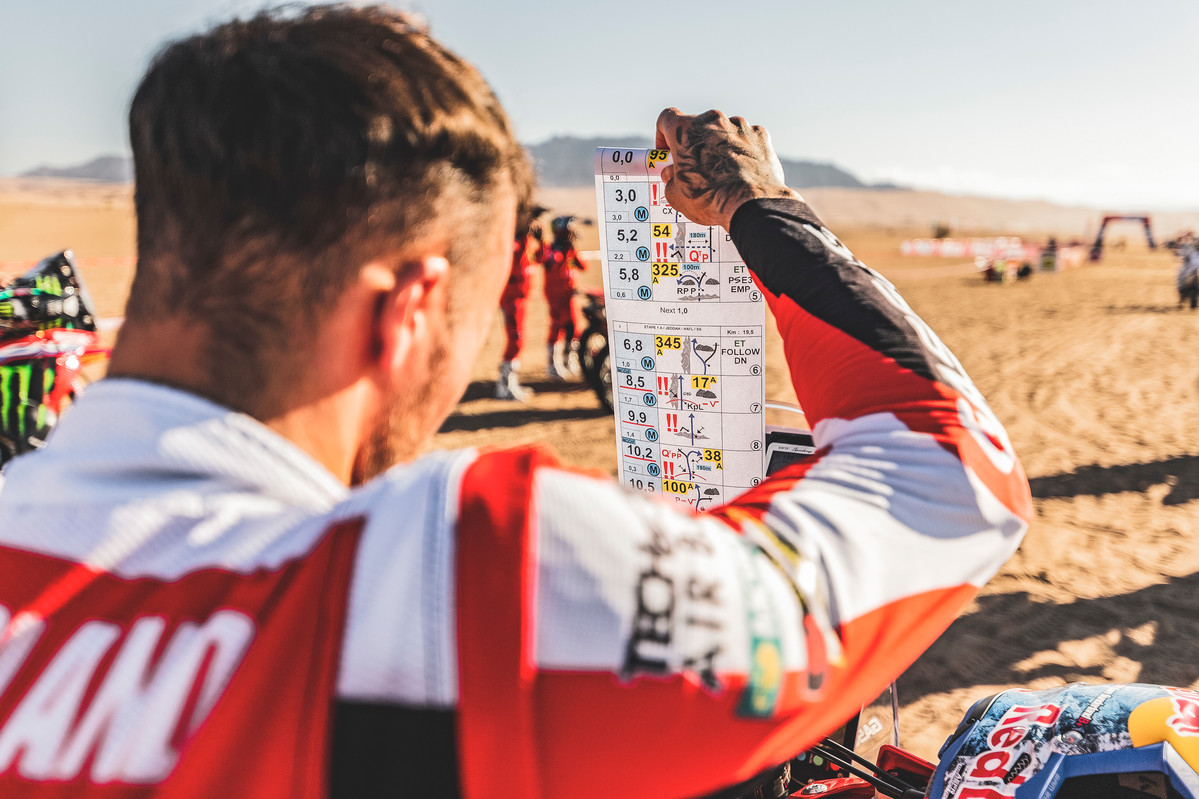 "With things so close it is more important than ever to complete each stage without making any big mistakes." Adds second-placed Matthias Walkner pointing out time-sapping navigational errors on the stages are still a major factor.
The challenge is also to stay mentally strong when things aren't working out. "I have to be happy with the good times and try to take care when I have a rough day like yesterday. I felt so down because I had quite a rough day. I just have to try and stay motivated and keep banging the hammer because there are still some long days to come." Sunderland concludes.
Riding the dune one-handed
Adrien Van Beveren seemingly lost out today. Holding the overall rally lead for one day only, the Yamaha team rider lost 10 minutes on stage eight and drops to third overall again, 4.43 behind Sunderland.
Some of that time loss was down to a dodgy thumb switch on his handlebars, the electronic control for the roadbook scroll on their dashboard. It goes both ways and riders have to keep pushing it to wind through the notes as they ride. Depending on teh frequency of the notes and speed the scrolling can be pretty constant.
Imagine riding one-handed because your left hand is manually scrolling the roadbook! That was Adrien's task today using the two small, round dials on the nearside of his nav tower you can see below.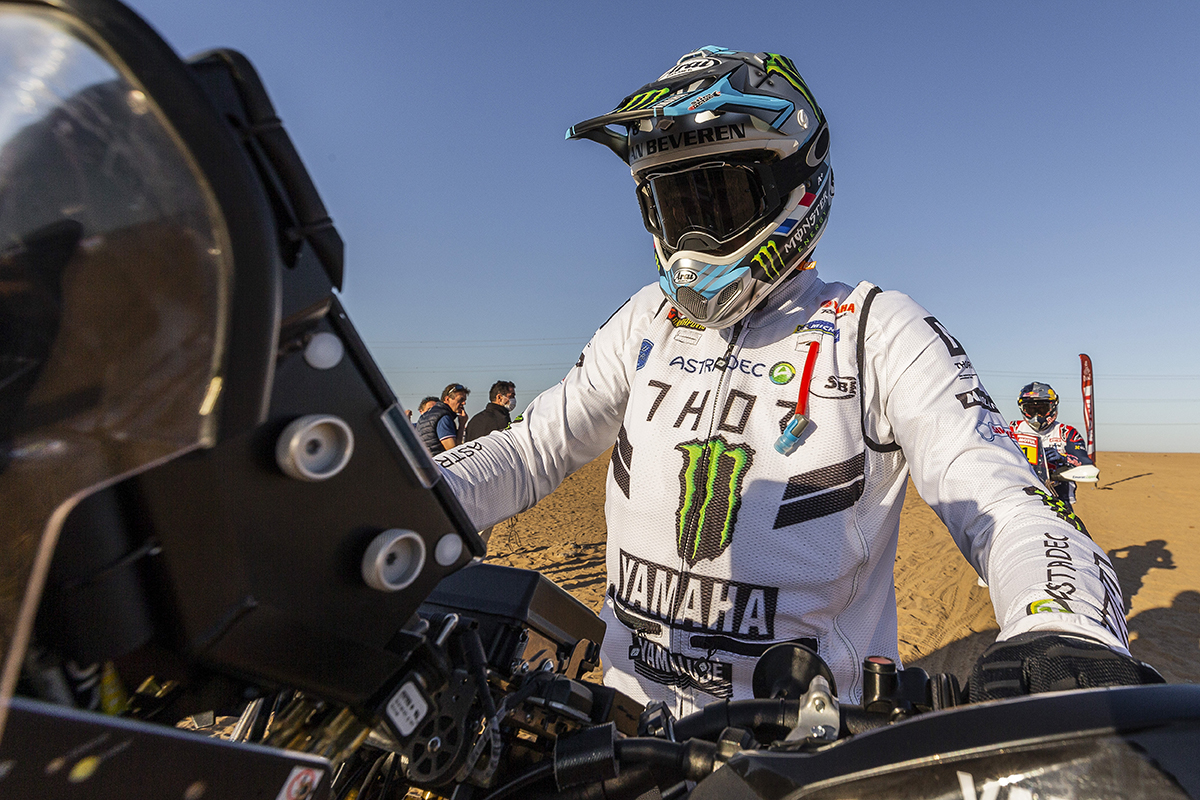 "The button on my roadbook broke in the first dunes, so I had to scroll it by hand." Says Adrien. "It wasn't easy to ride like that. It was scary to be bounced around over the holes in the terrain with just one hand on the handlebars. That said, I didn't have any other problems and everything is ok, that's just part of the Dakar."
Worse mechanical problems have beset the Yamaha team in recent Dakars so no wonder he is philosophical about this 'minor' problem.
To his credit, Adrien's the best example of the other tactic in rally racing. He is riding fast but not quite fastest, and therefore is never either too near the front or too far back each day.
Whether by design or not, that has stood the Frenchman well this last eight stages. So far he has ticked off zero stage wins but six finishes inside the top 10, with just two others of P11 and P15. This is the law of averages rally-raid style.
Tomorrow AVB starts P9 on the road while Sunderland and Walkner are again out front and so stage nine will be a different story. Unless someone grabs the bull by the horns…
A.O.B. – Battle of the rookies and Daniel's corner of Saudi
The news of Daniel Sanders going out the rally came as a bit of a rude awakening for all yesterday morning. It was hard to get the full picture of what actually happened when he crashed on the road while heading to the stage start. This IG post makes it clearer…get well soon Chucky.
Rookie riot
The battle to be best Rookie is also the battle for the Juniors and Rally 2 class honours because the same two riders are leading the way. Two 'beyond their years' performances from Mason Klein and Bradley Cox might be behind the headlines but they're no less impressive.
The American, Klein, has a healthy advantage now over the South African Cox – almost one hour – but the pair are regularly in the top 20 on stage and Klein is regularly pulling top 10 results. They sit 10th and 18th overall and on a day like today, Klein casually pulled off P5 ahead of soem vastly more experienced riders.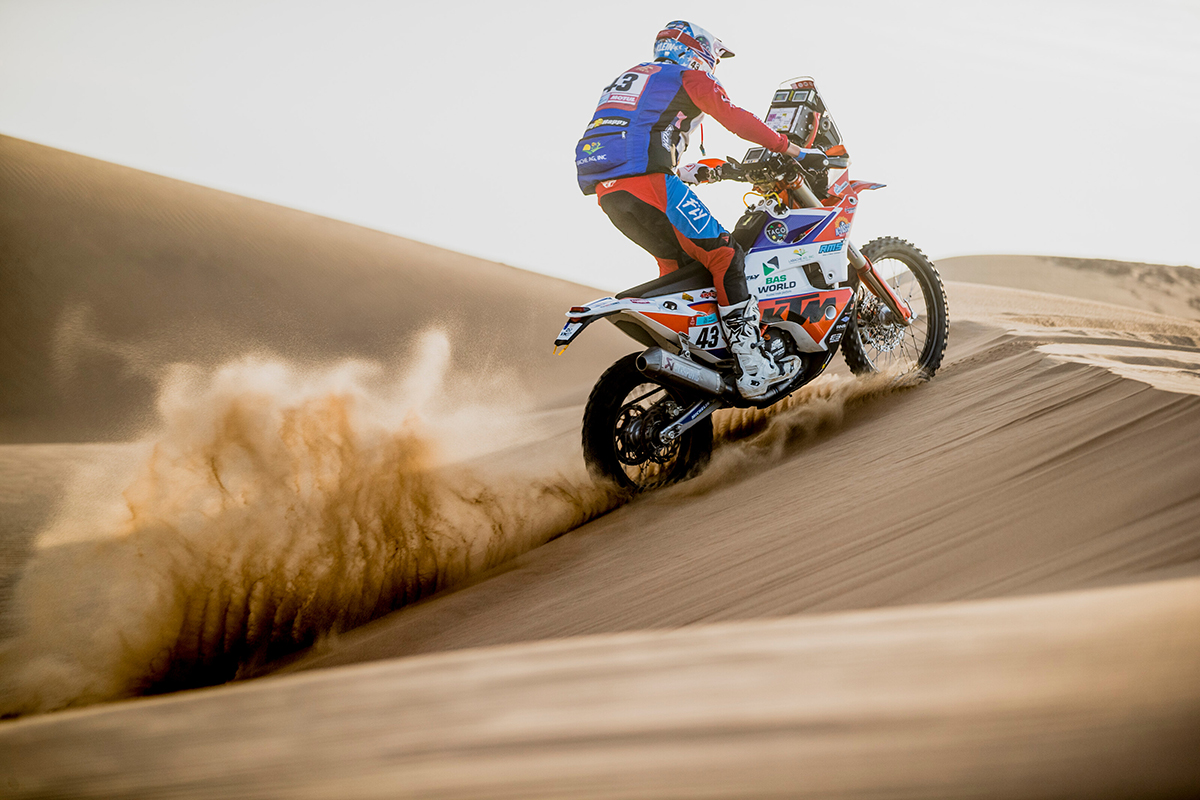 The Original by Motul class (for the hard as nails riders competing on their own) is still being led handsomely by Arunas Gelazninkas who's 56 minutes clear of Milan Engel. Frenchman Ben Melot has moved to third ahead of long-time P3 occupant Charan Moore in the last stage.
The four female riders are still going strong with Mirjam Pol over three hours to the good ahead of Sandra Gomez with Sara Garcia third and Audrey Rossat fourth. Pol has burst into the top 50 in 49th place overall while Gomez is 73rd.
General classification (top 30) after stage 8: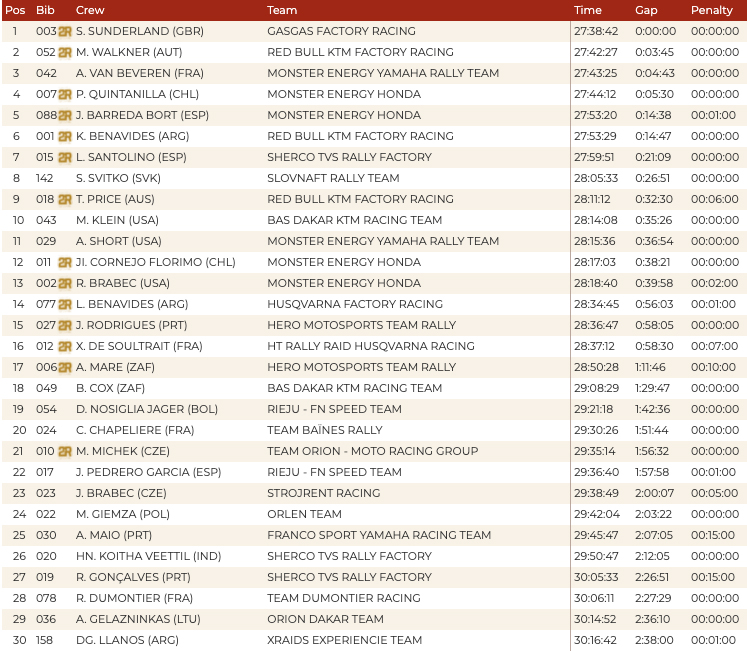 Find full results in our separate story: 2022 Dakar Rally Results: Sunderland back in charge on stage eight
Photo Credit: Horacio Cabilla | A.S.O. + RallyZone + Flavien Duhamel | Red Bull