2022 Dakar Rally Results: Sam Sunderland blasts back on stage 11 – "everybody pulled the pin"
Results from stage 11 of the 2022 Dakar Rally where Sam Sunderland has blasted his GASGAS back to the race lead ahead of Pablo Quintanilla and Matthias Walkner and on a day where riders "pulled the pin" to set-up a final stage showdown.
Dakar Stage 11 in a nutshell:
Stage 11, the penultimate day of racing at the 2022 Dakar Rally was another loopy day in more ways than one. Racing out and back to the Bisha bivouac, riders had 346 kilometres of timed special from 501km in total. It was dunes as far as the eye could see for a while but still featured the trademark difficult navigation wihc played a heavy role once more.
Sam Sunderland set off from 17th place and was quickly posting P1 times through checkpoints but it wasn't just about nailing the throttle today. "After 4km there were lines everywhere." Said Sam pointing out that navigation was a big issue. "I really just tried to push all day to make some time up in the dunes."
Sunderland sailed through the sand sea to take a chunk of time back. He finished 0.4s behind Kevin Benavides on the stage but a hefty amount ahead of his rivals for the win and the general classification swings back in his favour with a 6:52 lead with one stage to go.
Rivals for this rally's hefty trophy, Matthias Walkner and Pablo Quintanilla, both also had good start positions, 26th and 13th respectively, but couldn't match Sunderland's pace today.
Walkner was fourth on the stage, 4:54 behind Sunderland which means the Austrian drops to third overall and over 7:15 behind scratch.
Quintanilla was sixth on stage, 7:40 behind the winner and that elevates the Chilean to second overall, his highest scratch position of the rally.
Overnight rally leader Adrien Van Beveren had the duff hand of cards today compared to his rivals, he set off third and lost time early looking for a waypoint. The Yamaha Racing rider says he got angry on his way to 15th, 22:33 down on the winner. AVB drops to fourth, 15 minutes behind Sunderland and looks out of it but has a favourable start time tomorrow.
Joan Barreda, Toby Price and Luciano Benavides lead from the front and were joined by Andrew Short after refuelling. Shorty was the best of this early bunch on stage and his ninth place was arguably his best ride of the rally in these conditions.
As a measure, those around him including Barreda who still held podium pretentions this morning, finished 21st and 25 minutes behind, Luciano Benevides was 26th and 28 minutes down while Price was 28th and 30 minutes back after starting first.
The actual winner on the stage, Kevin Benavides, dramatically went out of the rally yesterday. His result means little other than to help his and KTM's pride, although he could prove useful for Sam and Matthias as a target on tomorrow's final 164 kilometre sprint to the finish.
Hero Motorsports and Joaquim Rodrigues will be proud of their third place today. Since winning stage three they've had an up and down time of it but third on a day when everyone is clearly on full gas is a solid result.
* results will update
2022 Dakar Rally Stage 11 results: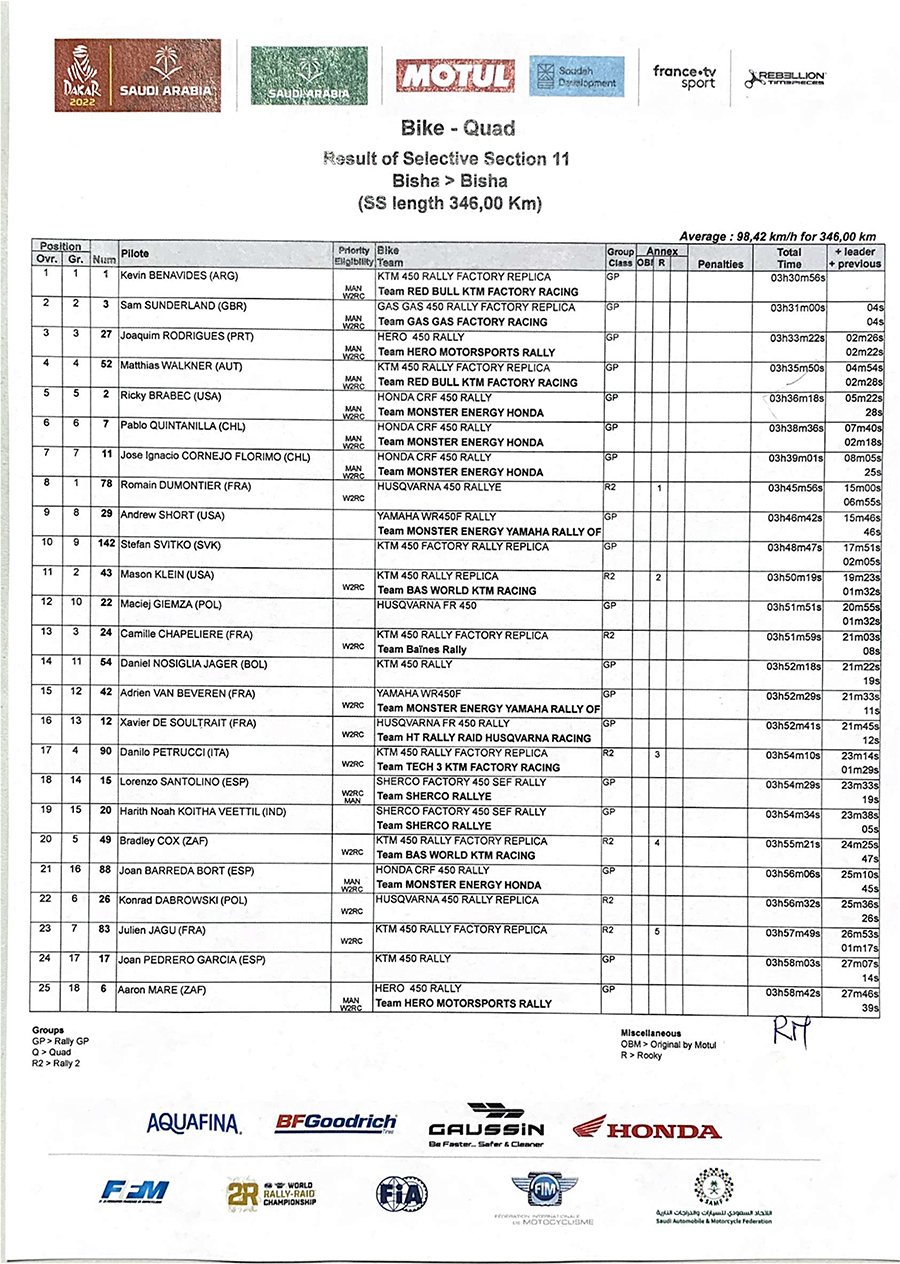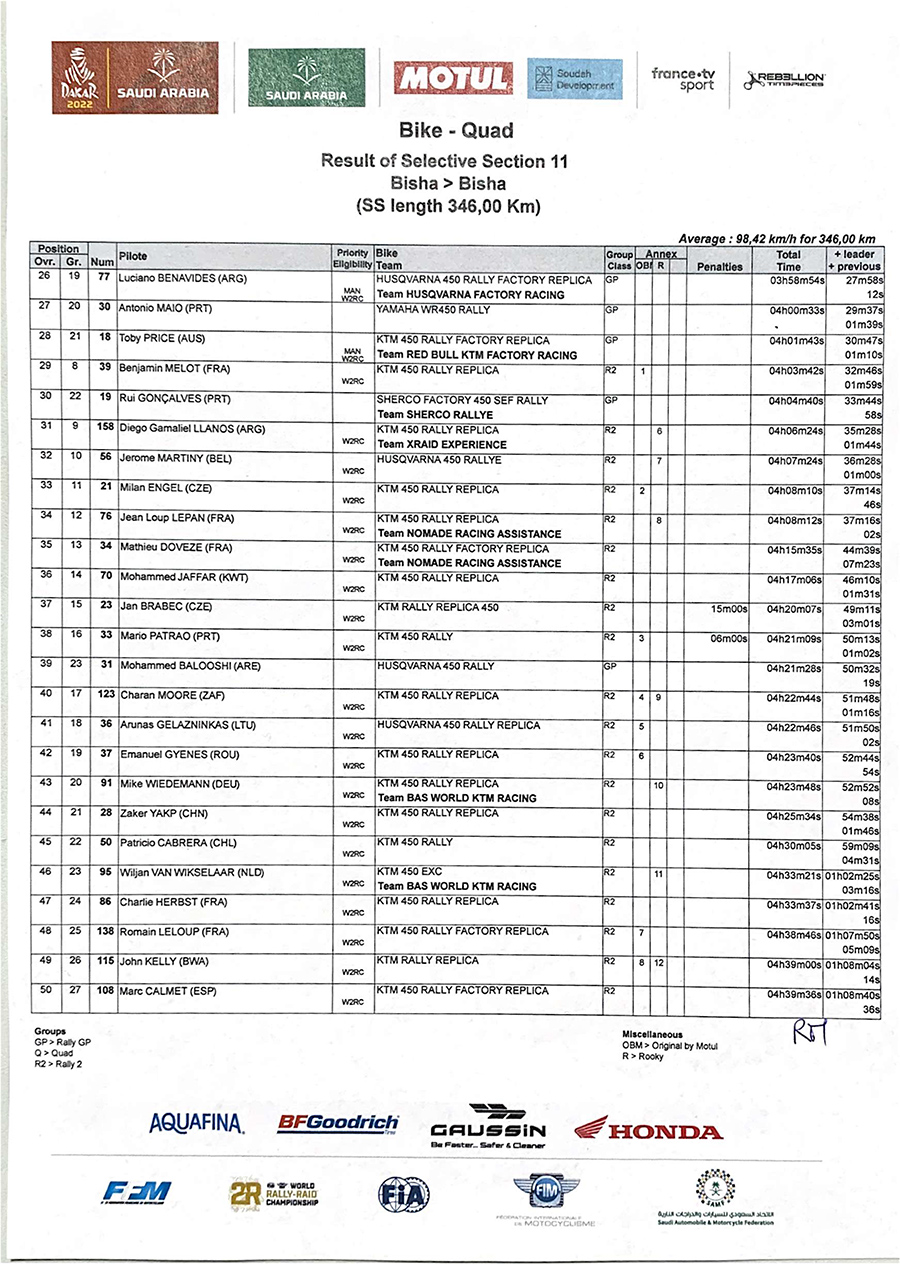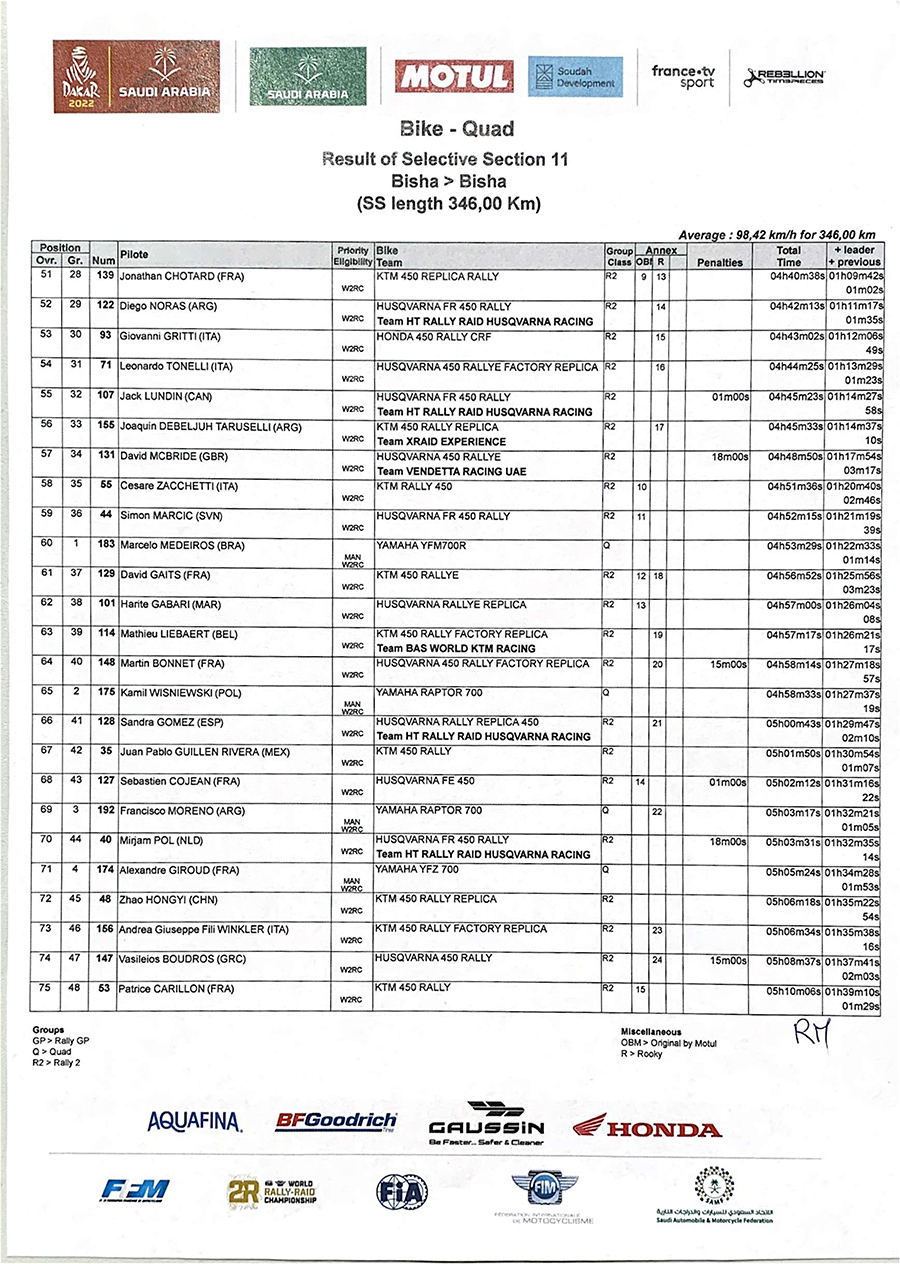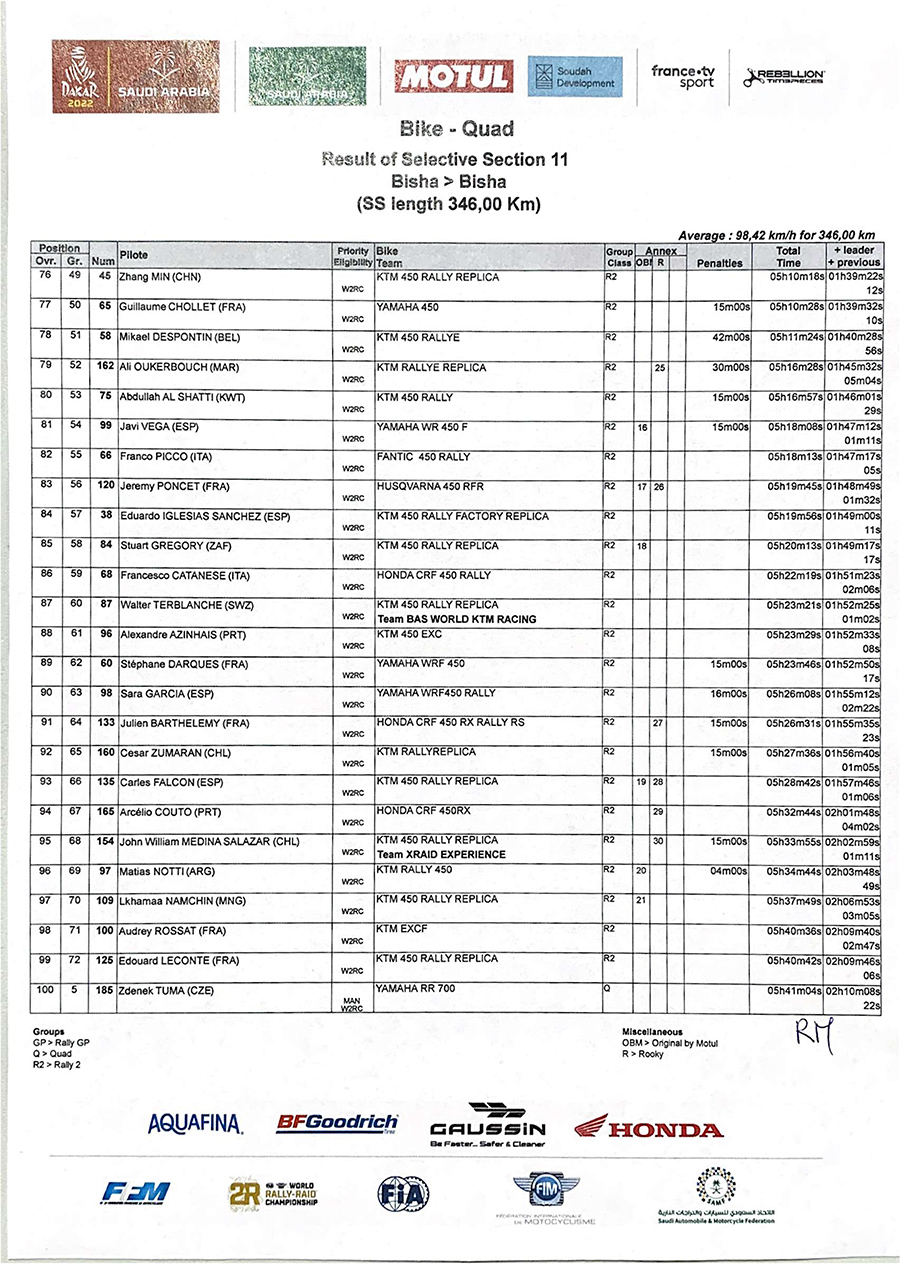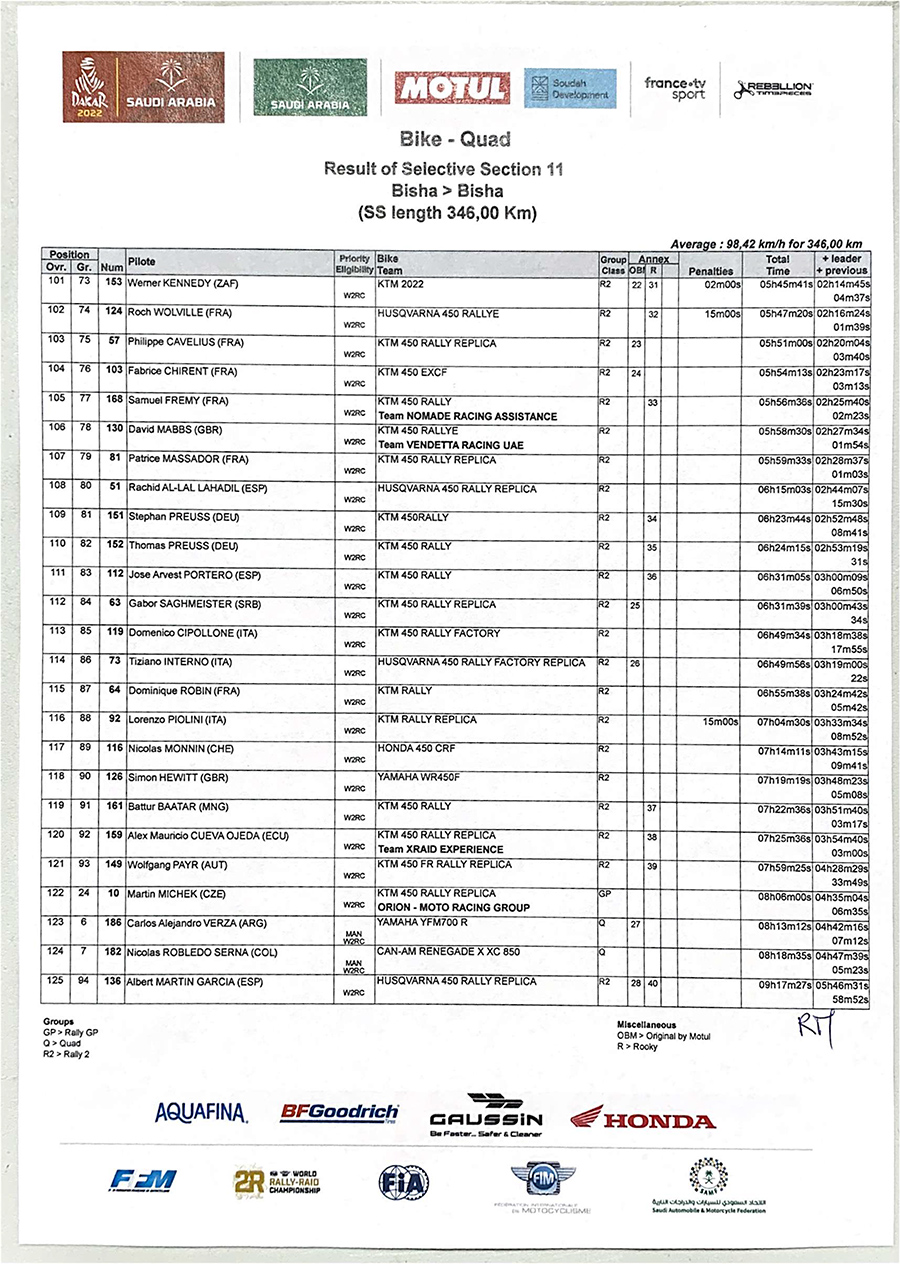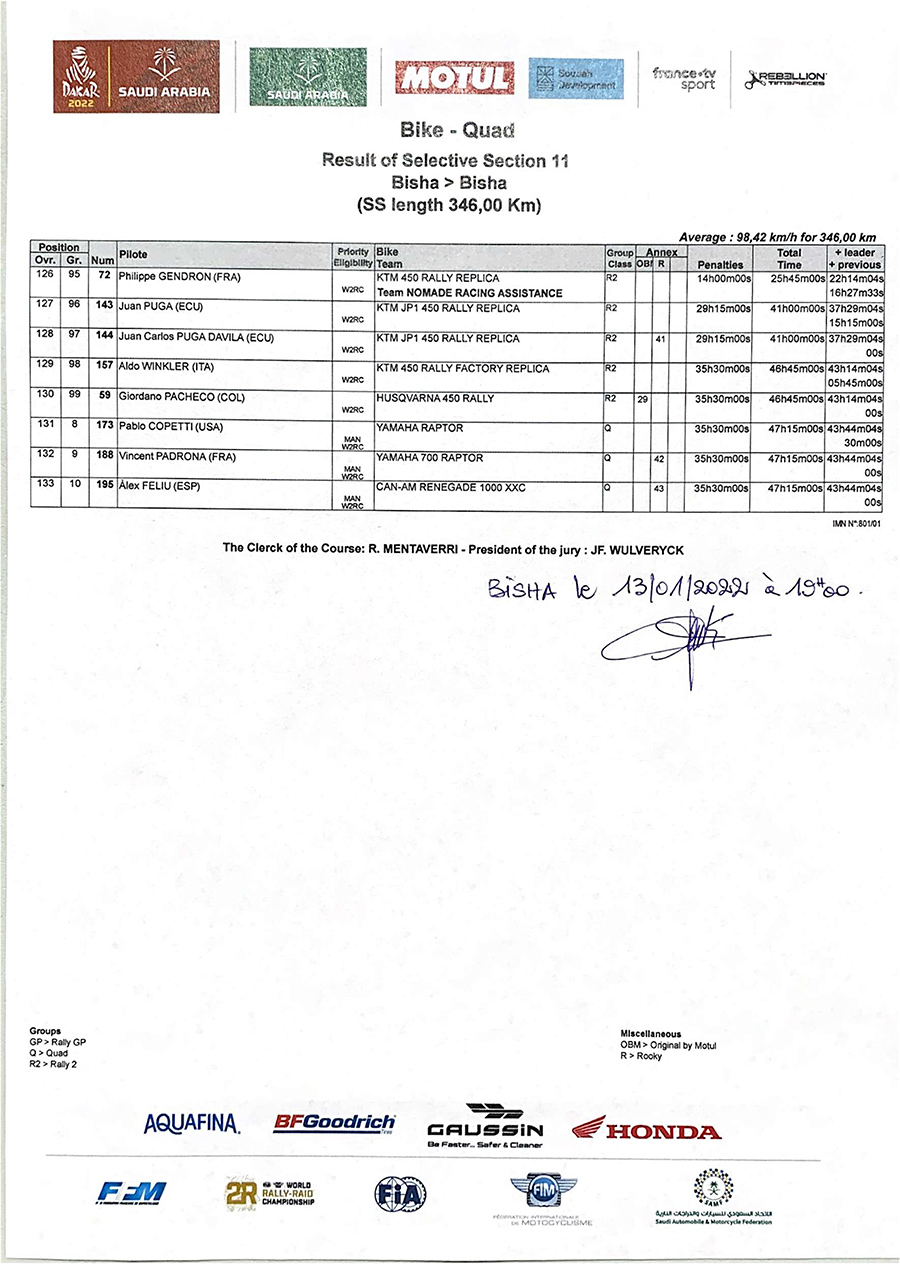 Provisional overall classification after stage 11: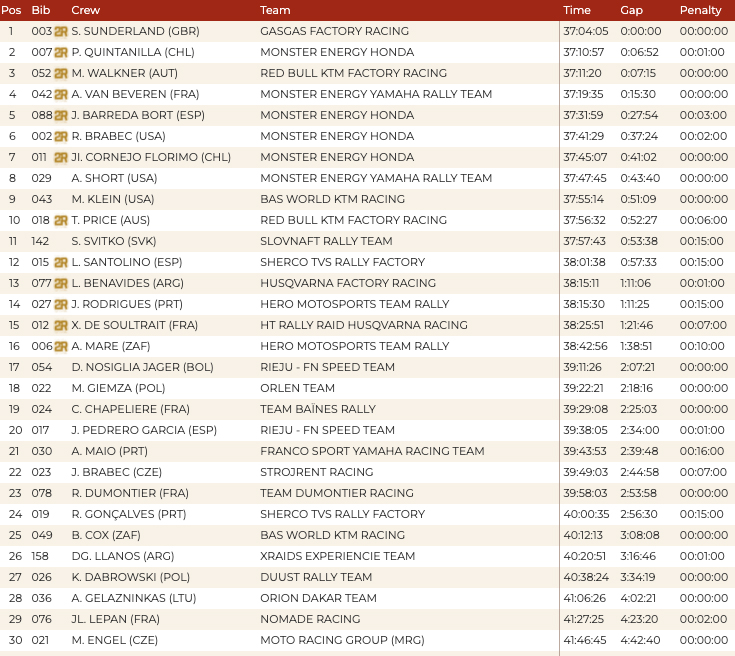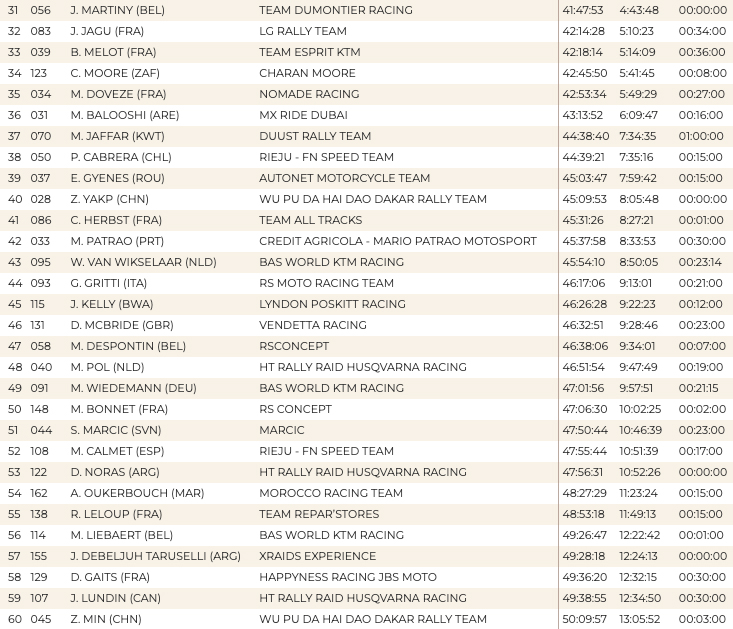 Photo Credit: RallyZone + A.S.O.