2022 Dakar Rally Notebook: stage 10 – "Anything can happen in rally"
Enduro21 daily Dakar notebook dissects the dramatic stage 10, a day which defined the mantra 'anything can happen in rally' and sets-up a saucy penultimate day tomorrow.
Enduro21's theory 24 hours ago was "the pattern has been set and we don't see it changing unless someone in the top four messes up". Well, half of that rang true and we happily eat our words about the other half.
One thing is certain, the 2022 Dakar will go down to the wire and stage 10 today only amplified the fact. Matthias Walkner and Sam Sunderland both made costly errors on navigation leaving Adrien Van Beveren benefitting and inheriting the overall lead but facing a potential costly early start tomorrow. The fourth rider still reaching for a race victory is Pablo Quintanilla who has a mass of red riders on his side for a crucial 11th stage.
Oh, and some guy called Toby Price finally arrived and won the stage.
It was a good and a bad day for KTM
You couldn't call stage 10 boring that's for sure. The first dose of drama landed early as KTM's latest recruit, 2021 Dakar winner Kevin Benavides, was forced to retire with a mechanical failure (more on the sad reality of Dakar below).
Today, like tomorrow, promised to be a typically hard and fast day with tough navigation. A day or two like this late in the rally is no accident on the part of the organisers who want to see this drama unfold as much as we do, admittedly it's looking a little hard on the nerves for those involved!
"It's really close at the moment, you could throw a blanket over all of them." Said stage 10 winner Toby Price. "It's coming down to the wire, and I guess it's what everybody wants to see." Yup, we're loving it.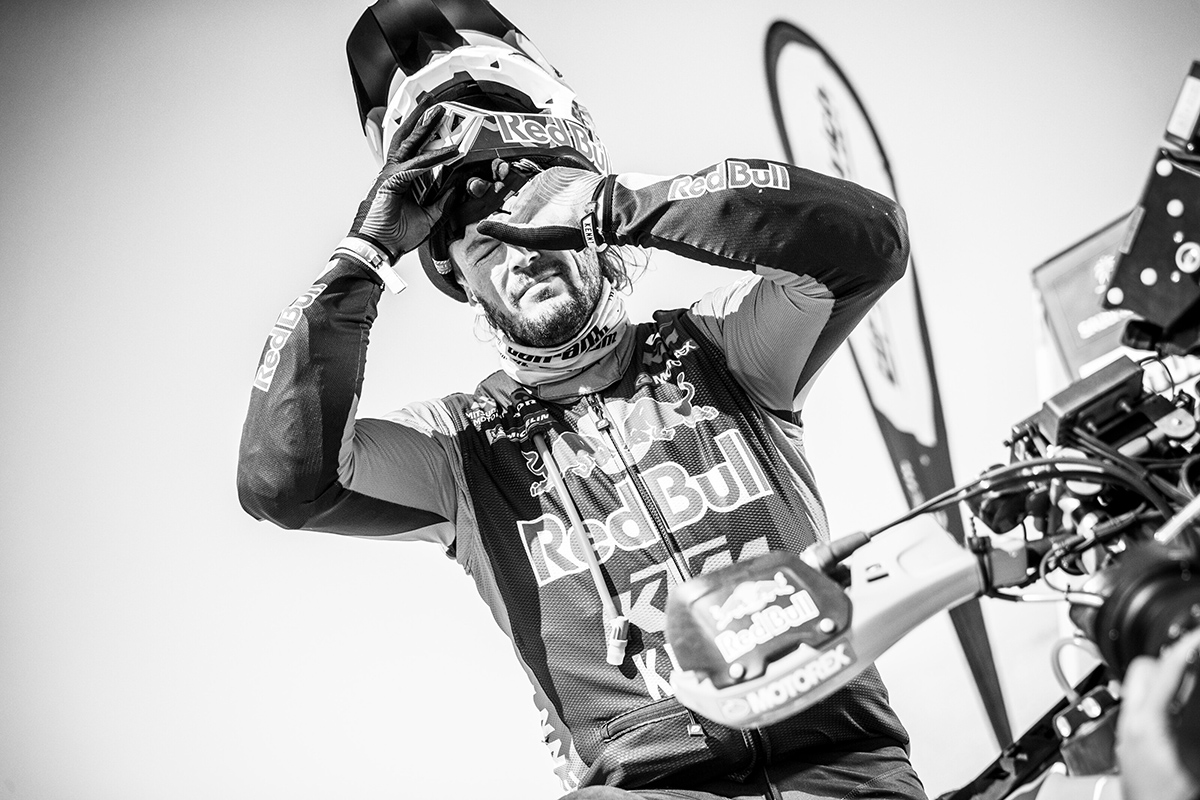 The riders are feeling that stress on the stage and Sam Sunderland admits the mind games are part of it, "When things are so close, no-one knows whether to attack or hold back," explains the GASGAS rider who stopped to help Mason Klein who crashed in front of him early in the stage. "We end up doing what seems best and seeing how it plays out."
Klein was ok by the way and got back up to finish P13 and sit eighth overall, by far the best rookie and sandwiched by his vastly more experienced compatriots Andrew Short (seventh) and Ricky Brabec (ninth).
Toughest stage of the '22 Dakar?
Many said today was one of the hardest of the rally so far with technically difficult riding in rocky, narrow valleys and with difficult navigation knitted together by some super-fast pistes. Finally we saw the Toby Price we know nail a stage win. "It's been a really good day for me today." Says Price.
"I focused on my roadbook the whole way and did a good job with my navigation with only a couple of small mistakes over the whole stage. I've moved nicely up the order overall, but there is still a bit of a gap to the front guys. As we know, anything can happen in rally, so I'll give it my all for these last two days and we'll see where we end up."
What happened out front? Walkner explains, "The guys in front lost their bearings this morning and I was able to put some time into them. But near the end the sun was so high and the contrasts were so faint that it was hard to see the tracks, so I made a navigation error that cost me several minutes.
"That's how it goes, you win some, you lose some." Adds the 2021 Rally-Raid World Champion.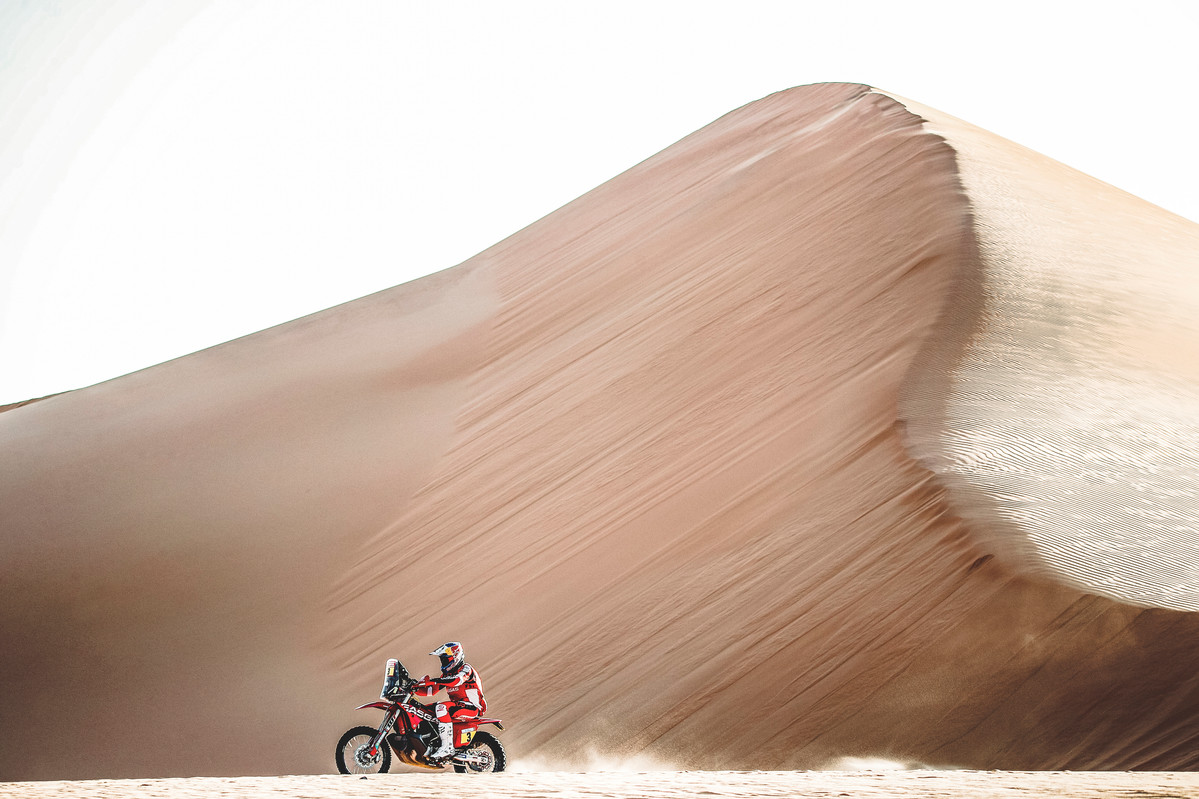 Sam Sunderland could have benefitted massively from a) his stage 10 starting position and b) Walkner's woes today. But despite heeding his own warning that "today and tomorrow would be tricky", he too suffered a nav error like his main rival.
"I made an error at the entrance to a canyon," explains Sunderland. "I went the wrong way, but I realised my mistake and retraced my steps. I'm a bit frustrated, but I'll be starting in a decent position tomorrow, which is comforting.
"All in all, I'm happy, I prepared well this year and I think it shows. I've led the race for seven days. Now we just need to go flat out again tomorrow."
More sand bagging or just setting up the showdown?
Adrien Van Beveren kinda inherited the overall lead of the rally after all the above shuffling. He also took third on the stage and initially complained riders around him on the timing sheets were playing tactics to avoid starting early tomorrow.
"I had run the calculations and it was looking great for tomorrow, starting a bit towards the back," explains Van Beveren. " But they put a team strategy into play. The problem is tomorrow will be a sandy stage and, when you leave the track for others to follow, they can gain a lot of time on you. I know KTM, GasGas and Husqvarna will race as a single team, and Honda has four fast riders."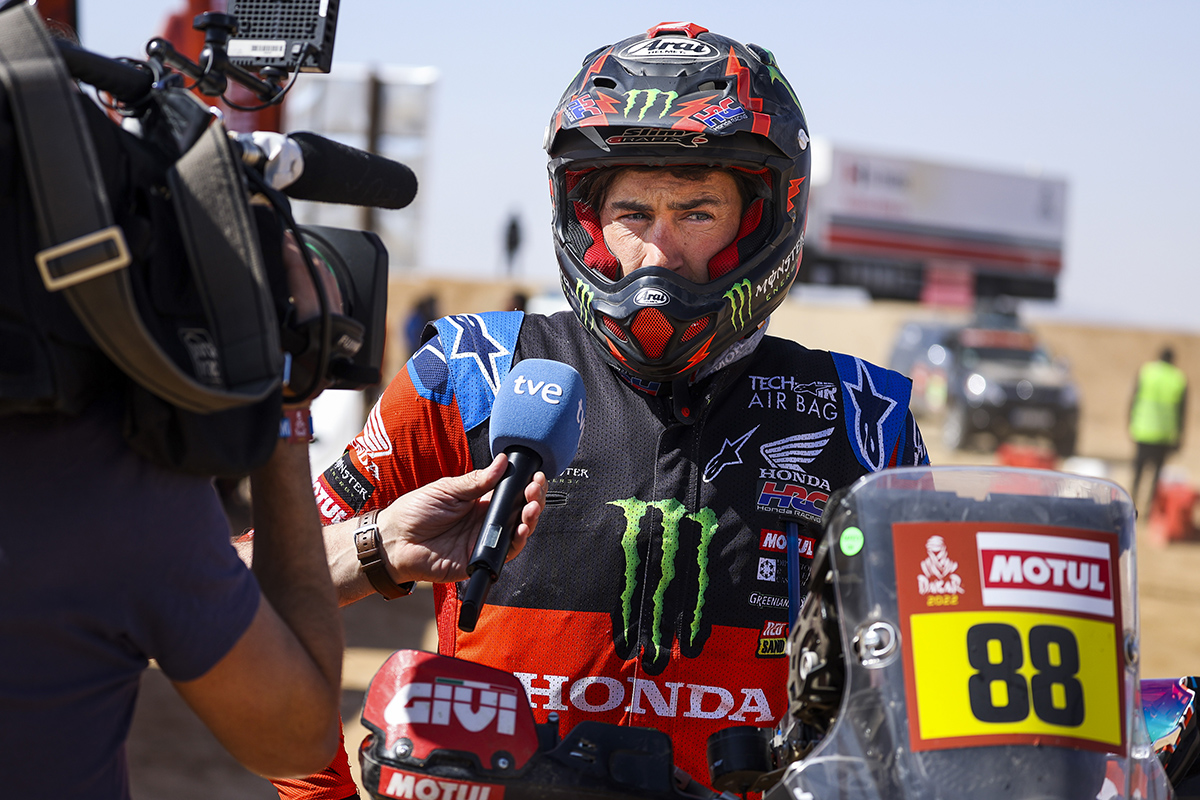 He seemed to be pointing at the Honda boys most but in the end Barreda and Quintanilla cost themselves time speeding. Joan says he had a navigation error as well and the big dawg Brabec says there's no tactics; "it's up in the air as far as strategy goes".
There's no team orders going on in the KTM 'group' up to this point either, so the other big dawg Toby Price explains;"There's no team strategy at the moment. Honestly, anything can happen these last two days. As you could see, it was Kevin who unfortunately had to stop today. It's not over until it's done. Just gotta keep charging."
Tomorrow, just another loopy Dakar day...
All the above sets up an awesome penultimate stage tomorrow. It's another loopy day in more ways than one and the battle will be epic.
The loop out and back to the Bisha bivouac will have 346 kilometres of timed special from 501km in total. It promises a large dose of dunes and to be a decisive stage of the Dakar 2022.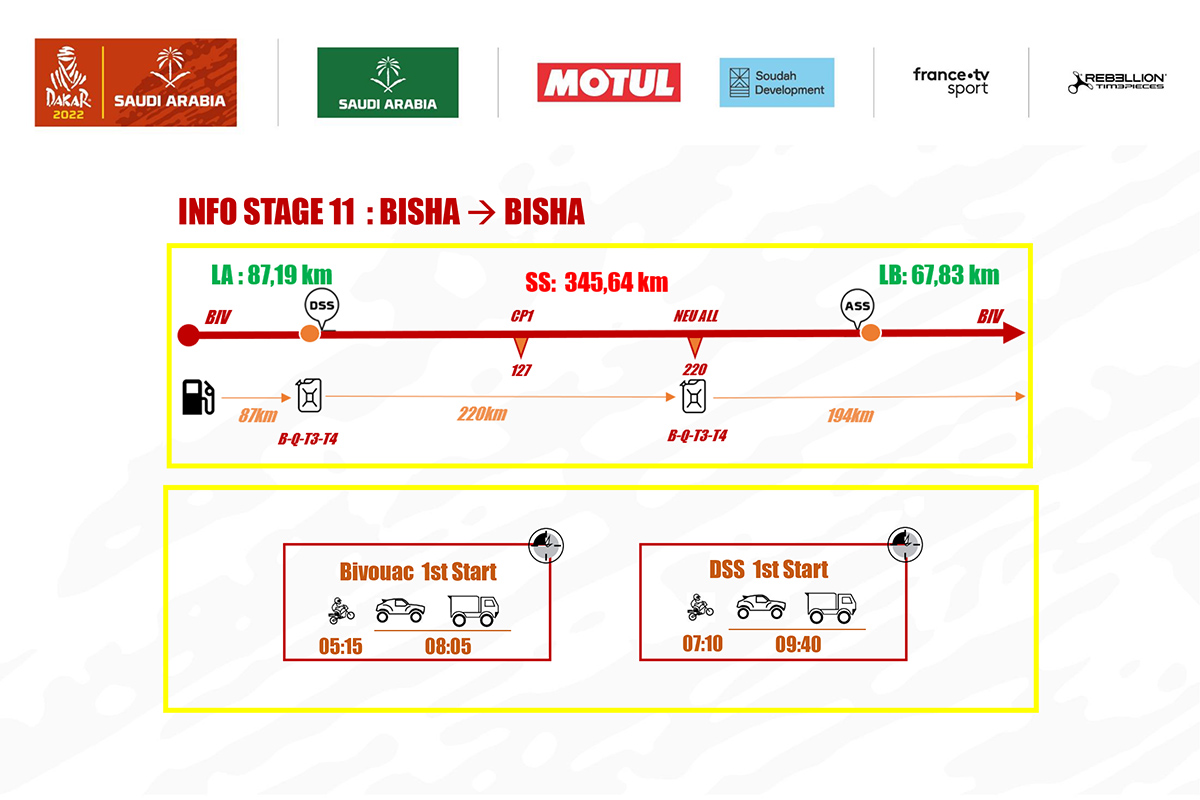 A.O.B. – Dakar, it makes you cry
Earlier in the rally we saw Danilo Petrucci shedding tears when first he went out the rally and then later bounced back to make history and become the first rider to win a MotoGP race and a stage of Dakar – although to be fair Danilo is fond of a good blub.
Today the same emotions were writ large on Kevin Benavides' face as the reigning champion's KTM expired in the stage.
As he explains below, for all the effort, all year, every year, all the risks on the stages, all the ups and down of being a professional rally rider, it all comes down to standing alone in the desert with a broken bike.
He isn't the first and won't be the last to suffer this fate but you have to feel for any rider ending their rally like this.
🏍 @kmbenavides was obviously very disappointed and sad when he had to abandon the stage due to a broken engine. The #1 will not be able to defend his title. 🥺#Dakar2022 pic.twitter.com/8OxbuH3Ji7

— DAKAR RALLY (@dakar) January 12, 2022
Photo Credit: A.S.O. Julien Delfosse + Flavien Duhamel | Red Bull + Rally Zone