Dakar '23 notebook: Top 3 riders talk highs and waypoint woes that decided the race
Enduro21's daily Dakar notebook hears directly from the top three finishers, the new champion Kevin Benavides, second placed Toby Price and Skyler Howes in third – were waypoints the deciding factor?
The 2023 Dakar Rally really did come down to just a few seconds on the clock. After 43:27.20 it all came down to just 43 seconds between KTM Factory Racing riders Kevin Benavides and Toby Price and though both had to do some u-turns in the final stage to find some secret waypoints, Toby claims missing one by metres cost him the race.
Just a couple more facts for you before we hear from the riders. For KTM this one-two finish, one-two-three if you count Husqvarna in as part of the family, represents their 19th win and the first time an orange bike has been on top of the podium since 2019 (when Price last won).
KTM also move up to joint second in the overall manufacturer's winning rankings (two and four wheels) on 19 behind Yamaha who have 23.
Kevin Benavides takes his second win and with that becomes the first rider in the modern 450cc era to win with two different motorcycle manufacturers – Honda in 2021 and now KTM (we know, Sam Sunderland won on a KTM and a GASGAS but…)
Who are the other riders to win on different bikes? It's a classic list: Cyril Neveu (1979/80 Yamaha XT500+1986/87 Honda NXR750V), Edi Orioli (1988 Honda NXR750V + 1990/94/96 Cagiva Elefant), Richard Sainct (1999/00 BMWF650RR & 2003 KTM LC4 660R) and Kevin Benavides (2023 KTM 450 Rally & 2021 Honda CRF450 Rally).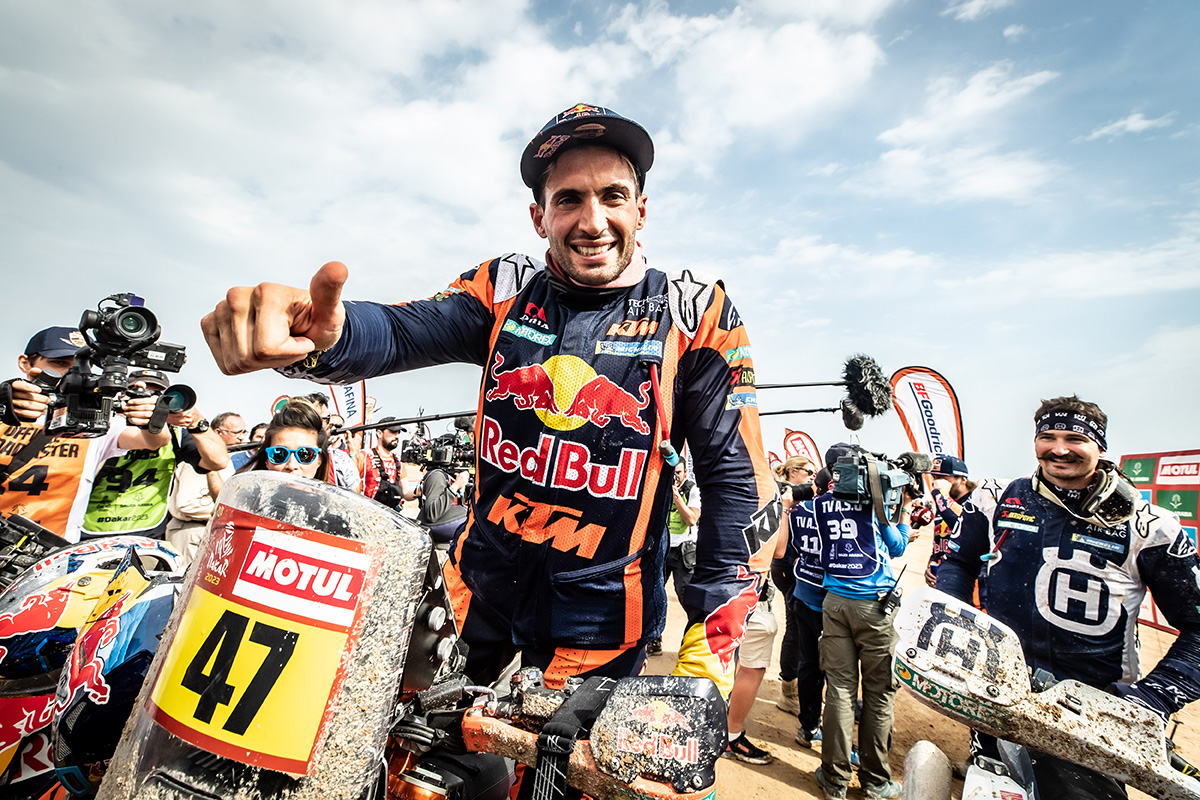 I just focused from kilometre zero to 138 on going full gas.
Kevin Benavides, Red Bull KTM Factory Racing, first place:
"It was an amazing day. I just focused from kilometre zero to 138 on going full gas, not thinking about anything, the position or the result and just enjoy the day and flow with the bike.
"It was a dangerous stage because there was a lot of mud and also it was tricky because they put some WPP, so the validation point was 30 metres so two times I had to go back and I lost some time there.
"But of course I am really happy and I am the first rider to win the Dakar on two different brands and that is for me the biggest achievement. [Fact fairy alert: he's not the first, see above].
"It is a big, big emotion for me. It's also for all the people who work with me, my family, my girlfriend and my team who work so hard. And also Paulo (his right-hand man) who is always looking out for me and always there."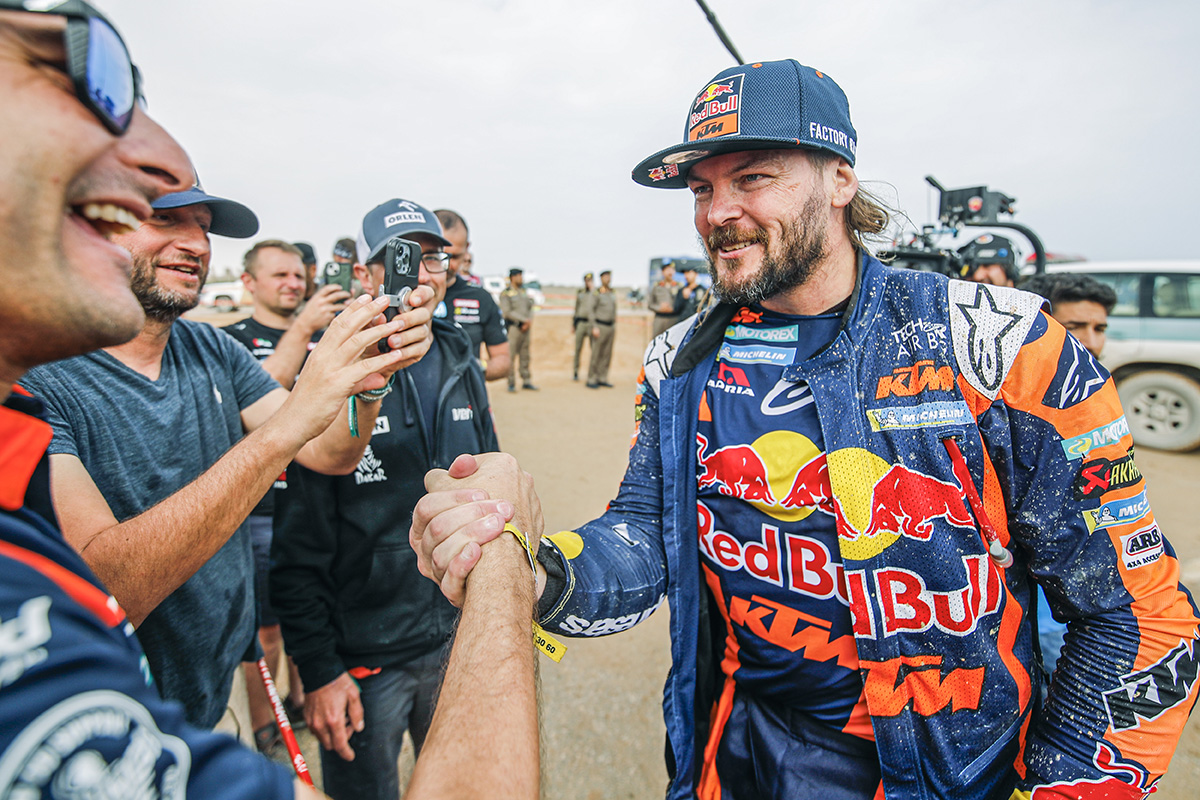 We're going home in one piece, and we got a Dakar trophy so it's not all lost. It hurts a little bit…
Toby Price, Red Bull KTM Factory Racing, second place:
"For sure the first feeling is disappointment because we came so far and got so close. Kevin's done a great job but in the last day they played with this 30 metre rule with waypoints and I had to turn back and get three of them which makes it hard to take at the moment.
"But we're going home in one piece, and we got a Dakar trophy so it's not all lost. It hurts a little bit but we'll see what's next.
"The waypoints I missed would literally have been by metres and, yeah, that's cost us the race and that's unfortunately part of it but…2023 definitely kicked off a lot better than 2022.
"A future in four wheels at Dakar? I keep saying it, my phone's not ringing yet so we'll wait and see. The contract's up for renewal in March with the bikes so we'll try and play a good game and see what we come up with and go from there."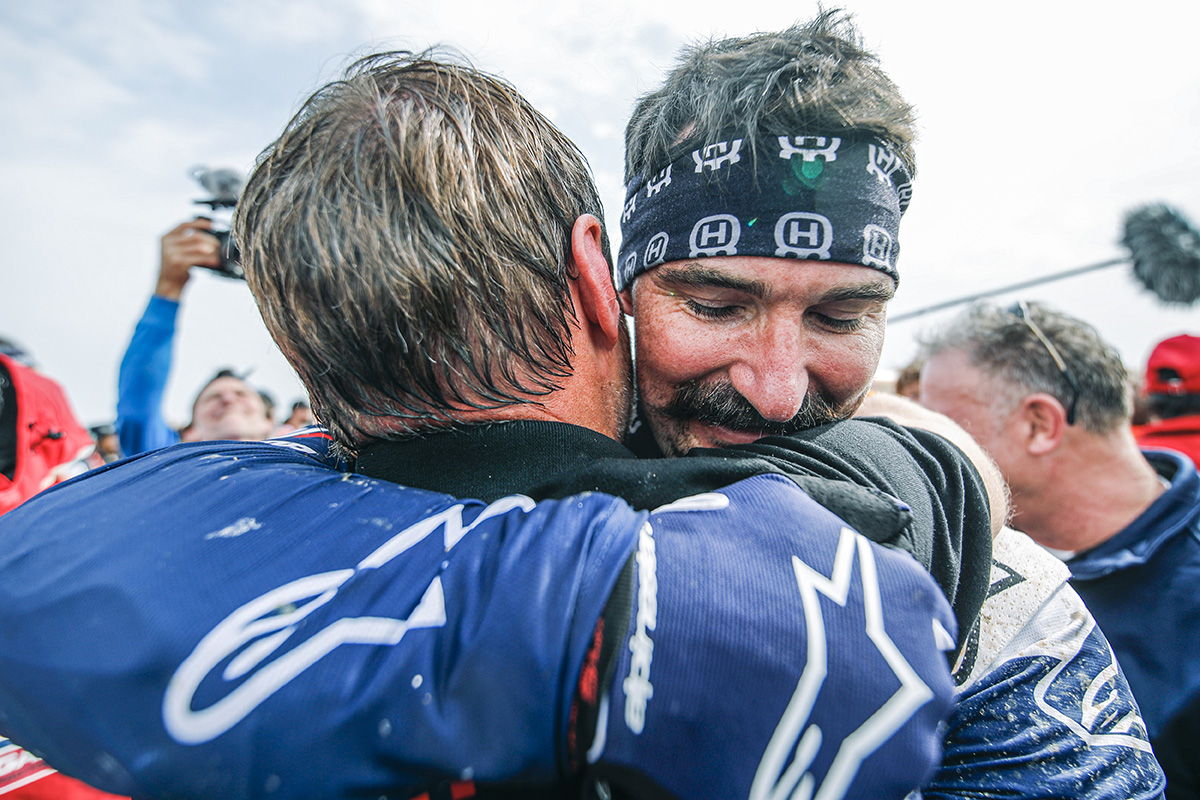 Am I disappointed to be third after leading earlier in the race? Absolutely not.
Skyler Howes, Husqvarna Factory Racing, third place overall:
"How could I be anything but happy. It has come down to the absolute wire! Today I knew the guys behind me [Kevin and Toby] would be pushing to the absolute maximum so to start the day separated by 12 seconds and a minute and a half to me is incredible. It's so close and has been such an amazing race.
"You can always look back and say maybe I could have saved this here and here but we arrived here safely. Man, it's such a dream come true and an honour to share the podium with two legends like Toby and Kevin is just the most unreal feeling. I don't even know how to describe the feeling after so much – everyone here knows what you have to go through to get here and the feeling is so, so sweet.
"I look forward to coming back and climbing the steps of the podium some more. To be here and be one of just five Americans who've ever been on the Dakar podium is an honour and I'm so happy for everyone back home, my team and everyone, this is so cool.
"I can literally look back and say I could have saved two minutes on one day but it just is what it is, that's in the past now. I can only look to the future and try to have a more complete race with less mistakes, less navigation errors but that is the Dakar. You have to be so good every single day all the way so to land on the podium is such a huge honour. I'm so stoked.
"Am I disappointed to be third after leading earlier in the race? Absolutely not. It was super cool and to be in such a huge fight all the way until the end is awesome. Of course, I look back and say maybe I could have gone two minutes faster here, one minute faster here, not made this mistake…but what do you do. At the end of the day it's just stuff that happened during those days and you never know until you reach the finish line that those moments mattered.
"All we can do is learn from those things, go back to the drawing board, go straight back to work and we come back swinging next year."
Photo Credit: Rally Zone