Dakar Rally 2021 news & results: stage 7, Brabec is back – Cornejo leads by 1 second
Ricky Brabec began week two of the 2021 Dakar Rally in the only way he can with a win and heading a Honda one-two in the results which now sees Jose Cornejo as the rally leader, just one second ahead of Toby Price overall.
Stage seven of the Dakar started out "wet and cold, like riding in the Netherlands" according to Red Bull KTM's Matthias Walkner.
Things warmed up by waypoint three as reigning champion Brabec had his Monster Energy Honda Rally teammate, Joan Barreda, and fast-starting Daniel Sanders in his sights. After the fuelling stop, the trio closed out the 453 kilometre special more or less together with Ricky taking his first stage win of the rally. It is a result Brabec needed, and needs to repeat, if he wants to do anything about the overall time deficit and his position in the standings (P8 and 15mins behind).
Overnight rally leader, Toby Price, began the stage in seventh place and had some very fast wheel tracks to follow. On corrected time Toby was in the mix but then lost precious minutes towards the end with a minor detour and what he reports as an underlying bike issue (see image below for one 'issue'...). The Aussie finished five minutes behind Brabec at the final timing beam to set up a remarkable result in the general standings...
Jose Ignacio Cornejo, starting in P11, basically closed the time gap on Price and then held the advantage to put his Honda into the lead of the rally by just one second. That's one second after almost 30 hours of racing so far.
Props to Skyler Howes, Sam Sunderland and Xavier De Soultriat in third, fourth and sixth today. Two and three minutes down on Brabec on the stage (respectively), they played it smart and kept the hammer down just enough to bag what seems to be the safe bet result. Whether by design or not, being a couple of minutes back on each stage is paying dividends and keeping this trio there or thereabouts.
Honourable mention to Portuguese rider Joaquim Rodrigues who bagged Hero Motorsports (and him) their best stage result of the rally with P9.
2021 Dakar Rally Stage 7 results: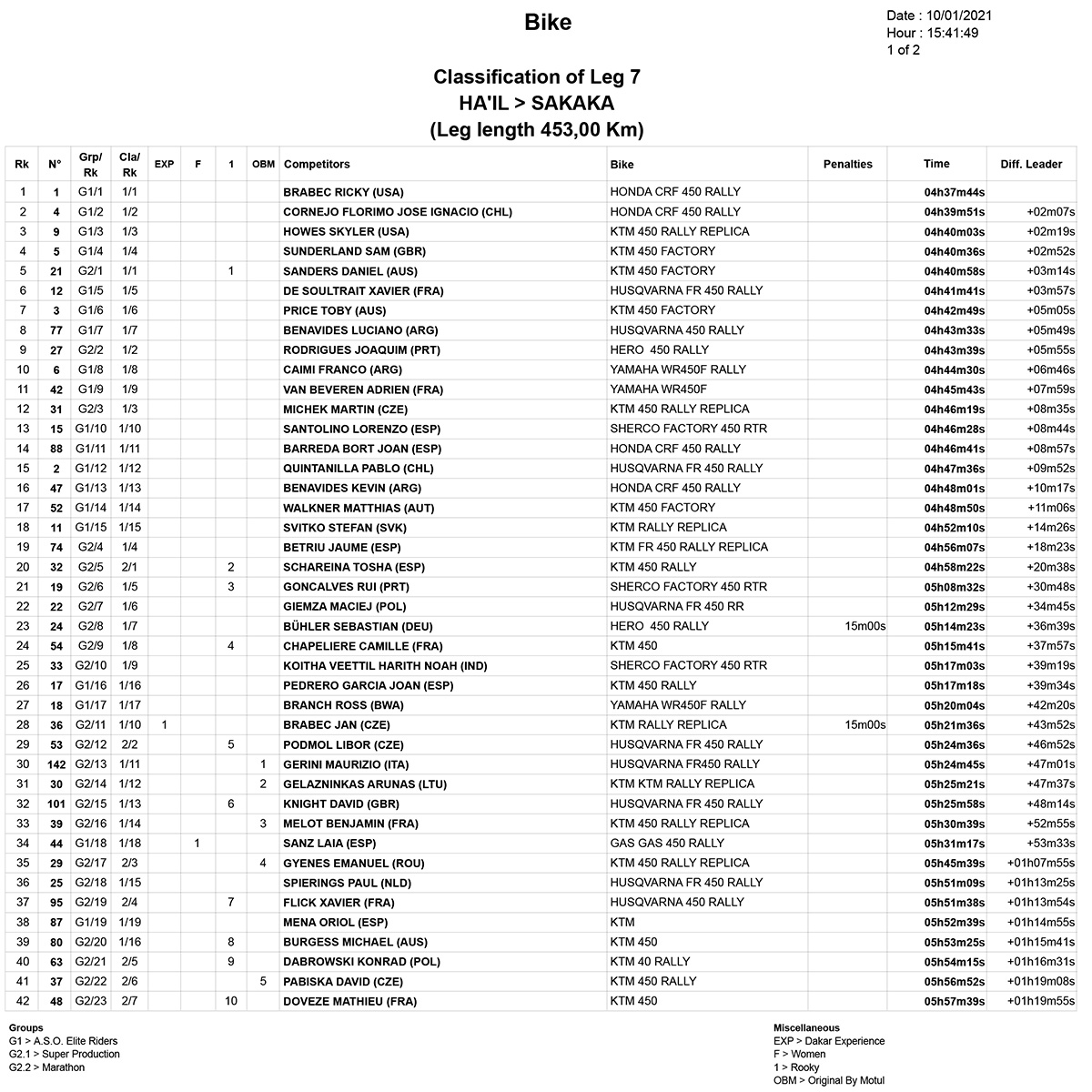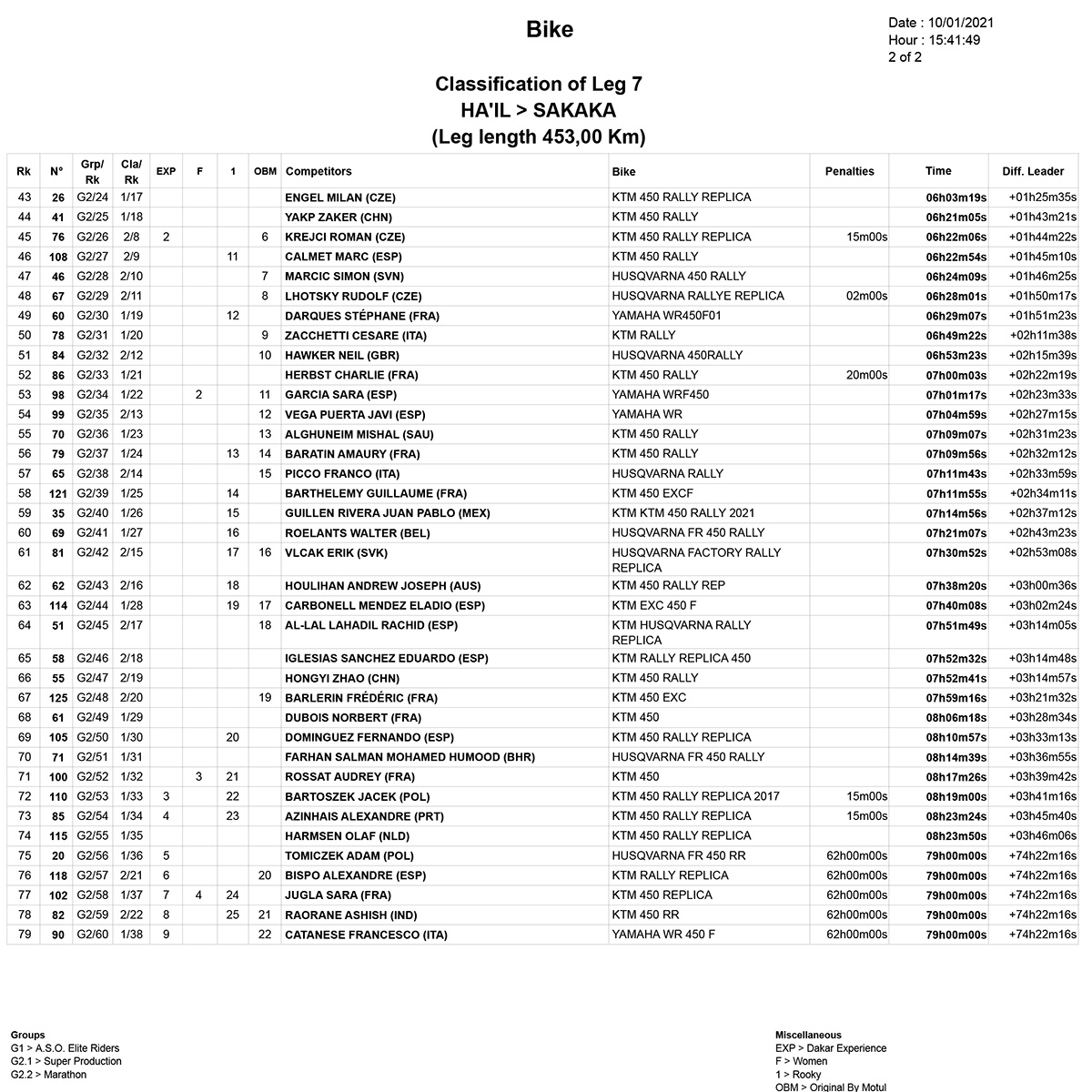 Marathon stage No.1 means tonight riders work on their own bikes including Sanders who had a heavy crash today...
🏍 The bikers fixing up and helping each other out as we move through the Marathon stage 🛠#Dakar2021 pic.twitter.com/AASeKgvL0Y

— DAKAR RALLY (@dakar) January 10, 2021
It was a good day for…Daniel Sanders. Third on stage six meant an early start opening the piste (with Barreda and Brabec) on stage seven for the rookie. We know out front isn't the best place if you want a good result but Sanders bucked the trend by posting back-to-back results inside the top five – the first of the elite riders to do so and proving it is possible to halt the Yo-Yo effect. This despite a heavy crash in the dunes today.
It was a bad day for…Ross Branch. Sport can be cruel and previously fourth-placed rider Ross Branch knows that fact only too well. After setting his best-ever stage result on the Yamaha (narrowly P2 on stage six) only to crash early in today's stage and drop 40 minutes behind in the general standings.
A heavily fuelled rally bike can bite you as many riders will attest and it did just that, pitching Ross off his bike. Luckily Ross was physically ok and similarly lucky to be able to fix that nightmare of a job of getting his chain unwrapped. We've all been there. The time lost though dramatically drops the unfortunate Branch out of contention.
Branch, down but not out
A.O.B.
Who, other than his mother, would have put money on Cornejo being top HRC rider at this stage of the 2021 Dakar Rally? His Honda teammate Brabec already had work to do, Kevin Benavides, who was lead red rider, also has work to do after dropping seven minutes in the standings today. There's a reason why Ignacio has the number four on his bike and we shouldn't be surprised by his current position.
Toby's tyre for stage 8
The marathon stage means what you've got on the bike you're stuck with. For Toby Price that means a less than perfect tyre for stage eight...(Image care of @mikechentv on Instagram)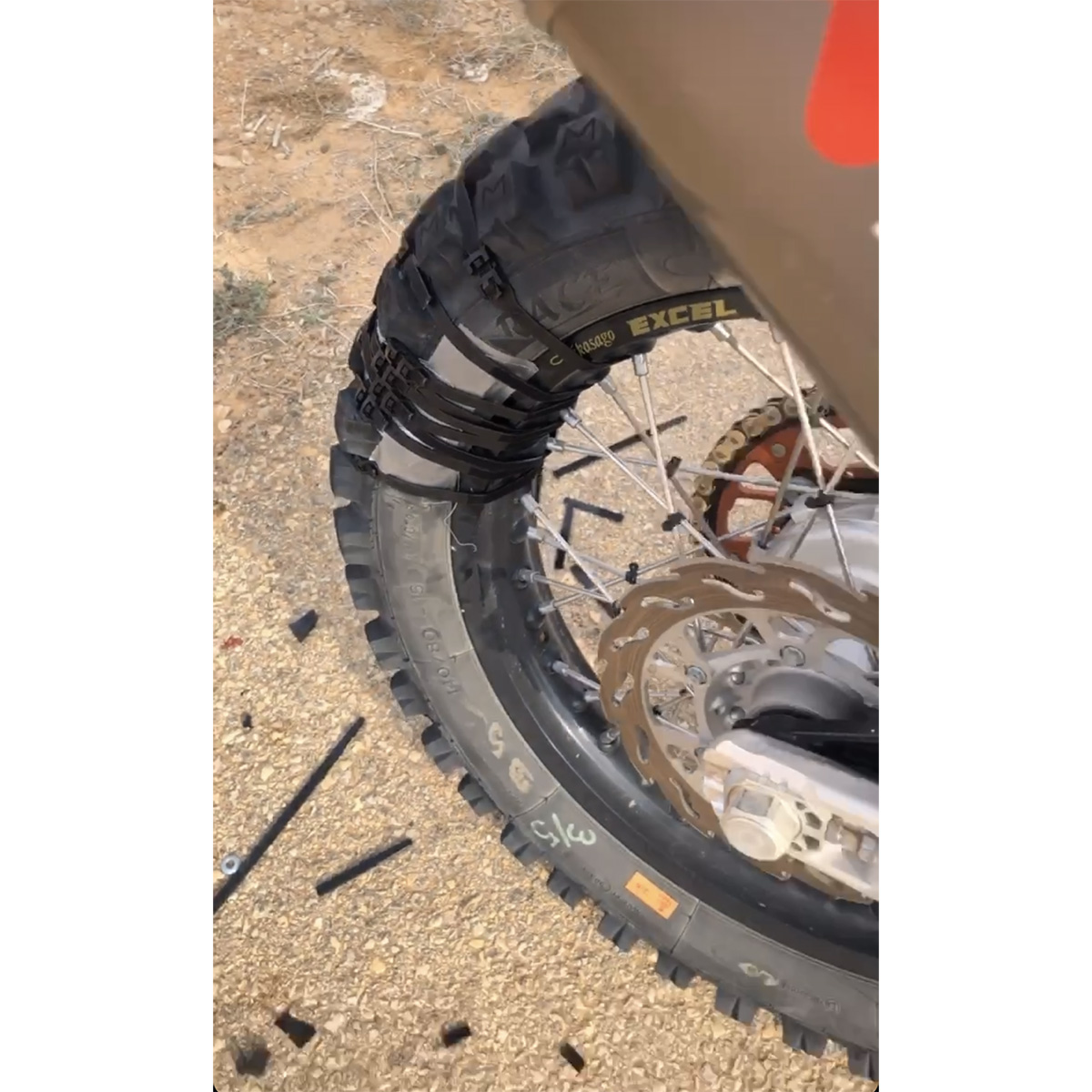 What is the Yo-Yo effect?
The Yo-Yo effect, where riders bag a top result one day and drop right down the order the next, has been happening all rally so far. Sam Sunderland and Toby Price explain it…
2021 Dakar Rally overall motorcycle standings (after stage 7):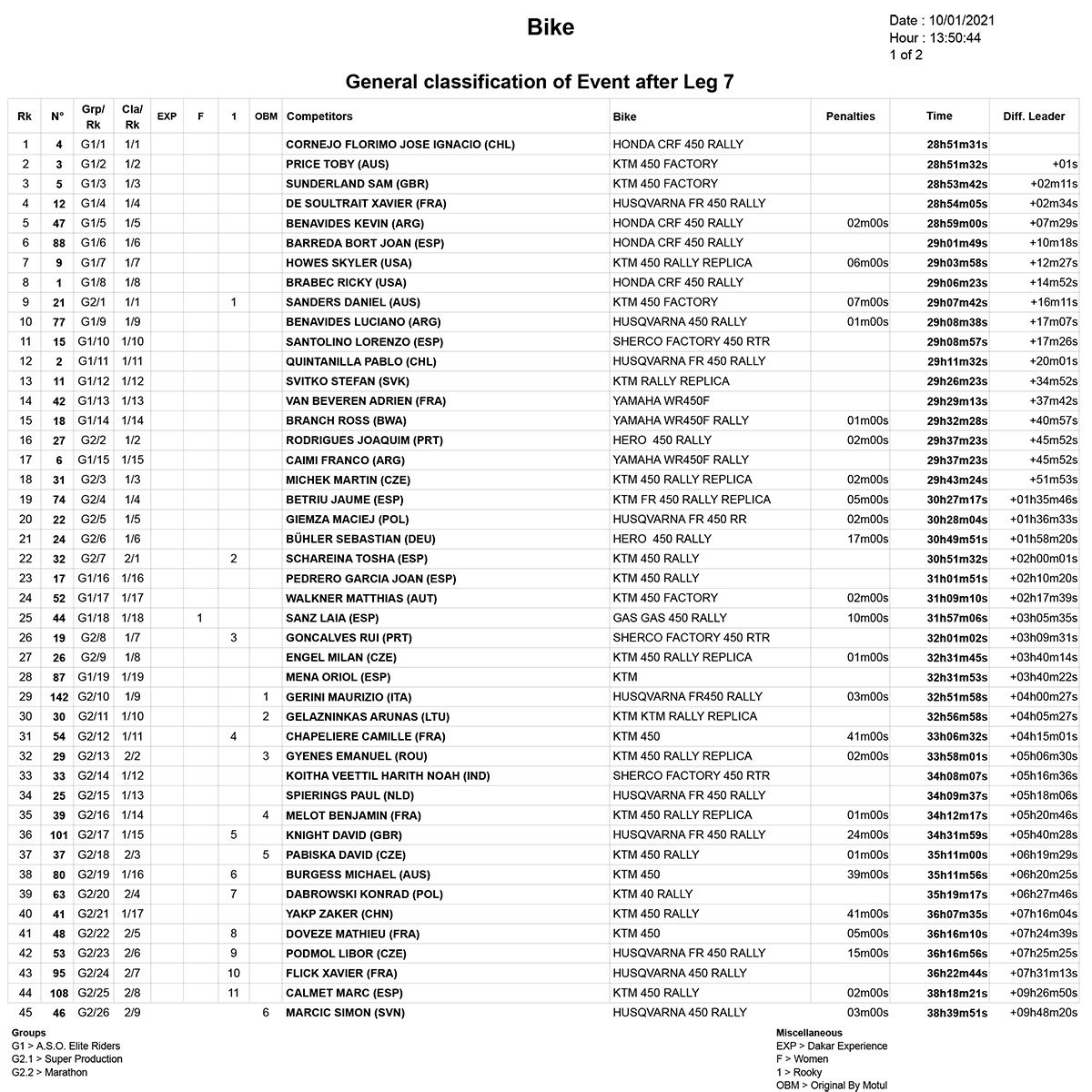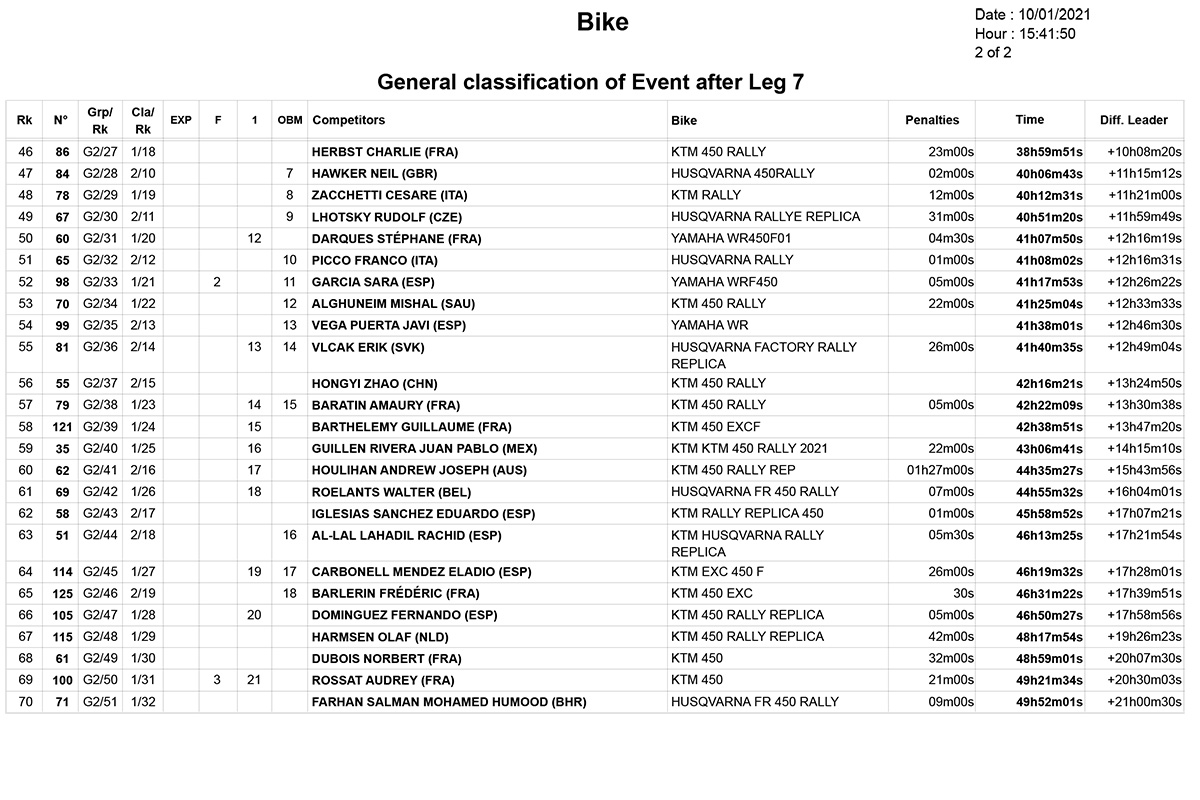 David Knight – from Enduro to Dakar
'"It's like being a qualified plumber and someone giving you an electricians van and saying, just going wire that house up.'"
We need your support
If you've enjoyed this article, if you've found it informative, interesting, entertaining even, please support us.
We want to continue doing what we do, to the best of our ability, serving the enduro and off-road community.
Please consider a donation, every little helps…
Thank you.
Photo Credit: Rally Zone