Dakar Rally 2021 news & results: Cornejo wins stage 8 – Price second using bushcraft
Honda's Jose Ignacio Cornejo takes the 2021 Dakar Rally stage eight win to post back-to-back fastest daily results and increase his lead over Toby Price who completes the stage, and almost 900 kilometres in total, with a massive hole in his rear Michelin tyre (bushcraft skills to the max).
As the riders headed across the top of Saudi Arabia towards the Red Sea and Neom today, there was no sign of letting up from the lead riders who basically nailed it for the 375 kilometre timed special in what is turning out to be one of the most competitive Dakar's in recent memory.
Stage eight saw a tussle at the top of the timesheets between Toby Price, Jose Ignacio Cornejo and Ricky Brabec.
It was the overall rally leader, Nacho Cornejo who stole the top result after pulling a minute lead in the final kilometres of the stage. It was his first stage win of the rally but the Monster Energy Honda Team's sixth in total.
Toby Price is the sole factory KTM stage winner this Dakar and finished today in second place, 1:05s down on his Honda rival and now has a similar time gap overall (1:06s).
Unbelievably, Price badly damaged his rear tyre yesterday on stage seven and because this was the second of two marathon stages (no outside assistance and no tyre changes permitted), Price has ridden close to 900 kilometres (around 200 yesterday and all of today's 700+km stage) with a gaping hole in his Michelin and using some bush repairs on a rear hoop…
https://www.facebook.com/tprice87/videos/271423730980187
Ricky Brabec was the other challenger for the stage win today. Like we said yesterday, Ricky has to do this every day if he is even to get in sight of a podium place. Though he is climbing the order – now sixth overall and finally top American rider having overtaken Skyler Howes today – he is still losing time to the leaders Cornejo and Price having finished almost three minutes down today.
At the risk of being a stuck record, Sam Sunderland once more played a "safe" game on stage eight (you wouldn't know it looking at the video below) finishing P5 to stand third overall. The 2017 champ is KTM's second-placed rider almost six minutes down on Cornejo out front but a similar time distance ahead of Honda's second-placed rider Kevin Benavides in fourth.
2021 Dakar Rally Stage 8 results: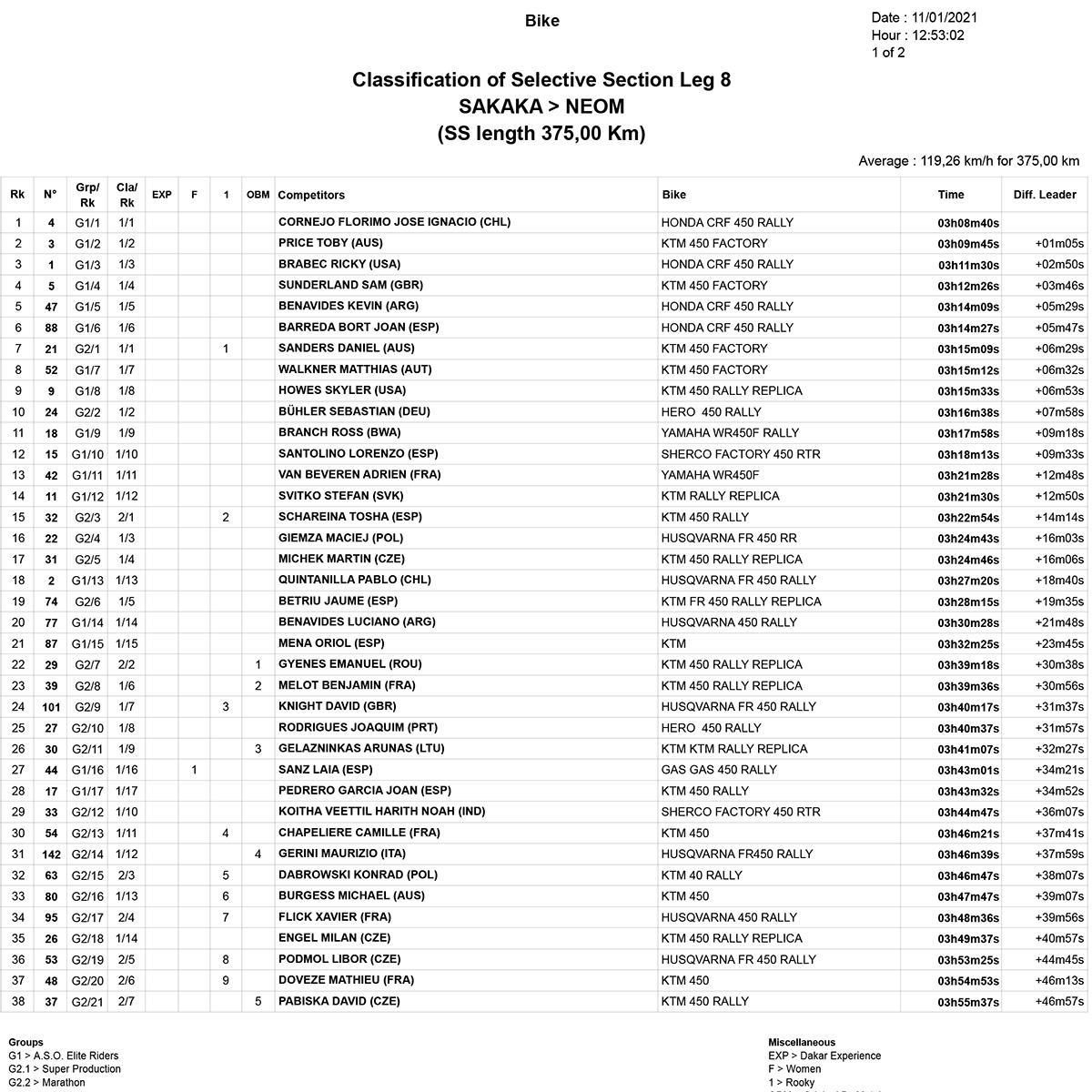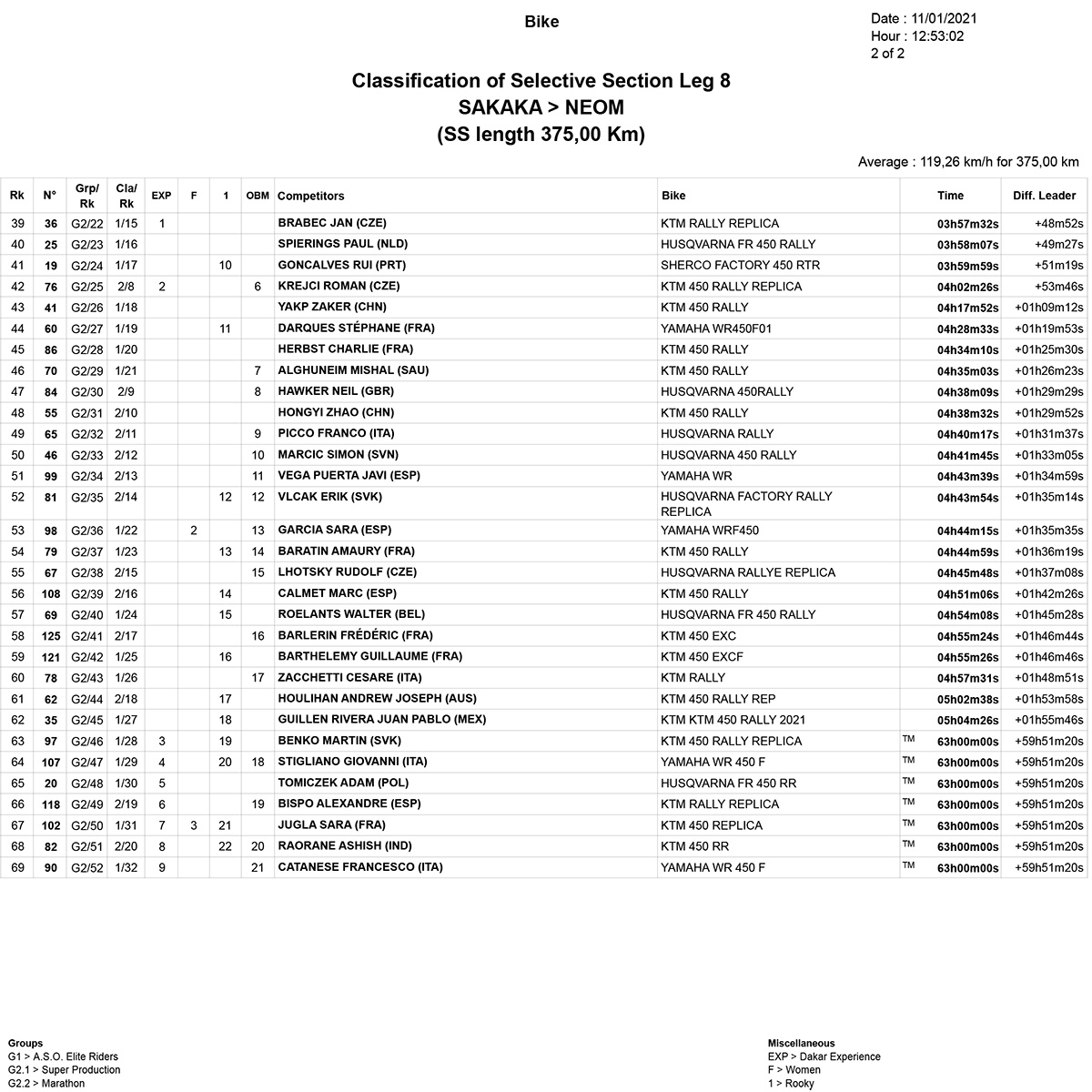 Sorry, not sorry for posting yet another video of a lead rider nailing it. How fast and committed do you have to be to win this rally?!
https://www.facebook.com/dakar/videos/262822248524856
It was a good day for…Nacho Cornejo (and Brabec). Cornejo finished P2 on stage seven (Brabec was P1) which meant they lead on the ground today, opening stage and finding the waypoints while leaving their trails for others to follow. For the first time this Dakar the fastest riders on a previous stage were also the fastest riders on the day. The Yo-Yo effect is dead!
It was a bad day for…Yamaha. The Monster Energy Yamaha Racing team lost another of its riders today, Franco Caimi, who was running inside the top 20. After the dodgy fuel issues for Andrew Short, Ross Branch's crash on stage seven, the team has now suffered two mechanical failures which have put Caimi and previously Jamie McCanney out. That leaves just Adrien Van Beveren in the race for the blue crew.
A.O.B.
Shout out today to Xavier De Soultrait. The Frenchman has been incredibly solid all Dakar, is always spectacular to watch and above all seems always happy doing his day job racing his bike.
As a provisional leader during week one, Xavier was on course for a potential podium when a crash 267km into today's stage eight has put him out of the rally. Xavier was airlifted to hospital and we await further news on his condition.
A side note to this is Xavier had similar tyre woes to Price (see above), but the Frenchman had to do the same repairs to his front tyre. We do not know the cause of Xavier's crash but regardless, surely the marathon stage tyre rules need a look on the grounds of safety given these incidents.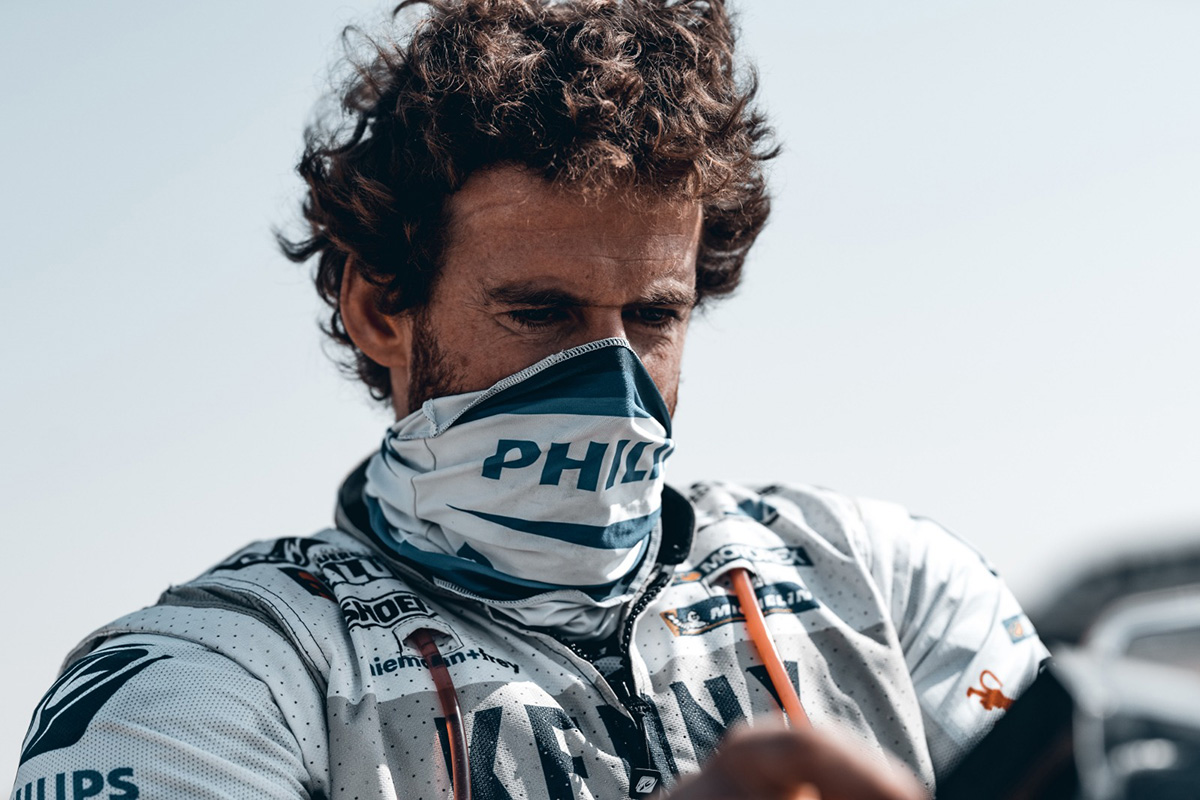 2021 Dakar Rally overall motorcycle standings (after stage 8):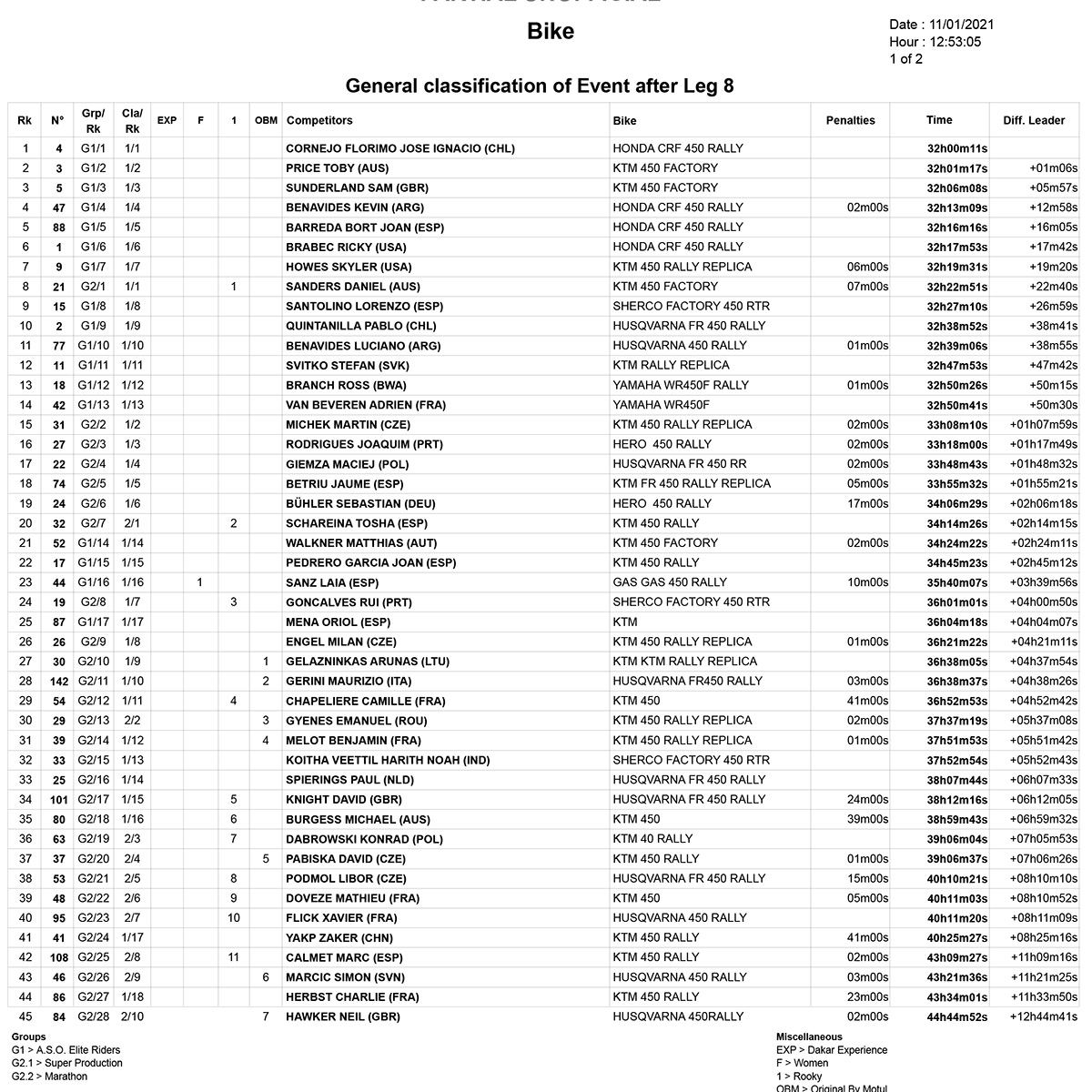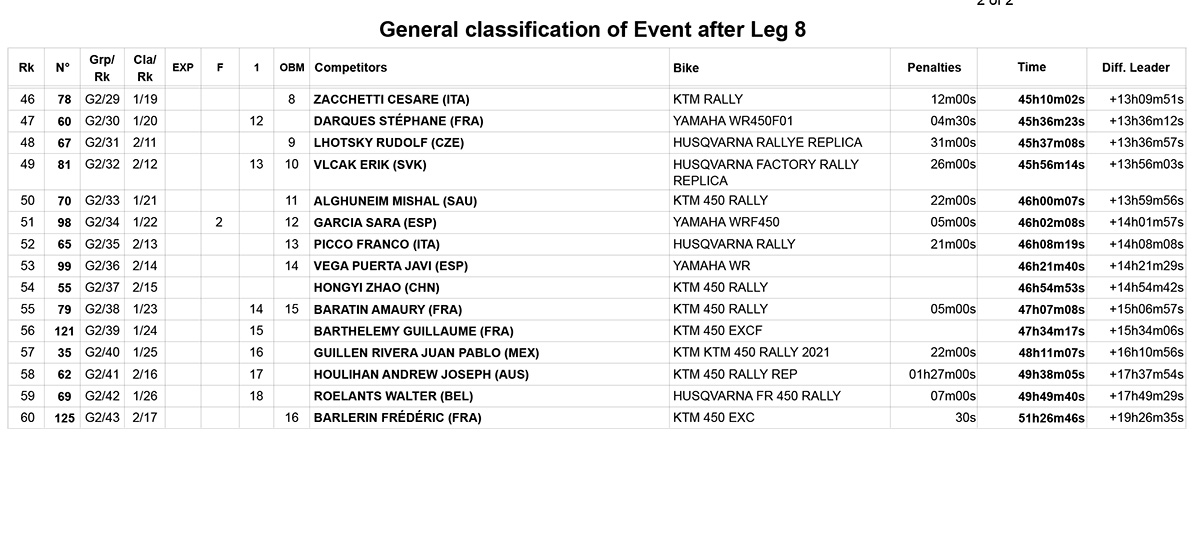 Photo Credit: Rally Zone