2023 SuperEnduro season is go – what, no KTM?
The 2023 SuperEnduro World Championship season begins this weekend in Poland with a primed entry list, a reigning champ who hasn't raced since July and one notable absense, no official KTM riders.
A reigning world champion who hasn't raced a bike in five months, an EnduroCross champion freshly crowned, a better prepared and rejuvenated American contingent, a home town hero always ready like a Duracell bunny, and get this, no KTM Factory Racing rider in the championship for the first time ever. The '23 SuperEnduro season is ripe and ready to go this weekend in Krakow, Poland.
Truth is Billy Bolt played a blinder last SuperEnduro season. Romping to his second world title with a near perfect record across the qualifying, superpole and the three motos at each round, his title came thanks to 14 wins from 15 races. No-one had an answer.
Bill's rivals won't have forgotten these facts but the champ will not have such an easy time from this first race of the 2023 season in Krakow on Saturday. Bill hasn't turned a wheel in anger since Abestone Hard Enduro in July and though he's been back training and pounding out the motos, nothing beats lining up on a grid for race sharpness.
In his favour, Billy has taken advantage of the Red Bull rehab and fitness facilities at the Athlete Performance Centre in Austria as part of his recovery. These are the same facilities Mani Lettenbichler emersed himself in prior to landing back in the HEWC series and winning first race back. Just the same as Jonny Walker did prior to taking the USA EnduroCross series by storm. Don't bet against Bill (like anybody would).
Fresh from the US
The riders coming straight over from American like Jonny, Cody Webb and Cooper Abbott have an advantage this year in arriving more or less straight from EX and are still in the zone, dialled into 10 minute motos, the cut and the thrust of this specialist sport.
Webb in particular will have something to prove this SuperEnduro season after not hitting the high notes we expected in '22 either in Europe or in EX. The former world champion did win the last round in the US and looked way more like his old self. Expect more from the US imports this year.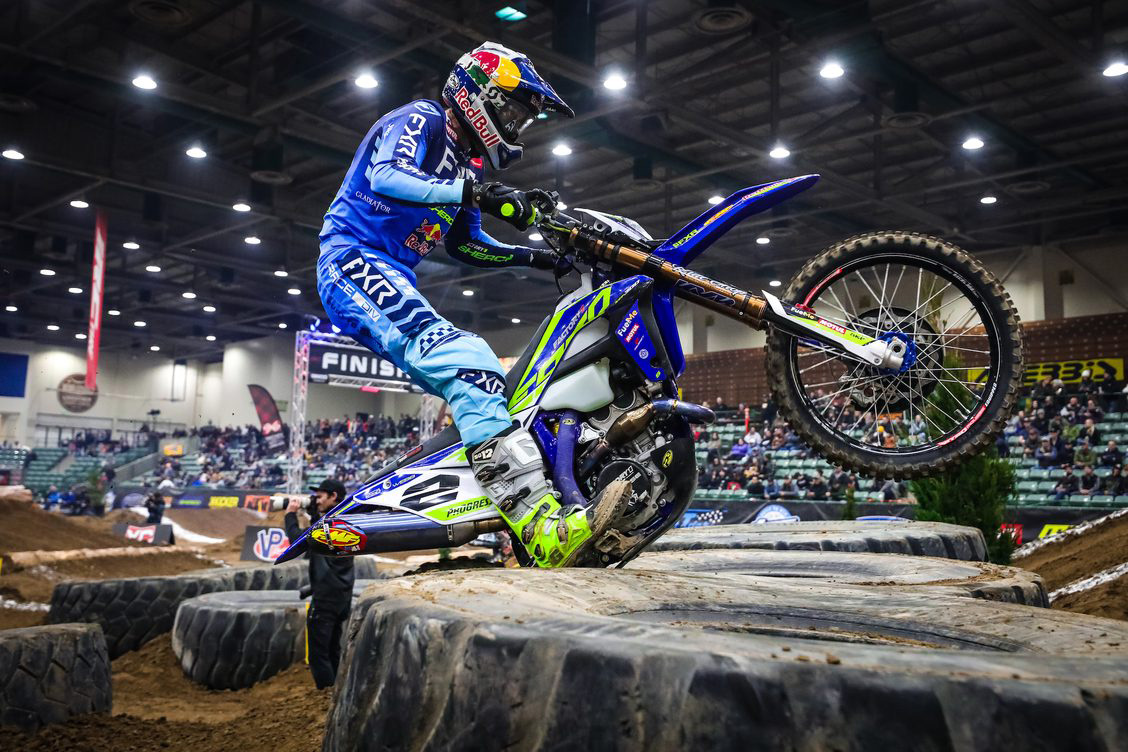 While blood runs in his veins, he has two wheels under him, and he has the home crowd at his back you can never count Panie Błażusiak out. When it goes right, and he's not injured, Taddy is always a threat and has started the first round in Krakow in determined fashion many times.
No KTM? Really?
It's true, there will be no official KTM entry in the 2023 SuperEnduro World Championship for the first time ever. Stretching right back to David Knight winning the first season, then riders like Ivan Cervantes and of course Taddy, the most successful run of any rider with six championships in his KTM years, there's always been an official orange bike.
But no more and though there's no official word from Austria or the Farioli team, Enduro21 understands simply they don't have the willing riders on the books.
Candidates would be Mani Lettenbichler, but he is focused on the outdoor HEWC series (don't forget the indoors usually lead straight into the outdoors and Mani's bread is certainly buttered there). Trystan Hart was expected to make the trip across the Atlantic but hasn't (nor has Colton Haaker on the Husky FYI).
Josep Garcia? He would be one hell of an addition knowing his EnduroGP Supertest speed. There is no doubt he could be a contender but, again, his and the team's eyes are firmly on the elusive EnduroGP World Championship and racing indoors detracts from that main prize.
The reality is SuperEnduro isn't what it was when GP riders were regulars in the series 10 or 15 years ago. The sport has evolved in no short measure thanks to the current champion and his technical skills. Anyone wanting to compete with Billy has got a job on their hands.
Watch out for Alfredo
Other riders to watch out for include Alfredo Gomez who just signed for Rieju. They call Graham Jarvis the silent assassin, but the Spaniard is just as capable of sneaking a surprise result especially over the indoor obstacles.
His form in '22 has been notable for performances in HEWC prologues – the man-made spectacles prior to the main races to determine start order. The former SuperEnduro runner-up has the skills on the logs and rocks.
Who else to look for?
The battles to get into the top five among this list of Prestige class big hitters is going to be interesting. There are some riders here like Will Hoare, Dominik Olszowy, Diogo Viera, Cooper Abbott, Blake Gutzeit, Eddie Karlsson and Tim Apolle who all train hard and fancy there chances.
The Junior class is stacked (check the entry lists below) with a long list of chaos as always. Riders to look out for here? It's never easy but past form from Milan Schmueser in the series pus in the German EnduroGP Super Test single shim out along with Suff Sella.
Prestige class entry list: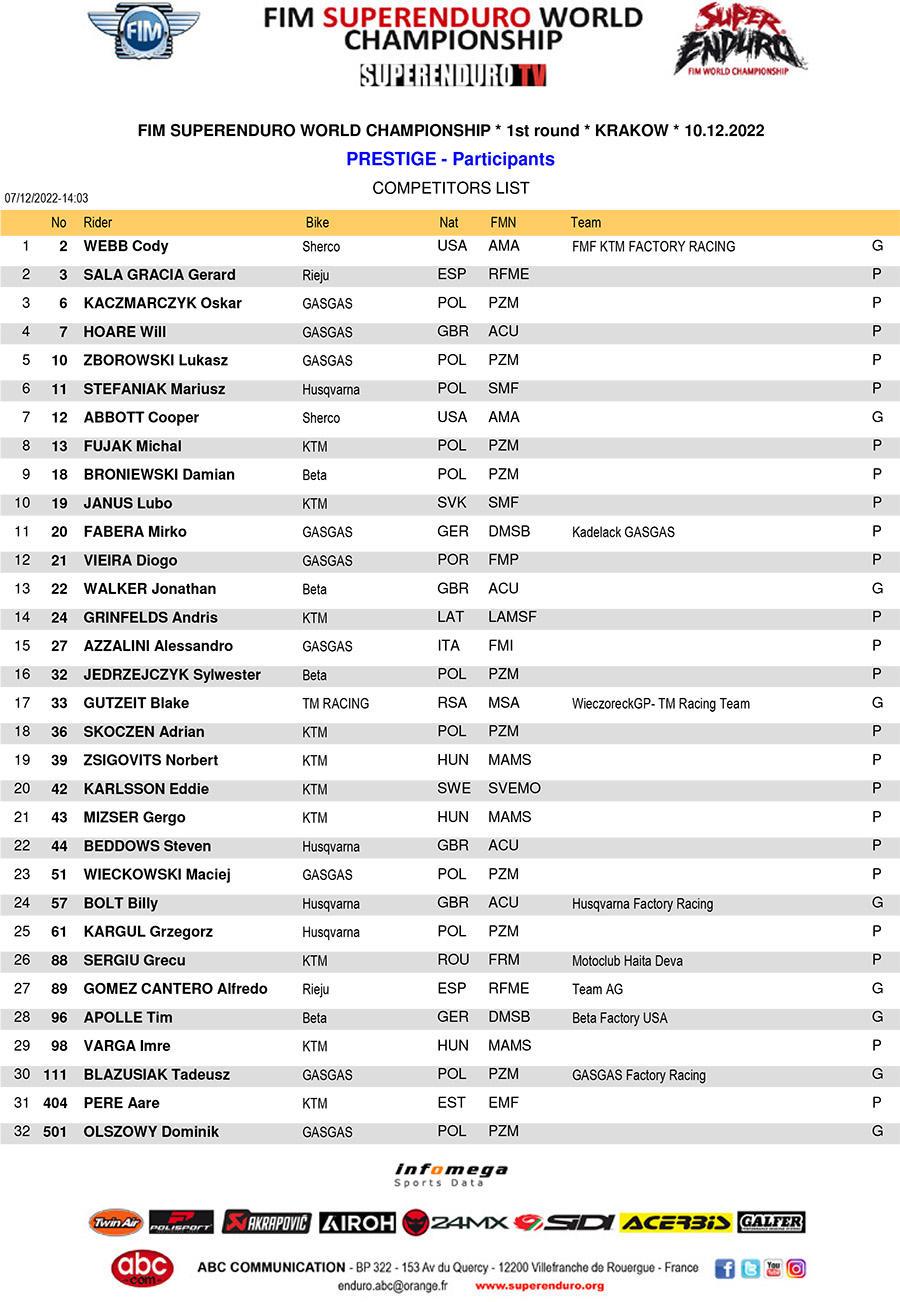 Junior class entry list: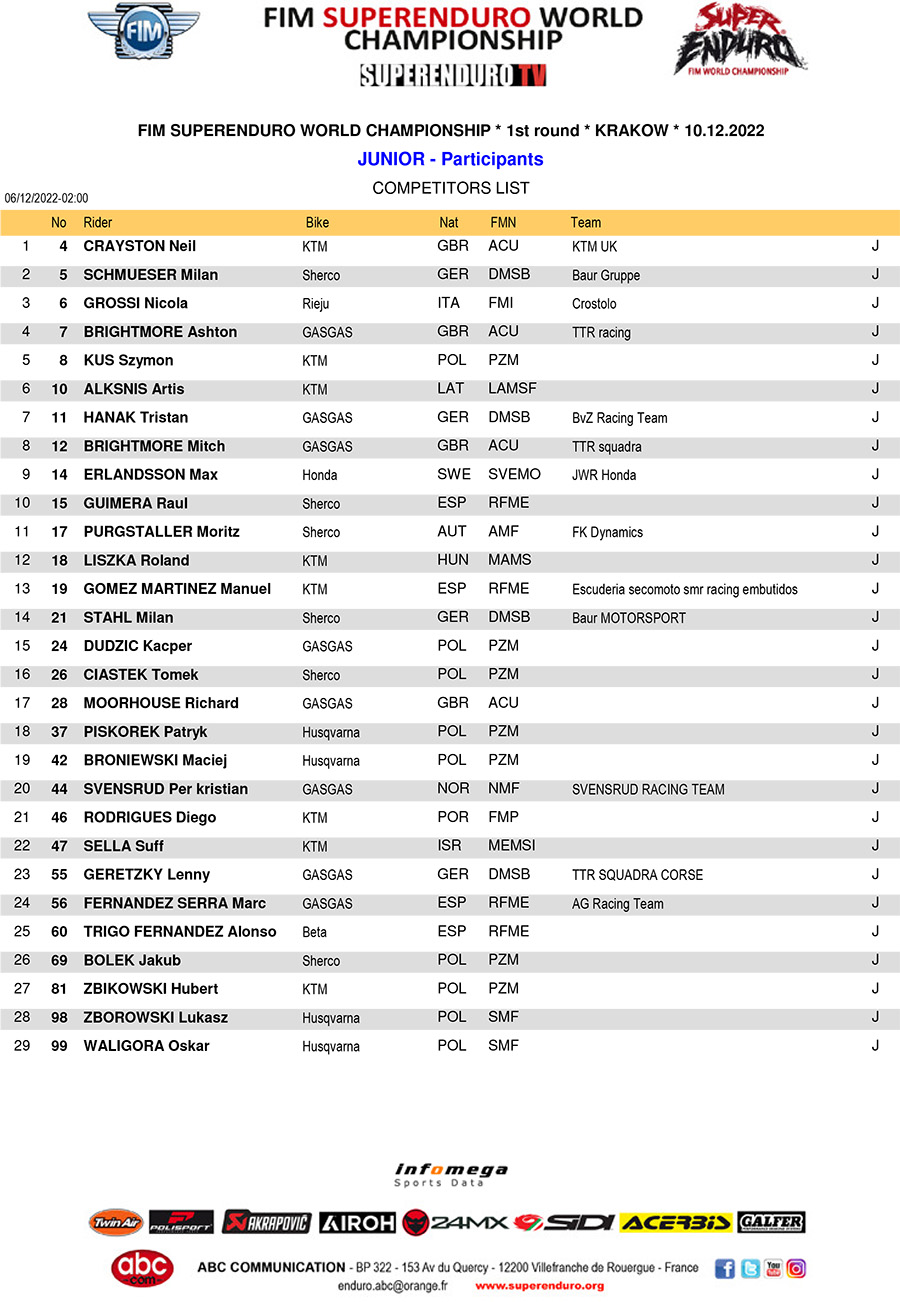 Racing starts on Saturday December 10 with practice and qualifying sessions through the day for Junior, Open (new class for riders wanting to compete and try to qualify for the main races), and Prestige classes.
Main race action on Saturday evening local time (times TBC) can be watched live via SuperEnduro TV. It's a subscription service but well worth the value.
Sign up: www.superenduro.tv
Photo Credit: ABC | SuperEnduro + Jack Jaxson