EnduroGP: Portugal Rnd6 preview – crucial penultimate GP
The Paulo Duarte FIM EnduroGP World Championship heads to Valpacos, Portugal this weekend for the crucial penultimate GP of the 2023 season where all major classes hang in the balance.
With all classes in this year's world enduro championship yet to be decided, round six of eight this weekend in Valpacos, Portugal has plenty riding on it. The season promised much back in the Spring with key riders changing teams and classes. But that all seems like a long time ago now with just four racing days left – both in back-to-back GPs in Portugal this weekend and next.
The season may have promised much but the reality is the fast four have run away with the tests all year – Steve Holcombe, Brad Freeman, Andrea Verona and Josep Garcia again proved the class of the GP field. The intrigue comes from injury woes and fitness doubts as being alien fast took its toll for some in the summer.
There are notably no Aussies in that top four this year but the established contingent from down under will have a mate to contend with this weekend as another young gun from AORC, Kyron Bacon, arrives to stir up the standings.
Portugal penultimate round
Proving that riding with your head as well as your heart, Steve Holcombe heads the title fight having moved into the championship lead at round five in Slovakia. Steve has put together an impressive season, steadily building as the year progressed and clearly gelling better than ever with the four-stroke Beta.
He's been in Portugal a couple of weeks already in fact, getting used to the terrain with training sessions and a win in the Portuguese Sprint Enduro championship last weekend.
The Beta Factory Racing rider holds a 13-point advantage over teammate Brad Freeman but there are question marks hanging over Brad's fitness and even participation in this penultimate GP.
Freeman lost his championship lead after retiring out of day one at the Slovakia GP but the damage had already been done following crashes at three previous races.
"He hit his head really hard in Finland, also Sweden and then in Italy. This is the story." Beta Team manager explains more here: 5 minutes… Beta Racing Team Manager Fabrizio Dini talks ISDE, Brad's injuries and rider conflict
Brad has remained quiet during the summer break, rightly taking recovery time with a serious injury and electing to not even racing on home soil as he had earlier in the season. At the very least, a long summer not riding is not ideal.
The not insignificant news that he will become a father aside, who the E3 world champ will perform remains a doubt this weekend as the title fight goes down to the wire.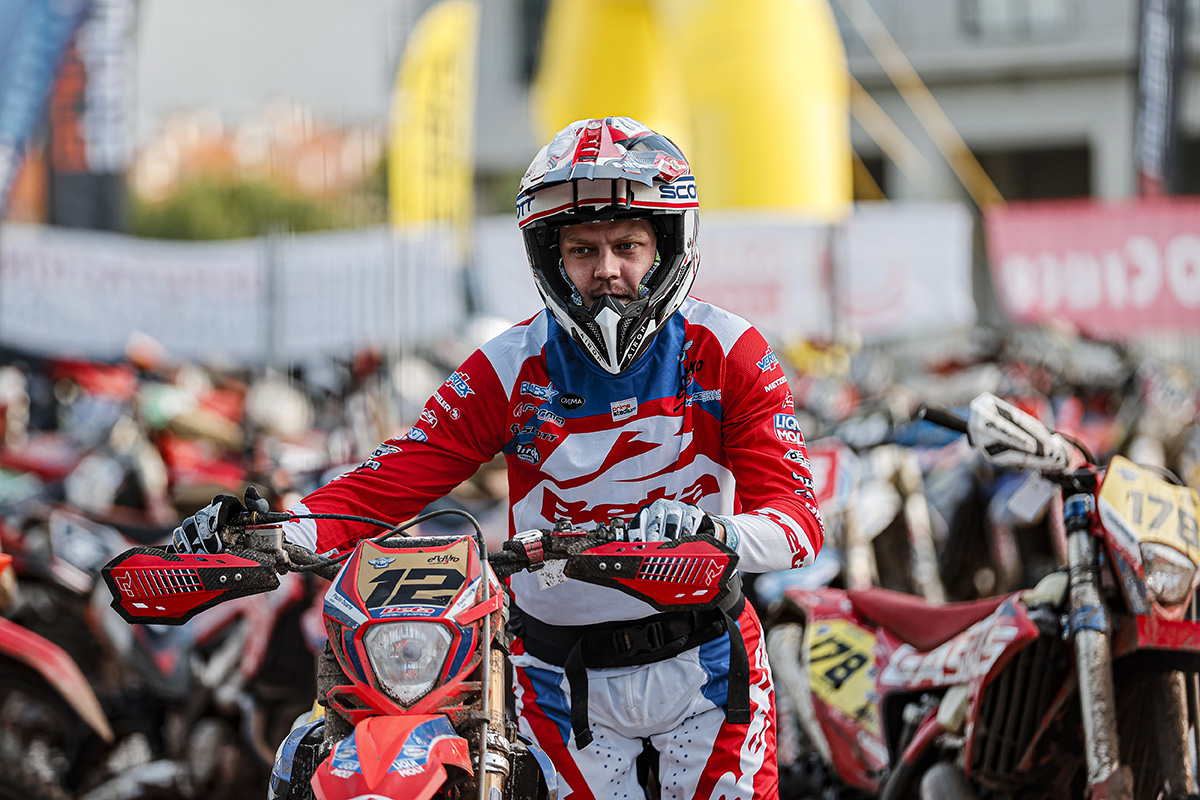 Verona finds winning form
With a win last time out in Slovakia, defending EnduroGP champ Andrea Verona has also made a slower start to the '23 season but is back in the mix with two rounds, and four points scoring days to go.
The GASGAS Factory Racing rider proved last year that riding with your head some days, i.e. not crashing, can be key to a world title and is matching that even after a slow start to the year on teh new factory bike in E2. Andrea lies third overall by 19 points.
Red Bull KTM Factory Racing's Josep Garcia sits fourth overall having had his own broken bones this year and missing one round. The Spaniard, who has also just become a father (must be something in the water?!) is on 130 points to Holcombe's 164 and can count as lucky his injury occured just ahead of the summer break, giving him time to recovery.
CH Racing Sherco's Hamish MacDonald completes the top five and is the only other rider with a mathematical chance of clinching the EnduroGP title.
EnduroGP points standings ahead of round 6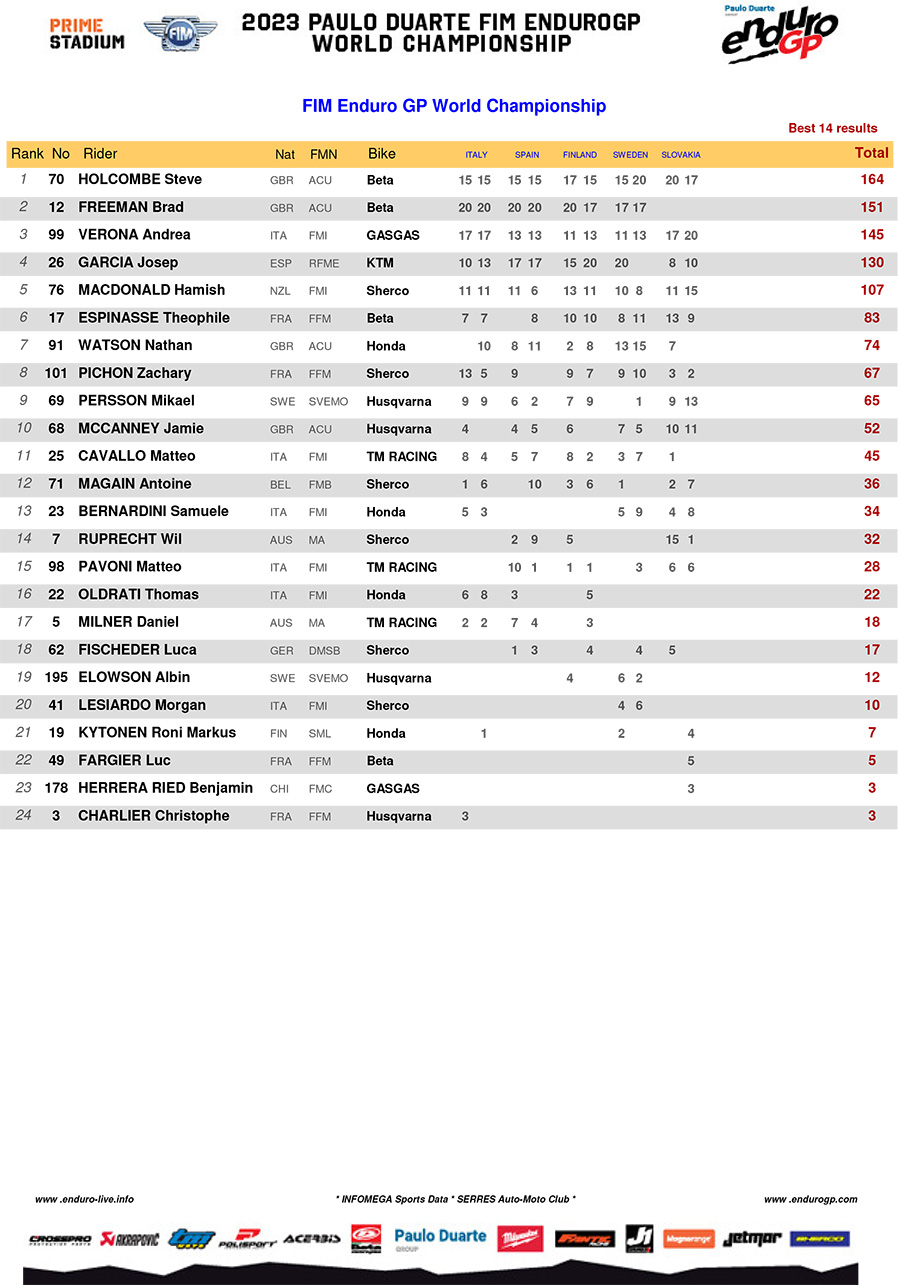 Class battles
With six wins to his credit, Garcia leads the E1 class standings despite missing a round through his crash on day two in Sweden. Sitting 18 points behind is Theo Espinasse who has had a strong year on the OxMoto Beta ahead of the fight for third between Fast Eddy Racing's Jamie McCanney and Sherco's Zach Pichon. This is some class with all four of the top four having won this season but Garcia's six 20-pointers are the key to his lead.
In E2, Holcombe also tops the standings by 18 points over Verona. The duo have proved the strongest so far this year having won all 10 races to date between them. 23 points behind, Hamish MacDonald holds a healthy 21-point advantage over Honda's Nathan Watson in a class which promised to have more contenders at the start of the year but has kinda not delivered frankly.
Despite a non-score at the last round in Slovakia, Brad Freeman still hangs on to the E3 lead by four points thanks to his eight race wins. Sweden's Mikael Persson (Husqvarna) will be feeling a sense of déjà vu entering Portugal as the E3 title fight once again looks set to be decided between the two riders, as it was in 2022. Sherco's Antoine Magain completes the top three and arrives recovering from a wrist injury but with a French E3 title under his belt from last weekend.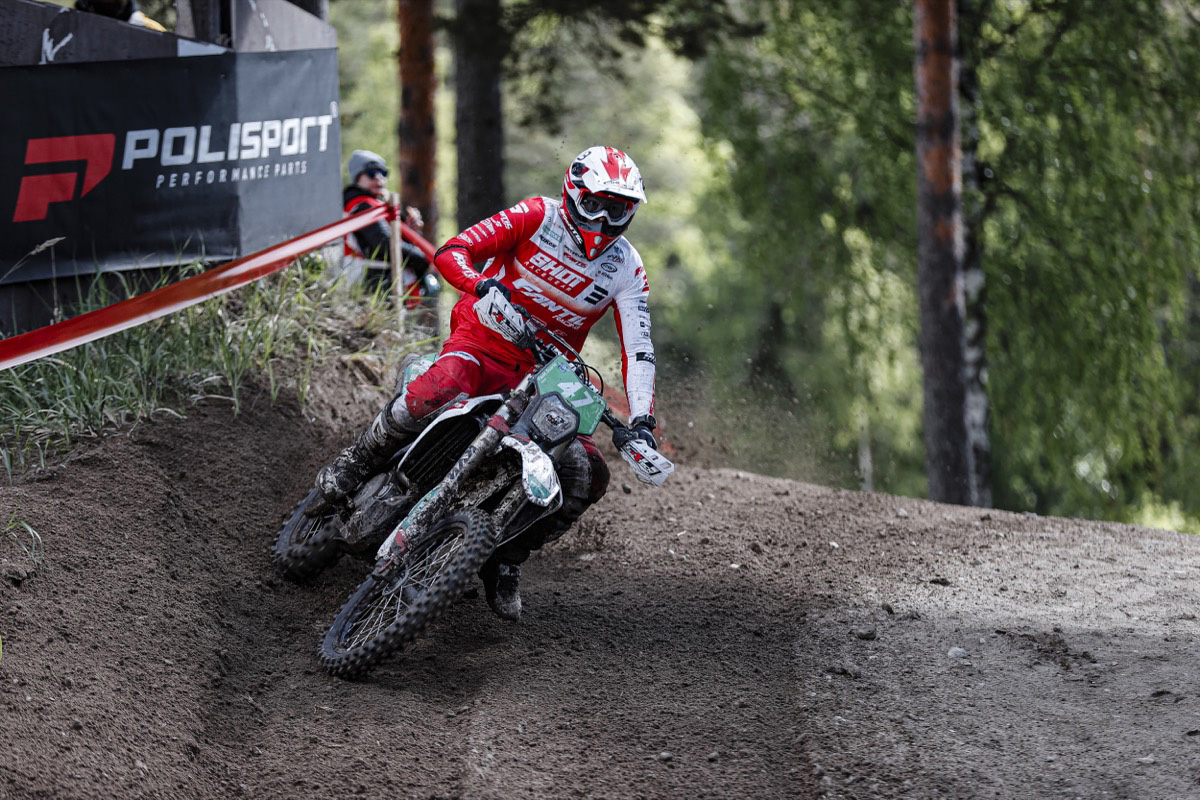 Etchells and Norrbin in Junior title fight
Things are tight in the fight for the GALFER FIM Junior Enduro World Championship between Fantic's duo Jed Etchells and Albin Norrbin.
Etchells, who also recently claimed his own domestic title in Britain, has held the upper hand for the majority of 2023 but Albin Norrbin has gained ground and confidence thanks to his recent run of victories. It's 250 four-stroke versus Fantic's 300 two-stroke in this title fight too. Rookie Jeremy Sydow (Sherco) leads Max Ahlin (KTM) by one point in the battle for third in the overall Junior class.
This weekend will also see the addition of yet another fast Aussie, Kyron Bacon. The Yamaha rider will race the final two GPs of the season we understand under Johansson MPE Yamaha team awning.
In the classes within the class, Etchells has a healthy 22 points over Sydow in the J1 title race while Norrbin has to look over his shoulder in J2 as Swedish compatriots Max Ahlin and Axel Semb are within shouting distance.
Junior standings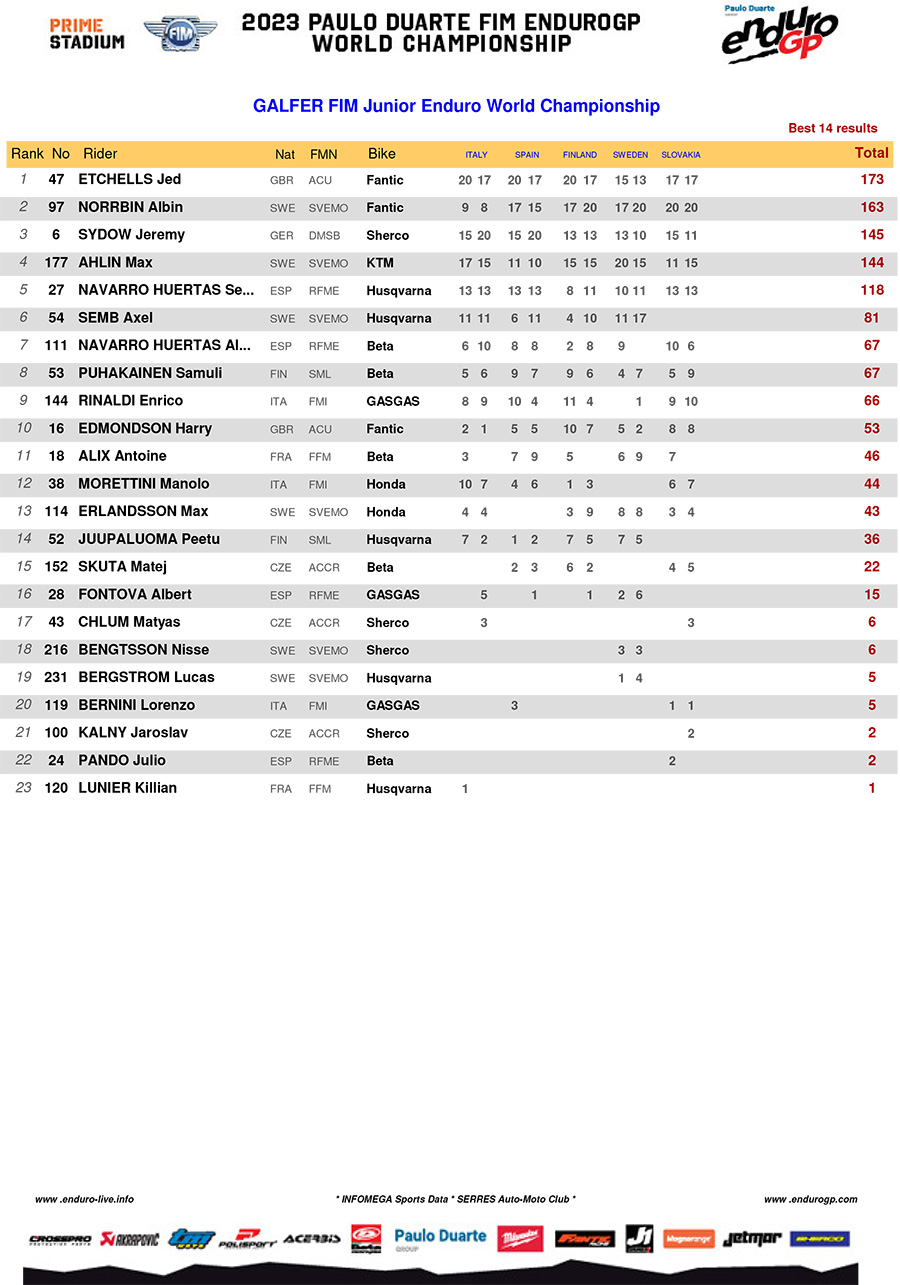 Can French duo wobble Kevin?
Italy's Kevin Cristino is the rider to beat in Enduro Youth with eight wins on the bounce to set up his points lead. But the Italian wobbled big-time in Slovakia not even getting on the podium.
The fighting French duo Thibault Giraudon and Leo Joyon are spurring each other on and what looked like the most nailed on championship this season has whittled to 13-points.
Youth points standings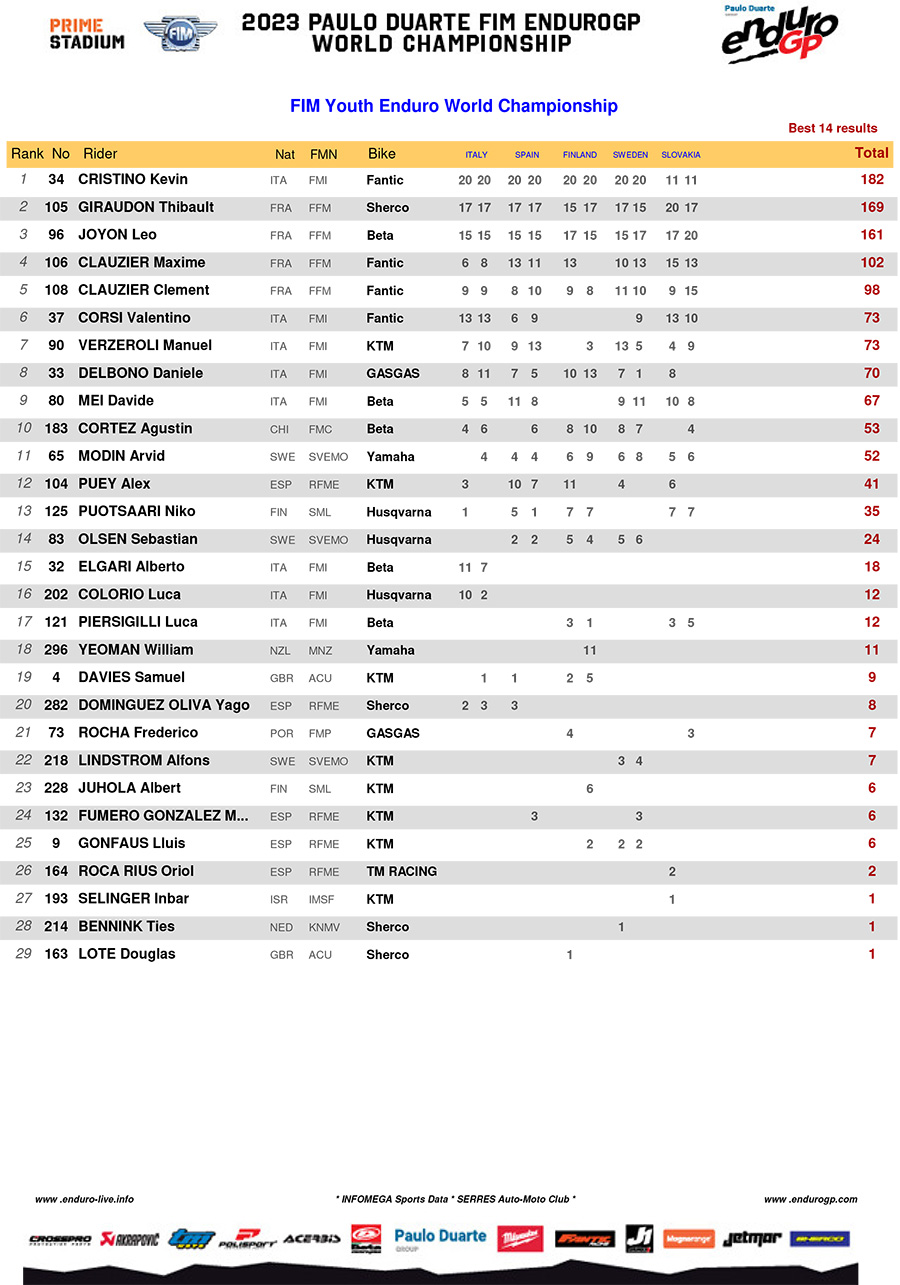 Stay tuned
Round six of the Paulo Duarte FIM EnduroGP World Championship takes place in familiar terrain for many riders in the town of Valpacos, one hour and a half or so north and east of Porto.
The AKRAPOVIC Super Test is scheduled to get proceedings underway on Friday night followed as ever by two days of three Portuguese special tests - JUST1 Enduro Test, ACERBIS Cross Test and Polisport Extreme Test - throughout Saturday and Sunday.
The daily start times are as ever from 09:00 with a scheduled finish for the first riders at 16:22 which means it is going to be a couple of long, hot days (temperatures look set to be about 30 degrees and sunny) for what we hope is a cracker of a penultimate GP of the season.
NB. There is no Women's Enduro class this weekend, their season concludes next weekend at Portugal II – keep an eye on Rosie Rowett getting some Portuguese dirt under her collar and one up on her rivals racing the Open classes this weekend.
Stay tuned to Enduro21 for the track preview, results, rider quotes and what went down from in the paddock across this crucial weekend.
Photo Credit: Future7Media